Best SEO Plugin for WordPress: Choose from Top 10
Have you ever wondered how small businesses made it at the top spot of the search engine results page? It is not their name or their brand that got them there. They are simple startup businesses so no one knew them from the start. The trick? It is all about proper website optimization using the best SEO plugin for WordPress .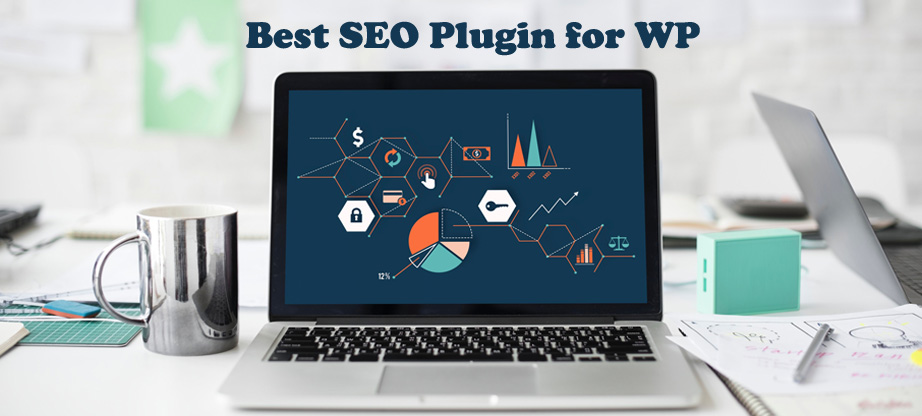 What are WordPress SEO Tools?
Above, we have mentioned that SEO can be very technical and if you are just starting out, there are times when it feels really overwhelming. This is why developers have created plugins and SEO tools that help the user do SEO easily and more efficiently.
Currently, there are plugins that target specific aspects of SEO. Learning to operate each of these plugins and creating a process that will unify all their features is one of the major objectives that an SEO marketer should work on. This will make sure that you are taking full advantage of what SEO tools can bring to your website.
What is the Best SEO Plugin for WordPress?
As we have said, SEO is complex and it involves a lot of different tasks. So, if you are looking for that one best SEO plugin, you would not get a clear answer. We cannot answer it, either. There are literally thousands of WordPress SEO tools in the platform and a lot of them have really great features that can be super helpful to an SEO marketer.
Below, we have listed the top WordPress SEO plugins as of this writing. There might be a few new ones. So, if you found the best SEO plugin for WordPress for you, let us know!
Oh, and before we forget, WordPress is known to be a very SEO-friendly platform. So, you do not have to worry about these plugins messing up the back-end of your website.
Yoast SEO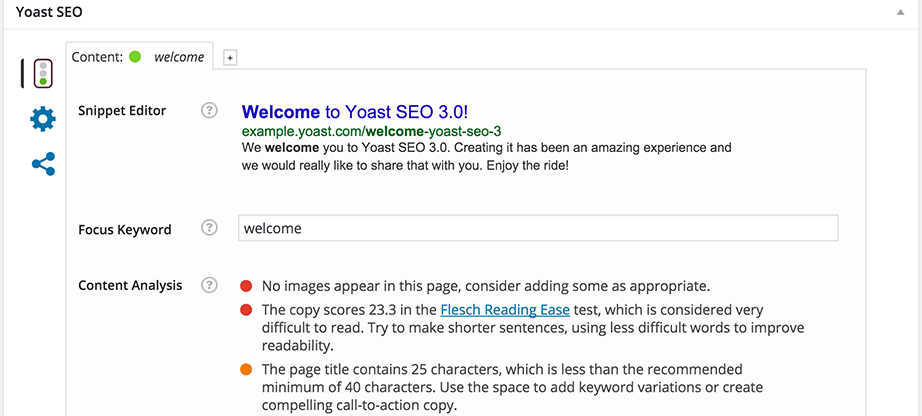 This plugin has always been included in every list of the top WordPress SEO plugins all over the Internet. It has already made a very reputable brand because of the beneficial features that it provides the users. In fact, it has an average rating of 4 out of 5 stars according to more than 2,000 reviews!
The things that you can do with Yoast SEO are vast but here are the best features we find really useful:
The page analysis tool
The technical WordPress SEO wizard guide
The XML sitemap functions
All-in-One SEO Pack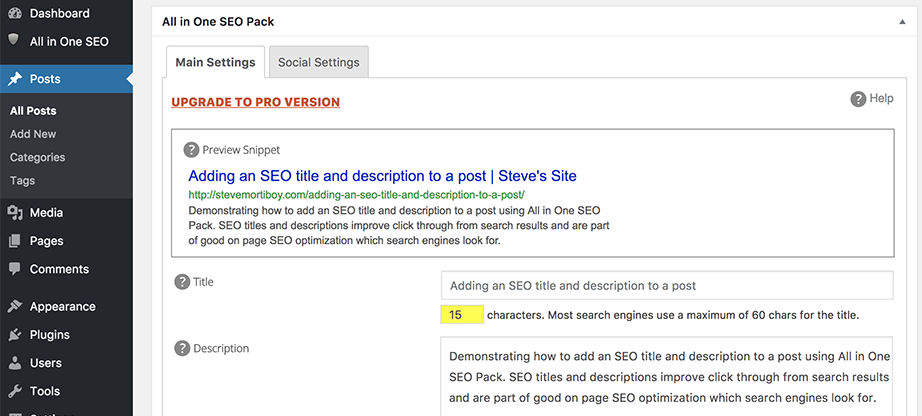 Different people have different preferences. While Yoast SEO is preferable by a lot of SEO marketers, some feel a little uncomfortable with it and use WordPress SEO tools such as the All-in-One SEO Pack. With its name, one can conclude that it already includes everything that you need to do with SEO on your website.
All-in-One SEO Pack is very beneficial for those who are just complete beginners in the world of SEO. Plus, its interface is very intuitive so it is very easy to comprehend and operate. Some of the best features of this plugin include:
Support for Google Analytics and XML Sitemaps
Automated optimization of page and post titles across all search engines.
Automated meta-tags generation.
Ability to identify duplicate content so you can remove them and make sure they do not impact your rankings in a negative way.
Broken Link Checker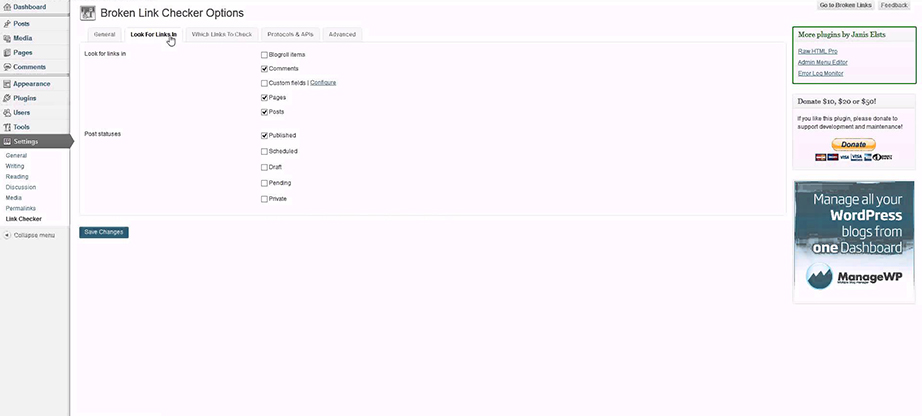 Aside from keywords, the other heart of SEO is the set of URLs under the website. As you may have already noticed — successful websites on top of the search engine results page have URLs that are properly optimized and they actually work when you click on them.
If your website is already growing and you have already published a lot of posts and pages, there will come a time that it gets a little confusing to manage all the links and URLs. Fortunately, the best SEO plugin for WordPress for checking links can help you make life easier.
Broken Link Checker can help you identify the links that are not working in your website so you can fix them before search engine crawlers find them and deduct some score on your page ranking. It is one of the best SEO tools for WordPress you can find. In fact, it is actually one of the required plugins to install on your website so you can save time by not going through all your pages and posts one by one.
The plugin's best features are:
Monitoring links in pages, posts, comments, and custom fields.
Detecting links that don't work.
Enabling the setting of appearance for broken links in posts.
Preventing search engines from indexing broken links.
Google XML Sitemaps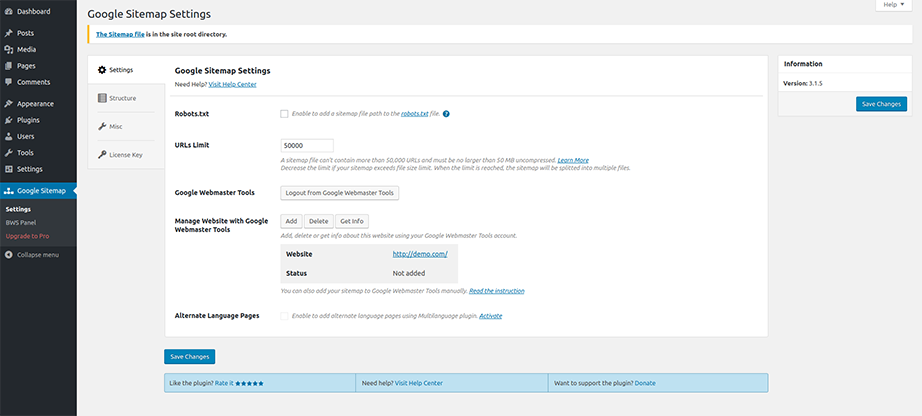 Another important aspect of SEO is creating a nice and clean XML sitemap. An XML sitemap is what search engine crawlers index first. They look at the sitemap if it is structured correctly. And, Google XML Sitemaps could be called the best SEO plugin for WordPress when it comes to XML sitemap generation.
This plugin will let you create sitemaps with comfortable settings and that is basically it. You do not have to do additional work. You just did a job that would normally take days in just less than an hour.
Google Analytics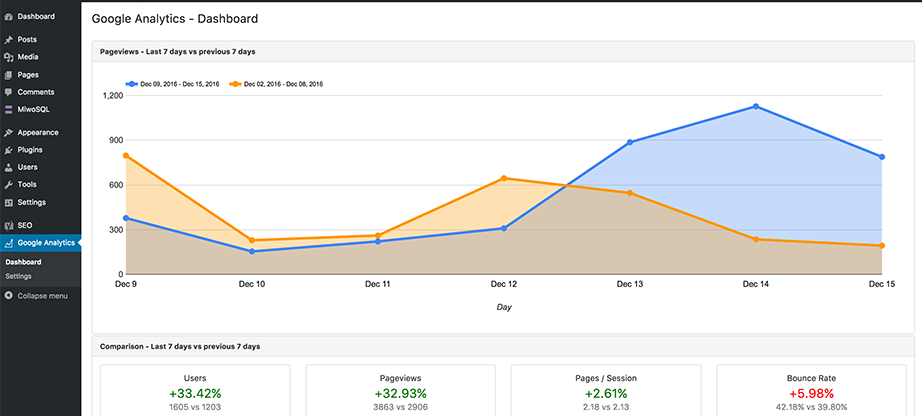 Every SEO marketer knows that analyzing and measuring metrics should never be skipped in SEO. This is why many SEO marketers are mastering Google Analytics so they can properly monitor the performance of their SEO strategy as a whole.
The only problem is that it is a little time-consuming to have to go away from the WordPress Dashboard and log in to Google Analytics. This can also be a little confusing and it can slow down your computer if you have a few more tabs opened.
So, why don't you use the best SEO plugin for WordPress for analytics and measurement? Google Analytics by Monster Insights is a very good tool that brings Google Analytics right inside the WordPress environment!
Currently, it has over 11 million downloads. So, that should already tell you that it is worth checking. Try it and experience the following benefits:
Simple and easy installation of Google Analytics through API.
Utilize the universal or asynchronous tracking code.
Accessing the comprehensive dashboard to view the different metrics within WordPress.
Internal links and outbound links tracking.
Accessing the different intuitive reports like demographics and traffic.
WPTouch Mobile Plugin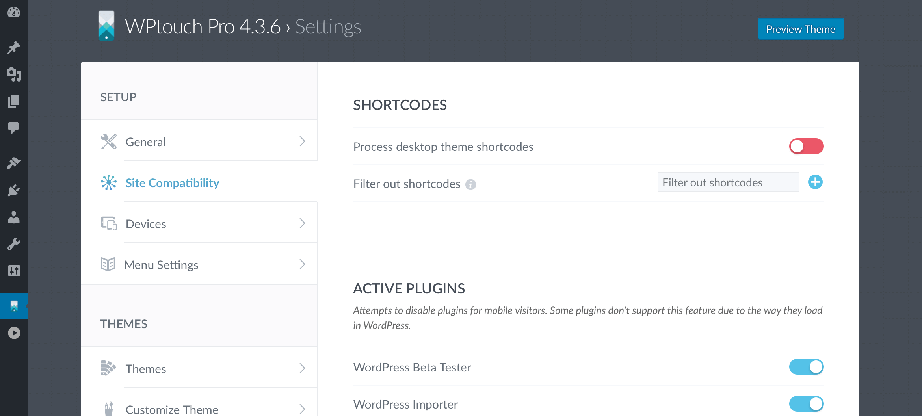 The latest developments in SEO made sure that it prioritizes the mobile-responsiveness of a website considering that most Internet users are now using mobile devices to find the information they are looking for. And, the best way to make sure your website is mobile-responsive is by using the best SEO plugin for WordPress when it comes to fixing the websites responsive web design.
What's good about WPTouch Mobile is that once it is installed, it automatically generates a mobile version of your website. This saves a lot of time compared to creating the mobile version from scratch. Moreover, the mobile version generated from this plugin does not affect the desktop version of the website.
W3 Total Cache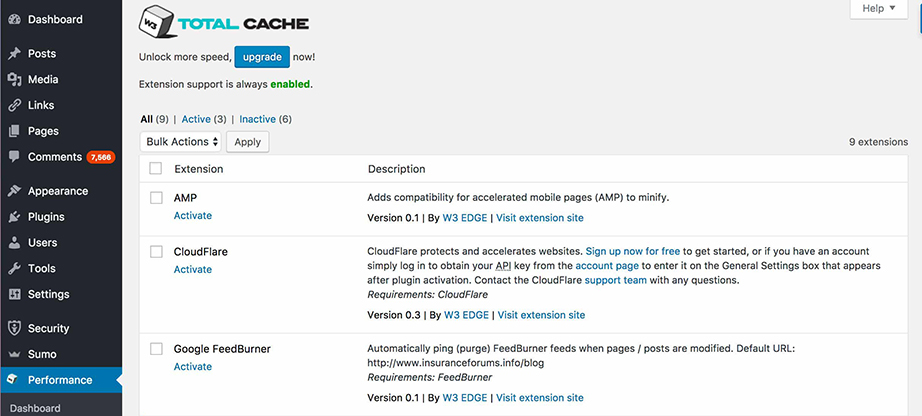 Another thing that you should look into is the speed your website takes when loading a page. Remember, if the website is very slow at loading, your potential visitors will not hesitate to click away and this will ultimately have a very negative impact on your rankings.
So, use the best SEO plugin for WordPress for ensuring the WordPress page speed optimization . This tool is called W3 Total Cache. This plugin will help improve the loading speed of your website and will give you a few insights on how you can improve the overall experience of your site visitors.
W3 Total Cache has been used by a lot of prominent names in their own industries. So, do not worry about its efficiency. If big companies use it, you should too!
The plugin can bring a lot of benefits but the most notable one would be its ability to improve the overall performance of the website by at least 10 times when you configure everything correctly.
YARPP (Yet Another Related Posts Plugin)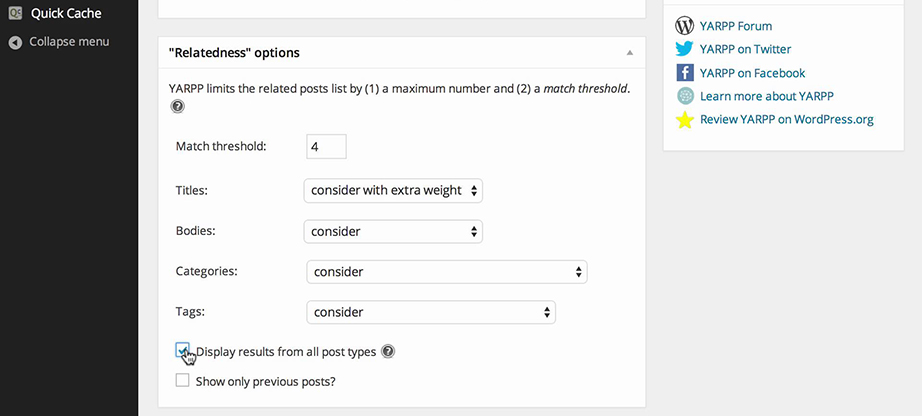 It is a universal fact that the lower the bounce rate of your website is, the more positive it looks on your business as a whole. This means that you should make sure that you keep your visitors on your website as long as you possibly can.
And, the platform has the best SEO plugin for WordPress when it comes to user engagement. It is called Yet Another Related Posts Plugin or more commonly known by its abbreviation, YARPP.
Basically, this plugin automatically displays content that is related to the current one that the visitor is in. Studies have shown that people will be more likely to click a link about a content that will let them continue their train of thought after reading something.
A few amazing benefits of using this plugin include:
The ability to choose whether to display the related content in list view or thumbnail view. This is essential for the consistency of your web design.
Utilize the most advanced algorithms to make sure that the posts displayed are the best ones and the most relevant ones to the topic on the page.
Ability to edit and layout templates for fuller control.
SEO Friendly Images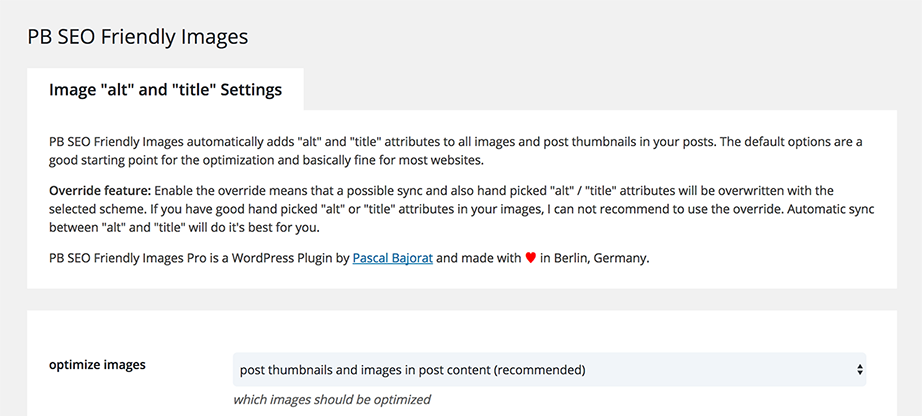 One contributing factor to the page's loading speed is the size and quality of the images you use in it. Meaning, if your images are too heavy and too big in size, the page would load slower. However, this does not mean that you should just create a low-quality version of the image.
Through SEO Friendly Images, you can retain the quality of the images while reducing its file size. Moreover, you can automatically update the alt-tags of the images which are also very important in SEO.
Redirection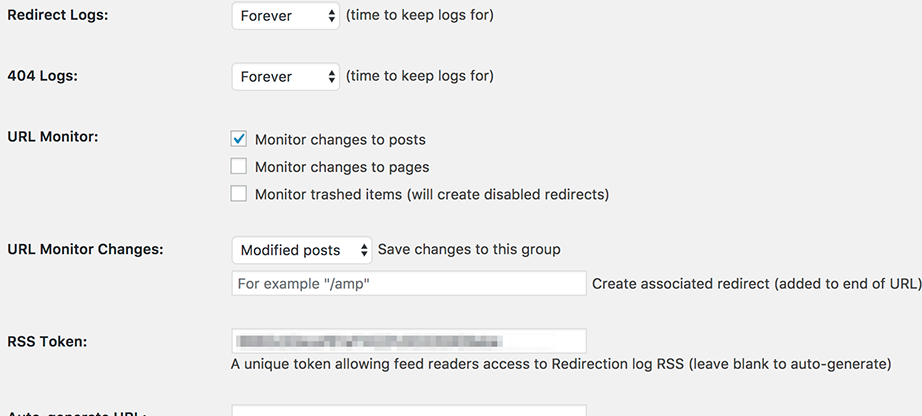 Another aspect of SEO that is often overlooked is the management of URLs. Google and other search engines penalize websites that contain a handful of 404 errors and questionable 301 and 302 redirections .
With this Redirection plugin, you can make sure that there are no loose ends with your technical SEO strategies. Some key features of this plugin include:
Custom "pass-through" redirection
404 error monitoring
Regular expression support
Redirection statistics and reports
Conclusion
You might think that this list is already extensive. But, these are just eight out of the thousands of plugins available on WordPress that can reinforce your SEO efforts.
While SEO may be complicated and complex, a beginner does not have to suffer and learn it the hard way. There are a lot of tools and plugins that can assist even the most complete newbie in the world of digital marketing. Experiment on these plugins now and you may chance upon the best SEO plugin for WordPress of all time!