Free Photoshop Actions: Sketch and Painting Effects Set [Updated]
Photoshop action is an excellent time-saver for photographers and designers of any level of mastery. These, let's say, add-ons allow performing the usual manipulations you do in Photoshop to achieve a particular effect on the image. Why use these free Photoshop Actions for images if you can get the same results and even better when you do all the manipulations step-by-step? The answer is plain and simple: people, in general, are lazy.
Say you have a task to convert loads of images into vintage pictures. You may try a few ways to do this to find out the best one and then spend more hours applying the steps you performed to achieve the result to every photo you have. It sounds boring and feels tedious. That's why you need Photoshop Actions.
How It Works
Actions are a cool invention of Photoshop creators. It's a set of steps that are usually performed to apply a specific effect (or a few effects) to an image recorded, downloaded to Photoshop, and may be used anytime you need it. You need only to run the Action you choose and watch from aside the program performs all the steps you usually do manually. It takes just a few moments for each picture and saves a lot of time for you.
There are a few ways of getting PS Actions:
You can create an Action file by your self;
You can download an Action already created by someone else.
How to Create an Action
Creating an Action is an easy thing for Photoshop professionals. You need to perform these steps:
Right-click to a small arrow on the Actions panel that reveals the drop-down menu;
Choose "New Action" from the drop-down menu, name it and click the "Record" button. A tiny panel with buttons "record," "stop," "play," etc. appears beneath the main Actions panel;
You can then perform all the manipulations you need to create a new effect or add a new filter to your image.
You can always stop recording if you need to change something or try another way. Click the "stop" button on the panel and make your changes. When you're ready, click the "record" button again. You can play your action to see if everything is ok, or delete the story you don't like and start over again.
You can choose a folder where you will keep all your actions, set a keys combination for it, and even set a color for it. Then, anytime you need it, you can choose your activity from a list and apply it to whatever number of images you need. Later you can also edit your action, add new steps and change everything you need. You have to open the story and record a further manipulation (don't forget to choose the steps you need to put this new one). After the recording is finished, you can manage the steps, remove and replace them.
How to Add Actions to Photoshop
If you are a bit lazier or extremely busy and have to do a lot of work in a few minutes, you can browse the Internet and find the action that suits your needs. It takes less time and still can provide you with perfect results.
To add new actions to Photoshop and manage them, you should:
Download the Action file to your computer;
If the pack contains multiple files, you should unpack it first to the folder where you will keep the Actions;
Choose a file with the .atn extension and run it (make sure the Photoshop is running too);
Please find the new action in the list of Actions in Photoshop and apply it!
You can add a new action right from your Photoshop window. From the drop-down menu on the Actions panel, choose "Load action" and browse your computer to add a .atn file.
How to Apply an Action
Applying an Action is a snap. Open an image you need to edit, choose an Action for the list, and click the Action panel's play button to run the Action.
You can also change the panel to "Button mode" (right-click on the upper-right corner of the board and chose "Button mode" from the drop-down menu). Then you'll need to click the selected action button. Then sit and watch the magic happens.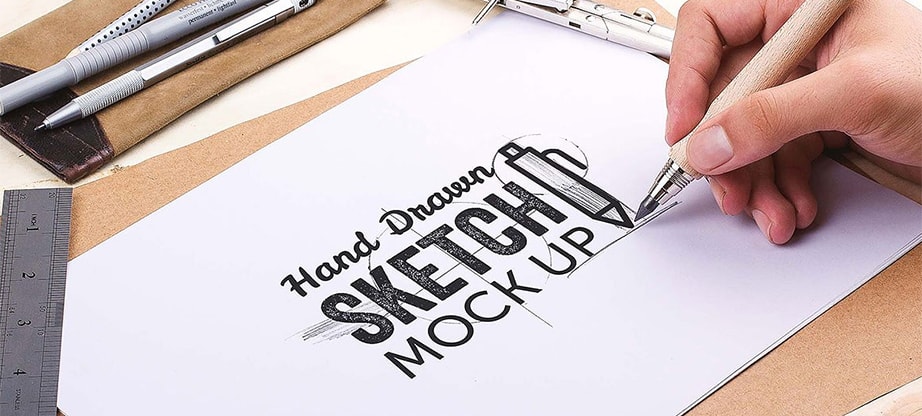 Are you looking for more Photoshop files and sources? Here's what we've previously compiled:
There are loads of ready-to-use Photoshop actions on the web. Here we offer a collection of beautiful and creative free Actions that add painting and sketch effects to images. Grab and enjoy!
Sketch Effect Photoshop Actions