Best Industrial Websites and Website Designs 2020 for Your Inspiration
Perhaps, nowadays there's no use in explaining to anyone who takes his business seriously the importance of the online presence. Fortunately, today almost all business owners have realized that a website is a must in our modern world. Whether you're just planning to launch an industrial website or already have one, you definitely want it to rank among the best industrial websites. So, what can you do to make your dream come true? Perhaps, the wisest idea is to start by examining the best industrial websites to learn from your more experienced competitors.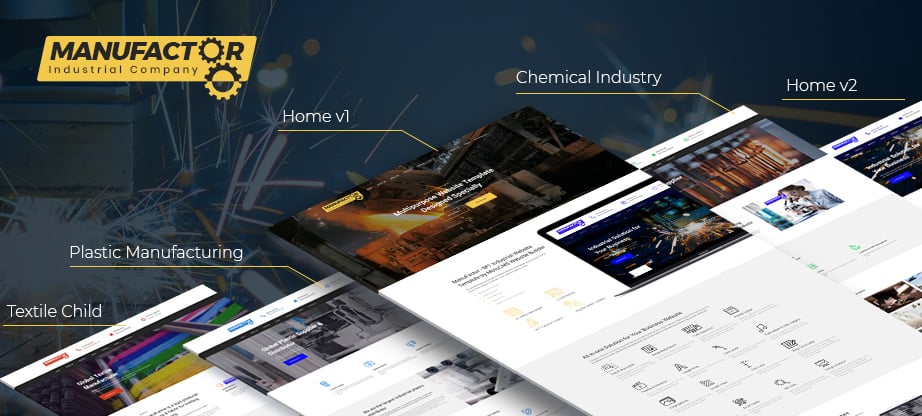 10 Best Industrial Websites 2018
Frankly speaking, building an attractive and functional website may become a real challenge. It's quite obvious that great websites don't appear by accident. They are the result of careful planning and creative ideas. That's why we compiled a list of the best industrial websites and the best industry templates for WordPress you can find inspiration in. I hope, it will save much of your precious time and effort.
BTD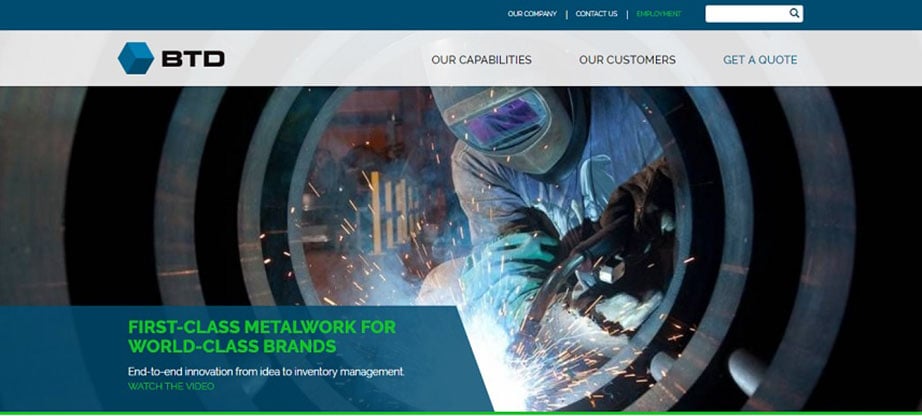 BTD is a metal fabrication company whose industrial website design is worth your careful attention. To begin with, this website is clean and visually appealing. You won't find a single line of useless distracting information there. The company not only clearly defines its vision, mission, and values but successfully conveys this message to the online audience. Honestly, BTD website design helps understand a simple thing. You don't need to overload your website with tons of content to make it effective.
FireRock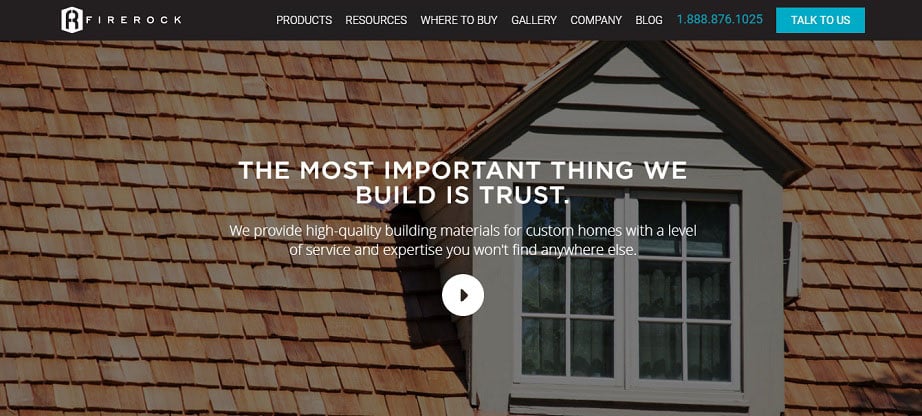 FireRock has occupied the place among the best industrial websites on our list due to the user-friendly navigation. This building materials company really realizes the importance of considering their customers' needs both in the real and digital world. Actually, they tried their best to provide the online audience with a great user experience. The intuitive navigation of their website ensures that every visitor will easily find any information he needs in no time.
Mitsubishi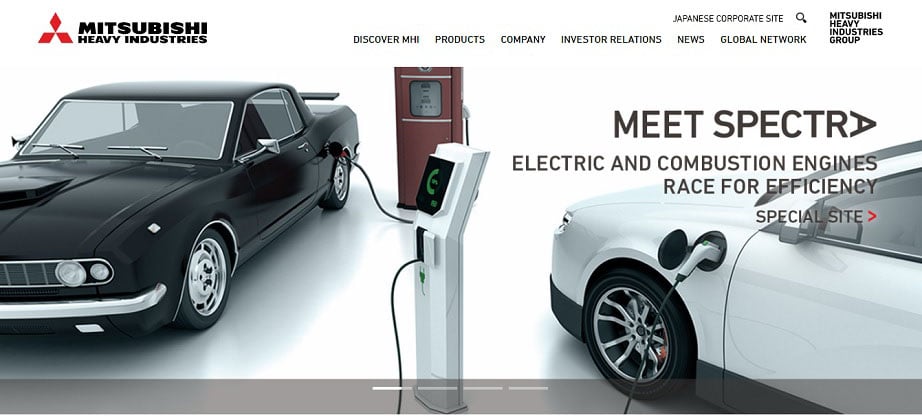 Hardly there's a grown-up who has never heard about Mitsubishi. This incredible heavy industries group stands out both in the real world and online. Their industrial website is a wonderful example of using compelling professional photography for showcasing the products. It significantly boosts the amount of information their visitors absorb as a human brain processes visuals 60,000 quicker than text. Despite the great number of images, the loading speed of the web pages is fast.
Ajax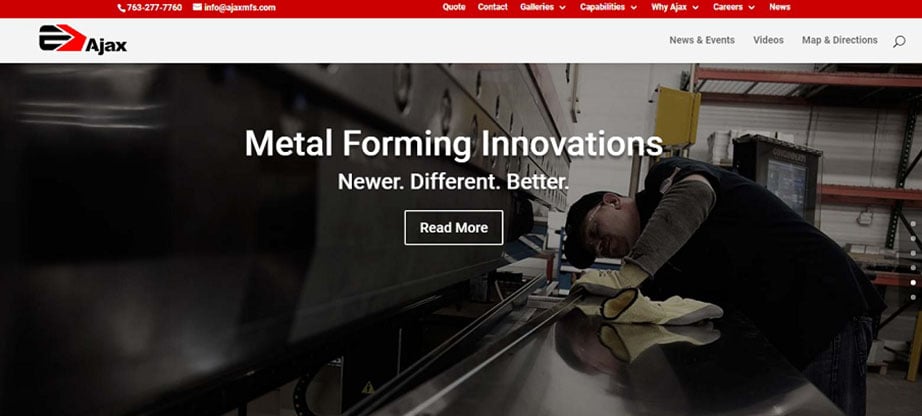 Ajax is a metal forming company that implements high-quality visuals as the basic content of their industrial website. On the one hand, such an approach enables Ajax to grab their visitors' attention at the first sight. On the other hand, it gives an opportunity for keeping the visitors engaged while they are scrolling through the pages. Thus, the company has all chances to arouse the interest of the potential customers and make them forget about the competitors.
GBX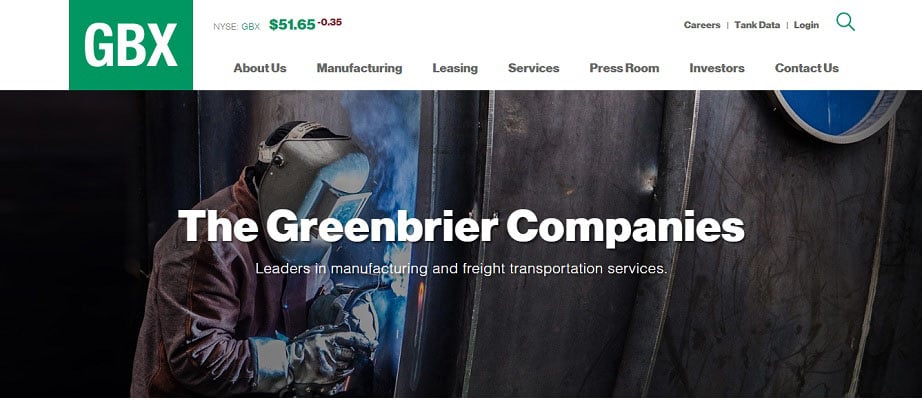 GBX industrial website is notable thanks to the thought-out About Us page. It's common knowledge that the quality of the About Us page may determine the customer behavior of your visitors. Greenbrier did everything to cover each and every aspect concerning the company to evoke their prospects' trust. The company timeline, its joint ventures, the leading staff, and other useful sections help form a positive first impression about their business.
Acieta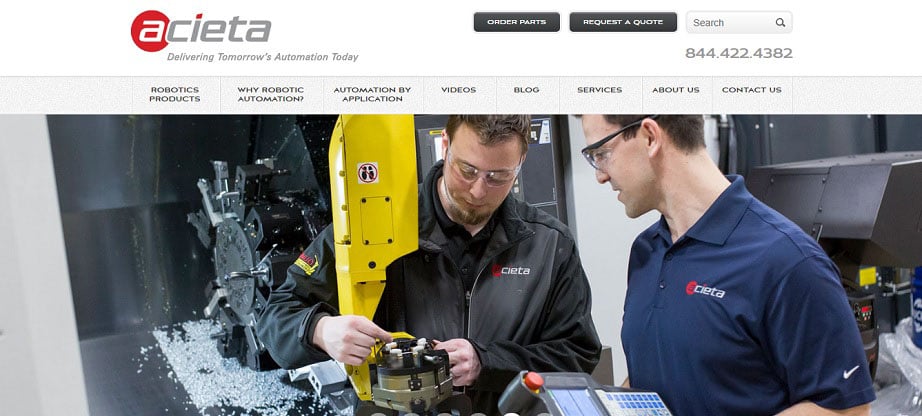 Acieta is an amazing industrial website that looks awesome and performs well on any modern device. It's not surprising. The owners of Acieta made responsiveness one of the main features of their website. In other words, they killed two birds with one stone. Firstly, they saved their visitors from annoying zooming and side-scrolling in order to see the whole web page. Secondly, they prevented their business from losing potential customers.
AGCO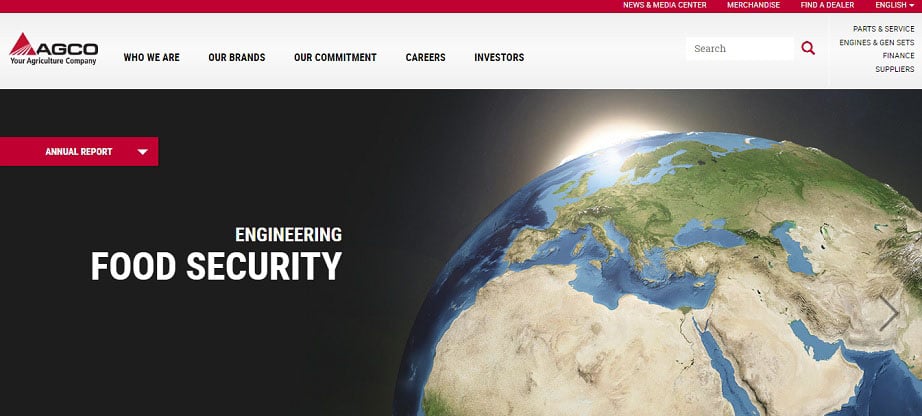 AGCO website is worth mentioning when it comes to the smart use of CTAs. Unfortunately, not all website owners know how to wisely implement these magic buttons. Do you want to learn where to place them to take their advantages in full? Then visit AGCO industrial website. Their CTAs are great. They really encourage customers to continue interacting with the website without taking their attention away from the content.
Rethink Robotics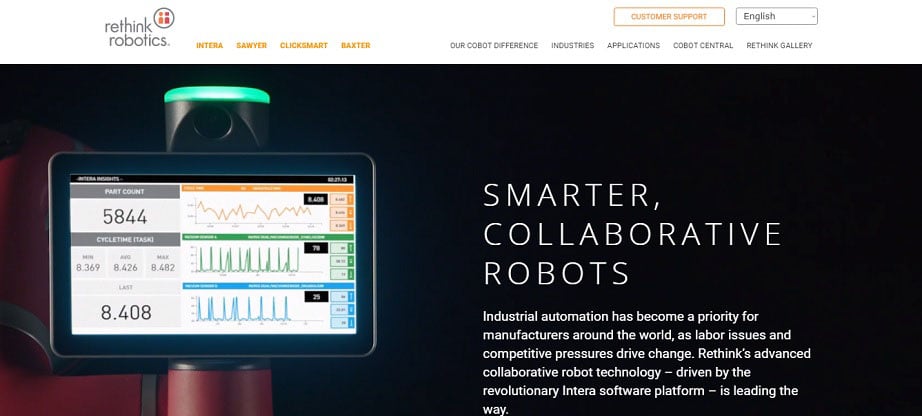 Rethink Robotics is a great example of a customer-centered industrial website. Whatever web page you visit, you feel that the company focuses on its customers' needs. The entire website is a source of useful relevant information. Firstly, Rethink Robotics keeps the visitors well-informed about the latest news in the industry via the blog. Secondly, they tell you about the upcoming events on the Cobot Central page. Thirdly, you can use their online guides and tutorials as well as become a Rethink forum member.
Schneider Electric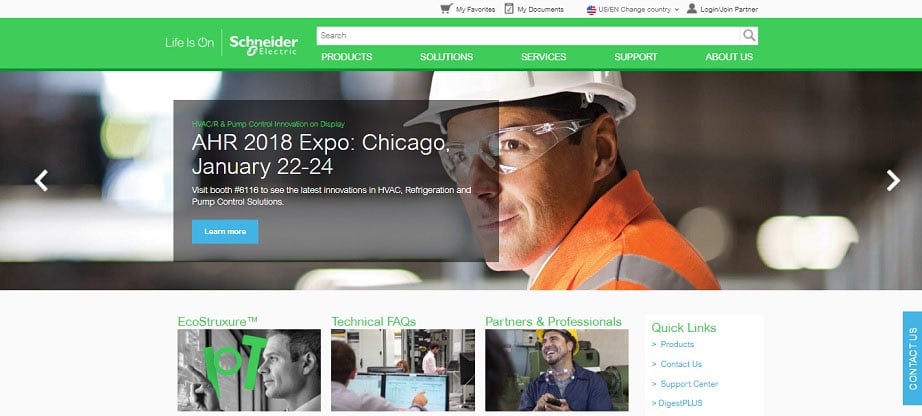 Schneider Electric website is a good place to learn how to make your business highly available and your office easily found. There's no sense in the online presence until it helps your customers keep in touch with you. Schneider Electric offers various options on their Contact Us page. Alongside traditional variants such as phone numbers, email, and Contact Form the company uses an office locator. It allows you to find a local sales office searching by zip code or city.
10 Best Industrial Website Templates 2018 for a Successful Start
Have you already accumulated the ideas from our list of the best industrial websites? Are you ready to implement them for building your own industrial website? Then, here's a collection of the best industrial website templates capable of bringing your ideas to life. The templates listed here are among the best website templates of the year.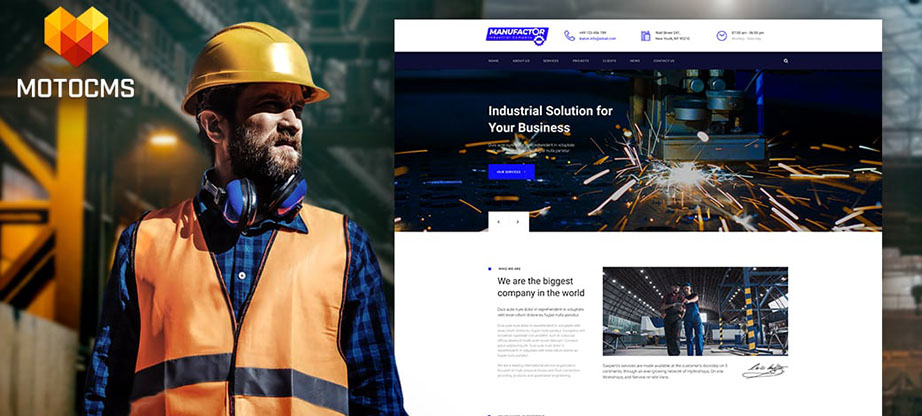 ManuFactor is a brand new multipurpose industrial website template from MotoCMS capable of becoming your number one choice. It doesn't matter what industry you represent. This awesome theme will perfectly suit any industrial niche from energy and renewables to heavy machinery and mining services.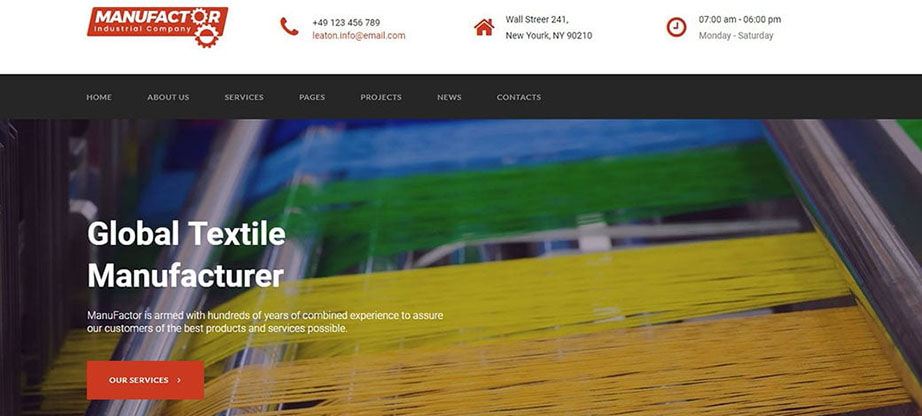 The best thing about ManuFactor is that you don't need any special tech skills to create a powerful industrial website. Moreover, the whole process is as easy as ABC thanks to the convenient website creator inside the admin panel. Just take your mouse and drag-and-drop any content element you want to the layout.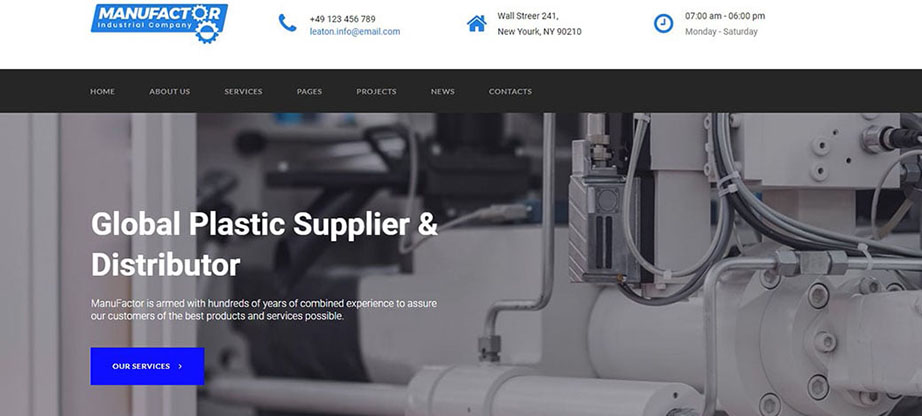 Create a unique design of your industrial website using Presets builder, Color picker, and a large collection of Google fonts. Add any imaginable functionality via implementing various widgets.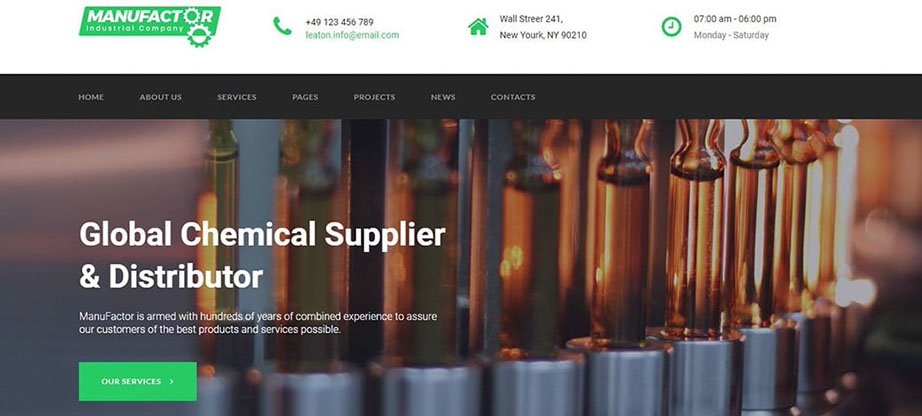 Don't forget to optimize your website with the help of built-in SEO tools. And that's it – your website is ready to compete with the best industrial websites.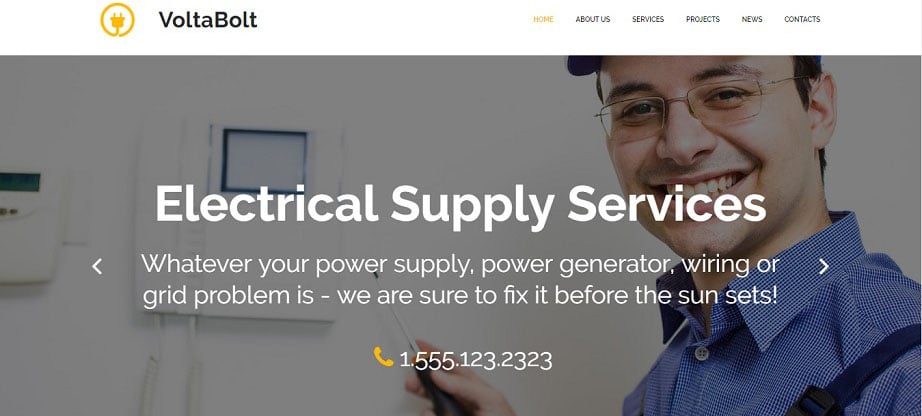 VoltaBolt is a marvelous industrial website template for those who want to build a great website from scratch. You don't have to be an IT geek to install it. Moreover, the entire process will take you less than 5 minutes. Though the template has pre-made original pages, you are able to customize any element you wish. You're also free to create new sections as well as content elements via a built-in drag-and-drop editor.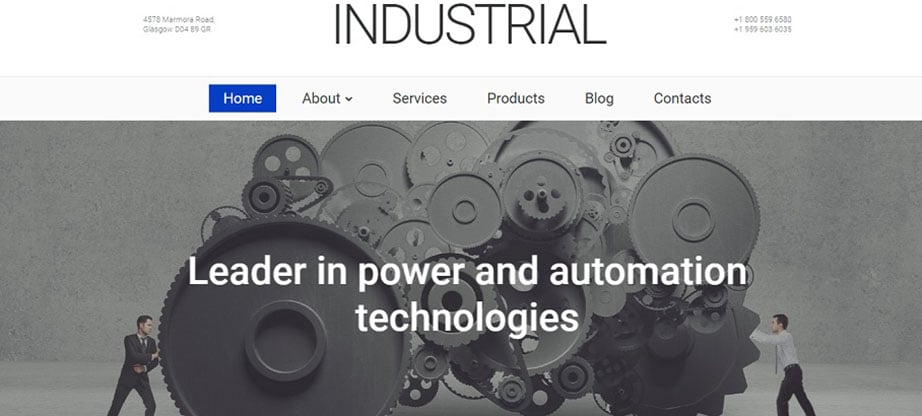 Industrial is a responsive feature-rich option for building an effective website with ease. Whatever industry is your cup of tea, this theme is worth your attention. After you install and customize the template according to your requirements, take care of future search rankings. SEO integration allows you to add keywords and meta descriptions to the pages of your industrial website as well as ALT and title to images.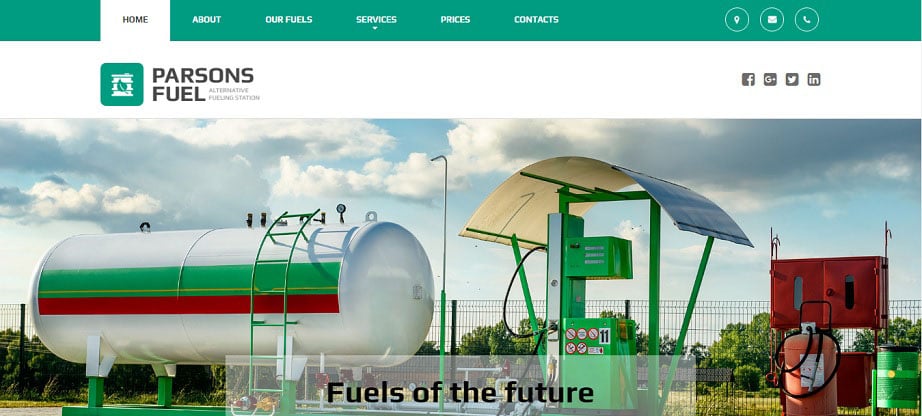 Parsons Fuel is a gorgeous industrial theme capable of bringing your industrial business to the next level. The entire template design focuses on your customers' positive user experience. The slider of the home page will catch your visitors' attention at once. The intuitive navigation will enable them to find any section they need in no time. Furthermore, your audience will undoubtedly enjoy the lightning-fast loading speed of your future website.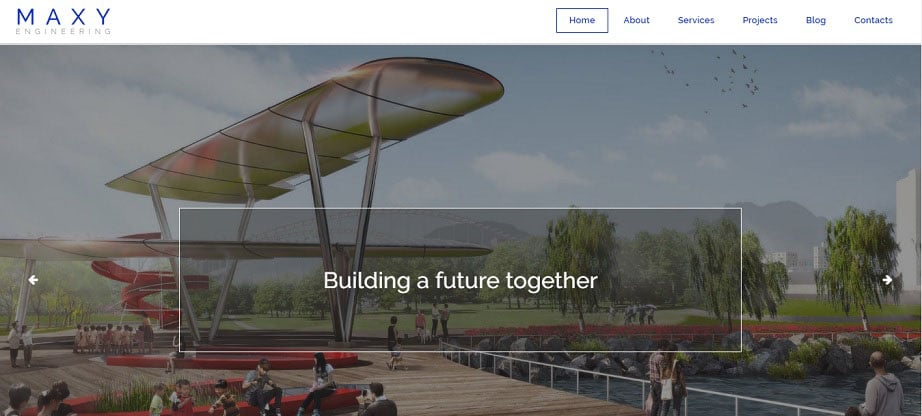 Maxy may become a great solution for anyone who intends to provide his industrial business with a strong online presence. To tell the truth, it won't take much of your time and effort to build a powerful website with this theme. Besides, various galleries will help you expose your products and services. Due to the audio and video widgets, you'll easily enliven your industrial website content.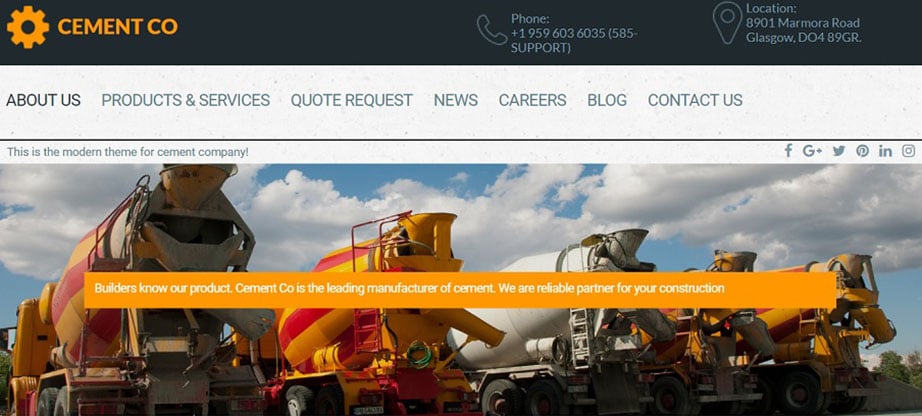 Cement Co is an amazing website template that was specifically designed for the industrial sector. The numerous pre-made pages and a wide range of helpful widgets give you the opportunity of creating a highly-functional website in no time. The blog functionality enables you to use all the power of content marketing for promoting your business. What's more, social media integration gives you an additional chance to find new customers via social media.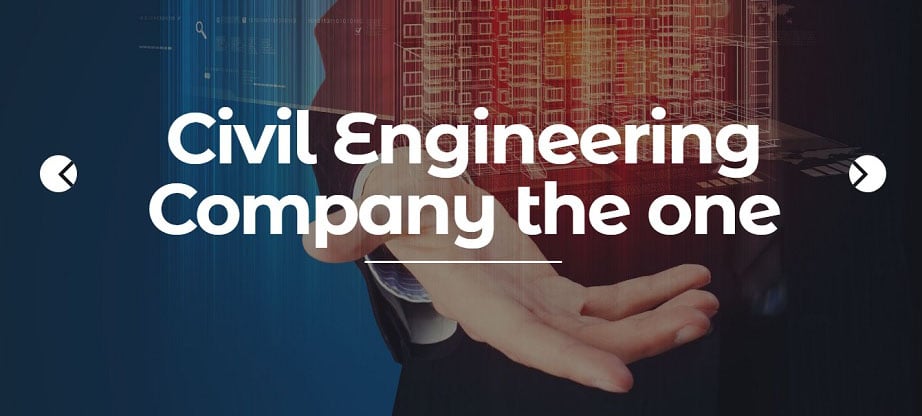 Civil Engineering is a wise solution for those who need an industrial website that looks reliable and evokes trust. This theme is extremely responsive. Moreover, it's cross-browser compatible. Consequently, you'll have no problems with your future website performance and look within any browser on any modern device. The free 14-day trial will definitely persuade you that you've made the right choice.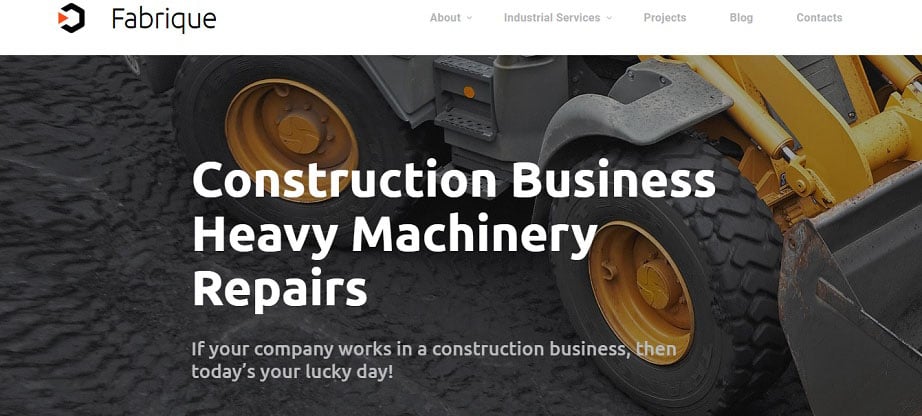 Fabrique is one more industrial website design from MotoCMS that can arouse your interest. It lets you start your online business in two twos. Even if you're a novice in website building you'll easily cope with the task following step-by-step interactive tutorials inside the admin panel. Besides, you'll get regular updates including newly released features, widgets, and functionality via one click inside your admin panel.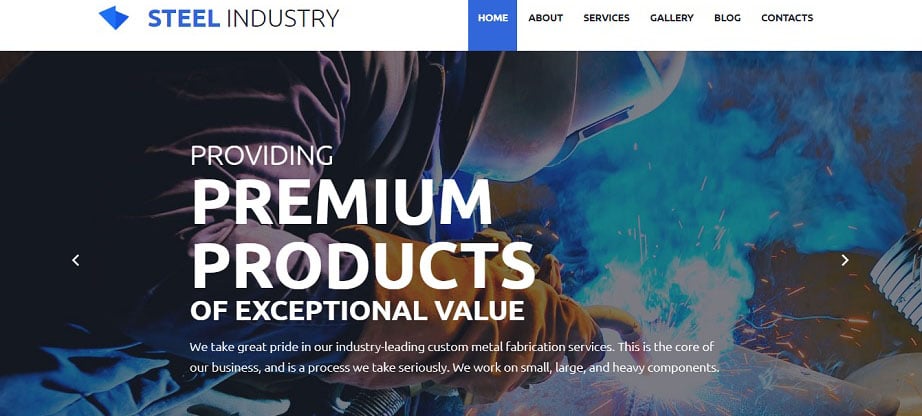 Steel Industry is one more stunning theme for launching an industrial website without spending money on top website designers. Install the template effortlessly and customize the color scheme with a color palette editor to perfectly match your brand. Use a large collection of beautiful Google fonts to provide a high level of text readability. Note that you can not only choose the font you like but also select its size and color.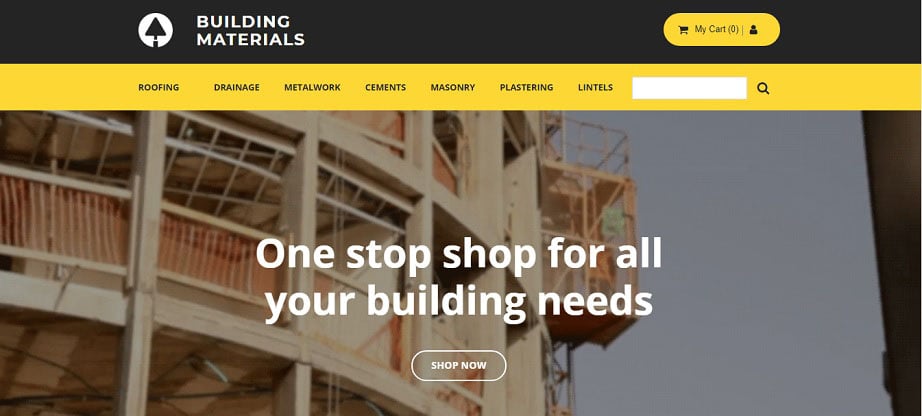 Building Materials is an excellent website template from MotoCMS for those who want to sell their products online. It provides you with each and every feature necessary for increasing your sales and growing your industrial business. Firstly, the theme enables you not only to add products but to sort them in any way you wish. Secondly, you are free to choose your currency and the payment method. Thirdly, you can include different kinds of taxes, apply promo codes and discounts, and much more. If you are creating a website for your construction business – this template would be a really great solution.
Bonus – Monstroid2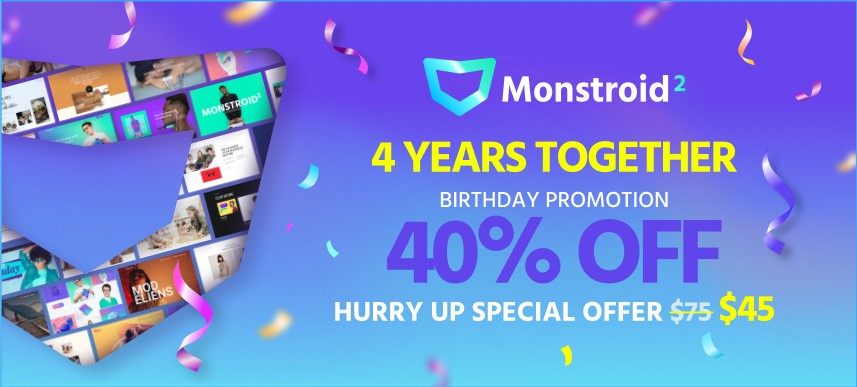 In case you consider industrial websites boring, go and check Monstroid2. This modular Elementor WordPress theme boasts 73+ skins crafted to match any business and other niches. Each of them is responsive, clean, and catchy. As well, there are many options for industrial designs.
For example, Monstroid2 suits companies that provide construction, moving, car tuning, and other services. Plus, this Elementor theme is quite easy-to-use and flexible. With it, you'll create any site code-free, just by dragging and dropping. And, if you need professional assistance, feel free to contact amicable support.
Bottom Line
Do you want your website to rank among the best industrial website designs? It's quite possible. To begin with, take time to carefully examine the features of the best industrial websites. Next, implement the ideas with one of the great MotoCMS industrial templates. By the way, you can use some hints from MotoCMS specialists on how to make an industrial website. Finally, see your website shine online among the best industrial websites in your field. Alternatively, you may use the services of some web design Ireland companies.