Using Memes in Marketing – 7 Famous Brands Cases
Using memes in marketing has become relatively common nowadays in a lot of marketing strategies. Whether you are a small local business or a large corporate conglomerate, you will need to have an effective marketing strategy. If you plan on reaching your target audience while making the most out of your marketing dollars. However, the first problem with creating a marketing strategy, regardless of memes, is that people confuse it with their marketing plan. The key difference is in the fact that your marketing strategy is shaped by your business goals. It should always be created before you actually start your business.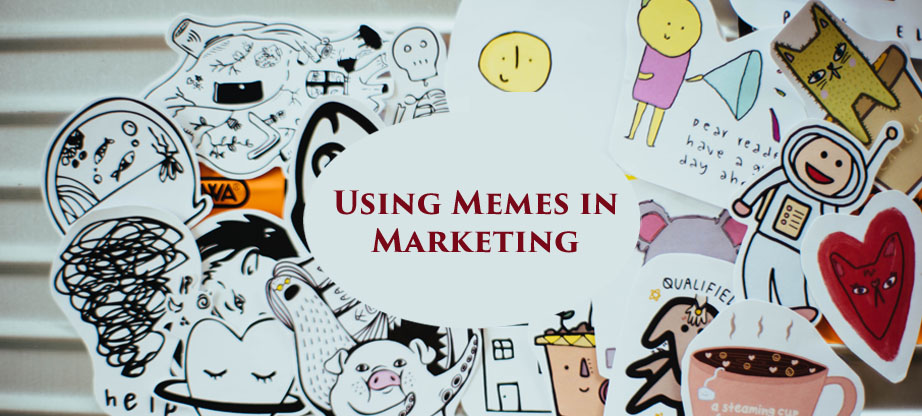 It should focus on elements such as the state of the marketplace, how much competition there is in your particular niche, how you will compete against it, and what sales number you need to reach in order make your business goal a success. Your marketing strategy provides an answer to the "what", as in what you should do. Your marketing plan refers to the "how" part of the equation. It involves all of the activities that will help you reach the goals laid out by your strategy (campaigns, posting on social media accounts, email marketing, etc.).
Here we will on focus on how memes have found they're into marketing strategies when it comes to famous brands. We will also provide the most effective examples. But before we do, let's a take a quick look at what memes are and why they are so universally loved.
A Word or Two About Digital Marketing Memes
Although memes have been around a for a long time, they have skyrocketed in terms of popularity with the emergence of social media, and it didn't take long for someone to realize the potential of using memes in marketing. Before Facebook, Twitter, and Instagram, memes were shared on Usenet newsgroups and forums. Although there is almost an endless number of memes, they can be divided into five major categories, according to EssayOnTime marketing expert, Jim Hudson:
Trending Memes. These digital marketing memes emerge out of nowhere, and become hugely popular, however, their lifespan is relatively short. They are usually relevant for no longer than a couple of months before replacement with a different one.
Pun Memes. As their name states, these memes usually pair up a familiar image with some sort of play on words.
The Evergreens. These are probably the earliest examples of using memes in advertising. We are talking about Rage Comics classics like "Forever Alone" and "Y U NO guy". They suit almost anything, and they will probably outlast any other meme.
Serial Memes. These usually make sense if presented using several different images. However, they can also be created the other way around. They can be found on websites like 9GAG.
One Hit Wonders. These memes aren't necessarily a result of a particular trend. They are usually very funny and creative, but the more times you see them, the less effective they become.
Now, let's take a look at some great examples of marketing with memes as done by popular brands.
Examples of Famous Brands Using Memes in Advertising
Denny's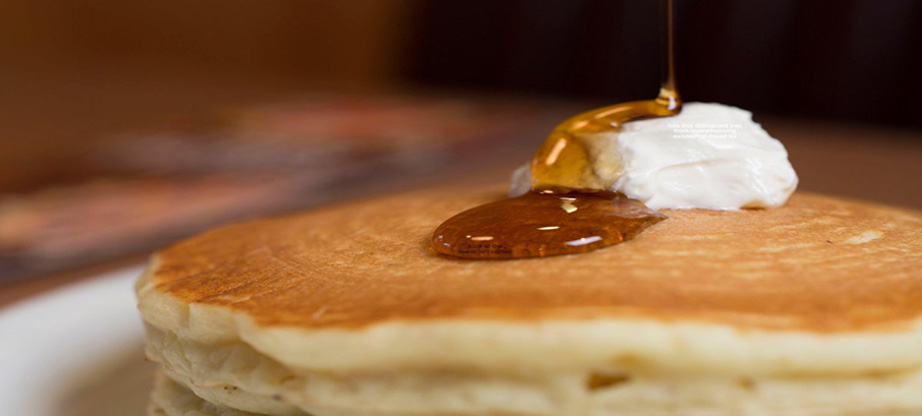 Denny's is probably among the best examples of how using memes can become an integral part of creating a brand identity. They are very aware of the power of social media, and they use to its full extent. If you take a look at their social media accounts, you will see that the company really knows how to use memes.
In the image below, they have utilized the famous "zoom in" meme. At first glance, it shows a delicious image of Denny's pancakes. Then, they direct you to take a look at three different corners of the image in succession. Finally, they reveal the final hidden message: "Has this distracted you from overwhelming existential dread lol". Although it may seem like a pretty dark meme for a brand of pancakes, their followers have loved it.
It was posted on their Twitter account, it has garnered close to 400,000 likes, and as much as 233,316 retweets, which makes it one of the most popular tweets this brand has ever had. Of course, the whole zoom in trend has run its course by now, but at the time, it was totally fresh, and Denny's jumped on it at the best possible time. Another reason why it was so successful is that Denny's had already been a company which is known for using memes in advertising.
In fact, most companies wouldn't have been able to get away with such a nihilistic meme. Instead, they would have had to soften their message and use something like "Eat more of our delicious pancakes", which would have been far more generic and bland.
Nickelodeon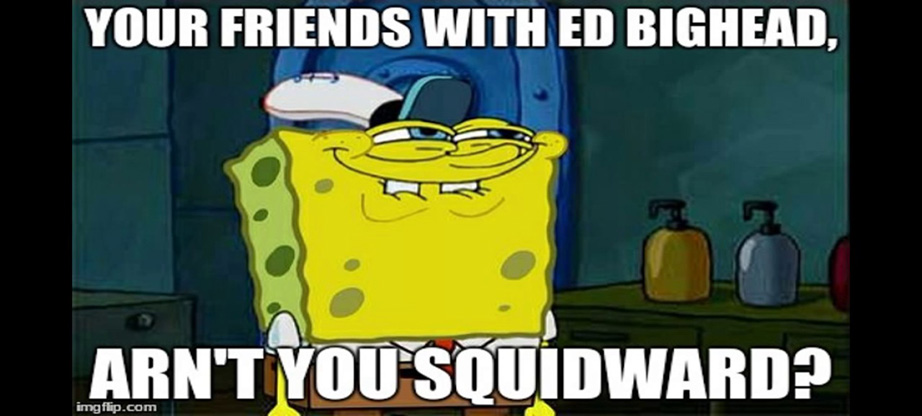 One of the things Nickelodeon does best is catering to its young audience by using memes. The clever thing about Nickelodeon's approach is that they use their own cartoons. They create new memes and promote their TV schedule in the process. They realize that the reason for memes popularity is that they describe something a lot of people can relate to. In this instance, the audience is children. What they can identify with is everyday stuff. For example, having an annoying sibling, enjoying freedom and misbehavior, and having much homework.
The meme below is a great example of how kids feel when they manage to make use of those scarce moments where there are no adults around and when they can just be goofy. What makes them identify with the situation, even more, is the fact that the meme features one of their favorite characters. However, it is also a nod to their parents, as it references a famous scene from Risky Business, which most kids probably haven't watched just yet. Another great thing about Nickelodeon memes is that they are age-appropriate and reflect what their viewers are into at that age.
Nickelodeon characters are so popular and loved that they have also inspired a ton of user-generated memes, as is the case with the meme featuring SpongeBob Squarepants. The mischievous look on his face easily resembles anyone's friends when they find out about that person's secret crush. You know there is going to be plenty of playful and good-natured teasing, but after everyone has had their fun, they will be happy about you and will do everything they can do to help.
Gucci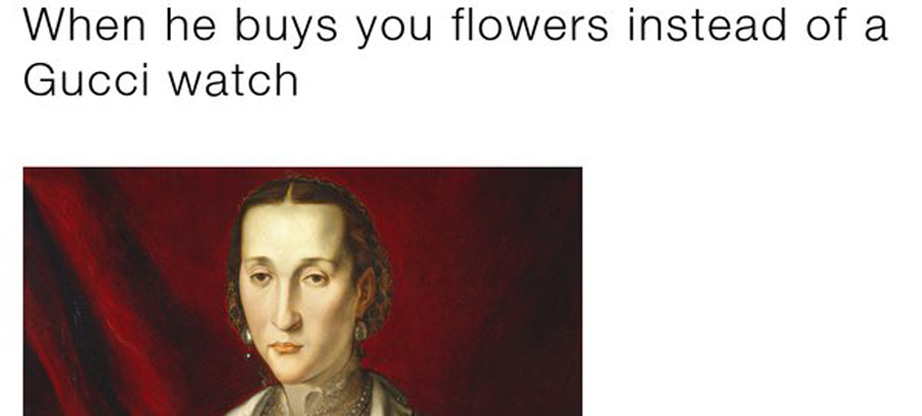 Most memes have emerged from the confines of places like Reddit and 4Chan, and as a result of that, they still reflect that lo-fi aesthetic in most cases. However, as they become more universally accepted, they start to move away from their old templates, especially when huge brands like Gucci decide to take a stab at marketing with memes. But, what makes their memes special is that they are not some dank memes. Instead, they are being created by renowned visual artists as part of Gucci's #TFWGucci campaign on social media platforms.
This campaign of using memes in marketing was started by Gucci after they have commissioned Alessandro Michele, who is a famous Italian designer, to curate memes created by different artists. So far, we have been able to see numerous brilliant examples of meme use, such as the Tudor painting with the following caption: "When he buys you flowers instead of a Gucci watch". Needless to say, the campaign fell perfectly in line with the release of Gucci's new collection of luxury watches.
Another effective example of the TFW ("that feeling when") campaign is the creative use of the "me vs. the guy she says I shouldn't worry about" meme, which features one of Gucci's new watches, shown in the image below. Truth be told, there was a minor backlash from internet users. However, the numbers tell a different story.
According to research done by Dash Hudson on Gucci meme luxury brand Instagram marketing strategy, a platform that specializes in Instagram analytics, Gucci absolutely crushed it. Their total reach was 120,089,317, and they have received 1,986,005 likes for their Instagram posts. Moreover, it turns out that these memes are Gucci's best performing content online yet. There is very little doubt about whether this campaign was a success or not.
Seamless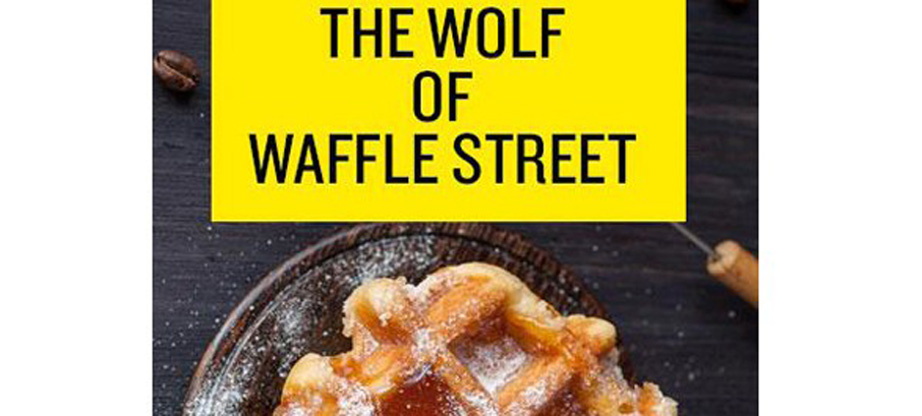 Seamless is a food delivery service which is no stranger to using memes in marketing, as well as humorous images in order to engage their followers and get them to become one of their customers. However, they have definitely hit a home run during the 2014 Academy Awards. We don't really remember who the winners were, and it doesn't really matter, because Seamless were the biggest winners of that night. What they have done is create a series of images that parodied movies nominees in 2014, and grouped them under the same hashtag on Twitter: #OscarNomNoms.
The biggest win was their "The Wolf of Waffle Street" image, which spoofed The Wolf of Wall Street, as can be seen below. Arguably the best bit of this campaign, apart from the delicious food imagery and clever puns, was it's user-oriented nature. To be more specific, Seamless has engaged users and encouraged them to come up with their own spoofs of nominated movies, which they have then turned into images. Of course, the effect of these memes was somewhat short-lived, as it would it be since we are talking about an event which is only relevant during the time it is taking place. But, that doesn't mean it wasn't a successful example of using memes in marketing.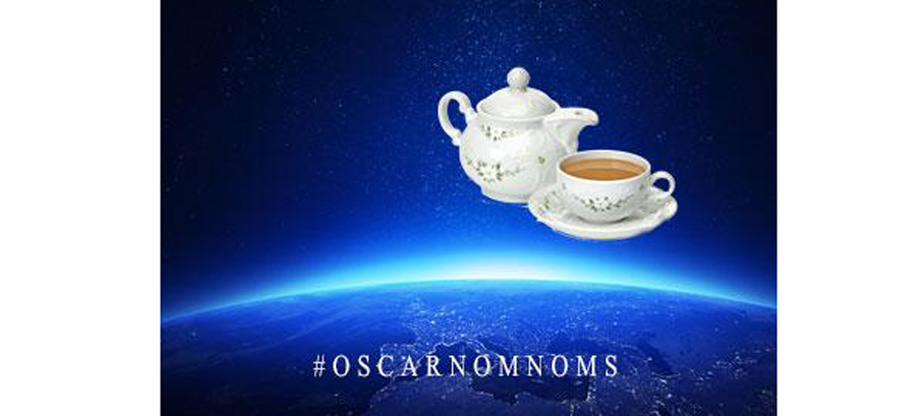 Other hits include their take on American Hustle, which became American Mussels, and Gravitea, which are parodies, obviously.
Jimmy John's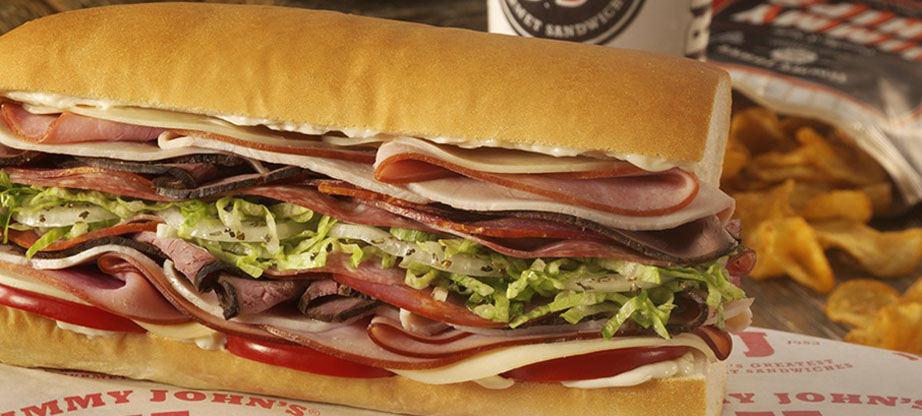 It's hard to find someone who doesn't love a great sandwich at an affordable price. If you are looking for one, Jimmy John's is one of the best options. The problem is that there are so many others out there. However, the marketing wizards at Jimmy John's have rolled up their sleeves and decided to entertain their target audience.
We have already seen an example of "you vs. the guy she tells you not to worry about" meme earlier. Jimmy John's have something similar, which just shows how universal these memes are. However, there is still room for creativity and different versions within the limits set by the meme itself. Take a look at the image below, in which there is a bland ham sandwich, as opposed to the guy you shouldn't worry about, which is being likened to one of Jimmy John's mouth-watering subs.
In fact, the numbers tell that they loved the joke. The tweet itself has earned 5,074 likes and 2,547 retweets. It is a great result. The reason why this meme works is that everyone has compared themselves to someone else. Of course, the subject matter is less serious here since we have two sandwiches being compared.
Now, if Jimmy John's marketing experts weren't so good at using memes in marketing and knowing their target audience, they could have risked. However, in this case, they walk that fine line between humor and self-deprecation. They have focused on the emotions of their audience and it has worked. Ultimately, they have made their brand more likable.
HubSpot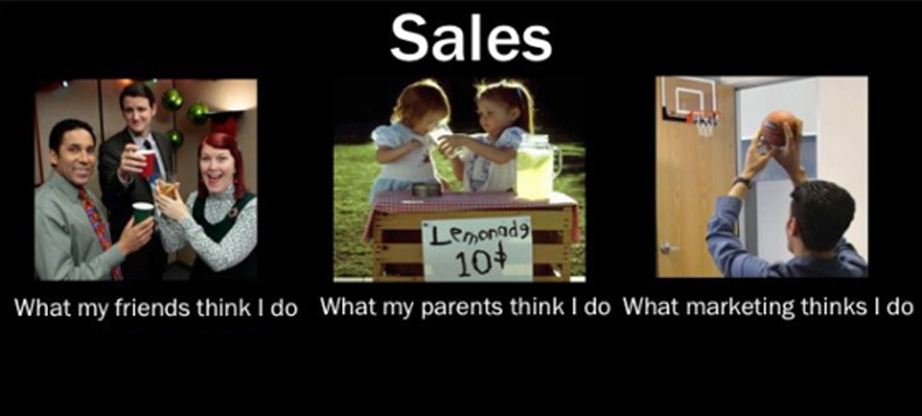 HubSpot is one of the most popular companies which develops software and solutions for inbound marketing. So, it's not much of a stretch for them to make use of a marketing trend as it emerges. In this case, they have made use of the familiar "What People Think I Do/What I Really Do" meme. We remember it well. Basically, it boils down to two rows of images. They juxtapose the impressions others have about your profession with own impression of what you do.
When it comes to using memes in marketing, HubSpot has probably done the best job. They have managed to generate a significant engagement on their social media accounts when made a meme for Sales and Marketer departments. The results were hilarious.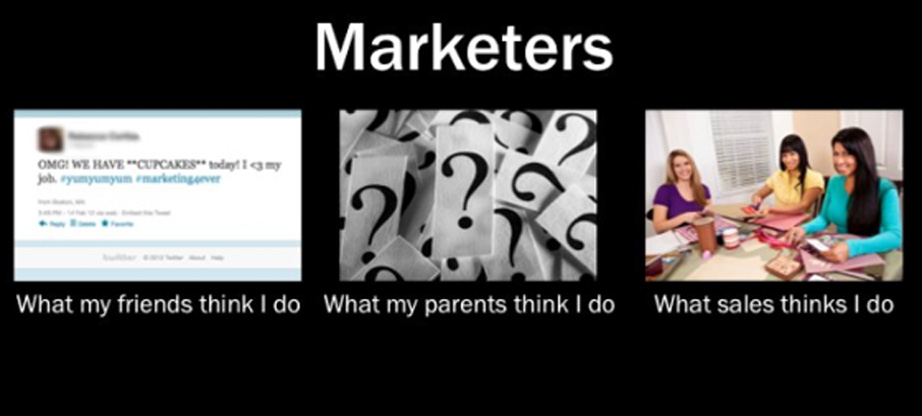 In the Sales version of the meme, the sales people's prospects thought they were sharks, while their parents' stance was that they were doing nothing more than having a lemonade stand. Salespeople thought to be experts, and the final image revealed that what they actually do is harass people over the phone to buy their products. The meme generated 453 likes and 250 shares. The Marketers version of the meme was equally humorous and disparaging. Friends of marketers thought they did nothing but tweet all day. Their parents had no idea what their job was. The society viewed them as mere mascots and leads thought they were just spamming people.
HipChat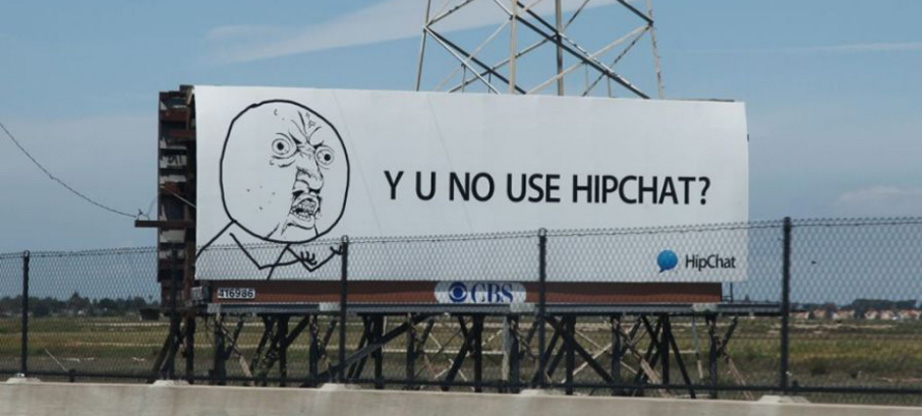 HipChat is no longer around. However, it is the best example of how you can use a meme to improve user engagement, drive traffic, and sales. And to make matters even more impressive, the whole thing was done offline! Yes, you have read that correctly. The whole thing was done through means of outbound marketing. So, what they have done that was so brilliant?
First of all, let's go back to the original meme. Unless you have been living under a rock, you are more than familiar with Rage Comics. In this case, the marketing people at HipChat have decided to make use of the "Y U NO Guy" to promote their chat app. They rent a billboard for 4 weeks in the San Francisco Bay Area. It featured the famous stick figure with an enraged expression saying: "Y U NO USE HIPCHAT?". Although outbound marketing is usually more expensive and boasts a lower ROI, it has worked wonders for HipChat.
They claim that the whole campaign had far exceeded their expectations. They have experienced a huge surge in organic traffic and even seem some media coverage. And the best thing about their billboard is that it cost them only $7,000, which is a bargain. It would have cost them a lot more to pay for that sort of coverage and advertisement.
When Should You Decide on Using Memes in Marketing
There is one thing all of these brands have in common when it comes to meme usage. It's the fact that these memes were all suitable for particular businesses. All of those brands and companies were no strangers to humor. Nor was their audience, which enabled them to make use of memes. Even if they have sometimes walked the fine line between funny and touchy. Another key takeaway is to be sparing when it comes to using memes in marketing. Not just because they grow old quickly, but also because they are no replacement for high-quality content. But, they are a welcome addition to an already well-thought-out strategy. It is based on offering something of value to your customers, and especially if their tone is equal to the voice of your company. Then it's a winning combo.
Summary
Memes can be incredibly entertaining. Anyone who has ever visited 9GAG or Imgur knows it. However, given the right opportunity, they can also work wonders for your marketing campaigns. Especially if you are looking for quick boosts in user engagement. The same goes for trendy memes, which are short-lived. Though that doesn't mean you can't benefit from their use.
The brands above are just some examples of memes being used in a smart and creative way. They have palpable results to boot, whether it's in the shape on social media, increased traffic, or better sales. If you can keep an eye on hot memes and to pick the perfect timing, you can do the same for your brand or company.