How to Choose a Jewelry Website Design that Converts
Running a jewelry store online can be tricky. This niche is very sensitive to many social, psychological and economic factors. So you need to carefully explore it and make some research to find out what kind of jewelry you are to sell and who will be your audience. And then you should choose a perfect design for your jewelry website that will convert.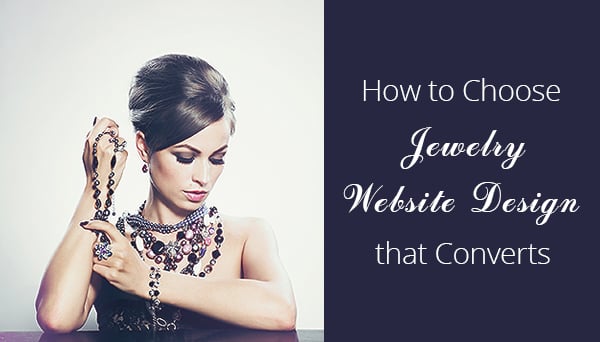 It may sound surprising, but a jewelry website design can really impact conversions. Everything, from a color palette choice to categorization, may either get customers for you or bring your online business down. Thus you should learn some basics about jewelry website templates layout to create the best website for your jewelry store.
First, you should make some research and know your potential customers better. It also depends on what kind of jewelry store you are about to launch. If you are a hand-made jewelry and bijouterie enthusiast, then your potential audience might be the younger generation. But if you're planning to sell high-quality precious rings and necklaces, you should focus on middle and high-class social groups. Of course, your website design will also depend on your audience and offers.
Jewelry Website Design and Color Palette
If you look at most luxury jewelry websites and web templates you may notice that most of them are dark colored. Many jewelry websites make heavy use of black color. It's easy to explain.
Physical science interprets black as an absence of any color. For centuries in Europe black was considered a mournful color. Until one day, in times of the Great Depression, Coco Chanel made Little Black Dress a must-have for any woman and a real revolution in the world of fashion. Since then black is considered to be a sophisticated color that brings elegance and chic to a style.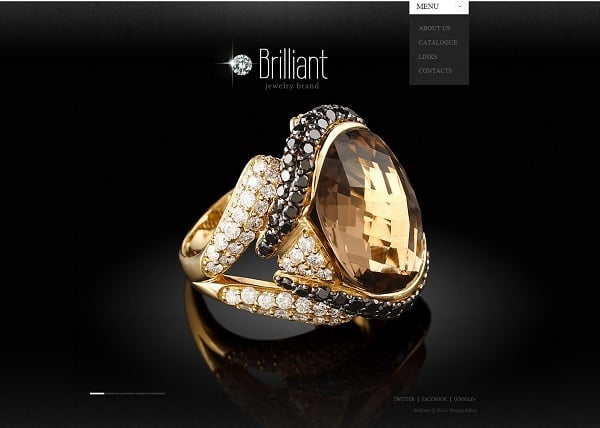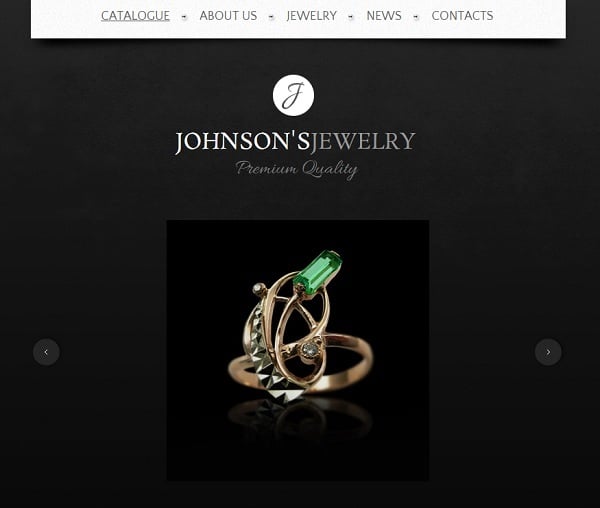 In psychology, black is often seen as a covering color that hides a person and absorbs all negative emotions that come from surrounding. It conveys confidence, sophistication and sexuality to the design. That's why black is one of the most popular colors for jewelry websites.
Another reason for using black for jewelry store websites is its neutrality. Offline jewelry shops in most cases use black suede lining for showcasing and keeping jewelry pieces. This color in a combination with the softness of suede creates a perfect background for gold and platinum treasures. Online stores adopted this method and today black is one of the most popular colors for jewelry website templates.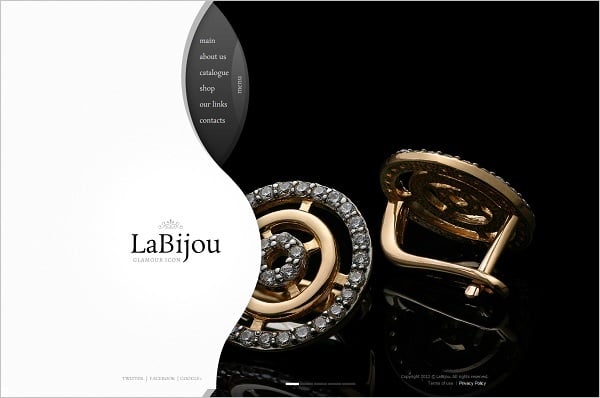 As for other colors, I wouldn't recommend using a too bright color palette for a jewelry website. You should always think of content you will fill your site with. Bright colors are not the best choice for golden jewelry with gems – it may get lost in all that rave of color. Equally, hand-made jewelry often features colorful elements that may conflict with the overall website design and make it look cluttered.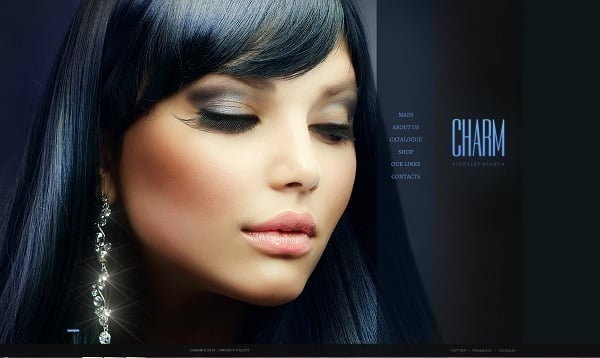 If you still have a feeling that black is not your best choice for website design, you better go for calm colors like white, grey, beige. Choose navy, deep purple, violet or burgundy if you opt for a darker palette.
Website Content: Photos and Descriptions
When it comes to adding content to a store many website owners try to minimize their spendings. Thus, they add product photos of a mediocre quality. It's a big mistake! You should never try to save on content quality. The better your products look on a screen the more customers you get.
The best solution is hiring a professional photographer who creates a cool-looking photos of jewelry. You may add two kinds of photos to your website:
Product photos. These are usually photos of jewelry pieces against a neutral background. Don't forget about the sizes of those photos. Use small thumbnails for a category page and offer users to see larger images of a product;
Models wearing jewelry. This type of imagery is a great marketing solution that allows showcasing your product in the most attractive manner.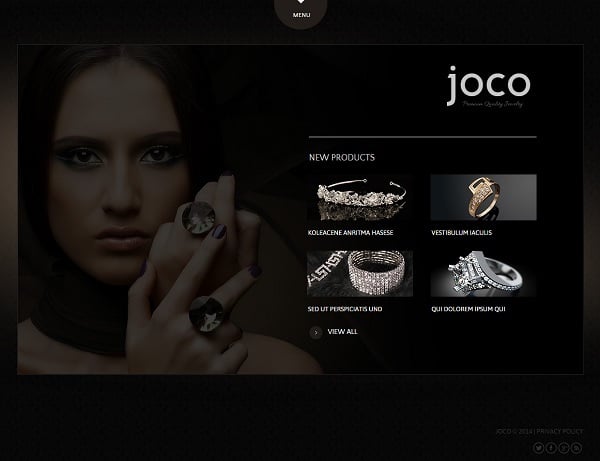 Add catchy and elegant descriptions that will contain all the necessary info about every piece of jewelry: material, features, sizes available etc.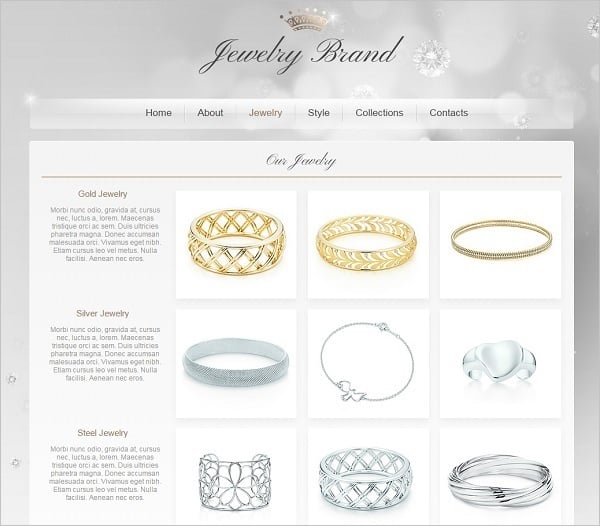 You can also add a blog to your website to offer your users essential info about how to choose, wear and maintain jewelry. It helps drawing traffic to the website, broadens the audience and pays a lot to SEO.
Categories and Navigation
Creating a proper structure of a jewelry website is one of the main challenges for web designers. It should offer the best user experience and allow finding items with just a few clicks.
It's usually hard to decide a number of categories that will be enough for this kind of website. Too broad categories may leave customer lost among tons of various products. On the other hand, too detailed categorization may clutter design and frustrate users. It's better to have 5 to 7 categories with separate jewelry groups based on the product type (e.g. rings, necklaces, earrings etc.) or on the material (gold, silver etc.). Then you may offer users a sidebar with additional filters (e.g. material, size, style) to help them narrow results.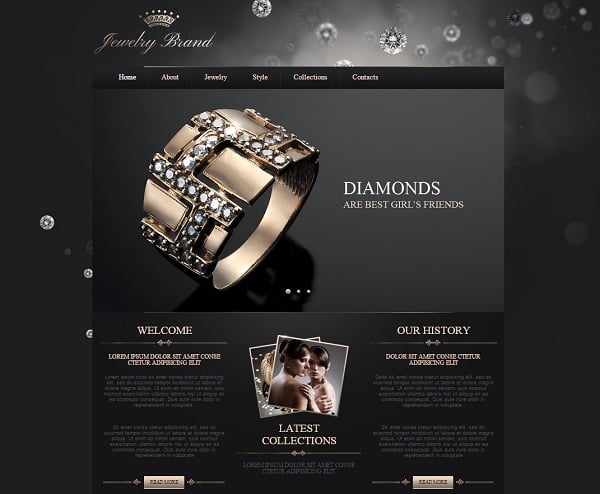 Always include a search bar to your website. It helps users to search items they need and adds a lot to the UX.
Contact Page Layout
Contact page is an important element for any website. It allows your potential customers making orders, leaving feedback or contacting you for more information. So, you should always add a simple contact form to the website. If you run only online business and don't have a regular local jewelry store, you don't necessary need to include a map to your website. But you should definitely include your phone number so potential customers could call you for additional info.
Social media buttons are also necessary if you wish to promote your product online. Having a social page for a brand today is an urgent need. It helps gaining new customers and rising your brand awareness.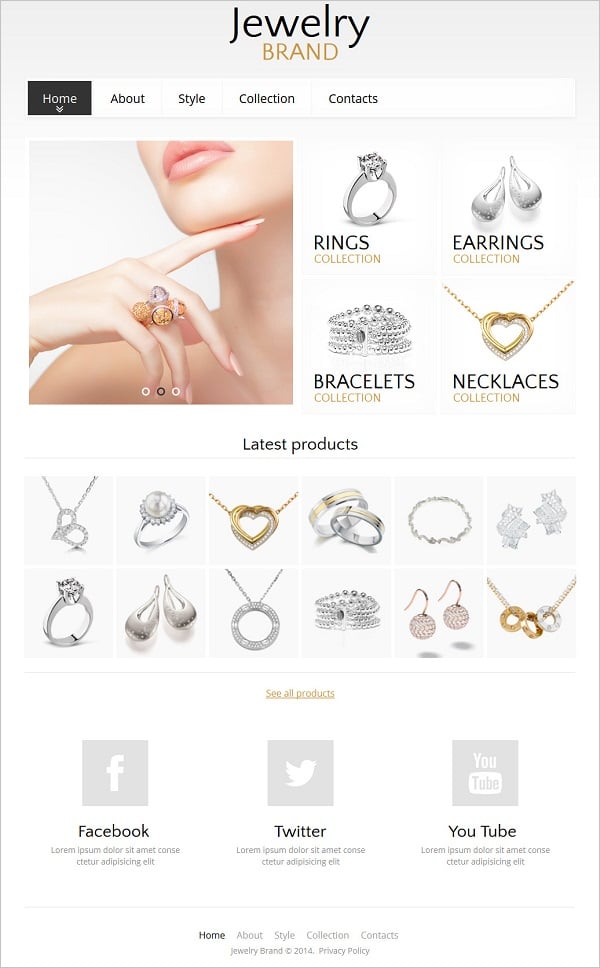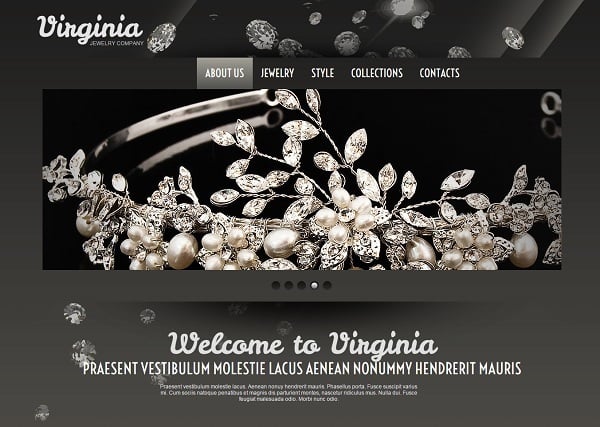 With all these recommendations you can create your own jewelry website in a few hours and start your online business. Focusing on the important aspects of design and UX should help you to build a website that will gain customers and have good conversions.