How to Create a Lookbook Website with Premium Template
Working in the fashion industry today requires not only talent for apparel design, but also knowing how to market your goods on the web. For sure, the internet has influenced the way people view and buy fashion. If they create a lookbook online professionally, it can give a boost to a little-known fashion designer or fashion house likewise.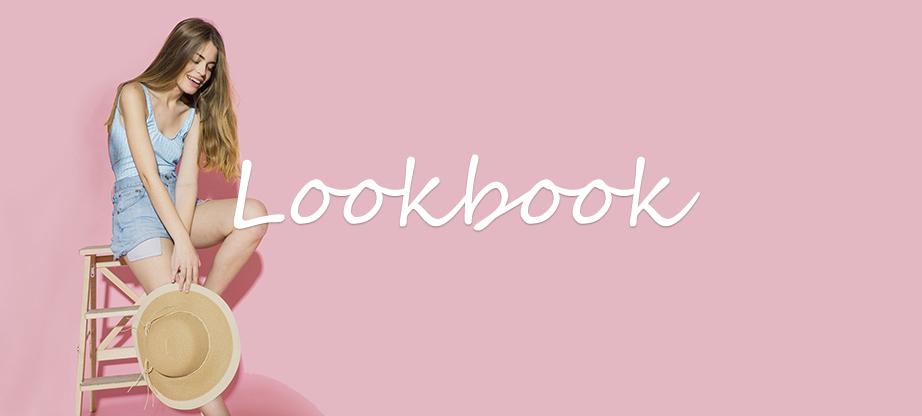 Very often, fashion designers who are new to the industry have a scarce budget, so they can't afford expensive marketing campaigns. Alas, not many of them know there's a way to create a fabulous presentation of their clothing using a digital lookbook template.
Using a pre-made fashion website template doesn't require any web design skills. Thanks to WYSIWYG-editor (what-you-see-is-what-you-get), building a fashion website will take a few hours. Feel free to customize pre-made pages the way you see fit. Throw some plugins and widgets into the cocktail, and voila – you have an eye-catching fashion lookbook!
What Is a Fashion Lookbook?
So, what is a fashion lookbook? Are there any rules to follow when making one? Both famous and noname fashion designers aim to create a lookbook to present their clothing and accessories in a unique way. Typically, the lookbooks of top retailers are a series of lifestyle shots that show models wearing branded apparel and accessories. Little-known brands may use lookbooks as a teaser to create hype for their new collection.
The main goal when you create a lookbook with the help of lookbook template is a visualization of a brand's products. That is, potential customers should have a vision of how a particular piece of clothing will look on them in an everyday situation. As for marketers, a lookbook is not only a way to demonstrate the benefits of wearing certain clothes, but also a shareable item. This way, lookbooks are marketing tools used to create brand awareness and increase audience reach.
How to Make a Lookbook Website?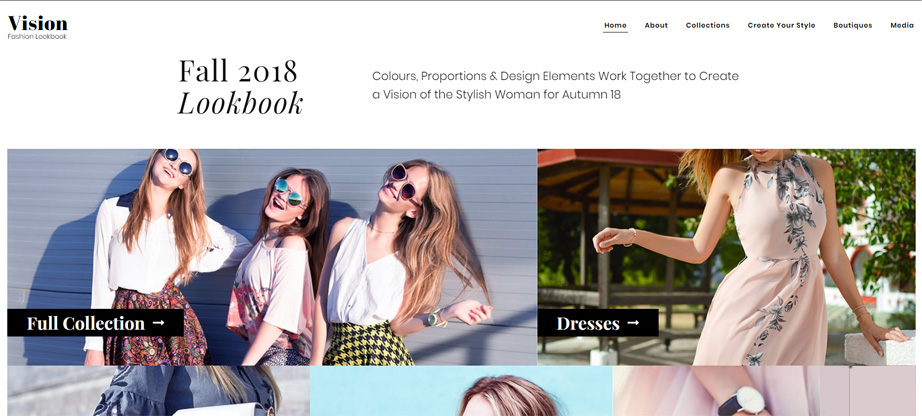 Advice 1. Be Trendy
Before starting a lookbook website, you surely need to know what is considered fashionable and stylish.  We are sure that you are keen on working with the latest trends in clothing and accessories, though do you remember that there are special trends in web design? Follow them for your visitors to feel they are on the on the crest of a wave. Choose the fanciest lookbook website template and do not be afraid to customize or modify your lookbook website as much as needed. Play with colors and background images till it is perfect.
The best website builder for clothing line and a comprehensive admin panel facilitate every design change and make it just a couple-of-clicks process. So, due to them, you will feel even more powerful as a fashion website creator.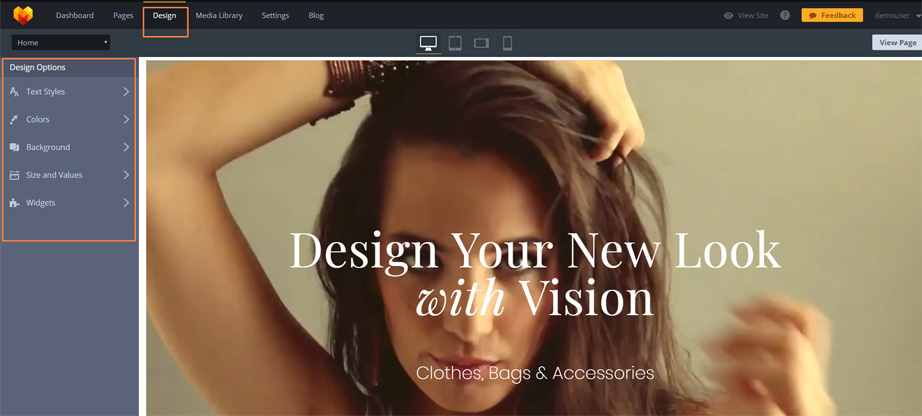 Advice 2. Be Sociable
Do you need your target audience to stay in touch with your company permanently? Do you need them to be aware of the news of your company? Do you know the necessity of the clients' feedback? If you answered 'yes' to at least one of the questions, then you know your lookbook site requires a blog. The posts dealing with fashion have to be especially engaging and attention-grabbing. Blogging can also help in improving your SEO indicators. Don't forget about regularity, and then search engines will do the rest for you! In the MotoCMS lookbook template, there is an additional tool for making a blog of a great quality with several moves in the admin panel.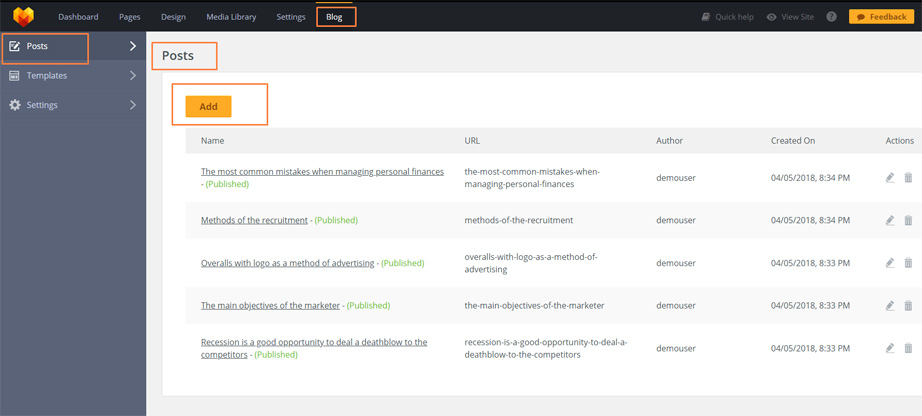 Moreover, there is an instrument included for connecting your lookbook website with various social networking accounts of your company. It will facilitate gathering feedback and having instant contact with your clients.
Advice 3. Be Flexible
You need to realize that your clients in the contemporary world are searching for everything on-the-go. Therefore, they need a website which looks absolutely qualitatively on all modern devices no matter what size or resolution of a screen is. Long gone are the times when you had a much simpler mobile version of your lookbook site! With MotoCMS intuitive admin panel you can see how your site appears on different displays for customers and change what you need troubleless.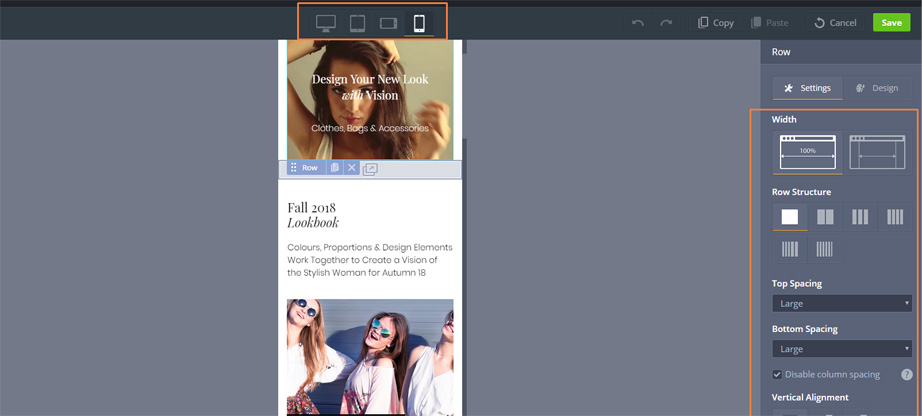 Advice 4. Be Informative
About page is what usually appeals to visitors on any site. Fill it wisely and make the data easily perceptive. Don't avoid lists and images to illustrate your main points. Your bio page is the representation of your story, style, and taste, so pay special attention to making it attractive. Here is how the About page looks like in the lookbook template we presented for you above. Each element of the page layout can be edited without difficulties.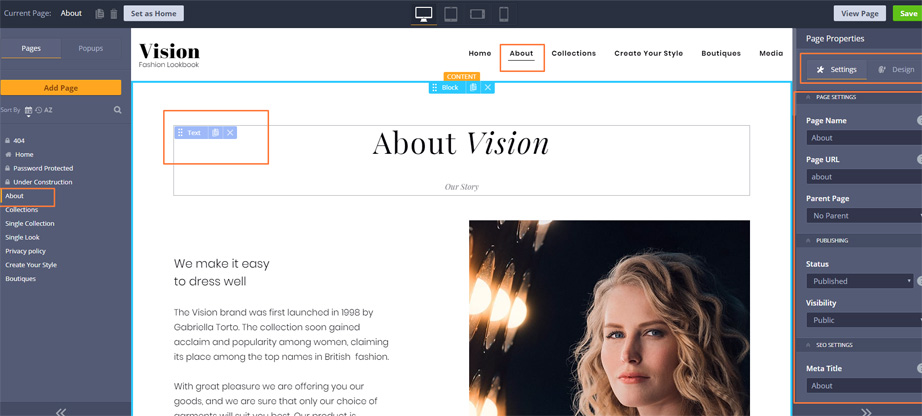 One more essential issue is contact information. Your prospective clients should be able to find it quickly. Besides, they should feel satisfied with getting all the contacts they need in one place. For instance, you can locate contact information of your company on the footer of every page in a couple of clicks.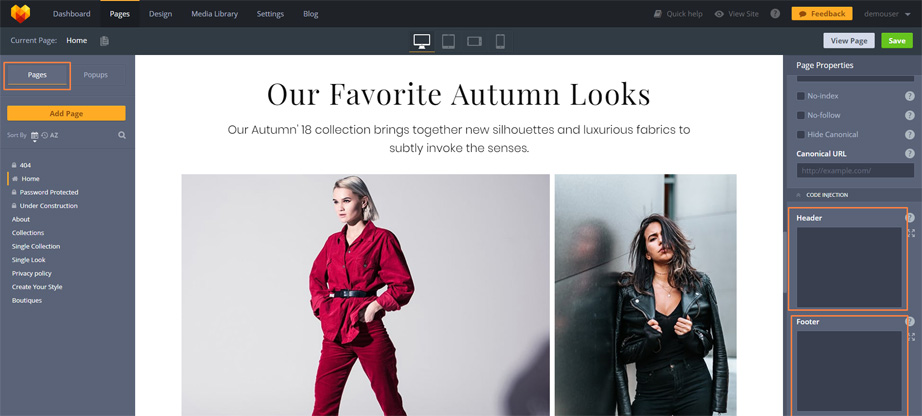 All the above steps are really simple and you can make them yourself without any specific skills or software needed. Just choose a lookbook website template and register your free demo version to get the pleasant experience of creating a lookbook website. It is easier than you can imagine!
Advantages of Website Templates when You Create a Lookbook
So, it's crucial for people behind the fashion brand to understand the goals they need to achieve using a digital lookbook. In this respect, doing competitive research can help to avoid possible mistakes and set eyes for the best examples present on the market. Using a ready-made lookbook template will help you avoid typical mistakes and make the most of your online lookbook. Here are some more benefits of using premium website templates by MotoCMS.
Catchy Homepage Layout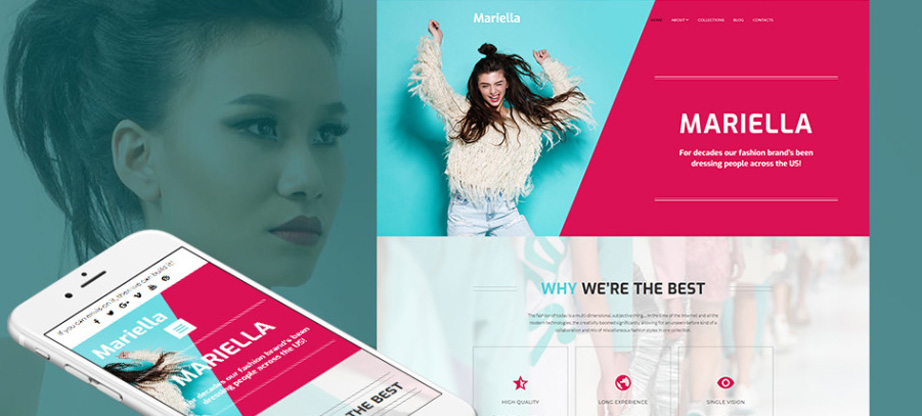 The first thing your customers see whenever they land on your website is the home page, so make sure it looks catchy enough to make them want to stay longer. Your website's home page must have a catchy cover photo and a call to action (CTA) button that stands out. By clicking the CTA button, a website visitor will start their journey to see more of your brand's lookbook. For instance, this fashion web template for fashion brand website has a very attractive cover image which truly sets off. Try its free demo and choose it as a basis for your digital lookbook.
Call-To-Action Buttons
Very often a digital lookbook is an actual online store meant to provide visitors with the possibility to purchase fashion items seen on the website. Marketers use a call to action buttons as a logical element of a user journey to convert a customer. So, it's extremely important to not only make a CTA button visible but place it exactly where it can convert a prospect. Next to the specific product that is. Thanks to the well-thought layout of any MotoCMS lookbook template, all CTA buttons are already in place.
Image Slider & Gallery Options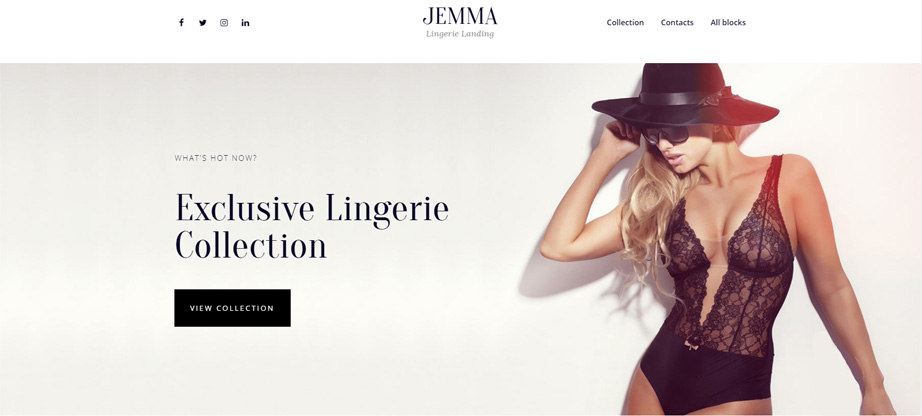 When you create a lookbook, you cannot do without investing in a professional photographer. Even if you have a limited budget, presenting high-quality pictures in a lookbook is essential to your brand's success. But it's not only the pictures that matter, but how they are showcased. Take any MotoCMS responsive fashion lookbook template, for instance, a landing page template for women lingerie, to see it offers an option of including an image slider into the home page. Even more, get a free demo and use photo gallery templates with a separate gallery page layout to create a stunning showcase for your high-quality photography.
Product Descriptions
Still, a fashion lookbook isn't only about beautiful imagery. Providing product descriptions is one of the keys to your success. No need to put lengthy captions next to every item. 30-60 words will be enough to keep your customer's attention on the item and give them an idea of how special this item is. Use storytelling to create a narrative behind a series of pictures. This way, your fashion lookbook will be seen as a wholesome product. Premium fashion website templates allow adding descriptive captions to images as well as creating separate product pages integrating eCommerce functionality.
5 Best Examples of Online Lookbooks
There is a number of popular online retailers with stylish digital lookbooks which can be taken as an example of what to start from or what to focus on. They have completely different approaches to product representation, though all of them are nicely structured and trendy-looking.
Net-A-Porter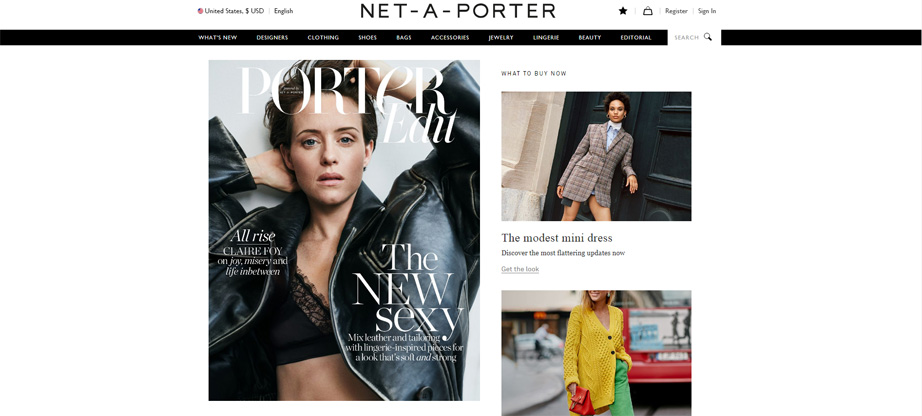 Net-A-Porter is one of the biggest and most famous online retailers. Apart from selling fashion items, Net-A-Porter has their own online magazine, which often serves as a lookbook. The magazine is sold online and has a vast customer reach. Apart from the expected set of lifestyle photography, the magazine also presents coverage of relevant stories. Beauty, celebrity life, and other popular topics are combined with images of models wearing their clothing.
Of/Mercer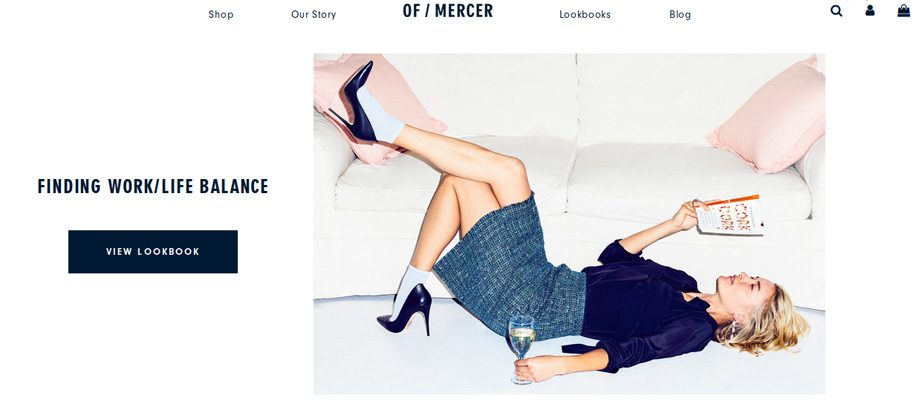 Of/Mercer lookbook may seem somewhat unconventional at first sight. Why? Mainly because it contains fashion shots showing models in extravagant poses which makes the overall setting look very true to real life. The apparel and accessories are selected to emphasize the usability of items in everyday situations. Whether it's finding work/life balance or home life, a potential customer will totally relate to the imagery.
One Tribe Apparel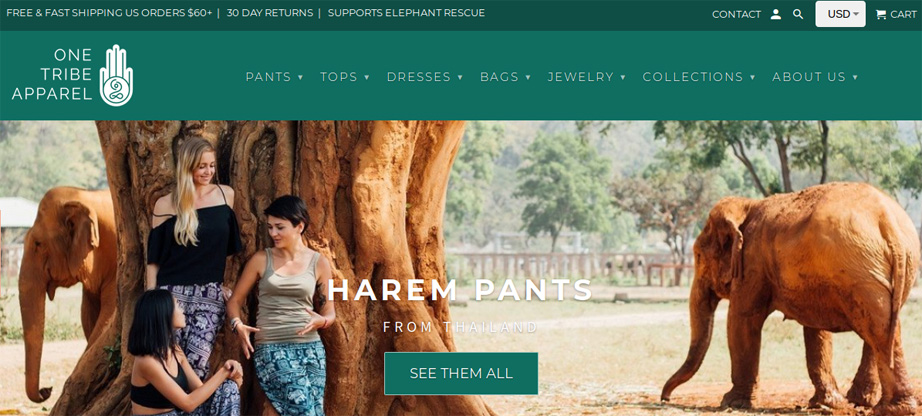 One Tribe Apparel digital lookbook has a totally different approach to fashion items presentation. This is the first if not the only crowdsourced lookbook so far! This basically means the lookbook contains products "worn by people from 6 continents, 16 countries and 21 locations." At that, a website contains a map allowing to select a location to view the fashion shots from. Instead of hiring professional photographers, One Tribe Apparel chose in favor of contributors. This makes their digital lookbook truly unique and relatable.
Whistles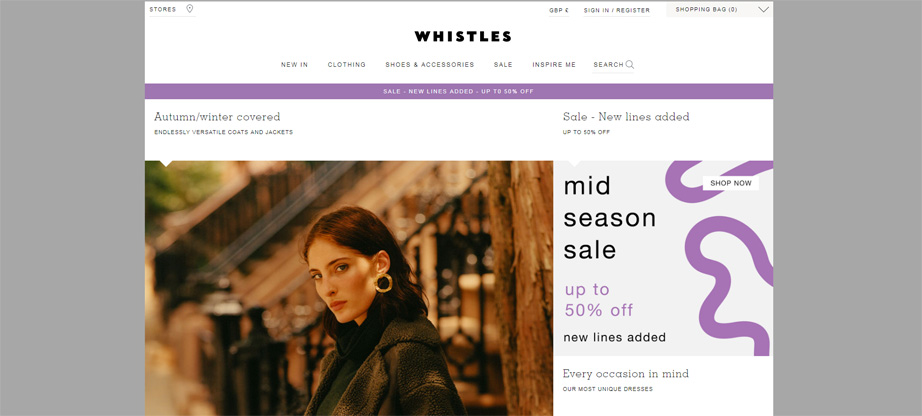 If you want to create a lookbook which is an example of the minimalist and clean web store, have a look at Whistles that at the same time mesmerizes customers with a vast selection of options. Simple typography and concise captions don't distract customers from high-quality lifestyle images. The website has handy navigation which allows finding the necessary items fast.
Topshop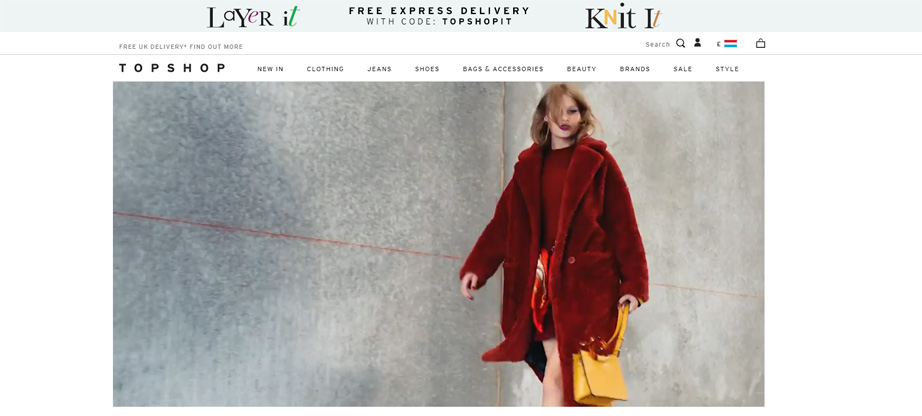 Topshop is one of the biggest fashion retailers, so their digital lookbook suits their status very well. Nothing extra, just clean product pages with short product descriptions paired with colorful fashion items. The goal is to accentuate clothes and accessories, so Topshop did their job well. At that, pop-ups, calls to action, purchase buttons – everything is in place.
How to Promote Your Online Lookbook?
As we've already established, if you create a lookbook in digital format, it becomes a powerful marketing medium that can increase audience's awareness of your fashion brand. Once you've made a lookbook, you need to find ways to promote it on different platforms. If you don't have much marketing experience, but currently can't afford to use a marketer's services, see a few insights below.
Social Networks
Indeed, social media is a helpful tool depending on how you use it. Focus on visually oriented social networks to make an appealing visual presentation for your fashion lookbook. Which social media apps to use for a lookbook promotion?
Facebook
Instagram
Twitter
Snapchat
Pinterest
And basically, any social media providing you with possibilities to promote your visual content. Whether it's images or videos, you can use the above networks for generating leads and actual sales. A business Instagram account is one of the best mediums so far to reflect the essence of a fashion brand in pictures. Besides, you'll get a detailed statistic on audience coverage, demographics, and more analytics.
Email Marketing
Email marketing can be powerful if done right. Set up a subscription form on your website to create a mailing list, then send out newsletters to reach out people. Using special services like MailChimp or SendPulse to create email campaigns you can make them more personalized and work out the email structure that works well for your business.
Ads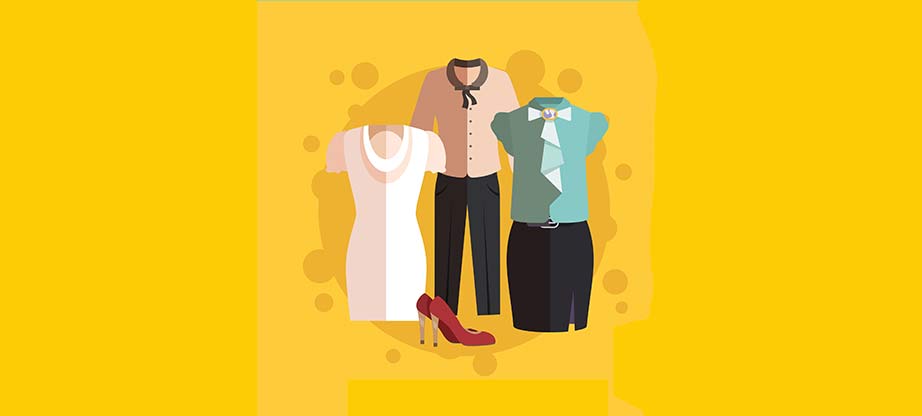 Online advertisement is another option to use for online promotion once you create a lookbook. According to the Net-A-Porter founder, Natalie Massenet, paid search (pay-per-click, PPC) is one of the most profitable ways to establish an online presence. Take note, pay-per-click advertising is a complex model that functions in partnership with Google. Basically, your lookbook ads are advertised by being put in strategic places on Google search results page or on other websites.
For instance, these are the first results showing up on Google SERP with an 'AD' mark. This means the businesses promoted by these ads made a bid to be at the top of the search results when specific keywords are searched. To make the most of the PPC advertising, it's crucial to select keywords relevant to your online lookbook.
In terms of fashion, PPC results provide plenty of information about your target audience's online behavior. By analyzing the statistic, you will get insights into the buying trends and customers' habits which will allow you to increase conversion rates after you create a lookbook online.
SEO Optimization
According to Search Engine Land August 2018 survey, 82% of online shoppers use their smartphones for "near me" searches. At that, over 90% of respondents said they'd click on the first set of results. Isn't that enough of a proof how important SEO is these days? The conclusion a business owner can draw out of this is obvious: when you create a lookbook in digital format, it has to be optimized for search engines.
Premium website templates already come supplied with a set of options to help do basic SEO. You are able to apply the best free SEO tools to your fashion website.  At first, you need to figure out the target keywords and use them in meta descriptions, title tags, alt text, and as anchor text for URLs. To work out a more in-depth SEO strategy, you should consult an SEO expert.
Influencer marketing
Last year, over 80% of fashion, cosmetic, and luxury brands used influencer campaigns, based on the report by Launchmetrics. At that, 76,4% of brands mainly targeted millennials (people aged  24 – 38 y.o.). Marketing professionals believe that influencers are the most powerful medium in terms of generating brand awareness in the fashion industry!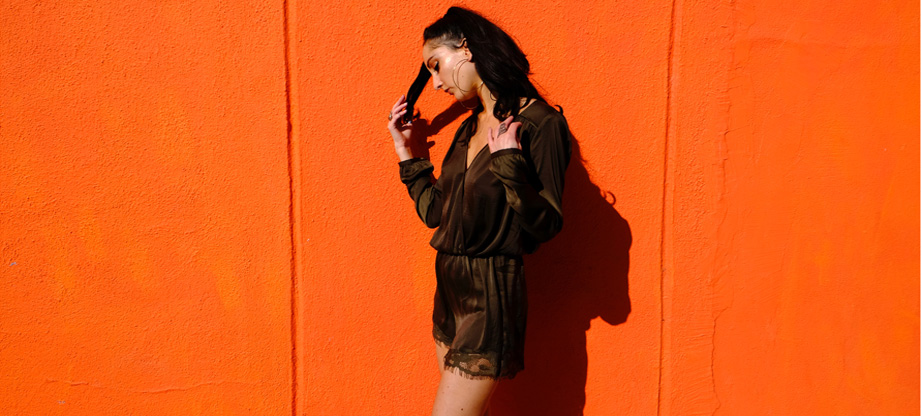 Take Zoella, a fashion, beauty, and lifestyle blogger with an Instagram following of 11.1 million. Considering the above statistic, a blogger life her has the enormous audience reach to promote a lookbook of a certain fashion brand. However, you should mind one important detail – the cost of a marketing integration can be pretty expensive. The price tag varies between $500-$100,000+ just for an image of a blogger wearing your clothes to appear on their feed. Still, this venture can be quite successful in terms of ROI.
Conclusion
Fashion website templates can be of help when you create a lookbook for a fashion brand. Whether you're a big retailer or a small fashion atelier, establishing a solid online presence won't be a problem with premium MotoCMS fashion lookbook templates. Using online lookbook as a promotional tool in combination with clever marketing strategies, you will be able to create brand awareness among customers.