What Website Builder Is Best – Comprehensive Guide on Popular Web Builders
It's a common fact that online presence is a must for any business nowadays. Whatever niche you represent, you just can't do without a highly-functional website. Due to modern website builders, it's, actually, not a problem even for a novice. Nevertheless, a reasonable question arises. What website builder is best in terms of quality-price rate? In other words, which website builder is best for making an appealing site without spending too much effort and money?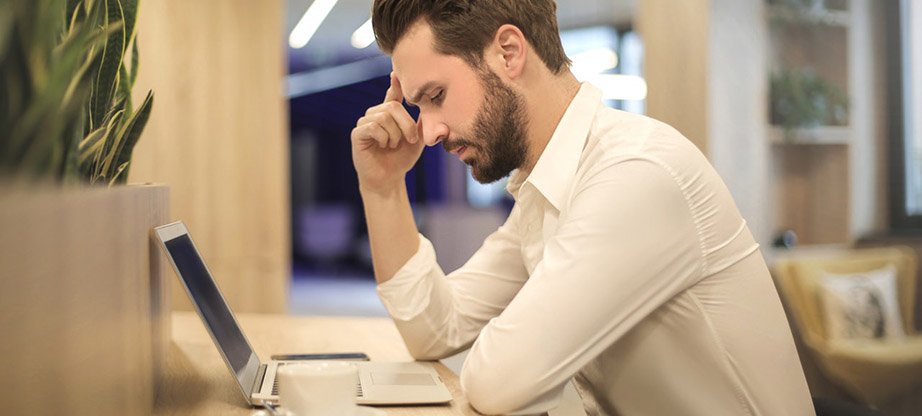 If such a question bothers your head, you are in the right place. In this article, we'll overview several modern site builders popular among users. We'll focus on their main features as well as advantages and drawbacks. After reading this article, we hope that you'll understand what website builder is best in your particular case. Don't forget that in case you need to create some more specific web products, like online courses or webinars, you'd better choose tools specially made for that purpose, like webinar software.
What Is a Website Builder?
Not long ago, it was impossible to bring your business online without special tech skills. To build even the simplest one-page website, you had to possess profound knowledge in coding and web design. Luckily, the situation has changed with the appearance of online website builders.
A website builder is a handy modern tool. It enables everyone (even a novice) to create any kind of site without using a line of coding. Whether you need a single-page website or a robust online store, it's not a problem. A good website builder will provide you with all the necessary tools and detailed instructions. As a result, you can have a functional site without hiring a pro. The only difficulty here is to determine what website builder is best for your individual case. But don't worry. With our help, you'll definitely be able to do it quite soon.
How Website Builder Works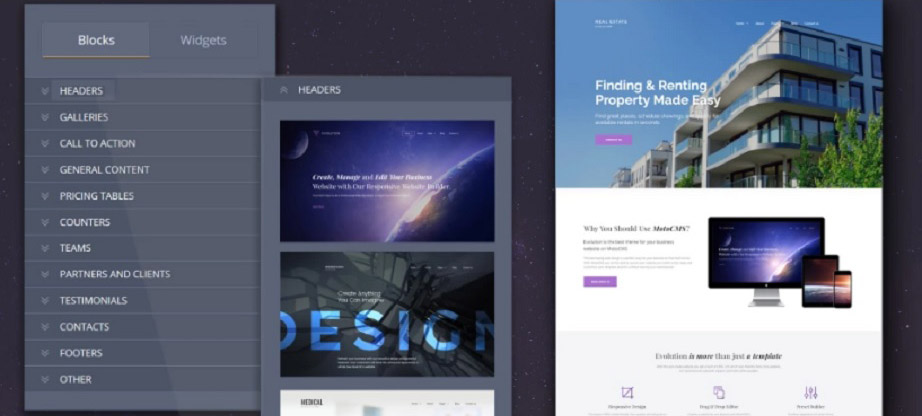 Frankly speaking, some people are still skeptical and don't think that a website builder is the right solution. They strongly believe in the severe confrontation: a website designer vs. website builders. However, the fact is that lots of web developers and designers take advantage of site builders in their work. A website builder decreases the effort to make a site to a minimum. Firstly, it offers you a collection of pre-designed templates. It means that you don't have to start from scratch.
Secondly, website builders possess helpful drag-and-drop functionality. To put it simply, they allow you to create a site using only your mouse and imagination. The procedure an easy website builder suggests is elementary. You click on a ready-made block you need and drag it to any place on the layout.
Thirdly, website builders allow you to customize templates according to your requirements. They come with various tools that let you change colors, fonts, edit images, etc. Also, they make it possible to add diverse content.
Finally, website builders enable you to employ useful tools for improving your site performance. For instance, SEO tools for high ranking in SERPs and Analytics for tracking and measuring your success. In a word, if you manage to define what website builder is best for your business, you get everything you need for site creation in one place.
Is Website Builder Free?
It's not a secret that there are loads of free online tools today. Website builders are not an exception. Whatever field you are in, it is possible to find a website builder with free themes. The only question is whether the result will satisfy you completely. To tell the truth, we are not sure that you'll enjoy it.
Actually, many good website builders offer you a free plan. However, don't be in a hurry to jump with joy. You are not a kid already. Therefore, you should realize that the free plan will never give you the opportunities for the paid ones.
As usual, free plans have various limitations. For starters, with a free plan, your site is likely to include branding from the provider. Next, your domain name won't look unique because it will include the name of the builder. Then, a free option will offer somewhat restricted bandwidth and storage, as well as limitations in features.
How Much Does a Website Builder Cost?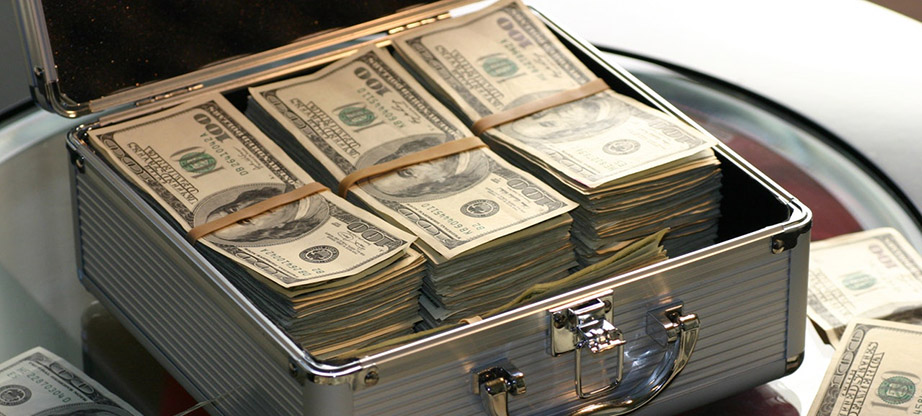 In fact, there's no single answer to this question. The reason is that various website builders have different approaches to charge their customers.
On the one hand, there are website builders that charge only once when you purchase one of the website builder templates. After you buy it, you don't have to make any additional payments. In other words, it's a one-time investment for having a site of your own.
On the other hand, there are website builders that charge you monthly. As a rule, they have several plans to choose from. Approximately, such plans can cost you from $4 to $25 per month.
What website builder is best, one with a single or per month payment? In our opinion, it depends on your goals and confidence in that you'll go on with your business, and won't give it up in a couple of months. If you are sure that you're building a website for an extended period, undoubtedly, it's more cost-effective to invest once. In case you are just experimenting trying to find yourself, it would be better to go for per month plans.
How to Choose Website Builder?
Now, when you know the basics, it's high time to move to the vital question. What website builder should I use to create an effective site without much effort?
The answer is as follows. Unfortunately, there's no one-fits-all solution. Everything depends on your business requirements, targeted audience, and expectations. Consequently, to make the right choice, you should study the features of the web builder and consider several crucial factors. Only such an approach will help you define what website builder is best in your case. So, let's focus on the features that you should take into account.
Ease of Use
Ease of use is one of the first things when it comes to deciding which website builder is best. Obviously, you are not ready to spend months creating a site. Therefore, you should look for a WYSIWYG web builder that doesn't make you study complex technical nuances. On the whole, you need a user-friendly tool with the shortest learning curve.
While determining what website builder is best for you, firstly, pay attention to the simplicity of installation and customization. Make sure that neither of them requires additional coding. Secondly, find out if the builder has step-by-step guides, video tutorials, and other helpful stuff.
High-Quality Website Themes
It goes without saying that you want your future website to be a real attention-grabber. That's why you need a template with an eye-catching design but, at the same time, not a vulgar one. Moreover, you definitely intend to find a theme that will make your website look professional. Besides, you undoubtedly wish to have a unique theme to make your site memorable. To sum it up, your future site requires a high-quality template for a basis.
Consequently, when you are evaluating what website builder is best, look at the templates it suggests. To tell the truth, not all website builders offer appealing themes with carefully thought-out layouts. So, be attentive not to be frustrated with the results later.
Must-Have Features for Your Specific Business
Of course, when you're creating a website, you expect it to fulfill specific functions that your business demands. For instance, if you are a photographer, your future site just can't do without various galleries to showcase your works. In case you're selling products, you need special tools to handle orders, set discounts, and organize promos. Is your website aimed at customers worldwide? Then, apparently, you'd like to make it multilingual.
To conclude, when you're deciding which website builder is best, take time to overthink your purposes and expectations. Work out a list of features your site requires to cope with the task. In the end, compare your list to the features the website builder offers.
Opportunities for SEO Optimization & In-Depth Analysis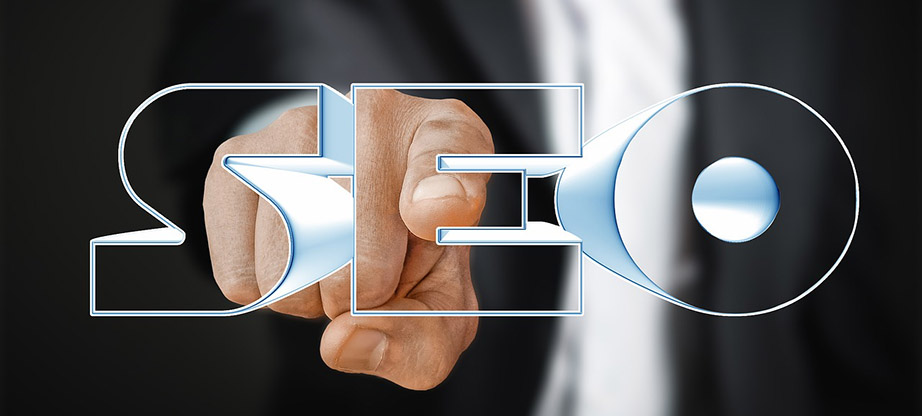 Evidently, while creating a site, you intend to grow your customer list significantly. The best way to achieve this is to make your website appear on the top positions of search results. According to the Telstra Report, 83% of users believe that search engines are important while looking for a business. Besides, 47% use search engines for finding or researching a small business once a day, at least. It means that you definitely need powerful SEO tools to optimize your site for search engines.
Also, you need reliable tools to track your website performance, such as Google Analytics. They will allow you to measure the success of your efforts as well as find ways for further improvement. That's why to determine what website builder is best, don't forget to consider SEO and Analytics features.
Fast Page Loading Speed
Hardly will anyone deny that in the present-day world speed matters. The Kissmetrics research states that 47% of consumers expect that a web page will load in 2 seconds or less. Furthermore, 40% leave the site that tends to load more than 3 seconds.
So, when it comes to determining what website builder is best, the loading speed of web pages is an essential factor. It not only influences user experience but also has an impact on ranking in search engines. Therefore, it just can't be neglected.
High Level of Customer Support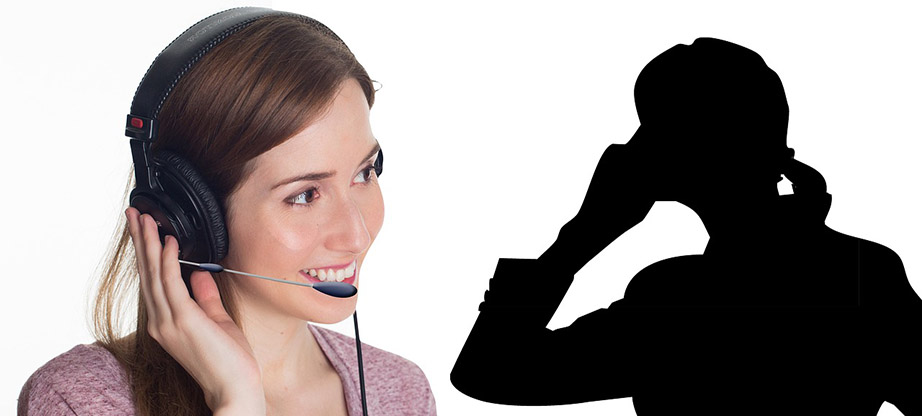 Undoubtedly, no one is ensured against issues that may appear during the process of website creation. One day you may face problems that will demand immediate professional solutions.
Honestly, the level of customer support web builders provide varies a lot. We recommend you to take into account three things while defining what website builder is best. Firstly, the diversity of means to contact the support team in case of any questions. Secondly, the availability of a rich knowledge base, such as guides, tutorials, and forums. Thirdly, customer reviews to find out the level of customer satisfaction.
What Website Builder Is Best – A Brief Overview
So many men, so many minds they say. These words are absolutely correct when someone asks you, "What website builder is best?" or "What website builder should I use?" Everything depends on what your business requires.
To assist you in making the right choice, we conducted our own research. We examined several web builders popular with users nowadays. We carefully studied their features as well as the sites created via them. Also, we learned customer reviews. Finally, we are ready to represent the results. We hope they will help you determine which website builder is best for you.
MotoCMS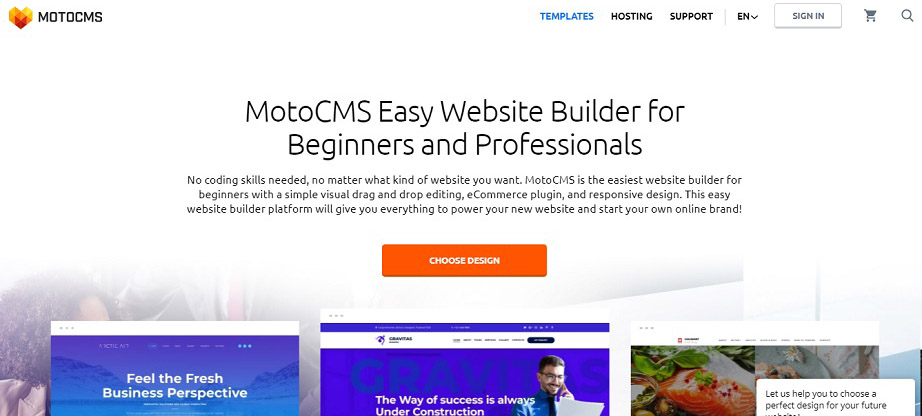 MotoCMS is an intuitive tool with loads of high-quality themes for any field. Are you looking for appealing industrial or medical themes? Does your interest lie in education or entertainment? Do you represent the politics or security sphere? In fact, it doesn't matter. With MotoCMS builder, you'll definitely find the theme that completely meets your business needs.
MotoCMS is a WYSIWYG easy-to-use builder that requires no tech skills at all. It stands among the rest for its vast number of useful features. Super-fast installation, effortless customization, excellent opportunities for promotion, powerful SEO tools, and the fastest page loading speed are at your disposal. Therefore, we highly recommend you to pay attention to MotoCMS when you're deciding on what website builder is best.
Pros
An extensive collection of 100% responsive, cross-browser compatible themes with professional pre-made designs;
Simple site creation, editing, and one-click updating;
No need for additional plugins or third-party software to build a highly-functional site.
Cons
No free plan. However, a free 14-day trial is available.
Wix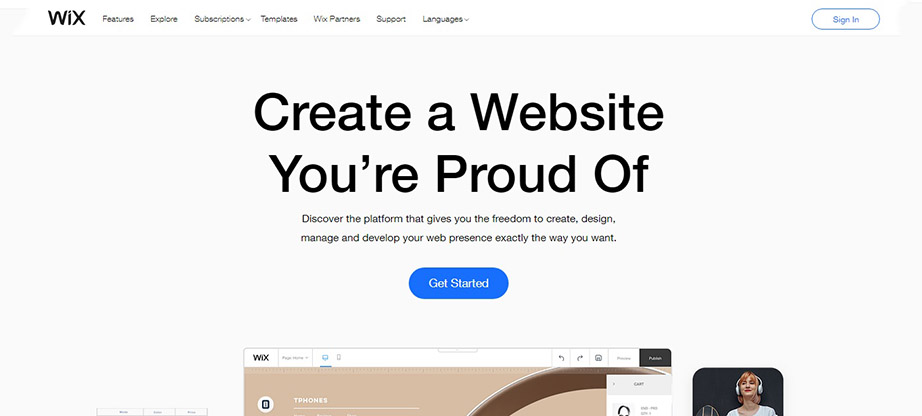 Wix is a user-friendly website builder that enables you to make your business dreams come true. It has a significant number of fans due to its attractive templates and an available free plan. Therefore, if your budget is limited and you don't need a giant website, it may become the right choice.
Wix offers you a handy drag-and-drop editor to create a beautiful interactive site. It suggests 200+ apps that allow managing social media feeds, employing online booking, taking advantage of email marketing, etc. However, few of them are free. Whereas some users think it's an excellent online creator, others say you can find a website builder better than Wix. Does this builder deserve being taken into consideration when it comes to what website builder is best? Unquestionably, it does.
Pros
Full-featured website builder with user-friendly interface and tons of site gadgets;
The auto-generated mobile version of your site;
Free plan, though, with various limitations.
Cons
Not the best solution for large websites as the navigation isn't deep enough to let complex structures;
Two out of four available plans show Wix branded ads on customers' sites;
Lacks site portability feature. In other words, it's almost impossible to move your website from Wix to another web hosting service.
Squarespace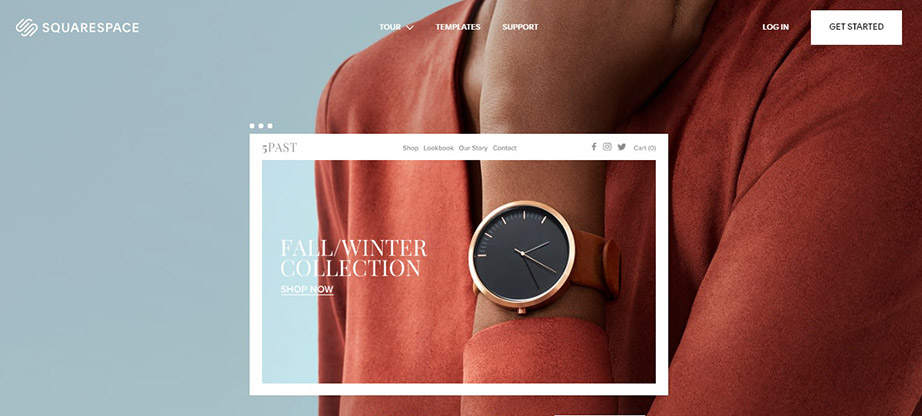 Choosing what website builder is best, many users give preference to Squarespace. It's a modern website builder that offers eye-catching themes for numerous industries. Every theme possesses built-in integrations. As a result, you don't have to look for additional plugins. Besides, Squarespace provides you with helpful tools for marketing, SEO, and analytics.
Though you have everything necessary to create a fully functional site, the builder may seem a bit confusing for beginners. In spite of its drag-and-drop feature, the process of editing isn't the most straightforward.
Pros
Good-looking responsive designs;
Free hosting and domain services;
Free SSL certificate.
Cons
No free plan. Frankly speaking, one of the most expensive website builders;
Not the easiest builder for novices;
A rather low web page loading speed.
Jimdo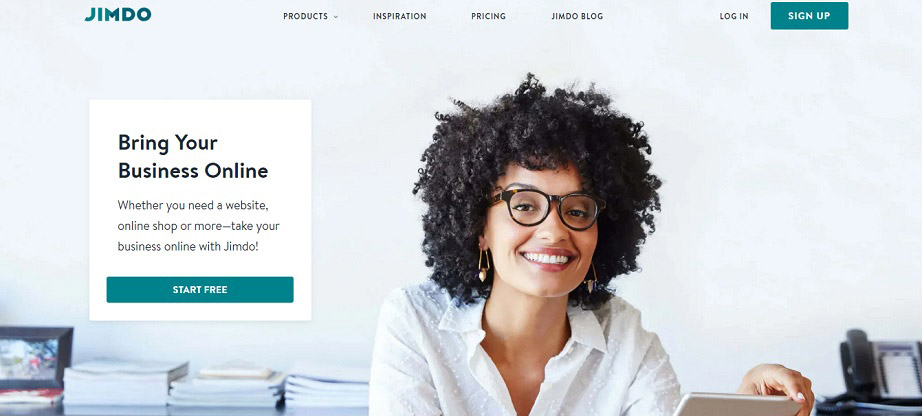 When you ask yourself, "What website builder should I use?" there's one more candidate to learn about. It's Jimdo, a WYSIWYG web builder, especially suitable for creating multilingual sites. With its three pricing plans, the builder is affordable for users with any budget. Furthermore, Jimdo provides you with both a website builder and hosting in one place.
Though Jimdo doesn't have many templates, the quality of themes is rather good. The process of customization includes selecting fonts, colors, backgrounds, and other elements. However, it's not always the fastest one until you become a specialist in Jimdo.
Pros
Free plan;
Opportunities for upgrading to other plans at any time without any changes to your content;
Opportunities for changing a template without losing your work.
Cons
Poor choice of templates;
Editing is not entirely intuitive and requires a bit of learning;
Rather low loading speed.
Weebly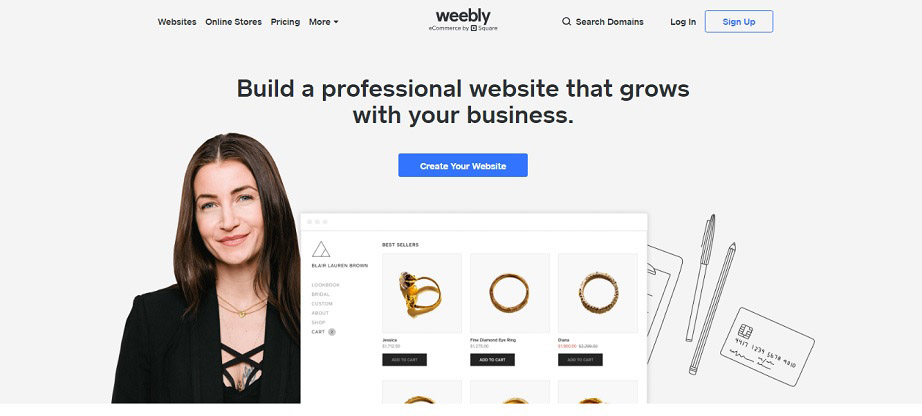 Weebly is the site creator that finishes our should-study list for choosing what website builder is best. Nevertheless, it doesn't mean that it's worse. Weebly offers quality pre-made templates for different business niches. Unlike other website builders, it allows importing templates from third-party providers onto the Weebly platform.
Weebly lets you upload any type of content and provides users with 200+ apps and integrations. Moreover, it enables you to make your site even more engaging by employing polls and forums.
Pros
A huge App Center;
Enables creating complex websites with lots of pages;
Offers a good level of customer tech support.
Cons
Not the widest choice of themes;
Features of the free plan are too limited;
No opportunity to employ additional software from other providers.
What Website Builder Is Best – Comparative Table of Features
Of course, a text overview is a good thing. However, it won't give you a full picture to understand what website builder is best. That's why we decided to compile a comparative table of the web builders' features. Undoubtedly, it will make your choice easier and help you answer the question, "What website builder should I use?"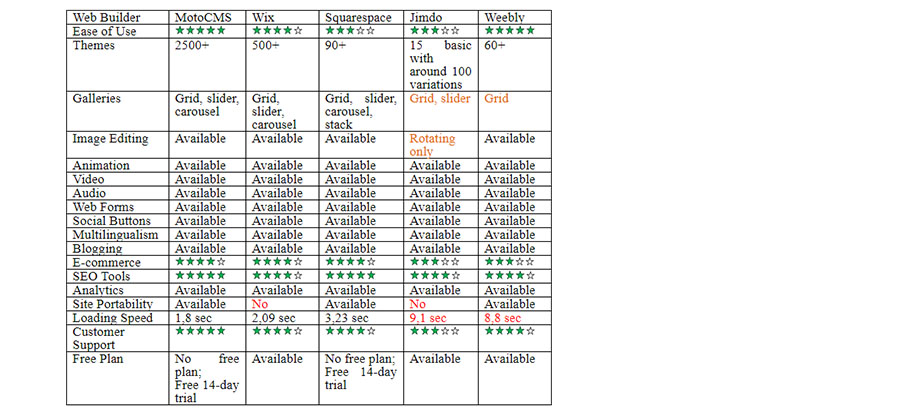 Please note that this table is based on the features available with the paid plans. Don't forget about it while making a decision on what website builder is best.
Which Website Builder Is the Easiest to Use?
If you ask us what website builder is best for beginners, we'd advise trying MotoCMS or Weebly. Both of them guarantee a smooth and flawless process of site creation. These intuitive site builders with drag-and-drop functionality come with convenient editors. Whether you choose to work with Weebly page editor or MotoCMS block editor, you'll be able to add any type of content on the fly. Also, you'll have an opportunity to customize every element in a couple of clicks.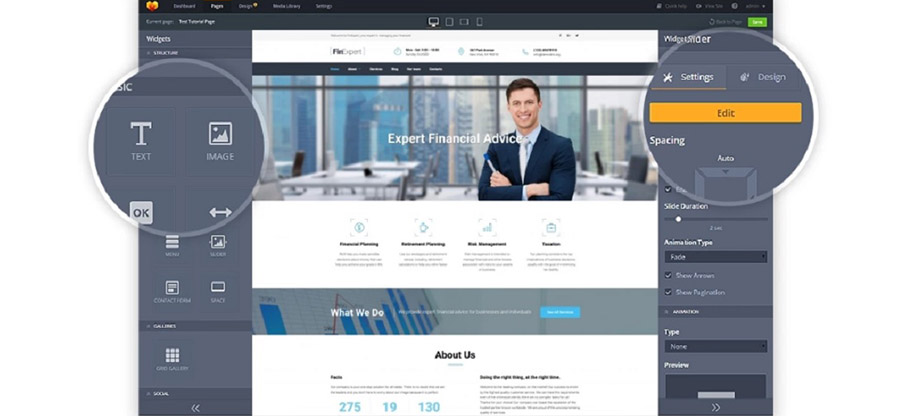 What's more, both builders allow you to make your site fully functional without additional software. Weebly apps, as well as MotoCMS widgets, are quite enough to cope perfectly with the task. The best thing is that both builders let you create even large websites with more than 25-30 pages.
What Website Builder Is Best in Terms of Numerous Quality Themes?
If you had a look at the comparative table above, needless to say, that MotoCMS is an evident leader. Its 2500+ templates cover more than 60 topics, from architecture and charity to law and transportation. All themes are attractive and offer well-structured layouts. Moreover, every template includes a full set of pre-made pages necessary to promote your business online. Besides, each theme is 100% responsive and cross-browser compatible.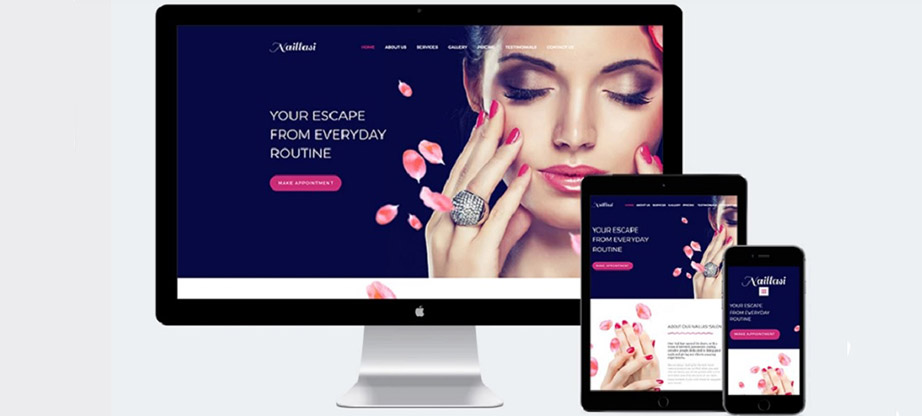 Are you not searching for a completely unique theme but still want a qualitative one? Then, Wix templates also deserve your attention. The collection includes 50 categories that cover various industries. The majority of themes look eye-catching and clean. Furthermore, they are fully responsive.
What Website Builder Is Best for Small Business?
According to the Clutch Small Business Websites Survey, only 29% of small businesses don't have a website. What's more, 92% of business owners without a site are planning to create it. Consequently, if you don't want to fall behind, you also need one.
What website builder is best to take your business online? Unquestionably, the answer lies in your business goals. Do you need a website that doesn't exceed 20-30 pages? Then, Jimdo or Wix can be the right choice. Are you going to grow your online business continuously and want a big website? In such a case, it's better to start building with MotoCMS, Weebly, or Squarespace.
Which Website Builder Is Best for Ecommerce?
Do you want to launch an online store and look for the best website builders for e-commerce? Then, it makes sense to go with Squarespace, Wix, or MotoCMS. These builders offer you lots of useful tools to sell online. Though the builders have their own pros and cons, they can be an effective solution for e-commerce.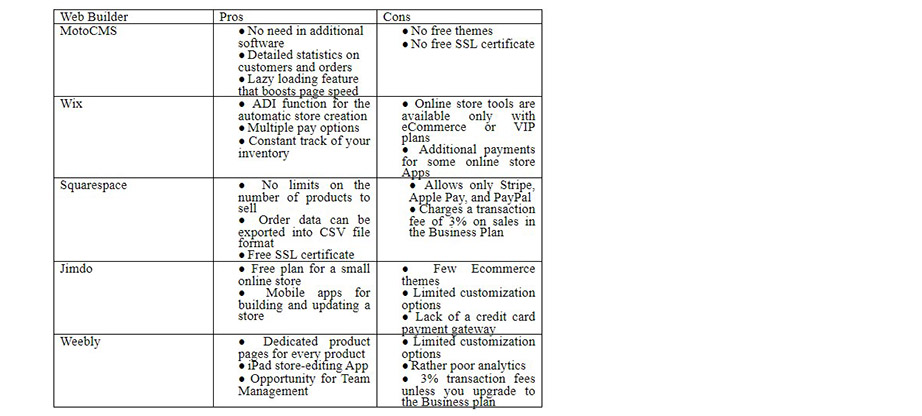 What Website Builder Is Best for Photographers?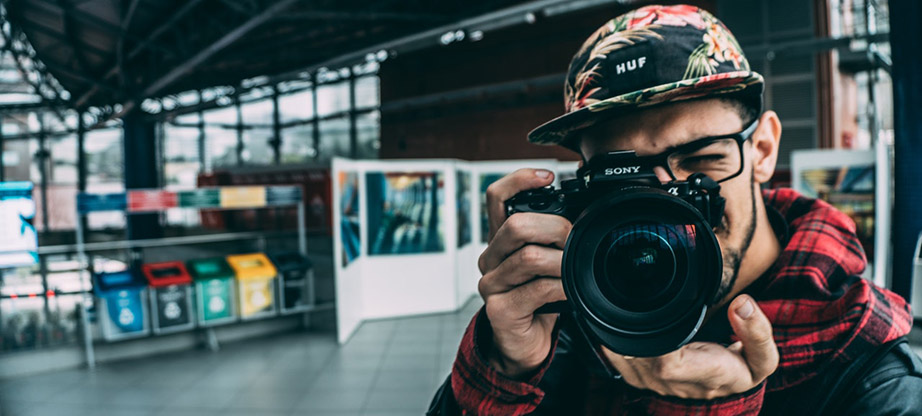 What a photographer needs to make his site shine on the web? Firstly, he needs various galleries to showcase his works in the best light. Secondly, his business requires multiple opportunities for promotion. Thirdly, the loading speed of pages really matters. So, what website builder is best in this case?
Perhaps, you should choose between MotoCMS, Wix, and Squarespace. For starters, these three builders are known for their marvelous themes for photographers. Next, they provide you with a reliable means to reach your audience. Finally, they ensure fast loading speed, which makes them the best web builders for photographers.
Which Website Builder Is Best for Blogging?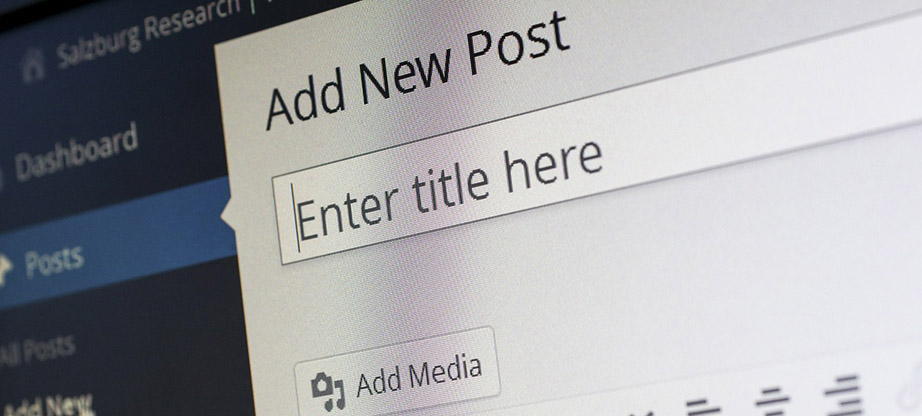 Frankly speaking, when it comes to blogs, it's hard to advise you on a particular web builder. Actually, all builders in our research have helpful integrated tools for blogging. They let you post diverse content to engage your readers alongside the options for commenting and sharing it. That's why the success of your posts will vary only due to their quality.
What Website Builder Is Best for SEO?
We've already mentioned the crucial role of SEO for your future website. So, which website builder is best to optimize your site for search engines? Undoubtedly, it's the one that lets you optimize every element that influences the ranking position. Below you'll find the table that will help you determine what website builder is best for SEO.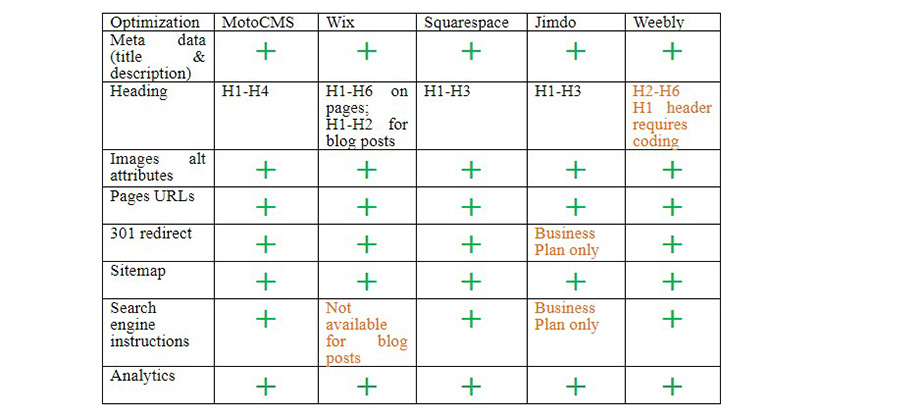 What Website Builder Is Best in Terms of Customer Support?
Honestly, not all web builders can boast the highest level of customer tech support. For instance, Wix lacks live chat, whereas Squarespace doesn't have a phone customer support option. Jimdo also doesn't offer phone tech support, and their live chat feature is available only 9 am – 5 pm. Though Weebly suggests email, chat, and phone support, only an email option is available with a free plan.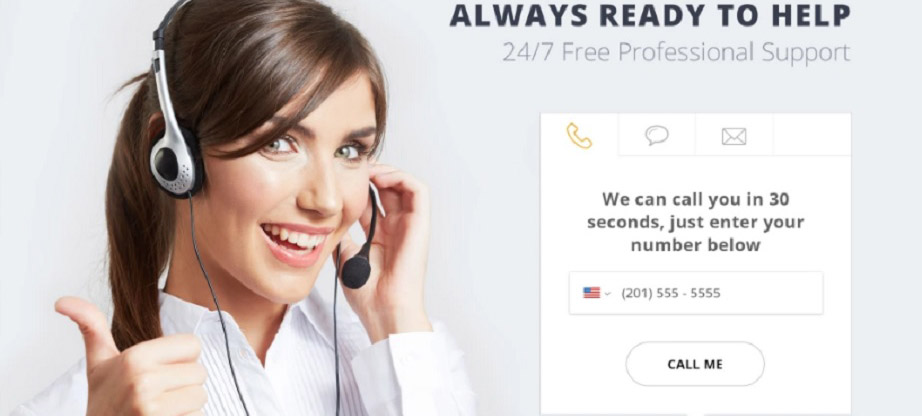 That's why we think that MotoCMS holds the lead in this aspect. Their free tech support is available 24/7. Whether you prefer a live chat, callback, or email option, you'll have it with this website builder. The best thing is that they respond very quickly. Besides, their knowledge base is rich in how-to guides, tutorials, and FAQs.
What Website Builder Is Best – Bottom Line
Well, perhaps, choosing the right site builder is not the most straightforward task. Nevertheless, we hope that thanks to our article it will become a bit simpler. Don't be in a hurry. Scrutinize the features and correlate them with your goals. It will help you determine what website builder is best in your unique case and create an effective site.