Website Builder and Hosting or a Template – Which Is the Best Option?
A rare person nowadays designs a website from scratch. Entrepreneurs who value their time and don't want to pay more use ready-made website templates. This is really a fast and cost-efficient way to set your website up and running. Just make sure that you are dealing with a decent provider, like TemplateMonster, for instance, that has been around for a while, has good feedback, and delivers top quality products. However, it's always good to study some other options in order to make the right choice. This article is aimed at telling you about one of the great alternatives to website templates. We are going to tell you about website builder and hosting – major SaaS websites features, the process of SaaS websites launch, and the benefits of choosing website builder and hosting plan.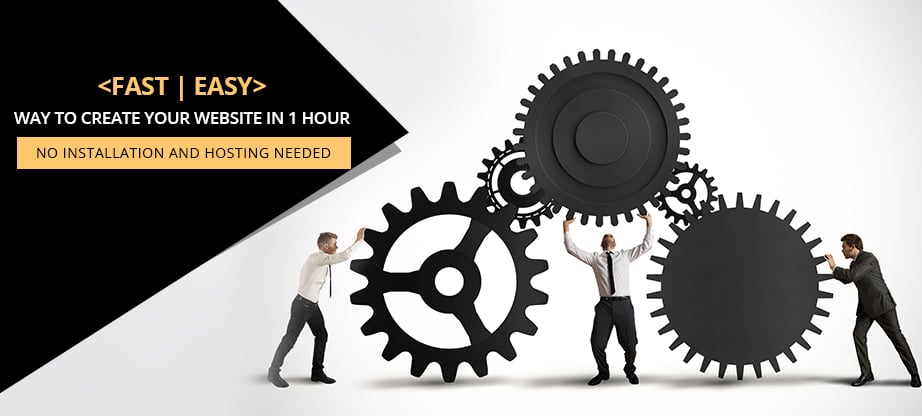 We will also feature 20 examples of SaaS websites with brief descriptions. You will be able to view their demos and maybe even make your pick. They fit for multiple business categories:
Shall we begin?
What Is Website Builder and Hosting?
This paragraph will be short and straight to the point. Moto CMS in cooperation with TemplateMonster released a new SaaS website builder. It combines 100+ ready-made designs that include a website builder and hosting. It helps you create cool websites in a matter of minutes. The solution is much cheaper and faster than any other option.
Well, let's take a closer look at major SaaS websites features.
Best Features of SaaS Websites
Intuitive SaaS website builder and hosting are already included in the package. In other words, you don't have to look for any additional services or care of the installation. You also don't have to pay extra money for the hosting.
You don't need any coding skills to edit your SaaS website. Actually, the visual editor is one of the biggest advantages of Moto CMS SaaS website builder. It enables you to customize your website, change its structure, add and replace the content without touching the code at all. What you need to do is pick the element and drag it to the right place. You get an awesome website in several simple moves.
You get a free domain name and SSL certificate with your order. If you still have no registered domain name for your future website, you will get it for free. SaaS website builder and hosting solution includes a free domain name of your choice and a free SSL certificate. We mean that you will be able to check if the domain is available straight away and keep it secure and safe.
You can use a 14-day trial before the purchase. You got me right – you can try any website design for two weeks without paying a cent. What happens after the trial period? You buy website design with all the changes saved, try another one, or just leave the project if you are not happy with it. You even don't reveal your credit card details and get enough time to take the right decision.
The Principle of SaaS Work
SaaS is an all-inclusive business model. It includes ready to use website designs and a hosted platform. The great thing is that when you use SaaS website builder and hosting, you don't have to worry about the website updates or any other technical stuff. Technical pros do everything instead of you.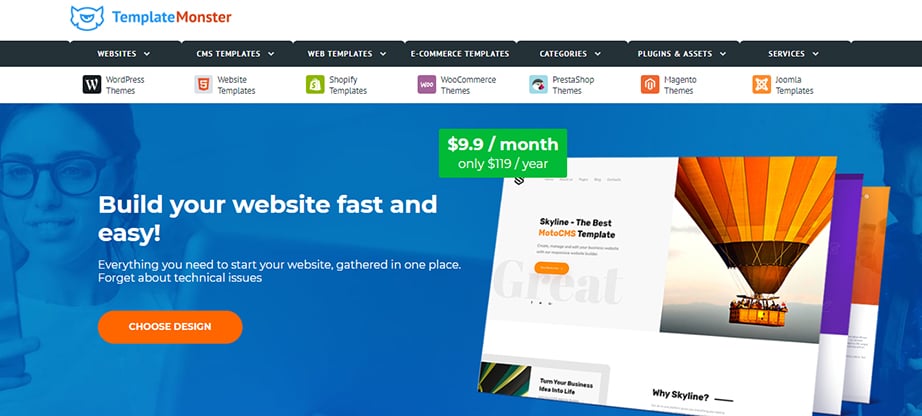 That's not all. Using SaaS website builder you save time and money on the installation and operation. You also don't pay for hosting and don't need to worry about the expiration of your domain name. Experts take care of these things and you just enjoy smooth running of your website.
How To Launch a SaaS Website in 4 Simple Steps
SaaS websites offer you ready to use solutions which can be launched in several simple steps. The installation process will take you nearly 15 minutes.
At first, you need to choose a SaaS website design that meets your requirements the best. Look through the gallery of designs for that. Check out its demo and try it free for 14 days. Buy the website as soon as you want. If you are ready, you can proceed with an immediate payment.
Then you need to check and pick a domain name. Choose the one you like. If you already have a domain just skip to the next step.
Next, you should customize the website – add your content, change the color scheme if you want, use drag and drop visual builder to move blocks and images, add your company details, logo, and text. You need to optimize your website for SEO to attract more customers from search engines.
The final step is getting more clients and enjoying the result. Tell your friends and clients about your new project on social media platforms. Add more pages, grow and advertise your website.
We hope this information was useful and now it's high time to browse best SaaS website designs.
Best SaaS Websites Collection
Travel Website Design – BoboTravel
BoboTravel MotoCMS SaaS website design is a perfect choice for travel agencies and tour operators. Its attractive background image captures users' attention at first sight. Top Destinations, Special Offers, Most Popular Experiences, and News and Updates illustrated sections will help you present your services the best possible way. The embedded video will be your last argument in persuading even the most hesitant customers.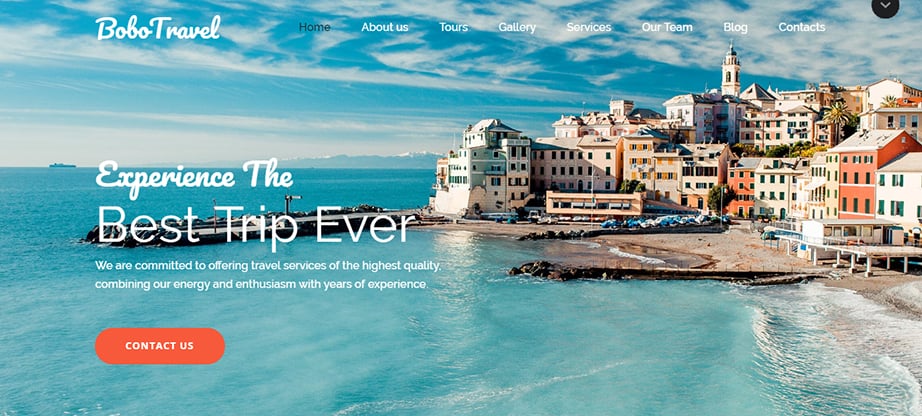 Bbq Website Design – Pugarie
This web design fits for bars, restaurants, and any kinds of eateries. Its layout looks really mouthwatering. Ghost buttons seamlessly blend with the header image and footer. Restaurant story is placed under the block featuring Today's Deal. Showing the numbers of served dishes is a great trick to spark visitors' interest. Two column menu is simple and minimalist, which makes it easy to read it. Dishes images in the gallery are equipped with zooming effect. Customers' testimonials serve a great proof of the enterprise credibility.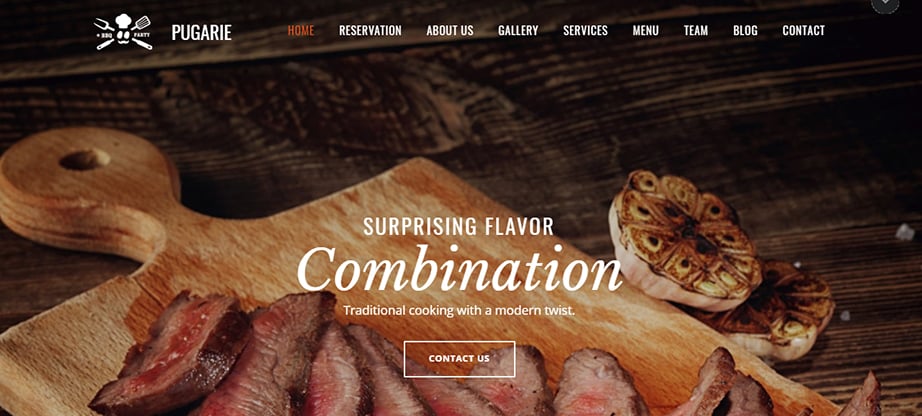 Hotel Website Design with Website Builder and Hosting – Resortex
This solid design is suitable for hotel and motel websites. Its nice font solution contributes to the luxury layout. Responsive nature of website design is beneficial for your future resource as your customers won't be limited in terms of gadget choice. The website will look the same perfect on any screen size, be it a widescreen desktop computer or smartphone. Google Maps plugin will help hotel guests find it quickly and hassle-free. Hotel amenities are arranged in a grid, which looks very stylish.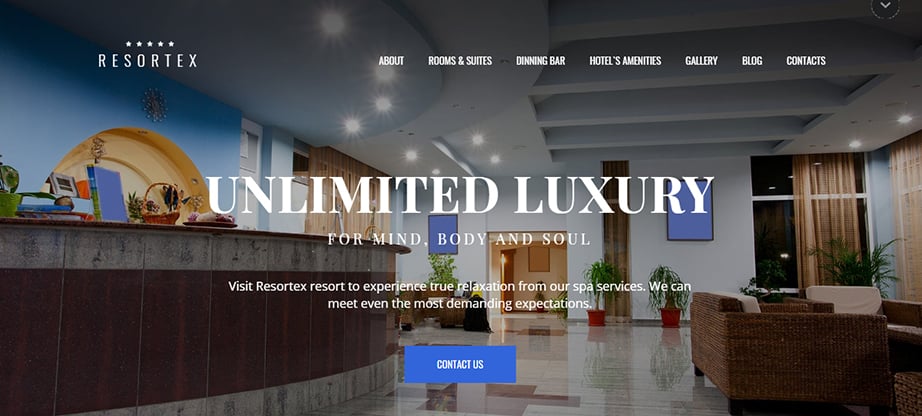 Singer Website Design – Sansar
Here is a cool dark design for a singer, artist, musician, etc. Large people faces always draw viewers' attention, so you will see a hero image right in the header. The design is equipped with a counter that helps to create the atmosphere of urgency and sell more tickets to the coming event. You can embed the video on the homepage as well as popular tracks players. Site visitors will be able to send the artist a quick message via the simple contact form at the bottom of the page.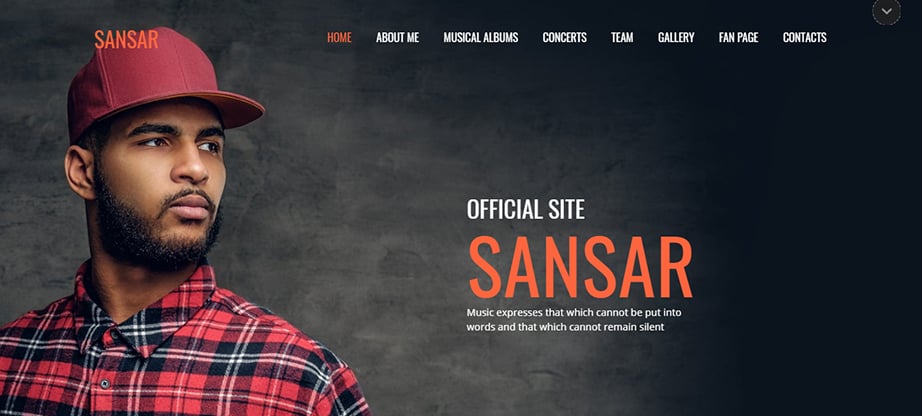 Business Website Design – Consulter
This neutral website design with website builder and hosting is suitable for any kind of business. It has a clean minimalist layout, which will tell the users that your company is trustworthy and straightforward. Logo design is simple and easy to remember. The main menu has drop down option. Company services are presented with the help of outlined icons and pictures. Company results are displayed in numbers. The layout bristles with trust signals like testimonials, staff photos, and famous clients logos.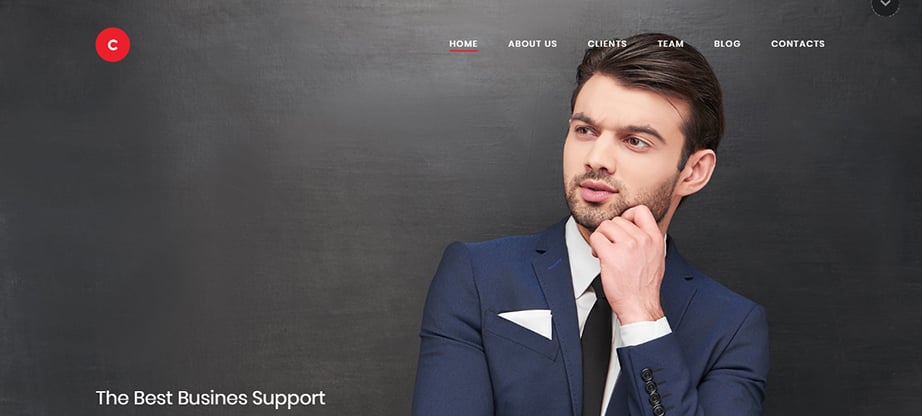 Lawyer Website Design – Helledia
The design is a great match for lawyers and attorneys. It has a serious trustworthy layout done in gentle beige colors. Grid style allows arranging all the essential information in the easy to comprehend manner. Customers testimonials and company achievements stated in numbers help to create a credible image of the company. Attorneys photos with short bios and links to their social networks add a personal touch to this Moto CMS SaaS website design.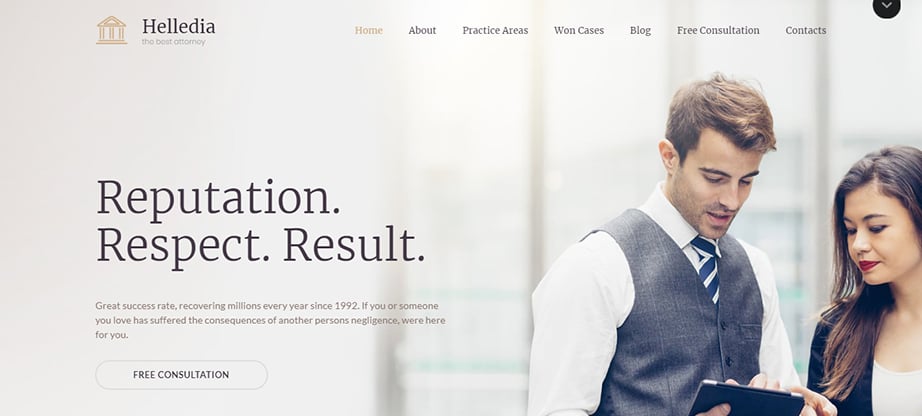 Home Decor Website Design – Interioni
Choose this website design with website builder and hosting for your interior design studio. Its color scheme is perfect for the long stay. Pastel tones make visitors' stay on site comfortable. Projects gallery showcases the best company projects. Proper text styling creates the feel of order and harmony on the page. Latest company news is placed right under the happy customers' testimonials. Famous clients logos are featured at the bottom of the homepage. Contact details let the prospectives easily get in touch with the company.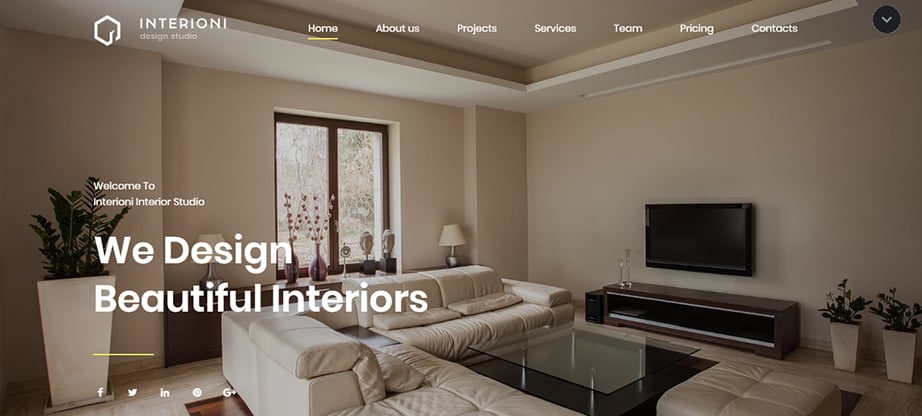 Video Website Design – Videodron
Drones are frequently used to shoot videos nowadays. If you are in this business, this design is the right choice. It has clean and futuristic layout. Website design has a very cool logo. Ghost buttons seamlessly blend with the layout, but they are clearly visible on the page. "Flying up to the skies" section demonstrates main drones features. Images in the drones gallery have zooming effect. You can embed videos with drones to make your web pages more dynamic, understandable, and interesting to view.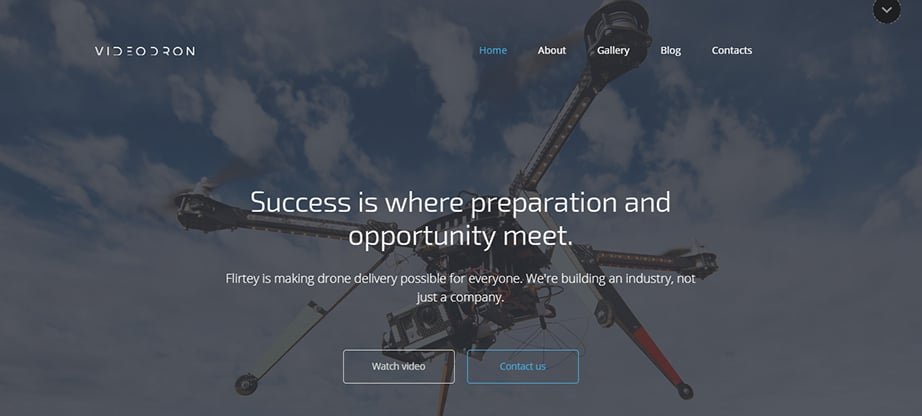 Cryptocurrency Website Design – Bitcorp
Cryptocurrency is gaining popularity. If you are going to make money running this business, you need an appropriate website builder and hosting. This awesome design is exactly what you need for the purpose. You will be able to tell investors about bitcoins the intelligible way. Simple outlined icons and graphs help to do this. Feedback from investors, banking clients logos and team bios with photos and links to their social media accounts add credibility to the web page. Newsletter email subscription is placed at the footer.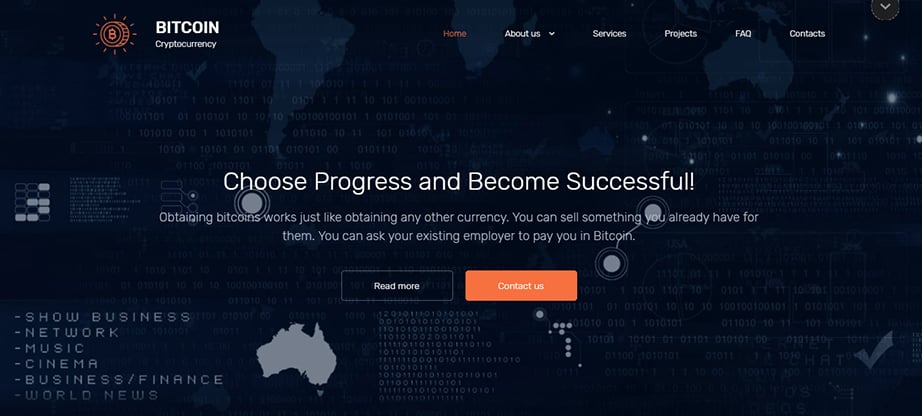 Industrial Website Design – Createso
This website design was created for architectural and construction companies. It is equipped with the sticky menu, which is very convenient as major navigation links are at hand all the time while you browse the resource. It has a drop-down option. You can navigate through website pages with the help of visual banners as well. Award-winning projects stand in three columns and are supplied with zooming effect. The latest news section will help you not only present your business online but build a loyal community around it.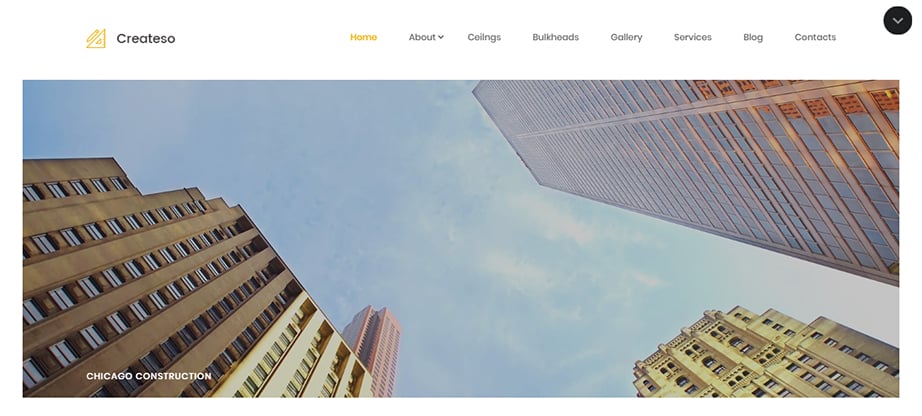 Spa Website Design – Melissa & Lauren
This website design is a great option for spa, cosmetic, and massage salons. It has a luxury layout. Decorative elements and patterns add it a special chic. The color scheme of the design is rather relaxing. Spa solutions are featured on banners and are accompanied with the text. The web page shows three available pricing plans of the salon. Gallery images come with zooming effect. The main menu has fixed position, so it constantly stays before the visitors' eyes.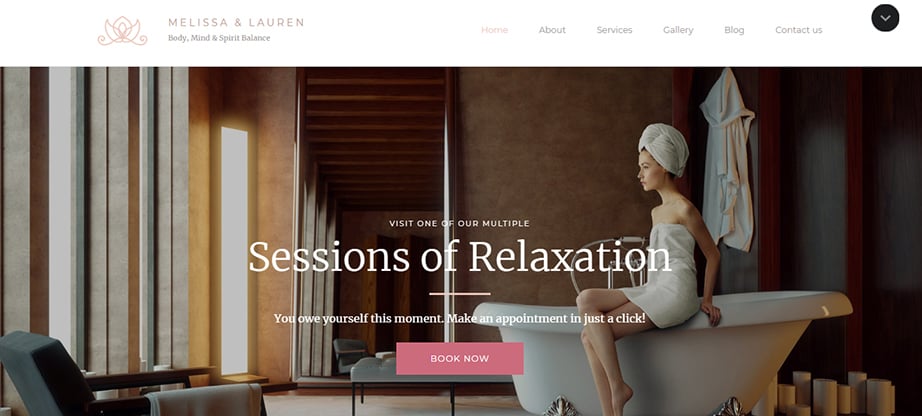 Football Website Design – Field Warrior
This website design was developed for sports clubs, teams, gyms, football, and any other kinds of similar activities. American football player dressed in the uniform looks very impressive over the black background. Website sections are separated from each other by color. The latest game result is placed right under the header. Games schedule is also available on the homepage. Video background, as well as photo gallery, make the website incredibly visually appealing.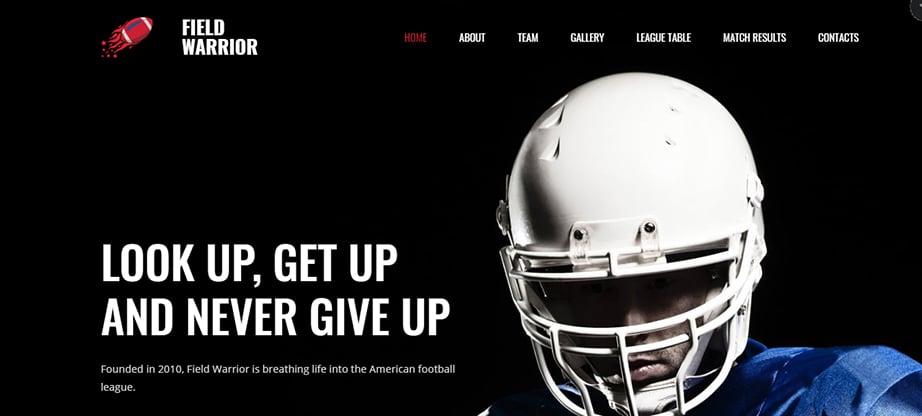 Lab Website Design – MedLab
This design is a perfect fit for medical labs, doctors, and clinics. The bluish color scheme is the best choice for such kinds of websites. The web page has a sticky menu, which makes the navigation a walk in the park. The website is rather content rich, but it doesn't look cluttered thanks to the proper whitespace balance. You will be able to recap the reasons to choose namely your lab in the relevant section. "Make an Appointment" button is also available for patients convenience.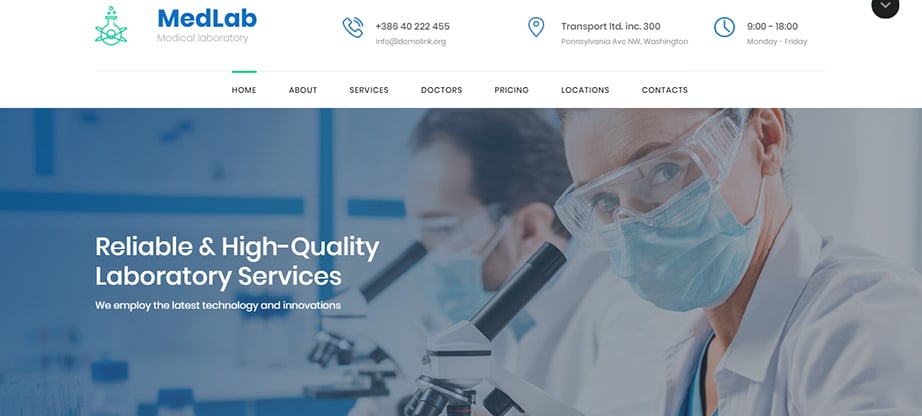 Attorney Website Design – Cealissa
The website was developed for lawyers and legal agencies. Grey and purple colors impart the layout a credible look. A huge image of the lawyer in the header makes the website more welcoming for the prospective customers. Practice areas are arranged in four columns with headlines, so they are easy to scan. Company achievements are presented with the help of progress bars and numbers. Clients testimonials are featured in a slider. There is a simple form for ordering a legal consultation at the bottom of the page.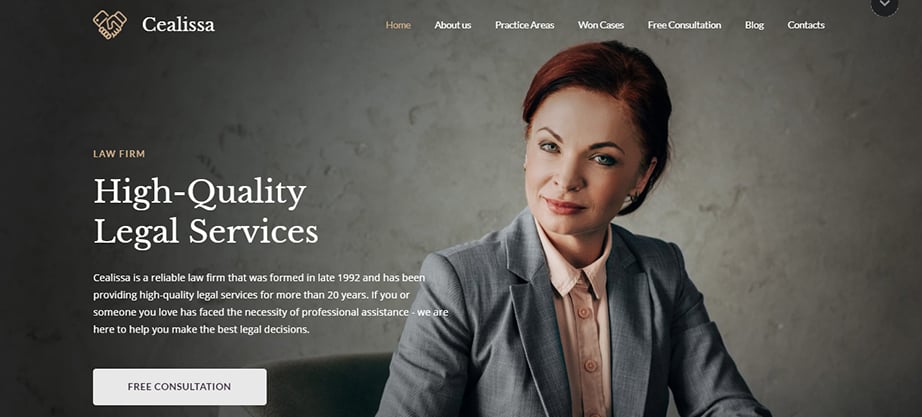 Surfing Website Design – Waveride
This website builder and hosting design for surfing and water sports is created in bluish colors. You almost feel the cool salt splashes on your skin. Club offers are showcased under the header where they are easy to find. Top destinations and events are placed in four columns. There is a special button for those who want to order surf lessons. The gallery features cool photos equipped with hover effect. Club team is beautifully presented on the page. Each team member has a photo and a bio, which boosts people's trust and makes the website more personal.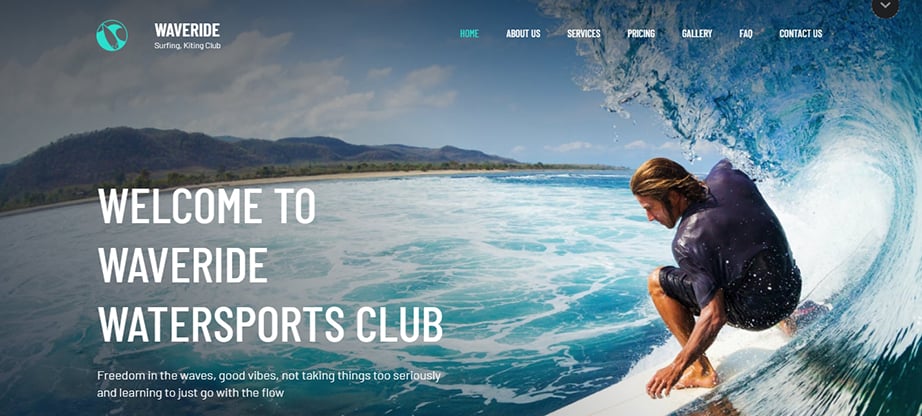 Church Website Design – St. Peter
This website design is a great match for church and religious sites. Church contacts, working hours, and "Send Donation" button are placed right above the sticky menu. Header features a beautiful Catholic church. Content sections are visually separated from one another. Information about Sacraments and Mass Schedule are available right on the homepage. You can embed videos to make the website more informative and engaging. The block with the latest news from the blog is placed at the bottom of the page.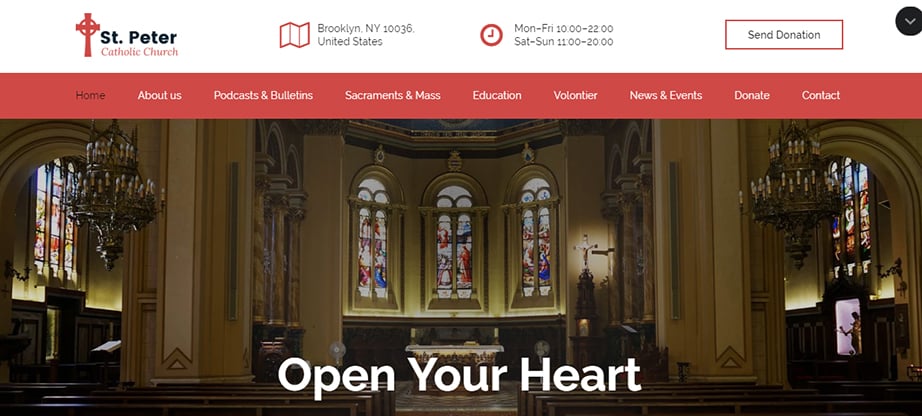 Political Website Design – Fondson
This website fits for political parties and individual politicians. Hero image in the header grabs viewers' attention from the very first moments. There is a "Donate" button under it, so you will be able to gather donations for your party with style. Site visitors can read latest political campaign news at the relevant section. Smiling team members make the website more welcoming and trustworthy. Newsletter subscription form can be easily found at the bottom of the page.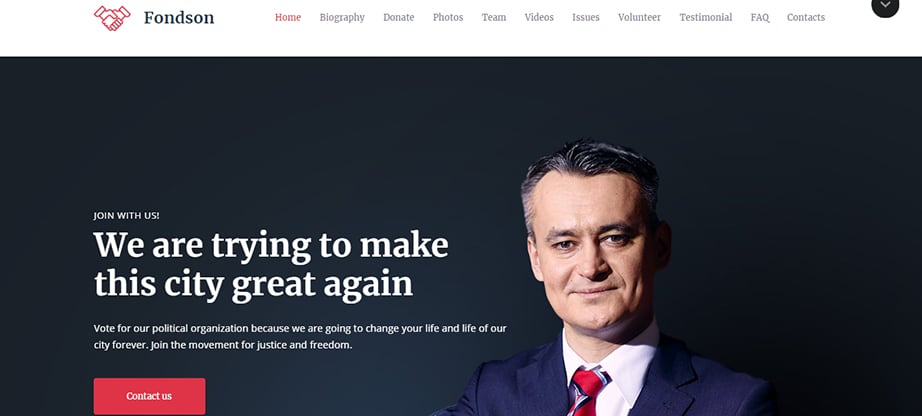 Clan Website Design – WorldPandaria
We are sure gamers will love this playful design based on website builder and hosting. Its fantastic illustrations can't leave site visitors indifferent. The website has an amazing gallery. You can zoom in the images to view them in details. Pricing table includes three pricing plans, which is good because too many of them confuse the customers. Gaming industry news can be read at the end of the web page. Social media icons are at the footer. You can link them to your social media accounts and get an additional promotion.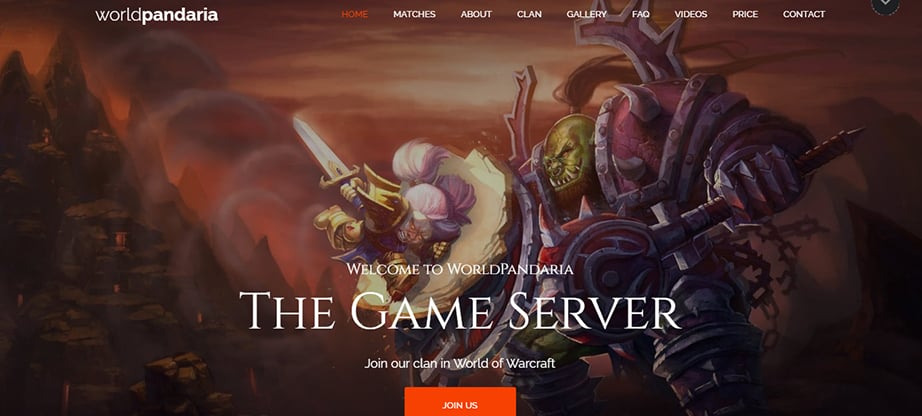 Equine Website Design – Manelity
The theme was developed for equine clubs. It's natural that there are many horse images on the page. They incredibly decorate the layout. Yellow blocks and buttons draw site visitors' attention to the essential points and stimulate their activity. Best club programs are arranged in four columns. They come with photos and brief descriptions. Those who want to master horseback riding can read about the process on the homepage of the website. Website gallery is equipped with hover effect.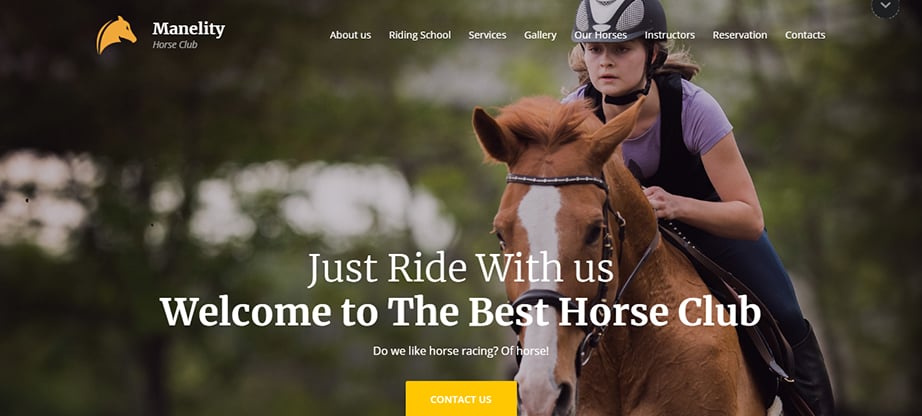 Nail Salon Website Design – Naillasi
This feminine design with website builder and hosting was created for nails and beauty salons. It has a clean minimalist design with strong emphasis on photography and typography. Headlines are underlined with wavy lines which make web page scanning as easy as ABC. Salon offers are featured on the homepage. The visitors will also find the reasons to choose it, happy customers' testimonials, animated pricing table, latest news. They will also make an appointment with a single click. All they need to do is click the huge call-to-action button.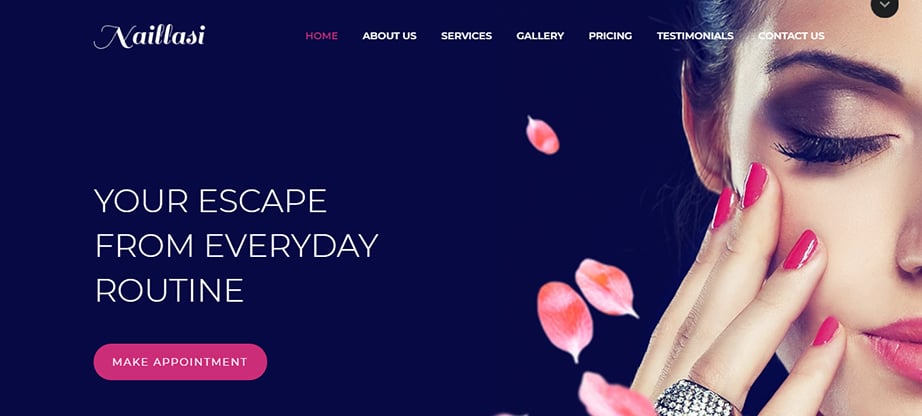 Conclusion
We sincerely hope that you like the collection of the best SaaS website designs and have already picked one of them for your website. Do you remember that there is no need to look for a hosting provider and spend hours on website setup and customization as website builder and hosting are included in the package?
The best SaaS websites above are ready-to-go. All you need to do is choose the appropriate design and start your online project.
Choose your plan & go ahead. We wish you best of luck!