6 Best Web Builders for Photographers (Updated)
Photography is extremely popular in the modern world. Due to the rapid development of high-tech digital devices making pictures has become very easy. So, some people sincerely believe that photography seized to be the occupation for the chosen. They really think that everyone is able to become a photographer nowadays. To succeed you only need to buy a quality camera and push the button. But the reality is quite different. Photography is first and foremost a charming art. A professional photographer is an artist who is able to see the world in a different way and share this amazing experience with others. This requires a lot of talent, inspiration, and persistence. Only a few people can boast having these qualities. That is why good photographers are as rare as good painters or musicians.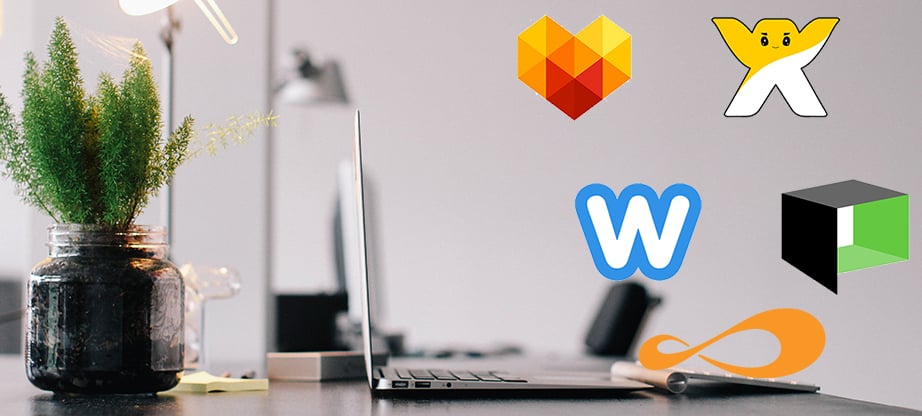 If you are one of those who is able to see ordinary things differently and capture the quickly passing beauty of the world with the help of a camera, you are truly lucky. Do not hesitate to start your own business and share your talent with the rest of the world! The easiest way to achieve this is to have a website of your own. Nowadays no professional photographer can cope without it.
A fully functional website will assist you in:
Advertising your business without spending too much money
Telling the people about yourself and your achievements
Showcasing your portfolio
Helping your stay in touch with your clients
Share your experience with your visitors through blogging
Sounds interesting, doesn't it? Of course, the easiest way to get a website of your own is to order it from a web designing company. But, if you are a novice in the world of professional photography, the biggest problem is money. The photography equipment for taking high-quality pictures costs a small fortune. In this situation investing a considerable sum into the development of a website may be too much. Besides that, there is always a risk of misunderstanding and, as a result, of getting not what you really want.
The excellent news is that nowadays web-designing companies offer a wide range of the best web builders for photographers and stunning ready-to-use website templates. You do not need to have even elementary knowledge of coding to work with any of them. On choosing a template you can create a website of your own with astonishing speed taking into consideration all your needs and succeed.
Still, the number of offers you will find on the Internet may be overwhelming. So, let's have a look at the 5 best web builders for photographers and try to single out the aspects worth paying attention to for making the right choice.
MotoCMS web builder Defrozo for photographers
If you are looking for a professional photography website template, Defrozo from MotoCMS is for you.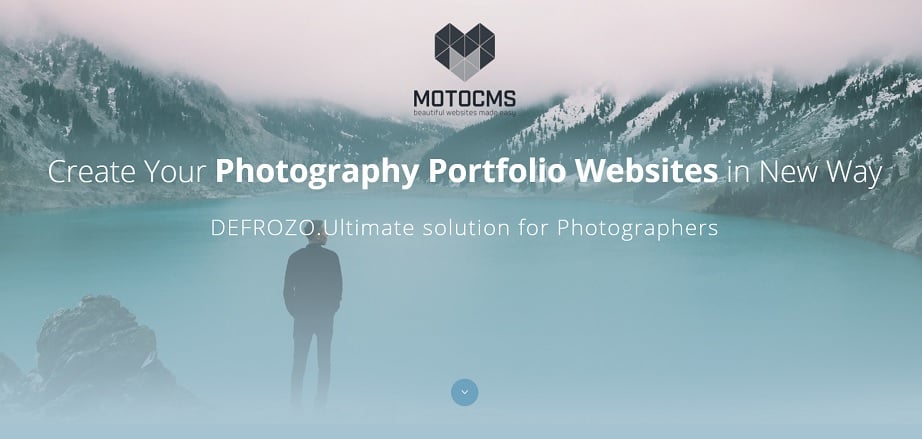 This ultimate solution offers you a new way for the creation of a photography portfolio. In fact, you get 4 complete websites in one theme. The easy-to-use built-in Block Editor with a zillion of pre-made blocks which you can arrange according to your wish and the handy drag-and-drop functionality will turn the process of a website creation into a joyful game. The template also contains the convenient Aviary Photo Editor, integrated into the Media library. Besides that, the builder provides you with 3 types of galleries to present your pictures in the best way.
You are welcome to register for a free 14-day trial period to try the template yourself. The best thing about MotoCMS trial period is that all the changes you have been making to the template will be still there when you purchase it.
Pixpa – All-in-one website builder for photographers

Pixpa is an all-in-one platform for photographers to create their professional portfolio websites, client galleries, blogs and ecommerce stores – all in one place. Photographers can showcase, share and sell online easily and save both time and money by using Pixpa as a single platform for their online presence.

Pixpa's offers beautiful, mobile-friendly and fully-customisable templates that you can change anytime. Pixpa's drag-and-drop website builder enables photographers to build stunning portfolio websites without any coding knowledge.

Pixpa's features, 24 x 7 email and chat support and cost-effective pricing plans starting at just $6/month make it the preferred platform for photographers around the world. You can start building your website right away with its 15 days free trial.

Wix – one of the best web builders for photographers

Wix.com is one more excellent way for starting a professional photography website effortlessly.

This development platform offers a number of designer-made templates to suit any taste. All of them are responsive, so they can be used on various mobile devices. The admin panel of the website builder doesn't contain complicated features, and it is pretty easy to use it. With Wix, you are also able to add external applications if there is a necessity. This builder supplies you with beautiful galleries and a huge image collection as well.

Wix is one of the best web builders for photographers that is why if you plan to have some practice with website building and managing not risking any money at all, this variant is for you. You can use your website as long as you want. But do, please, note that if you need some professional features (like Premium support, Marketing Vouchers) or big storage place (this is extremely important for a photographer), you will have to pay.

Weebly website themes for photographers

Weebly is a well-known platform featuring some wonderful website themes for photographers. Any Weebly website template offers a set of basic tools for building a functional website. Even the beginners are able to cope with this task easily because Weebly's user interface is really intuitive.

With Weebly, you also get integrated marketing tools to help attract more clients, employers, and partners. The website builder also provides you with the possibility to grow your photography business with email marketing. On top of this, Weebly offers its customers easy SEO and multiple apps. One more positive moment is unlimited storage.

Weebly also gives you an opportunity to change your template with a click of a button with all your content automatically transferred into the new template.

Photoshelter photography website platform

PhotoShelter is among the best web builders for photographers specializing in the creation of photography websites at the moment. The platform gives its clients the possibility to build websites with DIY templates or CSS & HTML. You are welcome to add unlimited, custom pages and choose unique font and color combinations. Intuitive, real-time site editing is also a positive moment of using Photoshelter. Moreover, it is incredibly easy to download images with PhotoShelter – there are three different options for uploading, including FTP.

PhotoShelter you can protect your pictures by structuring the site in such a way that you can decide who will have access to the high-resolution images and who will view only low-quality versions of an image. Besides that, you can add your own logo and watermark with it.

Photography websites form Zenfolio

The last but not least variant to consider while choosing among best web builders for photographers is Zenfolio.

This company has created some great templates which will help you showcase and sell your photography. All templates are professionally designed and easy to use. Zenfolio provides its customers with all the tools necessary for the creation of a professional photography website. You can customize any of them to make them fit your brand's look and feel. Build-in pages allow featuring your portfolio and services very quickly. Though, the process of customization may seem a bit complicated as a lot of stuff is thrown at you at once. Still, Zenfolio does offer good training and support resources through their Support Center, direct email, and Online chat (if you have a Premium Business Account). Besides that, Zenfolio's generous offer of unlimited storage space is very tempting for a photographer.

As you see, the contemporary world of web design has made a process of creating your own photography website easy and interesting by offering many wonderful opportunities. So, go look through the best web builders for photographers and find the one which will fit your need!