Get Spy Phone App Free [TheOneSpy Giveaway]
TheOneSpy Phone app is known for its supremacy over its competitors when it comes to accuracy, efficiency, reasonable price and dozens of powerful features. Today TOS is offering 3 free subscriptions for spy phone app through giveaway. People who are interested to get the free license of TOS gives away to comment this post. Then they will enter the race of getting free TOS subscription. Furthermore, they have to share this article on any social media platform. Resultantly, the top three persons who have spread the post will be chosen for getting free TheOneSpy Phone app. Giveaway will continue until next 4 weeks till December  27th and then TOS team will accumulate the results of top three promoters and they will be regarded as the top TOS free subscribers for the 6 months free plan.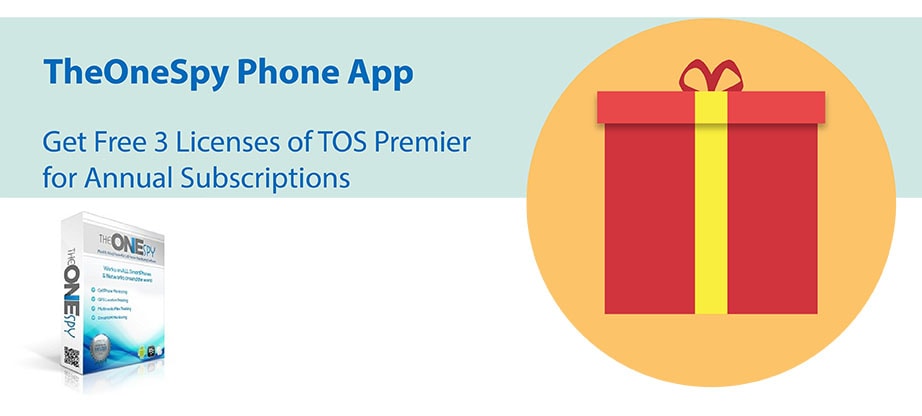 Spy Phone App – Ultimate tool for parenting
Parents who are worried about their teens and kids online activities and the possible risk factor of encountering with digital nightmares, the cell phone surveillance software are the true guardian for kids and teens. Parents can set complete parental control on kids and teens online activities to prevent them from online evils such as cyber bullies, cyber stalkers, sexual predators and child abusers. No, what is happening on kids and teens social media platforms, the monitoring software for phones enable parents to view their hidden activities same as with naked eye. Parents can remotely control the mobile phones of kids and teens when they are doing something inappropriate activities through a remote phone controller app. it enables parents to block the internet remotely, view installed apps, block text messages and calls on teens cell phone.
Spy Phone App – A True Leader of Your Business
Business organizations usually face problems related to their employees and the online security issues. Theonespy phone app is there for you to behave like a leader of your business to the fullest. It empowers employers to keep an eye on employee's activities when they are using company's owned gadgets such as cell phones, pads, and tabs. On the other hand, if there is the un-authorized entry made by an employee to temper the confidential documents stored in the devices and employers may lose all the data of their business. Don't worry the phone spy software is there to retrieve all of your lost data within no time.  Employees can get remotely screenshots of their employee's activities on the device and they can even listen to the gossips they made against the company or others employees through Phone bug of the mobile phone surveillance program.
Spy Phone App – A trust Factor in your Relationship
It makes relationships stronger, spouses and the partners can install The One Spy phone app on each-other cell phones in order to know where the partner or the spouse is the moment and what sort activities they are doing in their daily routine. It will really make a difference to trust each other and make the relationship stronger and beautiful.
So once again the rules:
Leave a comment under this post.
Share this post on any social media platform.
The results will be announced on December 27th.