Coronavirus Design – 10 Novel Web Design Trends & Best Examples
Over the last couple of months, the novel coronavirus outbreak has changed the way we live in big and small. And it may never be the same again – even once the stay-at-home orders are lifted and the lockdown ends – some predict that the "new normal" may look a little different.  Currently, over 158 million people are asked to stay home in the U.S. alone. Other countries have also enforced lockdowns encouraging people to maintain social distancing. Due to these strict measures, global Internet traffic has grown by over 50 percent. This creates a whole new field of opportunities and coronavirus design trends for businesses that want to sell their products and services online.

Coronavirus Design and Development Changes – Introduction
"Necessity is the mother of invention", says a proverb accredited to the ancient Greek philosopher Plato. As the majority of shopping has now shifted online, website owners are adapting to the growing traffic and higher shopping safety demands. New coronavirus design trends and marketing techniques are emerging to appeal to the audience during the lockdown. If you want to learn about these trends and how the novel coronavirus pandemic affects web design, check out this article! Here's what I'm about to cover
COVID-19: a Black Swan Event for the Global Economy
Coronavirus Website UI/UX Design Trends
COVID Colors: Red & Light Blue
Offering Distance Learning Opportunities
Extensive Use of COVID-19 Virus Imagery
Use of Other Lockdown-related Imagery
Moving Events and Conferences Online
More Stats, Graphics, Interactive Maps and Infographics
Stronger Social Media Strategy + Quality Content
Upgrade Shopping Safety & Convenience You Offer
Streamlining Returns Process & Digital Payments
More People Are Using Website Templates
10 Best Coronavirus Design Templates
COVID-19 – A Black-Swan Event for the Global Economy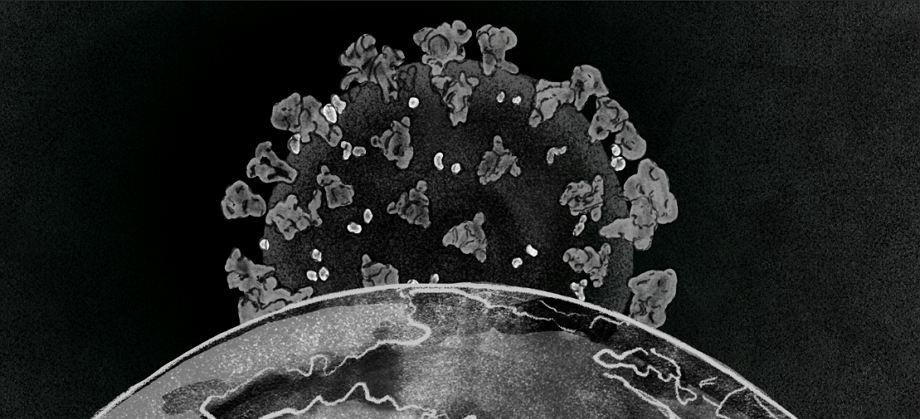 A black swan is an unexpected event that entrails heavy social, economic, and/or political consequences. This can be a cataclysm, war, or epidemic. Any of these sweeping events can unpredictably turn the global economy upside-down, causing a crisis. Today, many businesses have sent their staff to work from home due to the pandemic. However, the economic consequences of the lockdown are yet to be learned. The first blows of the upcoming crisis have already shaken the global economy. However, while offline businesses are on the rim of an abyss, businesses with a strong online segment benefit from increased traffic and significantly increase their revenues. 
For example, take a glance at the value change for global corporations, such as Amazon and Disney. Amazon – the largest e-commerce business in the world – has shown a 10% growth over the last 6 months. On the other hand, Disney – an extensive global conglomerate with a significant offline component – has shown a steep 25% decline.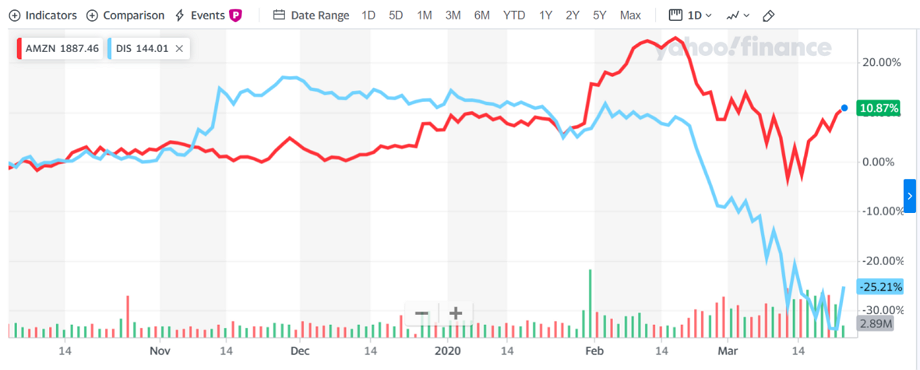 Source: Yahoo Finance
Here's another example. Let's take Netflix, the most popular online streaming platform, and Expedia, a global travel business. Here you can see a 34% (!) increase for Netflix and a 57% drop for Expedia.

Source: Yahoo Finance
How COVID-19 Changes Business
What's now happening to large businesses predicts the future growth of online commerce and even more revenue to online business owners of all levels! If you want your online business to become popular and stay competitive during these harsh times, be flexible, assembled, and ready-for-change! Let's see the top 10 modern web design trends to better meet the needs and desires of your online audience during and after the lockdown.
With the advent of the epidemic, you can see that many novel coronavirus-related websites choose similar designs. Epidemic-related websites often go for red and/or blue colors for highlights, white/light blue backgrounds, as well as viruses and other epidemic-related imagery, etc. Apart from visual trends, we see online education and conferencing on their rise. At the same time, e-commerce businesses are going the extra mile to improve shopping convenience and ensure online shopper's safety during the delivery. So, let's see what coronavirus design trends shape the visual identity of the new websites that emerge during the lockdown.
1) COVID Colors: Red & Light Blue
I've asked a couple of my friends what coronavirus-related web design trends they can name. Three of them were unanimous to name "red and light blue colors" a whole new coronavirus design trend to signal that some content has relation to the current pandemic and lockdown. Red is typically used as an accent color, while blue can serve as either an accent or background color. White for background and black for text is still a staple to ensure good readability of your content.
Let's see a couple of real-world examples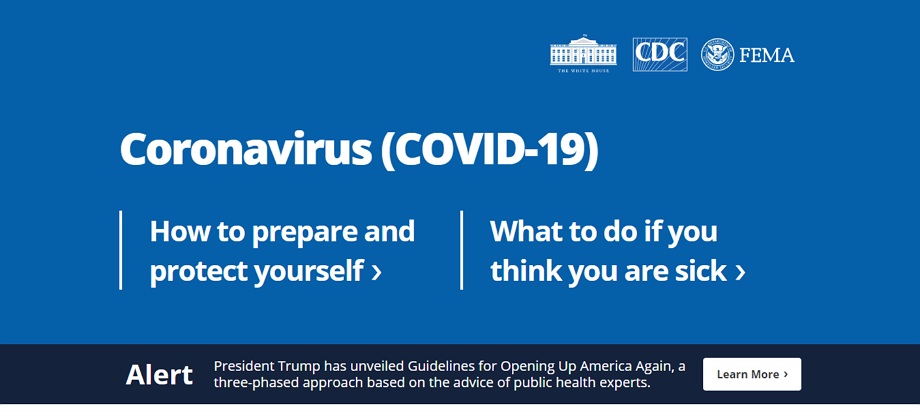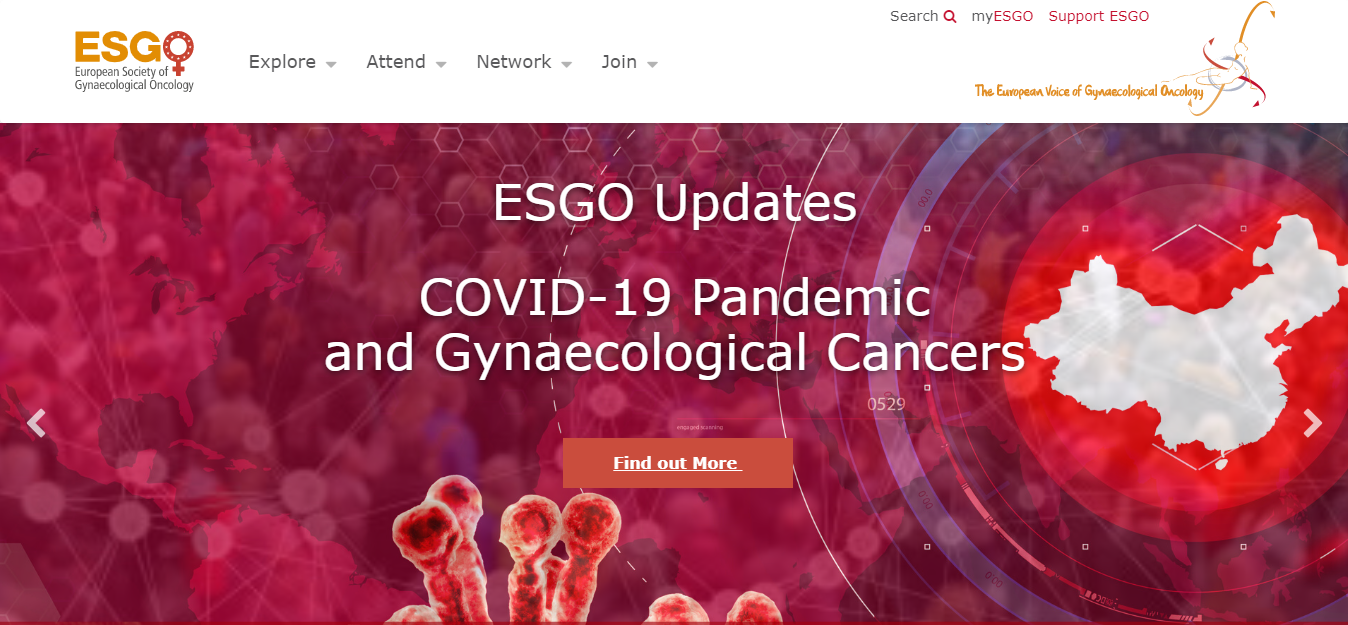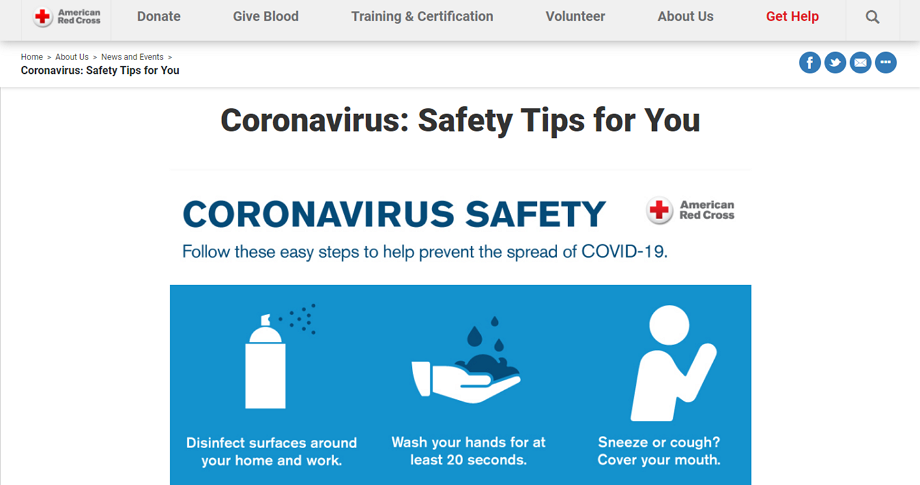 2) Offering Distance Learning Opportunities
As of mid-April, 191 countries closed schools and/or universities down, impacting 1.57 billion students. Instead, many students now have an opportunity to study remotely thanks to modern web technologies. During the lockdown, many educational institutions offer school/university courses that people can complete from home. The pioneers of distant learning already use such advanced technologies as virtual/augmented reality and AI teaching to make online education even more effective.
If you have an online presence, the lockdown is the right time to start offering educational courses or online workshops. This helps you boost the traffic on your website and attract more followers in social networks. Moreover, your course participants are a whole new audience to promote your products/services. So, if you feel like offering any distance learning opportunities in your niche, now it's the right time to start preparing it!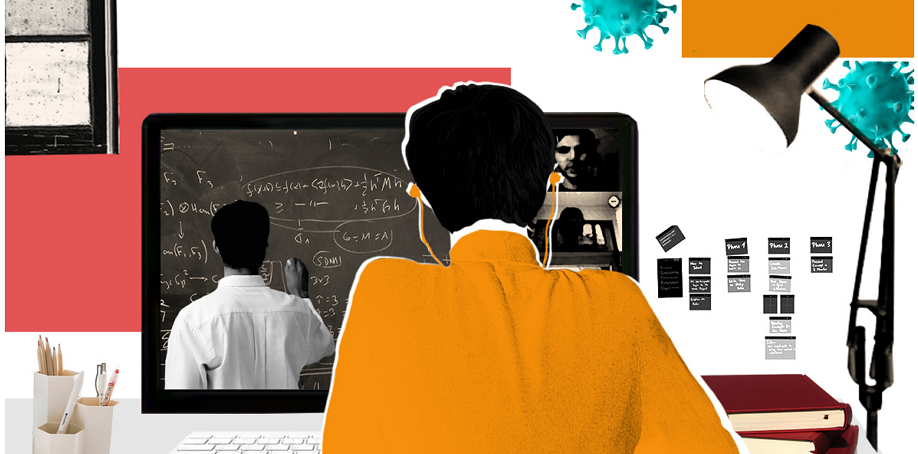 Source: cloudfront.net
3) Extensive Use of COVID-19 Virus Imagery
Be it a news post, a promotion, or a banner, you can see virus imagery everywhere online, and it's bound to stay as long as the lockdown lasts. Detailed, high-resolution, and visually appealing, virus imagery can be spotted on the Internet in any form. You can go for any imagery from naturalistic macro depictions to minimal creative virus representations.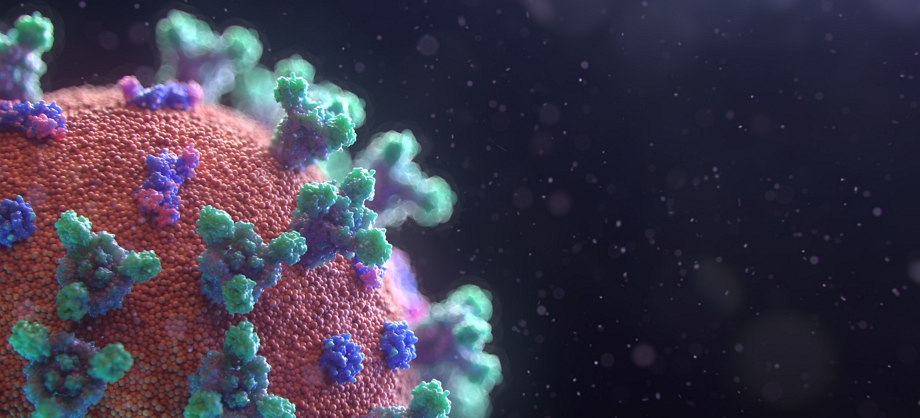 Source: https://unsplash.com/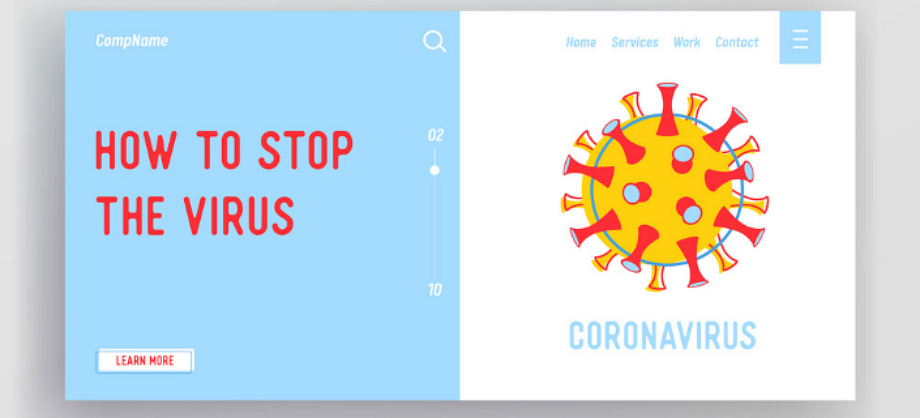 Source: https://www.vectorstock.com/
4) Use of Other Lockdown-related Imagery
The offline and online worlds are closely intertwined nowadays. We're all in the same boat. So, we subconsciously relate to images of people wearing masks and protective suits or staying at home during the lockdown. That's why you can often now see images of this kind when you're browsing the web or shopping online.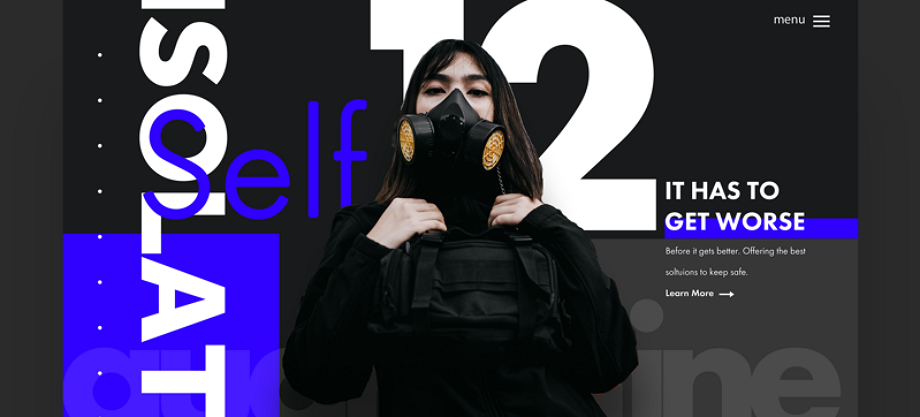 Source: Dribble.com
Another similar trend is featuring senior people as models on commercial websites. If your business offers an ultra-safe delivery or helps vulnerable groups of people stay home during the lockdown in any other way, using the imagery of happy elderly people on your website will subconsciously work for your brand's reputation.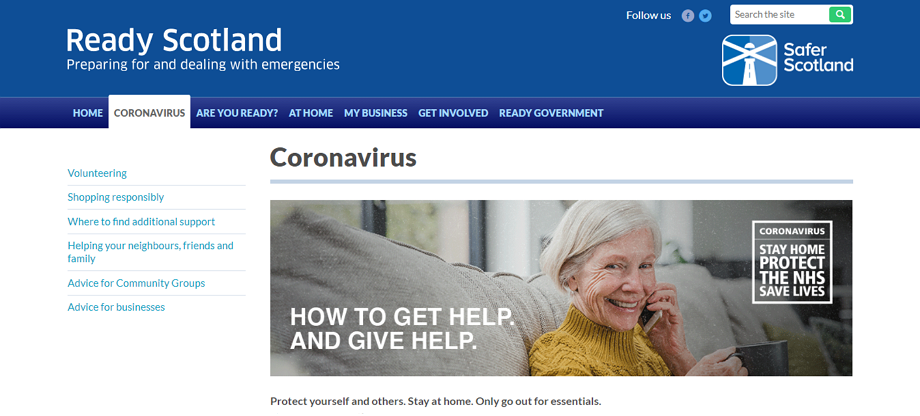 Source: Readyscotland.org
5) Moving Events and Conferences Online
To protect the public from the deadly novel coronavirus, a huge number of physical events have been postponed or canceled. Of course, the event organizers of all levels suffer significant losses related to refunds, marketing- and logistics-related expenses. According to stats, the tech/IT industry will lose more than half a billion dollars due to the lockdown. 
Fortunately, modern web technologies make online conferencing and meeting possible. Many companies are now moving to online venues for conferences and broadcasts to subside for their losses. Although digital interactions are not a full substitute for face-to-face interactions, they will definitely help your business survive the COVID-19 lockdown.

Source: ecreee.org
6) More Stats, Graphics, Interactive Maps and Infographics
We're no longer living in the times of undocumented Medieval plagues. The Internet has become the place where every human can access valid novel coronavirus statistics and recommendations without leaving the house. These months, many news platforms and blogs have been and are actively incorporating professional UI elements to display stats and data in an attractive, comprehensive, and interactive way. Along with this trend, any modern website will benefit if you find and use attractive ways to present insightful data on your website.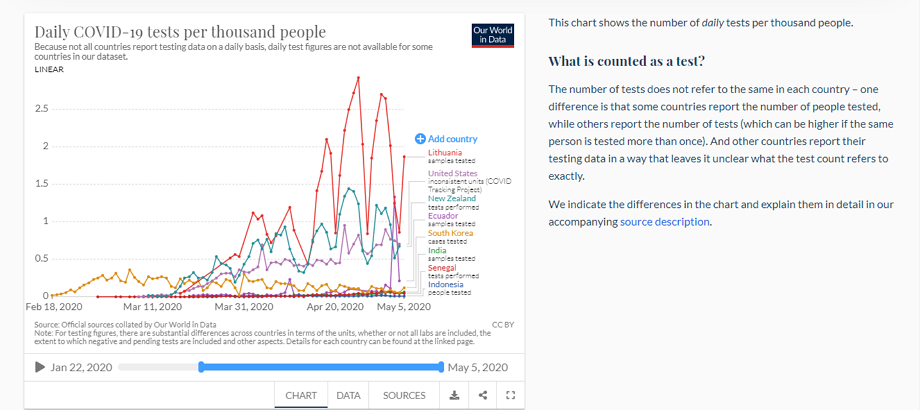 Source: Ourworldindata.org
Thanks to the novel coronavirus epidemic and lockdown, such graphs don't look scary anymore.
7) Stronger Social Media Strategy + Quality Content
Over half of the global population is forced to stay home due to quarantine measures. Quite unsurprisingly, people in virus-affected countries are turning to social media platforms to spend their leisure time there. This creates new opportunities for promoting and selling your products/services through social networks. To reap these opportunities, shift your marketing focus to social media channels and create content that is best adapted to social networks. 
Creating content for social channels, make sure it's optimized for mobile as the majority of social network traffic comes from mobile devices. Make sure that your online presence is 100% mobile-friendly, go for a template with strong social media integration and create micro-moments to engage mobile users — this is the right strategy to ensure that you get the most of social media opportunities this year.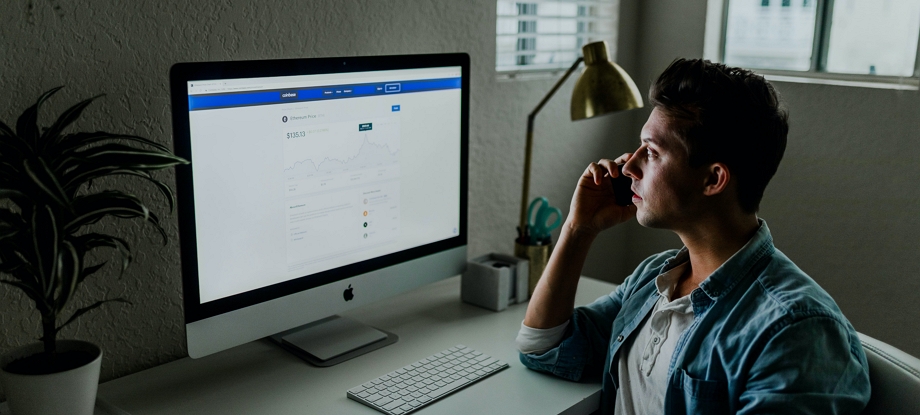 Source: unsplash.com
8) Upgrade Shopping Safety & Convenience You Offer
These days, social distancing is still one of the best ways to stay away from the virus. As you may no more have a chance to offer your products in a physical store, the focus shifts completely to your e-store and the customer experience it offers. 
The new trend that appears is upgrading the quality and safety of the delivery you offer. If you have an e-commerce store, rethink your strategy, and start upselling convenience and safety instead of products. The fear of novel coronavirus infection will last for long after the lockdown measures are lifted. So, it's now in your interest to go the extra mile and ensure trading at a safe physical distance. This is a good way to build your brand trust during these harsh times.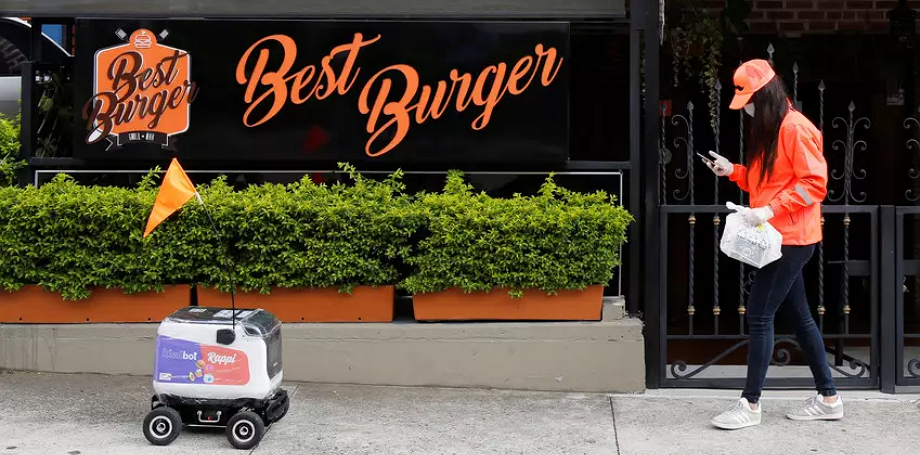 Source: www.reuters.com
9) Streamlining Returns Process Digital Payments
With the ongoing situation, it's important that you're able to offer convenient Returns to your clients. Streamlining your Returns process and making sure everything works right both for you and your customers helps boost customer satisfaction. Getting a professional e-commerce template is a surefire way to get the Returns section of your e-store working right with minimal customization. 
Cash might carry the virus, so contactless digital payments, e.g. with cards or e-wallets, are now the preferred payment methods that prevent the spread of COVID-19. Make sure that you enable digital payments on your website and offer at least several payment getaways to ensure the buyer's convenience. Do you want to learn all the recent e-commerce trends? At the DesignWebkit blog, we offer you our detailed breakdown of the top 5 retail trends 2020 shaping the industry's future.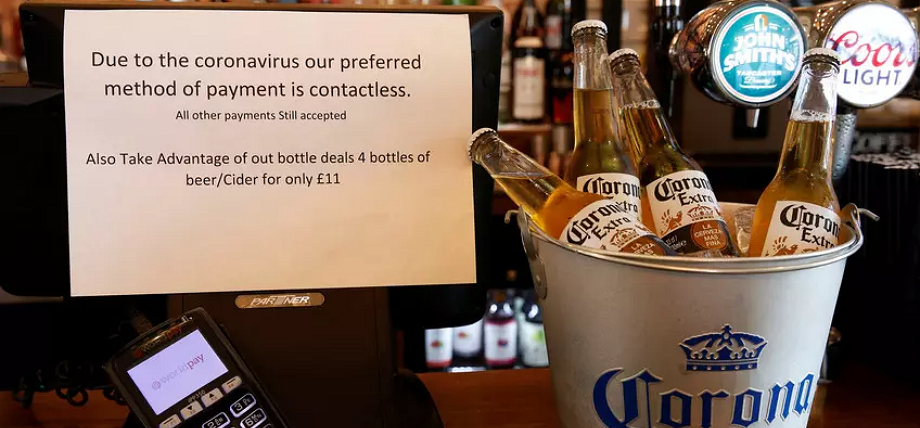 Source: www.reuters.com
10) More People Are Using Website Templates
With the necessity to have a quality online presence growing, more people venture to build a website for their business with a modern template. During the lockdown, anyone can spend less than a week to create a gorgeous website using a professional WordPress or e-commerce template. If you choose to create your site with a template, you need no coding knowledge. Moreover, you'll definitely create your online presence faster with ready-made content, conversion-optimized pages, and the latest e-commerce functionality. 
Are you looking for more web design trends for this year? Then check out our article about the top 10 UX design trends 2020. 
10 Best Coronavirus Design Templates
Today, I've prepared for you a list of best Coronavirus design templates for different niches and purposes. These themes come from several best-selling marketplaces and are developed by professional web designers with years of experience behind their backs. I hope these Coronavirus-related templates serve as a good illustration of the trends we discussed above and inspire you to create an awesome new website this year!
CoronaV – Medical Supplies PrestaShop Theme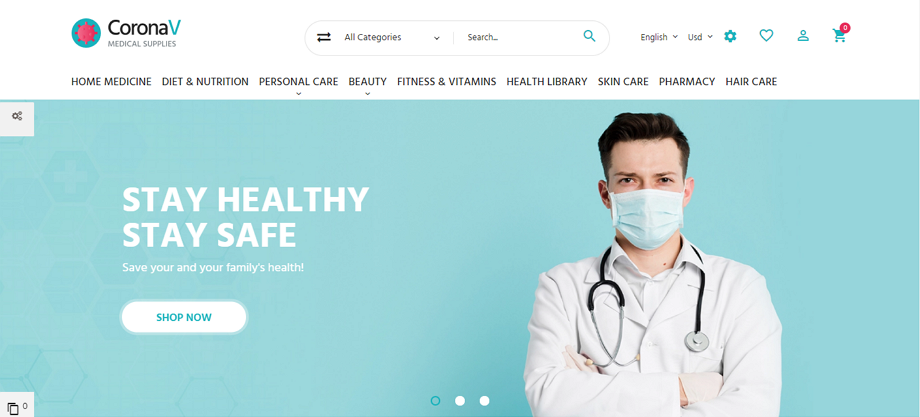 CoronaV is a trendy and inexpensive medical supplies PrestaShop template. This ready-made solution will be ideal for medical stores selling first-aid items, surgical masks, or any other medical supplies. CoronaV incorporates 3 professional skins to allow you to choose to the page design that best showcases your products and other content. Moreover, this template offers you some of the best extensions for PrestaShop, such as one-click Sample Data Installer, premium PrestaShop modules, and JX Accelerated Mobile Pages extension to ensure the stellar performance of your e-store on mobile. 
KarDone Medicine Online Store Template Shopify Theme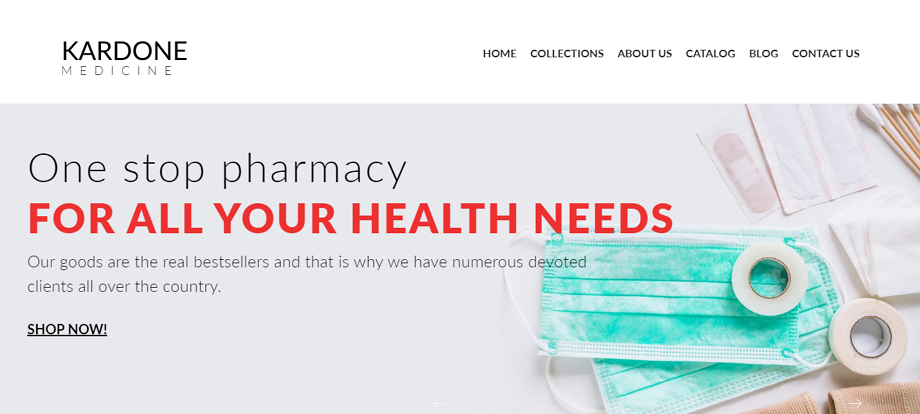 Shopify is one of the most comprehensive and popular e-commerce platforms to create a successful medical e-store with. Using this theme, you can sell any medical equipment that helps the population stay healthy during the lockdown. KarDone theme is newbie-oriented. It's compatible with Shopify Builder so that you can edit the pages of your online store with a drag-n-drop. What's more, this template offers you pre-built Sorting Options, Collections Catalog, Product Carousel, Quick View, Ajax Cart, etc.
KOVID19 – Coronavirus (COVID-19) Prevention Awareness HTML Template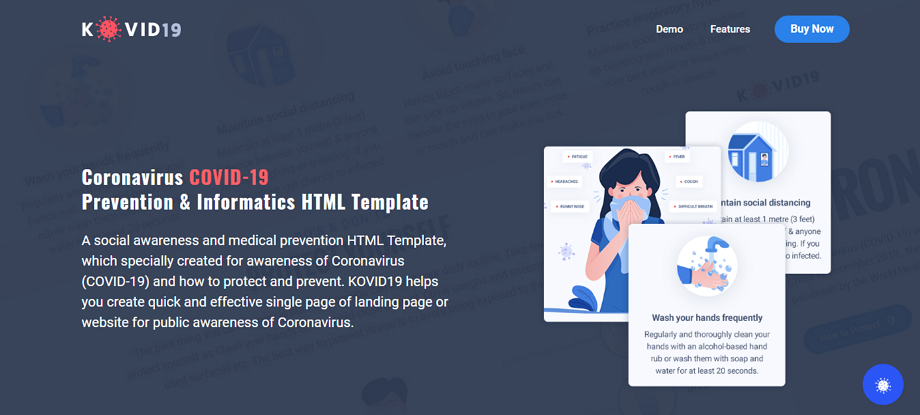 This is an amazing social awareness landing page template for the novel coronavirus prevention website. This template includes two amazing landing page designs, each skillfully crafted with hand-made icons, unique illustrations, clean and modern layouts, stylish fonts, etc. Based on Bootstrap 4 and fully responsive, KOVID19 helps you quickly create an effective landing page or public novel coronavirus awareness online presence. 
Magetique – Medical Equipment Magento Template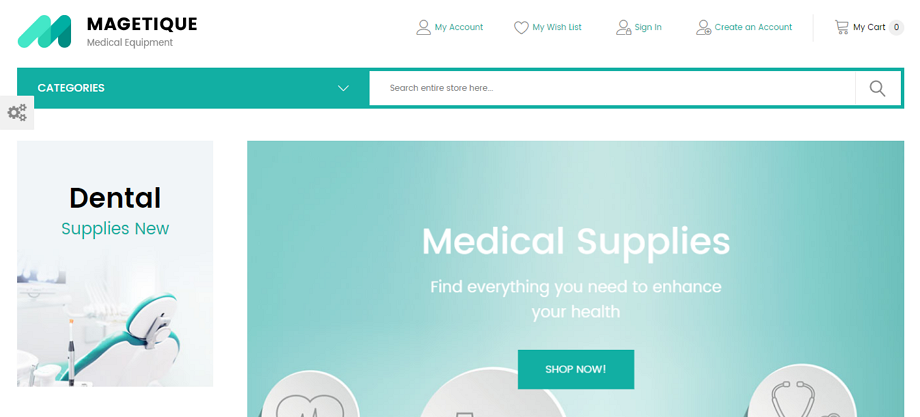 Magetique medical equipment template is a part of the family of advanced Magento templates that have all the functionality you need to power a competitive medical online store this year. This template includes a collection of premium extensions by TemplateMonster, which serve to boost the user and shopping experience on your website. Magetique has a trendy light-blue color scheme. The theme also incorporates an easy-to-use Color Switcher to let you easily recolor any element of your template if you feel like doing this. 
BeClinic – Multipurpose Medical WordPress Theme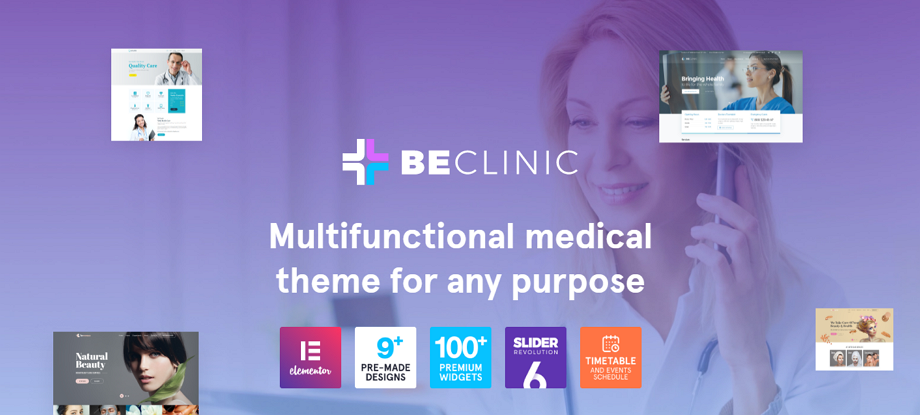 BeClinic is the best-selling medical WordPress template that offers you a well-balanced pack of features, pages, and functionality. This medical template includes more than 9 skins for various types of medical and e-commerce websites. BeClinic is compatible with Elementor Builder, a popular visual editor that lets you move and add page blocks with drag-n-drop. Moreover, this theme is compatible with Revolution Slider 6, the most advanced and versatile slider extension for WordPress that exists. To let your website users schedule appointments at your clinic online, BeClinic is also compatible with Timetable & Event Schedule plugins. 
Velazio – Shopify Medical Supplies Responsive Theme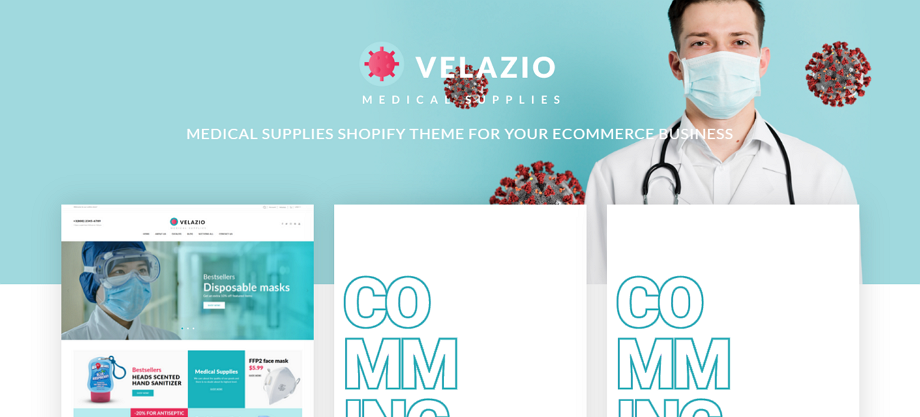 Inspired by the ongoing COVID-19 epidemic, this modern coronavirus design template will help you sell health care items, first-aid products, and other medical supplies. Velazio offers your users modern shopping experience thanks to such features as Ajax Search, Product Filtering, Homepage Banners, Collections, etc. This template is built for newbies. It's extensively documented and compatible with Shopify visual builder. If you want to use this template in HTML, check out Velazio medical supplies shop HTML template. 
Medical Equipment Website Template for Med Supply Store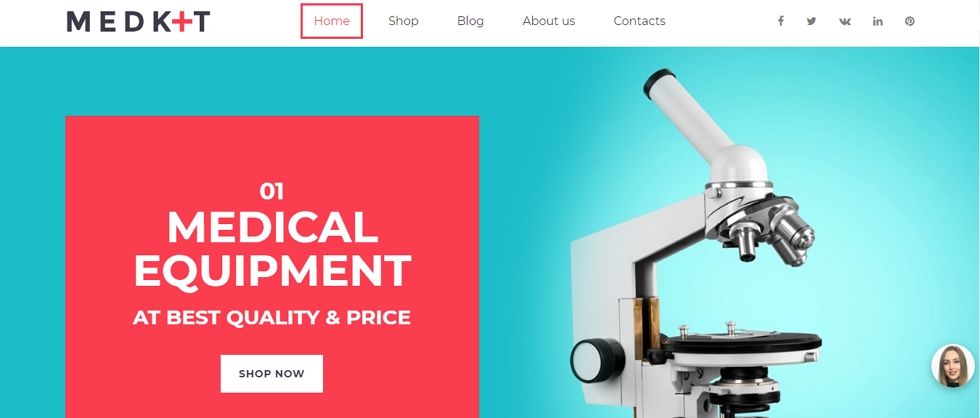 MedKit is a professional medical equipment template designed in the trendy white, light blue, and red color combination. This simple and fast-performing template is easy-to-edit with the comprehensive MotoCMS website builder. Based on drag-n-drop functionality, MotoCMS builder offers you comprehensive drag-n-drop functionality. Move the blocks of MedKit template around and use comprehensive tools such as Color Switcher to control the appearance of your online presence! 
Coronavirus (COVID-19) Donation Landing Page Template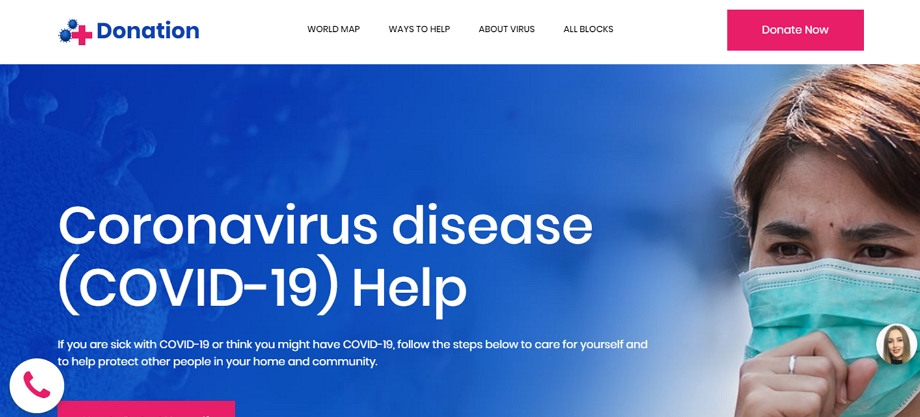 Do you want to create a COVID epidemic related landing page to effectively generate leads and promote your products? Then, the simple-to-customize Coronavirus Donation landing page will help you with this task. This template is a perfect solution for non-profit organizations and communities, who're helping the victims of the pandemic outbreak. This template comes with a set of ready-to-use blocks and a comprehensive WYSIWYG builder to help you customize the landing page up to your needs within a couple of hours. 
Boutique Website Template for Fashion Store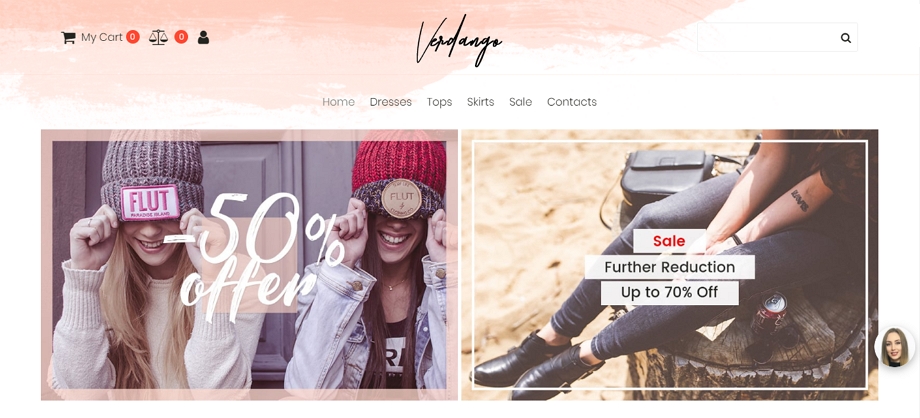 Verdango is the best template to sell any kind of closing or accessories online this year. Thanks to MotoCMS builder integration, you'll have a chance to customize this template within a user-friendly interface with in-built guides and how-tos. Crafted with care, Verdango contains numerous tools, including an animated Homepage slider, Social Integration Options, Compare, Wishlist, Sorting Options, MailChimp integration, etc.
Private Medical Lab Website Template for Landing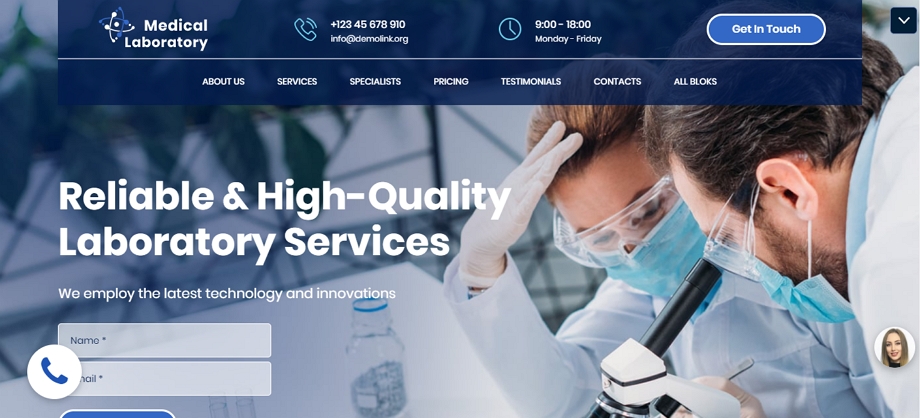 Are you looking for a state-of-the-art medical lab template? Use the Private Medical Lab template and you'll create a storytelling landing page for a laboratory effortlessly! This template offers you a stylish, professional, and reserved website design, which is built around blue and white colors. Private Medical Lab is easy-to-edit thanks to MotoCMS builder and has tons of settings and display options available within it. If you're not sure that you'll enjoy customizing this template, try Private Medical Lab and MotoCMS builder free for two weeks before you pay!
Coronavirus Design – Let's Wrap It Up!
The lockdown will soon end, although the "new normal" may look a little bit different. Businesses of all levels are trying to leverage the losses they suffer due to the lockdown and upgrade their online presence to meet the demands of the modern audience. Currently, we see the rise of online education and conferencing. Moreover, many businesses are working to improve purchase safety and buyer's convenience at all levels. Finally, there's a whole new set of website UI elements that you can see used all over the web to relate to the new epidemic. These elements include red and blue colors, as well as the imagery of viruses, people wearing masks, vulnerable groups of people, etc. Are there any coronavirus design trends that I haven't mentioned? Let everyone know about them in the comments. Take care!