Top Hotel WordPress Themes for Your Vacation Rental Website
In creating a website, you need to consider showcasing your services, presenting a team of professionals managing a business, and emphasizing your strength and special offers. If we're talking about the hospitality business and hotel/room rentals, it's necessary to show the detailed images of hotel rooms, present amenities, and pay attention to extra services. Moreover, these points should be presented most attractively and appealingly with the help of one of the hotel WordPress themes. Only such an approach will engage prospective clients. Therefore, customers will find it more likely to book a room and pay money for rent.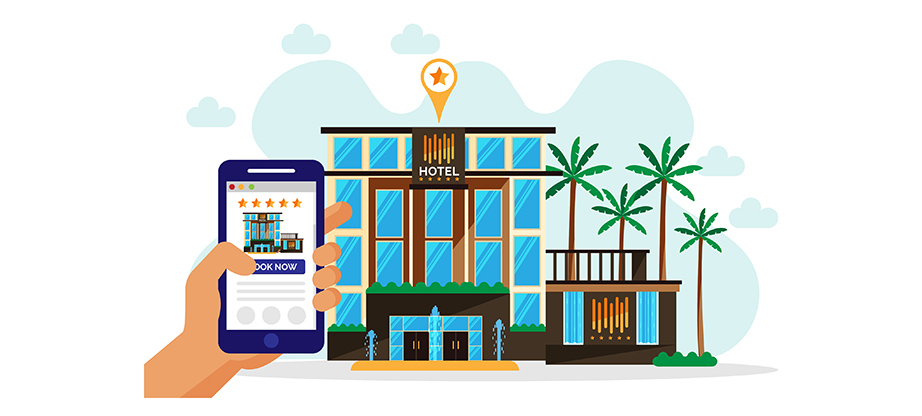 Nowadays, selecting a high-quality WordPress hotel booking theme is light and breezy. Multiple website templates look great and have the necessary functionality to showcase everything you have to offer in the best light possible. Therefore, you require colorful images, easily navigated pages, and easy-to-use hotel booking tools. So, your customers won't be surprised when they arrive at the place. However, even an excellent modern website design and easy navigation do not guarantee your site's success. You should also regard a content management system that is the basis of the site's functionality.
Essential Functionality for Hotel Bookings Website
Every property reservation site's primary functionality element is a booking plugin that enables booking in a couple of clicks, paying in advance, setting rates, accommodations, specifying additional services, etc. The best modern tool on the market for this purpose so far is the MotoPress hotel booking plugin. Hundreds of property sites worldwide already use it. It can boast a set of critical functions for managing an online business for a hotel, hostel, rooms for rent, etc. These functions comprise:
setting different prices according to the season and number of days
precise descriptions
online and offline payments
search availability form
booking calendars & iCal sync bookings with OATs
supplementary services
email confirmations
and other helpful operations you feel the need to use while building and managing a hotel site.
Additionally, the MotoPress team can provide you with multiple extra extensions bringing additional functionality to make it even more suitable for your preferences and requirements. These extensions include Hotel Booking PDF Invoices, HB Checkout Fields, Woocommerce Payments, HB Booking Request, etc.
Design as a Critical Factor of WordPress Hotel Themes
So if functionality is the key factor, why should you pay so much attention to choosing one of the hotel booking WordPress themes for your site? Website look significantly affects clients' overall impression of it and their wish to make a booking instantly, and the site's appearance depends on the reservation template design picked for it. So, here we offer you a selection of the most relevant and well-designed WordPress hotel themes you can use for your hotel business website.
Responsive Hotel Booking WordPress Themes
Let's have a look at the stunning hotel WordPress themes and the best Airbnb WordPress themes.
Booklium Hotel Multi-theme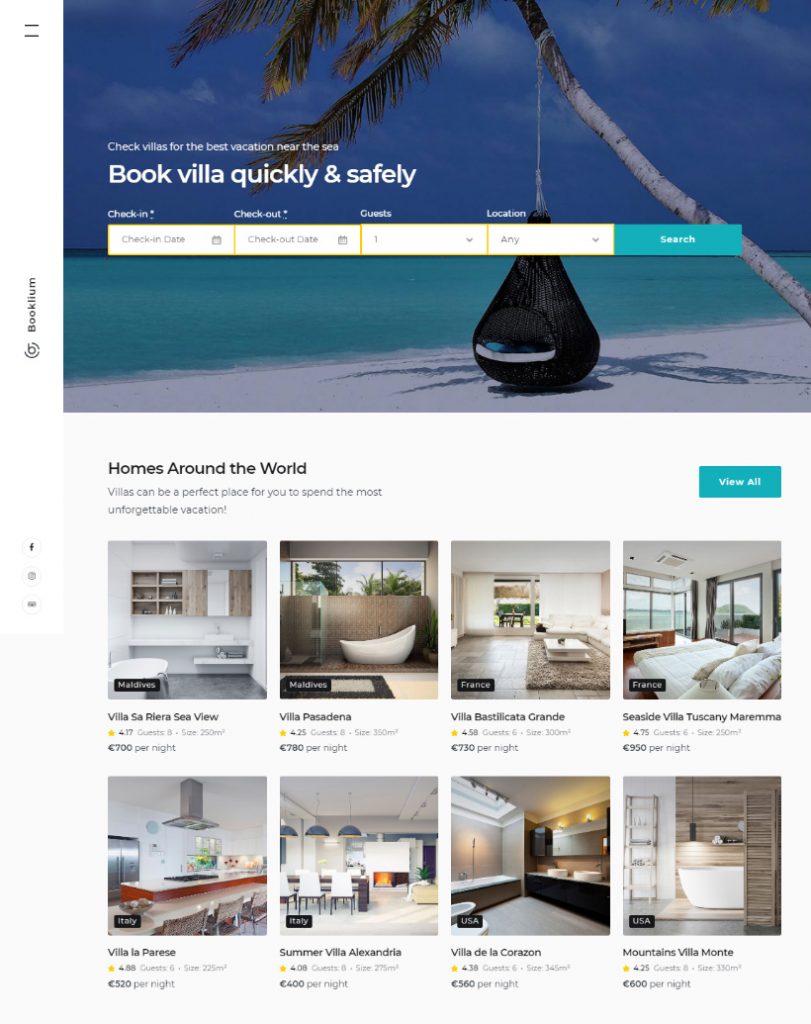 Booklium is a unique item on this list. It is stylishly designed and equipped with all the necessary functional booking-related tools, but it also works for multiple purposes. This WP rental multi-theme aims to develop your rental business by making a trendy online presentation for it and adding more direct booking opportunities for future visitors.
The website template comprises the MotoPress hotel booking plugin that helps manage online room booking and carry OTAs channel manager operations under one roof. This multi-theme also has an undeniable advantage of multiple pre-made design solutions that won't limit your choice of hotel website design that suits your destination more.
Luviana – Universal Hotel Booking Template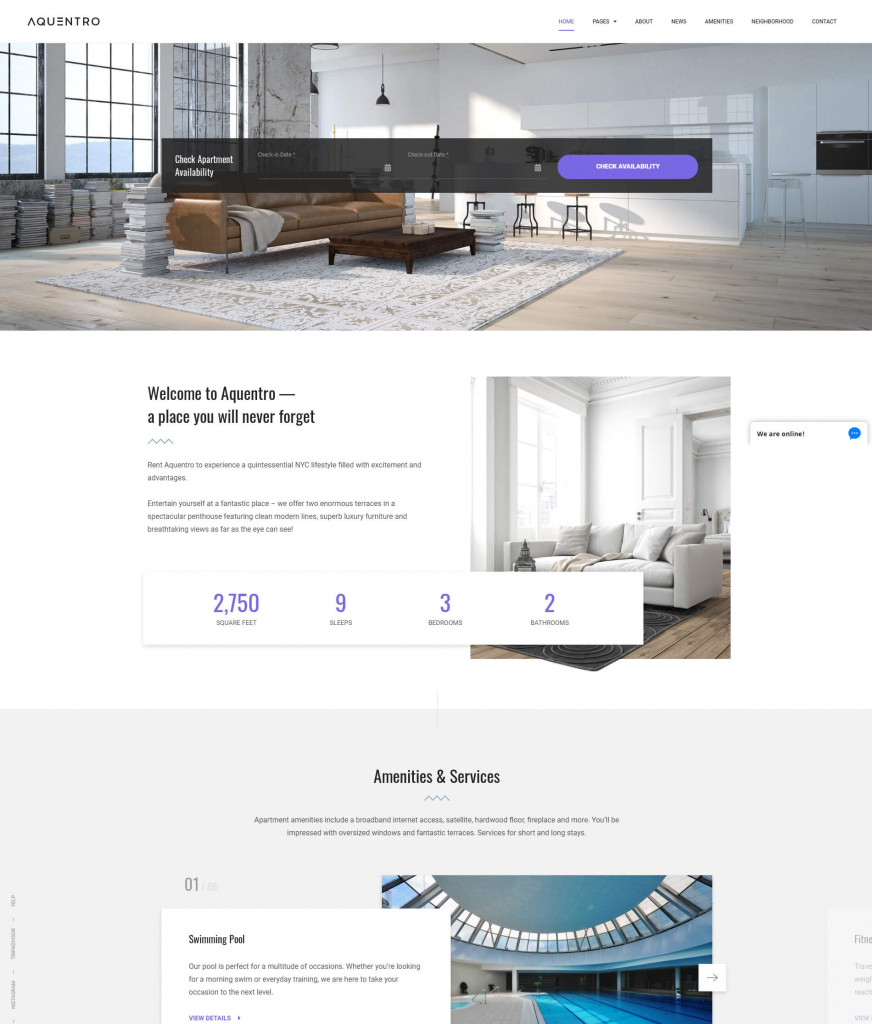 Luviana hotel booking template is an excellent choice for a hotel or another rental of any size and type. It suits small BNBs, hostels, big chain hotels, mountain and beach resort spots, guest houses, residences, and boutique hotels.
The theme is also equipped with the MotoPress Hotel Booking plugin. So, using this template as a basis for your future resort or hotel website, you will also get a working hotel management system. On the website created with Luviana, you will hassle-free set online reservations, and receive booking payments through the most popular payment systems. You can also send data and update emails, and update the booking status just in a couple of clicks.
Alpenhouse – Comfy WordPress Rental Theme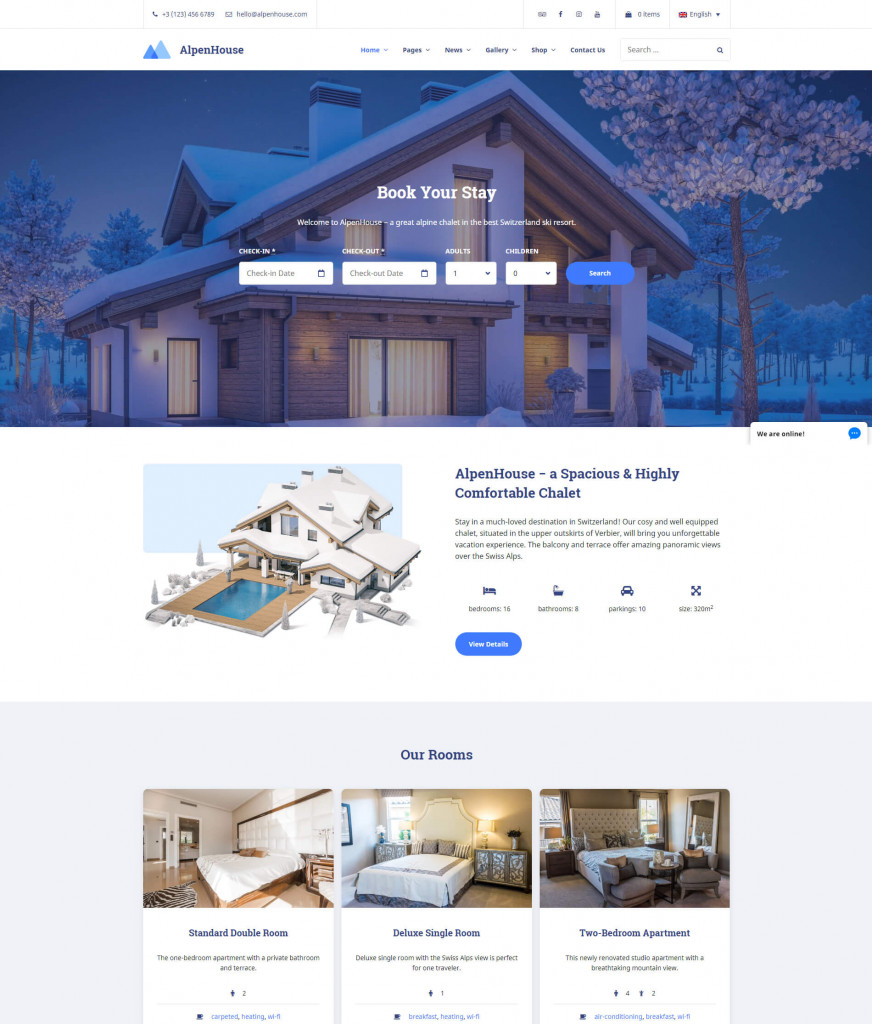 AlpenHouse is a hotel booking WP theme that can be an excellent match for some comfy rental options, including mountain chalets, cozy guest houses, small hotels at ski resorts, residences, and other kinds of similar accommodations. With Alpenhouse, you can quickly assess the benefits of making your site on WordPress. It enables easy website building process and design changes and cuts down expenses via multiple free options, including booking and automation tools.
Particular advantageous features of this booking theme include:
A stylish responsive fast-loading design that will contribute to the attractiveness of the site and its position in search results
Upscale Hotel Booking plugin for free
Elementor WordPress page builder for smoother and faster customization
The hassle-free data import process
Oceanica Hotel WordPress Theme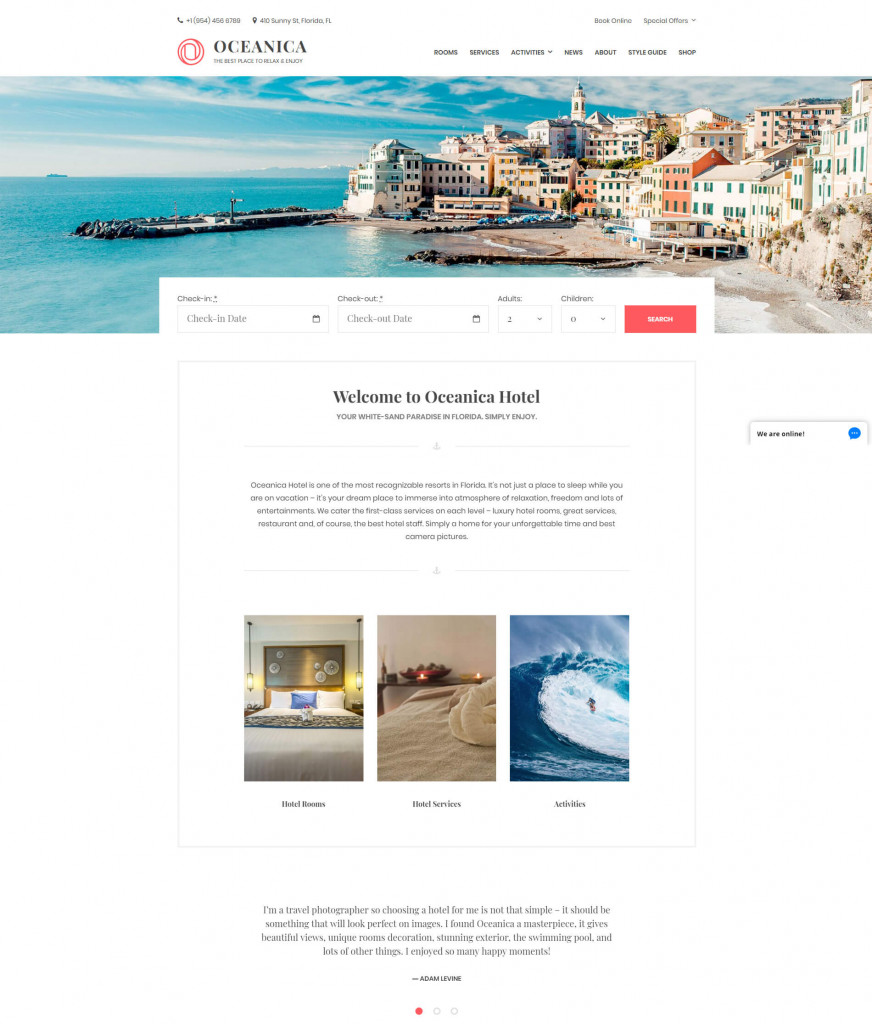 This tailor-made hotel WordPress theme is created for the hospitality-related industry places and holiday destinations, including villas, apartments, hostels, vacation rentals, etc. As you can notice, Oceanica's design is clean and uncluttered. So, it works well for the places where the design is minimalistic and reserved.
It is an excellent fit if you need to give your guests a hassle-free opportunity to make an online reservation directly on the website in a couple of clicks, as it incorporates an all-inclusive tool for booking purposes – a MotoPress hotel reservation plugin. What also makes this template stand out are elegant fonts and 100% responsiveness and usability.
Ciestra Rental Property Theme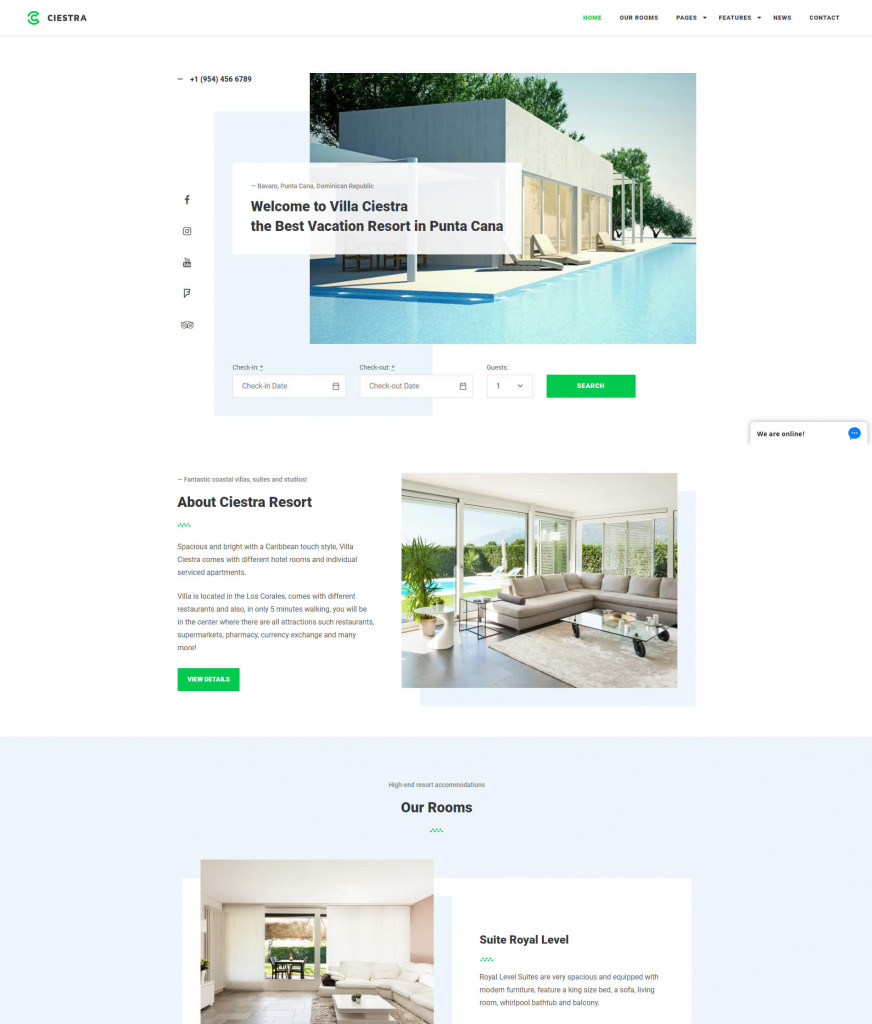 This WP booking theme is popular for a high-speed page download, which is very important for user comfort and SEO indicators. With the introduction of Core Web Vitals, sites with more user-friendly and fast-loading designs get better rankings. Therefore, Ciestra is a good pick nowadays.
It also offers helpful SEO tools, auto-sync to other OTAs, and an intuitive editing process that suits people with no coding or web design skills.
Aquentro – Urban Property Website Theme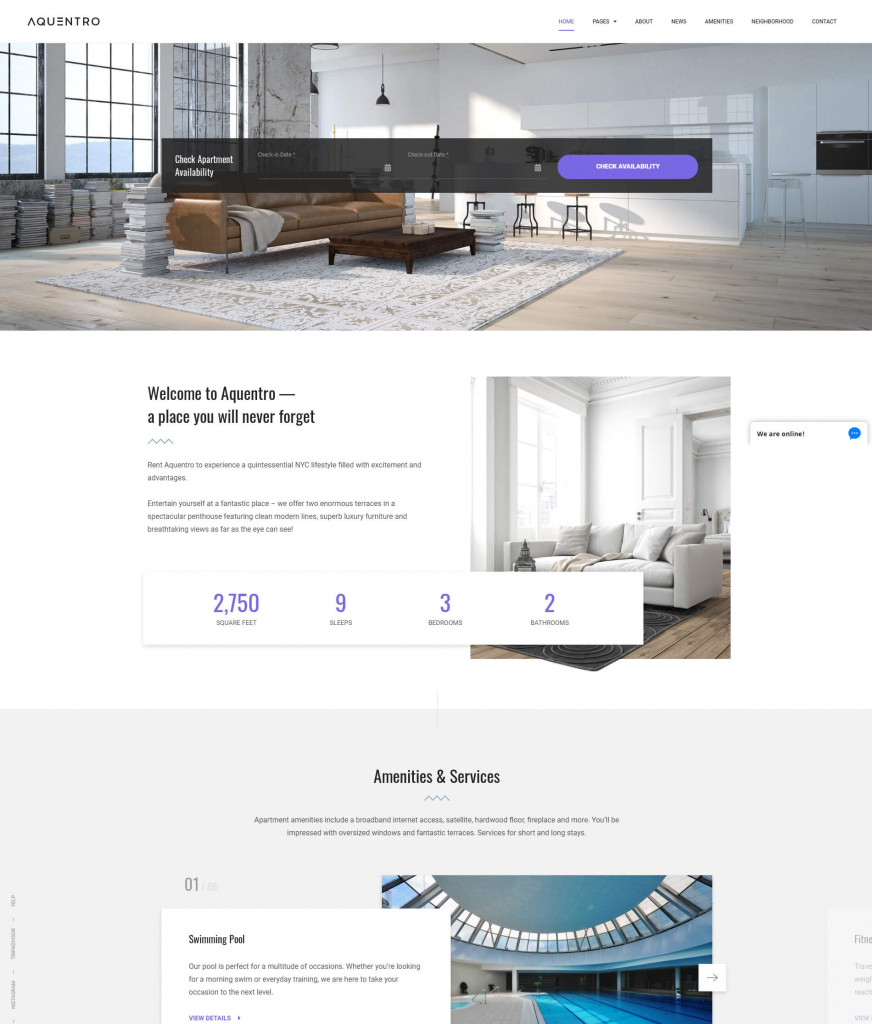 It is a modern urban-style hotel or apartment rental WordPress theme for any property. However, it undoubtedly better fits one unit of property. This way, you can easily showcase all the advantages of the unit to your future guests. It also includes a WP booking plugin with multiple in-bound payment options for free.
Try the theme's demo on the company's website and assess all the beneficial features of its design and functionality. It looks light and vibrant, and it's stressless to edit and modify up to your needs.
Mountainview – Vacation Booking Website Theme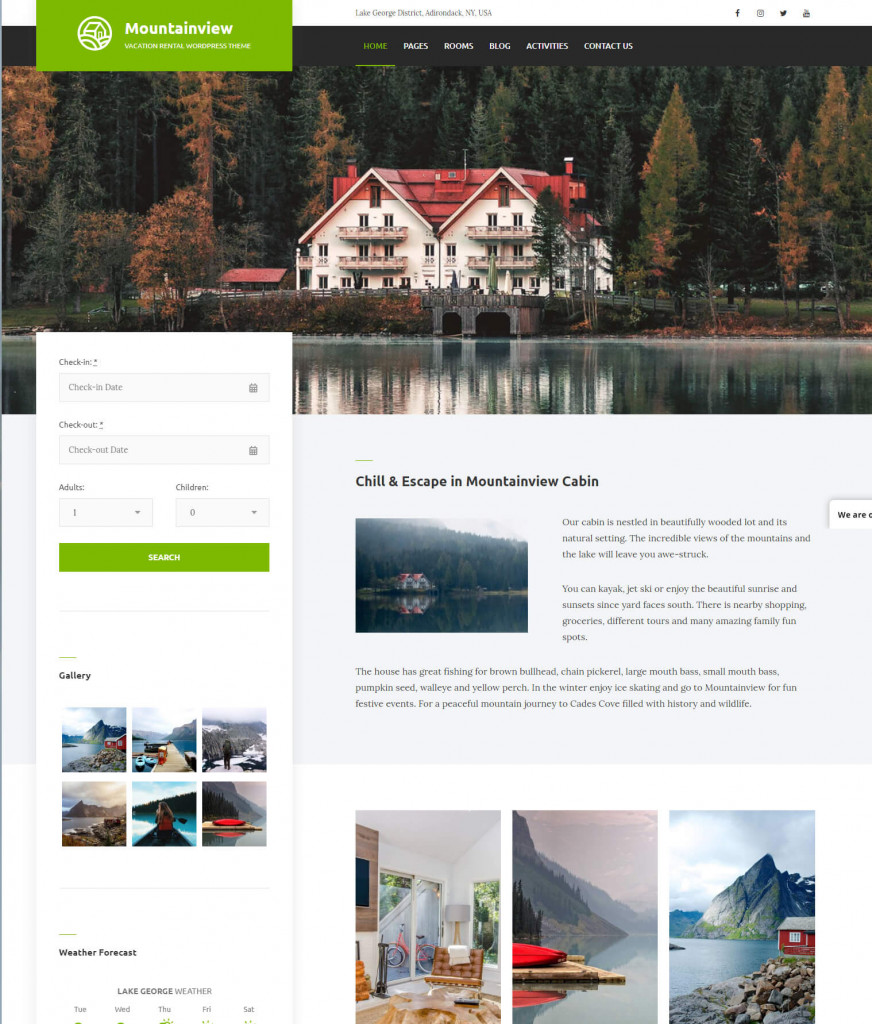 This vacation booking theme will work perfectly if you need a bright, fancy, and fast-working design solution for your rental property website. It can be easily customized and edited by adding new content, managing properties & connecting them with third-party travel agents through iCalendar, and working with bookings directly on the site.
Villagio Rental WordPress Theme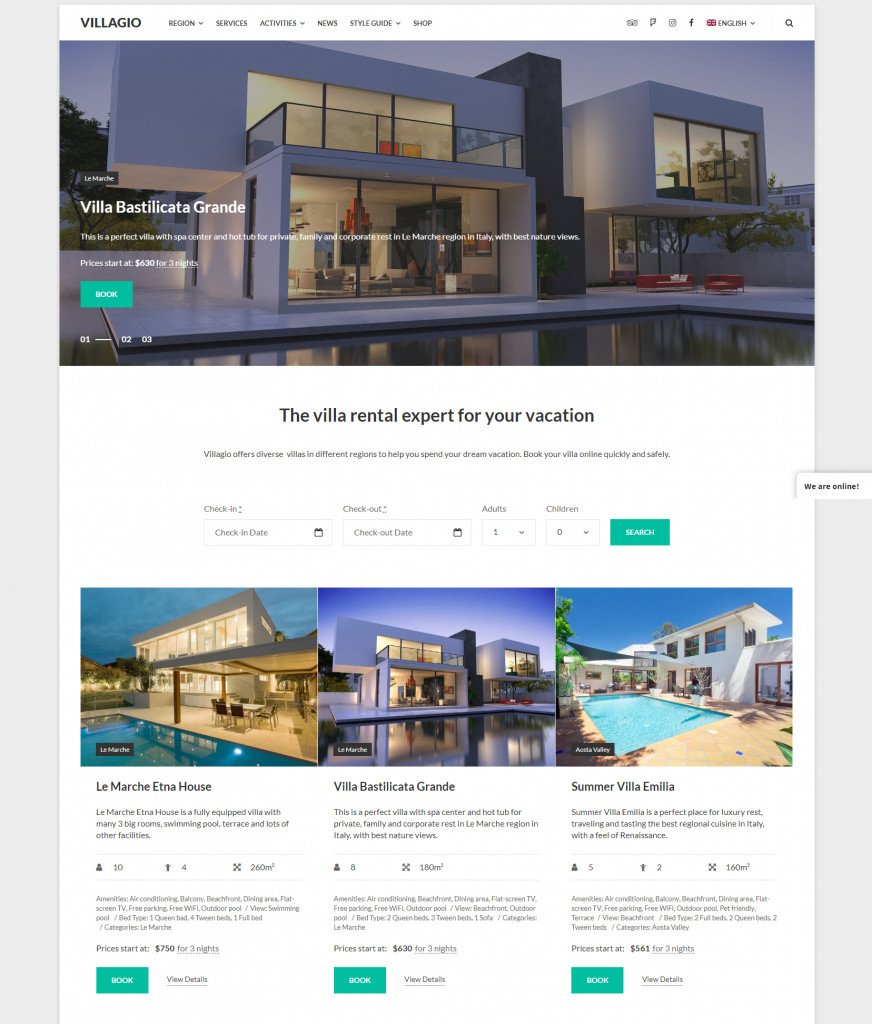 It is an all-inclusive property rental solution for a guest house, rental apartment, or villa reservation website. It comprises a useful HB plugin and stylish design for presenting amenities in the best possible way. The booking tool lets you manage bookings on the front-end, specify discounts and custom rates. You're also able to add extra services, and use the admin calendar easily.
Albatross – Free Hotel Elementor Theme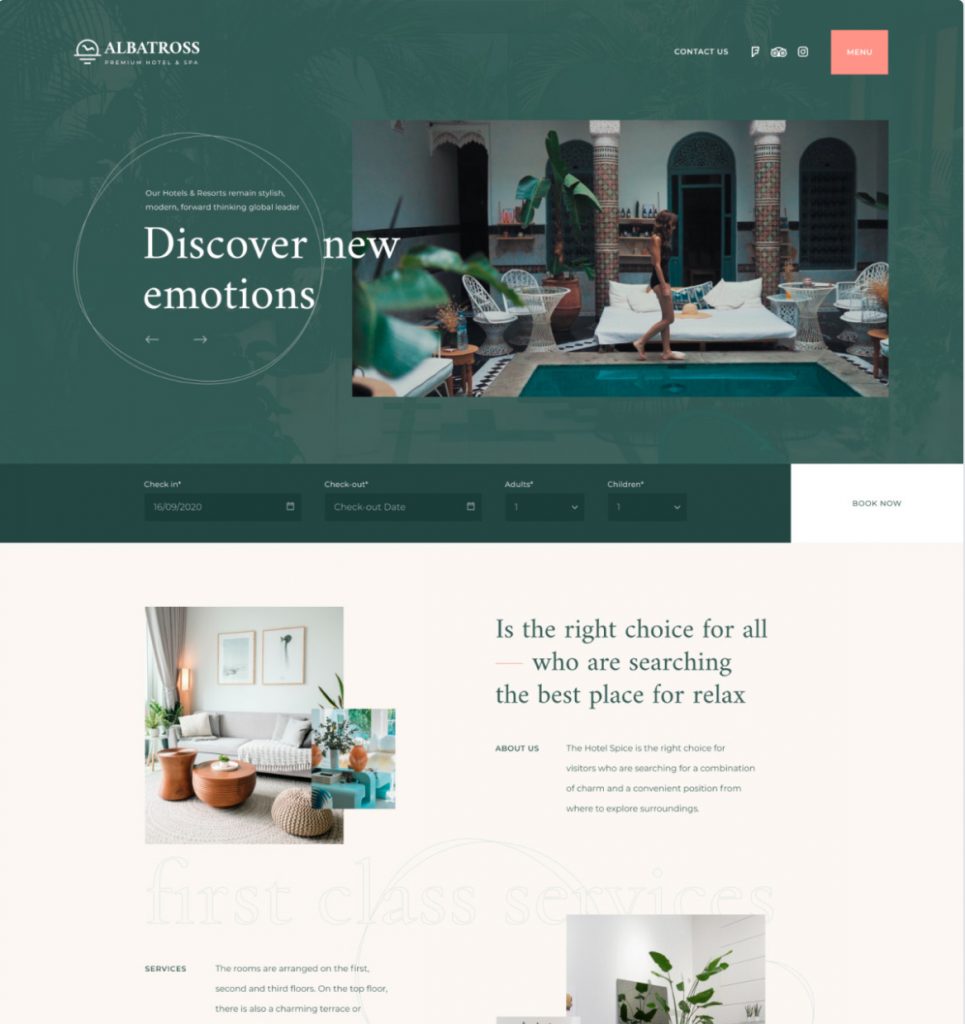 If you think of free hotel WordPress themes, you may consider them limited in functionality and lacking trendy design. However, it is not valid for any free template. Albatross is a free hotel theme that in no way lags behind the paid options. Its functionality is powered by two valuable tools. They are Elementor editors for smooth site-building and editing and the MotoPress HB plugin for online booking.
This free theme will facilitate creating your hotel brand online representation. It also helps manage and improve the process of online booking making and accepting.
Hotel WordPress Themes – Which One to Choose?
So, here you have a chance to check out the selection of the best, well-designed, and responsive hotel WordPress themes for your future hotel website. All of them can boast compliance with essential efficiency factors making a reservation site ideal. These factors are responsive modern design and inbound hotel booking tools for all the management operations. However, if you don't want to spend time setting up a WordPress site, you can use a free vacation rental website builder by iGMS. It can automatically create a website for you based on the information provided in your Airbnb profile.