WordPress Free Themes With Demo Content – Top Reasons to Use Them
There can be a lot of reasons why users prefer WordPress free themes with demo content. It can be useful for people, who are new in web development and want to improve their skills following the examples. Or the other reason can be simply the urge to save money on design when one uses the pre-made templates to build a website. With the huge popularity of the themes with demo content, their amount on the web grows every day. And it becomes harder and harder to find the right one, which will be the most suitable for you.
A lot of developers offer you themes with various features, and it can take a while to check them all. Some people are afraid to use the free themes because they think that they are harmful and can break the server, are not frequently updated, or have limited content, but that's not so with Zemez themes. If you download the free theme from the verified developer's website, these problems will be avoided. Among such developers are the Zemez team and they also offer WordPress free themes with demo content. Additionally, you can check out Festinger's GPL Vault database of 15K+ premium WordPress themes and plugins.
WordPress Free Themes With Demo Content – Top Features
The main features for WordPress free themes with demo content are as follows.
Built-In Elementor Plugin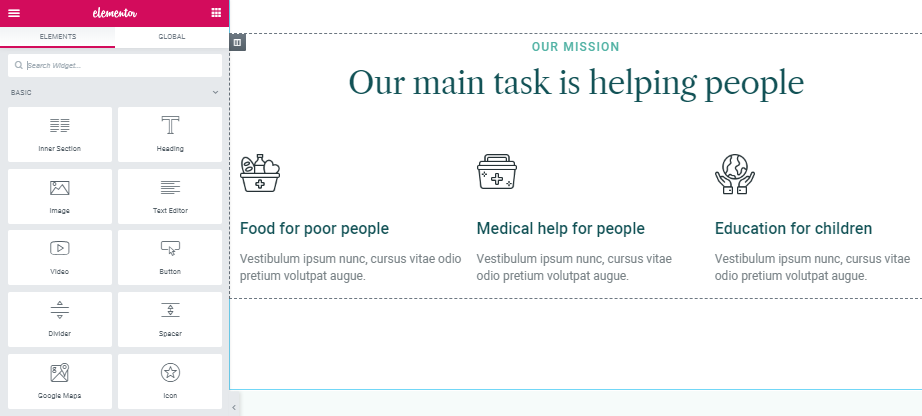 Elementor is one of the most popular WordPress editors, moreover, it is very simple and comfortable to use. Installing the themes based on Elementor page builder you will automatically get installed Elementor plugin with all of its free widgets.
With its help, you get the ability to improve the sections in a few clicks, replace them or make changes. If you will decide that in the template there are not enough pages or sections, you can easily add them manually using this drag-and-drop intuitive builder. It is not a problem if you don't know how to repeat the design of previous pages, the new ones will be created in the same style.
Time-Saving Process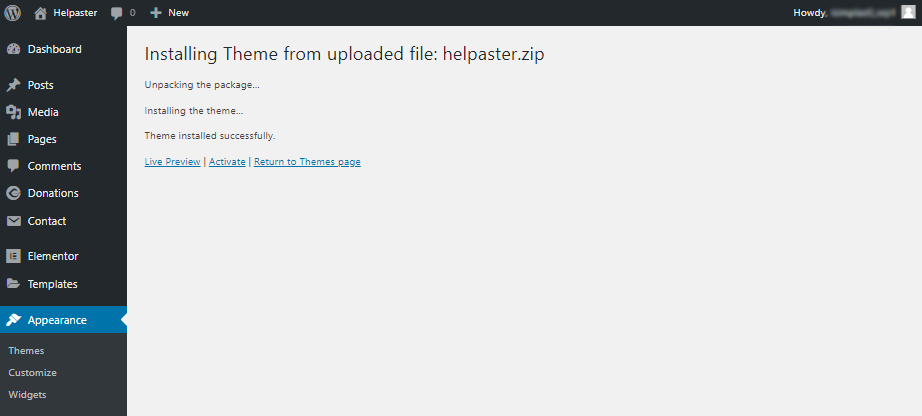 Customizing website based on WordPress free themes with demo content and with the help of Elementor is much faster than building it from scratch. You should only change the necessary sections on your own and your website will be ready to use. The theme installation also won't waste much time. Downloading one of these five free templates you get the ability to create as many sites as the GPL v.2.0 license allows.
WordPress Free Themes With Demo Content Included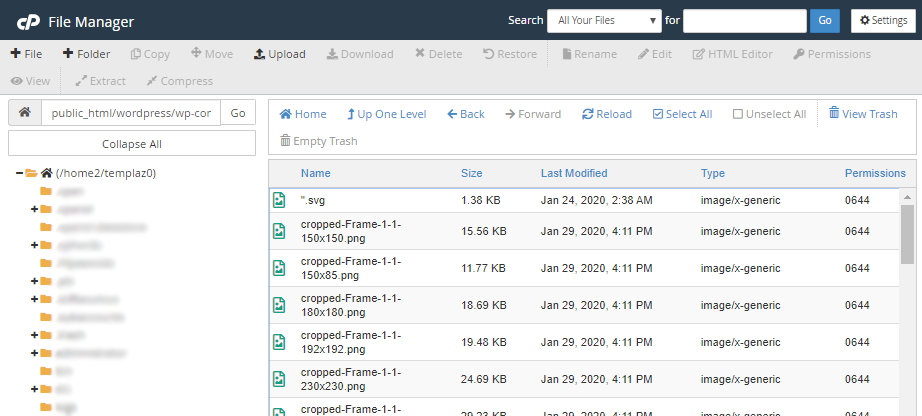 Get a package of free demo content to use with your projects. A variety of images and icons will help you to build a progressive website. It is easy to change it on your own or use it as it is. Demo content creates a website structure, thanks to it you can see how your content should look like and paste it in the proper way. Built-in content is an excellent decision to start with, especially if you can't imagine the website's appearance or don't have the content for the first time.
Promotional Bonuses
All of these WordPress free themes with demo content are SEO-friendly. Each of their sections was made in such a way to prevent overload, so your website can easily get a high rank in any benchmark. RTL and WPML allow you to translate your website into several languages and promote it around the world. Engage more people to visit your site, making it multilingual.
No Need for Advanced Knowledge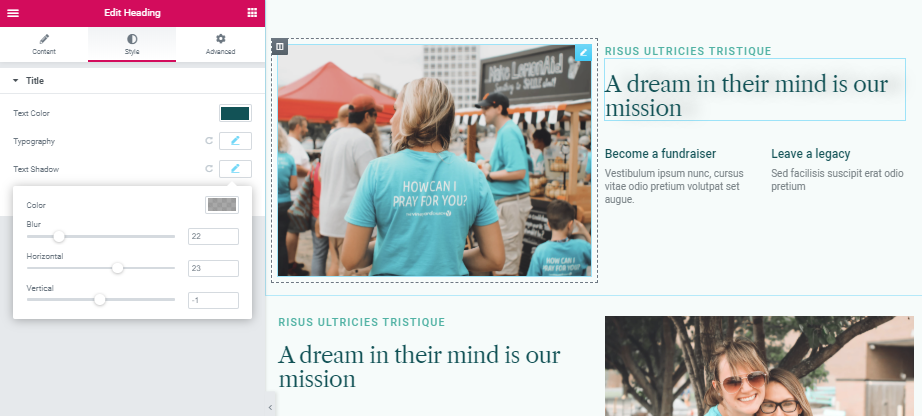 One of the main features of WordPress free themes with demo content is that you don't need to be good in coding or coding test to work with them. All visualities can be modified and customized with the Elementor builder. So you may do without excess codes. And, moreover, once you download these free themes you get an opportunity to ask the 24-hour live support specialists to help you with difficulties.
WordPress Free Themes with Demo Content – Seven Best
In the list below we gathered five WordPress free themes with demo content on various topics that include all the features we have mentioned above. You can check them and try with your projects.
Helpaster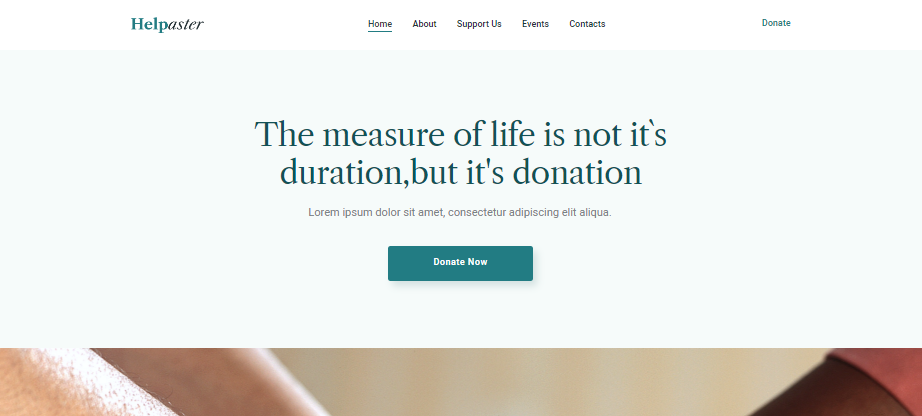 This Helpaster template will be suitable for the organizations which are aimed at helping people who can't afford to purchase common goods, food, medicines, etc. The design is based on the Elementor drag-n-drop builder and it means that the working process will become easier with a bunch of flexible features. The demo content is also inside, so you can combine it with your own.
If you want to check more free charity themes you can read this listing. Here you will find different designs according to your taste. In Helpaster there are all necessary sections to persuade visitors to become a part of your team. Users will be able to help in a few seconds with the "Donate Now" button which is located on the home page or by clicking on "Donate" in the page header. They can check how many organizations and businesses have joined you with the "Partners" widget. The navigation menu and contact data are placed into the header and footer.
WordPress Free Themes With Demo Content – Winedine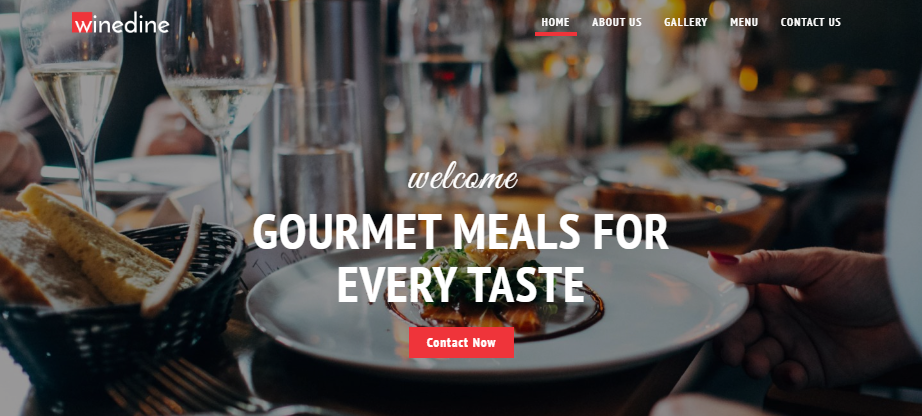 Winedine is an excellent free theme to build a website for your catering business. It comes with a huge number of widgets and elements such as image gallery, contact form, various layouts, testimonials, banners, etc. Moreover there you will find video sections to put gorgeous videos about the working processes. The built-in Google map helps your visitors to easily find your address and placement.
Based on the Elementor builder any section and widget can be simply customized and changed. You are also free to create new pages. The ability to use demo content looks attractive 'cause you don't need to waste time searching the web and looking for new one's images or icons. Combine the existing content with your own and create a unique website.
Bizaron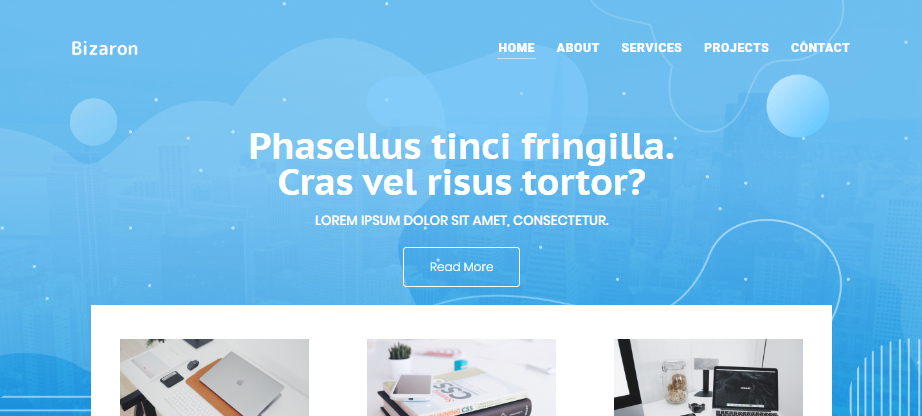 If you are looking for a template to build a successful website for promoting your business pay attention to the Bizaron theme. It is adaptive and flexible and thanks to RTL and WPML capabilities allows to create of multilingual websites. Catch more and more clients all over the world. Easily improve the sections with the help of Elementor and dive into a variety of widgets for your project.
There are all necessary widgets to present the business services. Use the pricing table and tell more about the packages with their prices. With a call to action, the users can quickly book your products. And the testimonials allow to showcase the customers' opinion about your business and make your brand be trustworthy.
WordPress Free Themes With Demo Content – Interium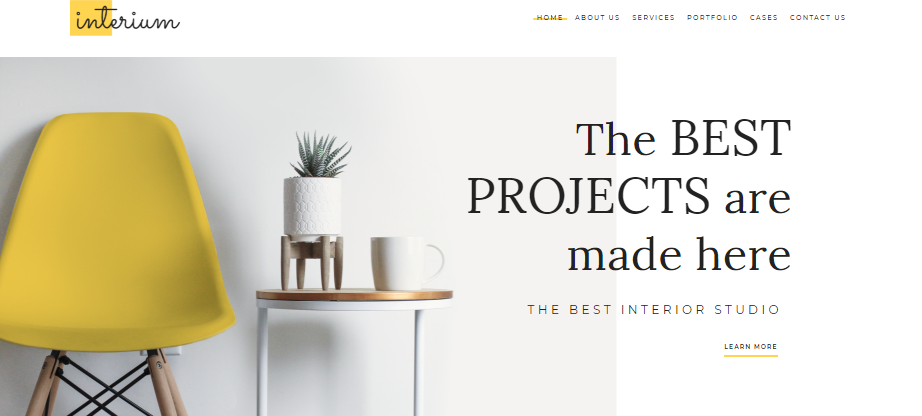 This Interium free theme is an ideal decision to create a portfolio for designers or other creative professions. The main stars of your pages will be a dynamic counter, portfolio widget, team member widget, smart accordions and more. The pages are all made in a modern and trendy design that allows highlighting your works without distracting on unnecessary elements.
Besides the amount of content, the Interium template doesn't lose its loading speed. Prepared content will help you not to waste much time brainstorms. Only replace the existing texts and images on your own and get ready to use the website. Impress the users with your creativity and experience.
Dialoom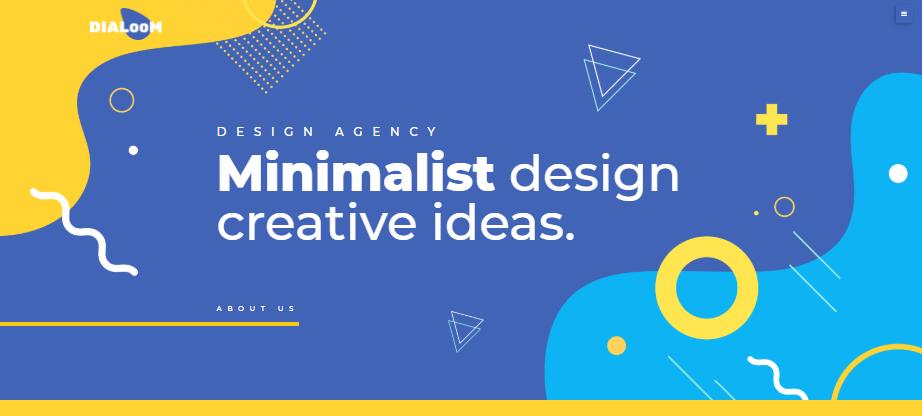 Are you the owner of a creative agency? So, this one Dialoom free theme is for you. Look how the elements originally and inventively combine with the content. All of them form a unique and catchy design. You will never get lost while navigating the site because of the burger menu which allows you to easily find the right page.
Being an Elementor-based theme, Dialoom includes animated counters to show the company progress, brands layouts to demonstrate the partners, accordion widget, contact form, portfolio, testimonials, Google map, and much more you can use with your project. In addition, this template is also flexible and SEO-friendly. Hurry up to fill it with your own content.
Buildex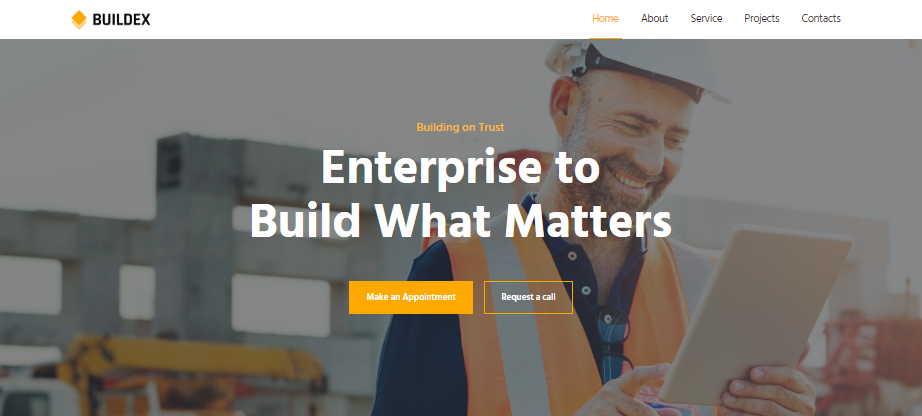 Buildex is a theme for construction companies. It meets you with a full-screen background photo and two buttons that allow a quick connection for making an order. The template has a solid and neat design, and with lots of demo images and icons, it is attractive for users. The built-in video section lets you add the video reports of your working process.
Present your team with team member block, add testimonials, select the dynamic counters to grow the users' trust. A contact form makes the customers closer to you. It quickly connects with any questions, and google map helps show the office location.
Albatross Hotel Booking Theme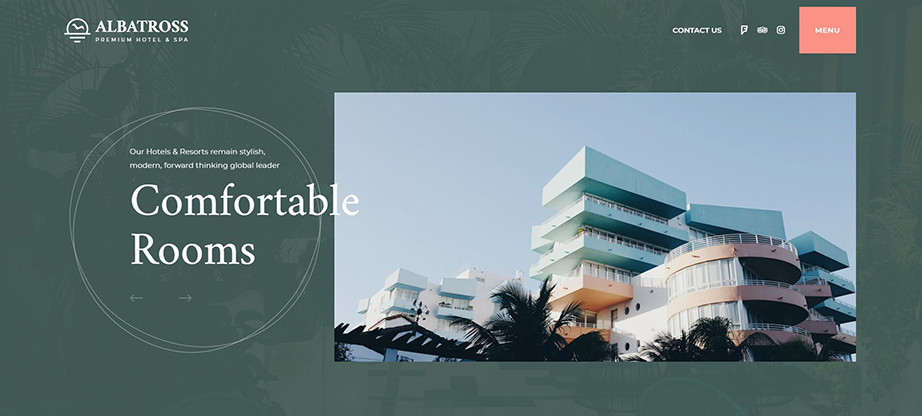 Albatross is a trendy free Hotel Booking theme. It can be an excellent basis for creating a rental property site for a hotel, hostel, rustic rental house, or apartments for rent. 
The Albatross WordPress hotel template is powered by two robust widgets, i.e., MotoPress Hotel Booking for online bookings and calendars and Elementor for effortless customization. With this template and embedded widgets, you can easily create a hotel website and organize an online booking system in no time.
Avior – Clean Blogging Theme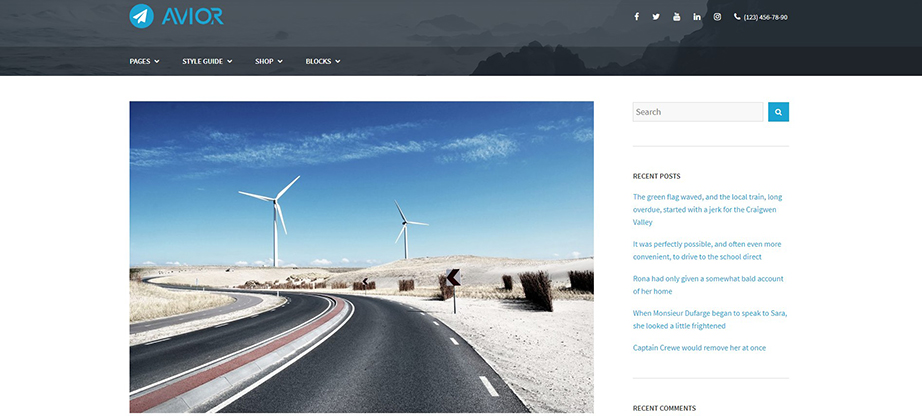 Avior is a minimalistic and stylish WordPress blogging theme created for attractive images, video, and text content. This theme has a pleasing design and suitable layouts that make it ideal for a personal, fashion, lifestyle, food, travel, or any other kind of blog. Avior facilitates changing footer and header sections, applying countless colors to modify a color scheme, etc. 
The free template is optimized for high-speed performance and search engine indicators. Therefore, it will help bloggers post unique, fast-loading articles with top-quality images that look equally great on any device.
Final Thoughts – WordPress Free Themes With Demo Content
Using a free or premium WordPress template is only your decision. It is possible to choose an amazing theme, that is completely free. It definitely can become a good platform for your business. Optimistically, the information in this article will help you explore the possibilities of free templates. Hope, that these tips and examples of free designs made by Zemez, will help you to choose the right WordPress free themes with demo content and create a wonderful website.