How to Build a WordPress Hotel or B&B Website without Design and Coding Skills
Is it possible to build a quality, scalable and secure rental property website with WordPress? The short answer is absolutely. If you hear anyone saying WordPress is only for blogs, don't forget to make the ironic face and show them this chart: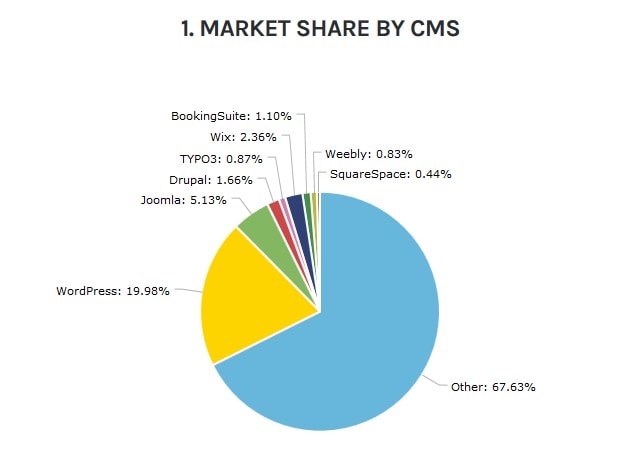 The results of this huge
research
clearly state that almost 20% of theme hotel websites are powered by WordPress worldwide. And it's indeed a great reason to dispel your doubts (if any) about WordPress.
Let's also list some facts to give you more understanding that WordPress CMS is reliable.
5 good reasons why WordPress is perfect for lodging business
1. WordPress powers 30% of ALL types of websites on the net, so it's a solid solution many small companies and established enterprises build their websites with.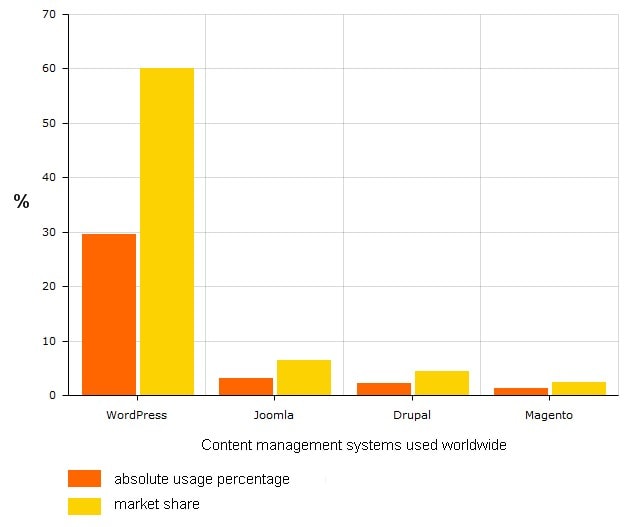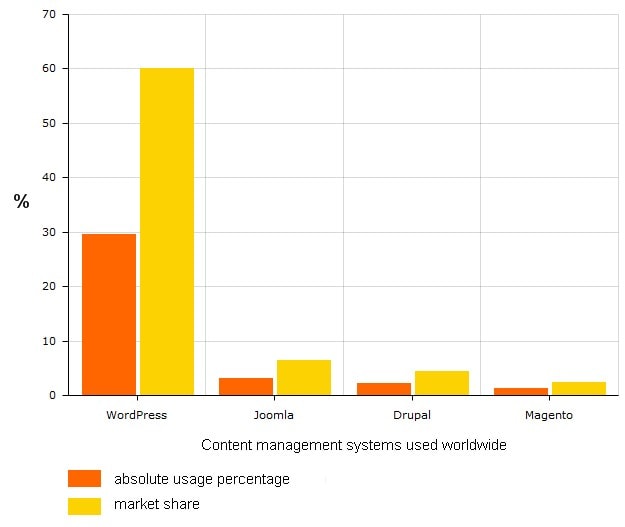 2.
You can set up a WordPress property rental website yourself – you wan't need to code or design anything, the admin dashboard is absolutely user-friendly.
However, if you've never used WordPress before, don't expect you'll learn it in a day. You'll need to make some efforts to figure out how the things work. So, if you are a guest house or a small hotel owner, you'll do it yourself, with little to no help of the support teams.
3. WordPress is the most affordable solution with a fantastic price performance. What's the cost of building a property rental website with WordPress compared to other proprietary solutions?
Here is the maths. Using WordPress, you'll need approx $300-$350 per year for a domain, hosting and design. Additionally, the cost of a WordPress booking software varies from $30 to $90 per year. If a WordPress template includes the reservation software by default (which is a great idea to opt for such solutions), you'll be able to cut down expenses.
What about the proprietary software? If you've already done any research, you know that you'll be charged around $500-$1000 yearly for a reservation software only (the price may rise if you increase a number of rentals). Don't forget about the other expenses for a hosting, domain and design.
It's worth mentioning that with WordPress you own the products you buy and can use it for as long as you want (you may optionally pay for tech support though). With the proprietary software, it's rather a subscription-based model, when you use it for as long as you pay.
Despite the widespread myth, WordPress is constantly being improved in terms of security and fixing vulnerability issues. Moreover, if you want to accept online payments for bookings, you'll use widely recognized payment gateways used by millions of people around the globe.

SEO-friendly platform to optimize the website for a local business without suspicious black hat SEO companies. WordPress provides you a full control over website optimization, where you are spoiled for choice of free plugins for advanced SEO and free WordPress SEO courses.
Okay, I'm sold! What do I need to build a theme hotel or B&B website with WordPress?
As we've already briefly mentioned, you need 4 main things:
Hosting and domain name to store your website data (check Kinsta review). This is something you've probably already managed to sort out. If not, don't be lured by good ads, check out the officially

recommended hosting providers

by wp.org, which meet the WordPress minimum requirements.

Free

WordPress software

for self-hosted websites (that is, not wp.com) – the actual CMS to edit your website, which needs to be installed into your hosting.

WordPress theme – a design of your future website.

WordPress Booking plugin – a WordPress reservation system.
Let's now elaborate on the main hospitality business dedicated thing of your future website – a reservation software to see how it operates.
So, how do I build a property rental WordPress website and theme hotel without design and coding skills?
You don't need those skills because you can get ready-made customizable products: a professional theme design and an adjustable plugin. The theme can be easily installed within WordPress dashboard – the process is as simple as clicking "Upload" and "Activate" buttons. Then you'll be able to customize the major parts of the theme within a real-time WordPress Customizer or with a help of custom theme settings. Your theme is basically responsible for design.
All the "hard job" is left for the property booking plugin. We'll be revising one of the most used WordPress booking plugins that powers multiple property rental websites on WordPress – MotoPress Hotel Booking plugin plugin. You'll see what processes it can handle and what you'll be able to control on your hotel or bed and breakfast website.
You can add multiple properties
If you rent out multiple properties (or rooms in a hotel), you can easily add all of them with the plugin. All the details of the property can be added from one munu: list amenities, bed types, extra services, max occupancy, add a photo gallery and more. You can literally add unlimited rentals.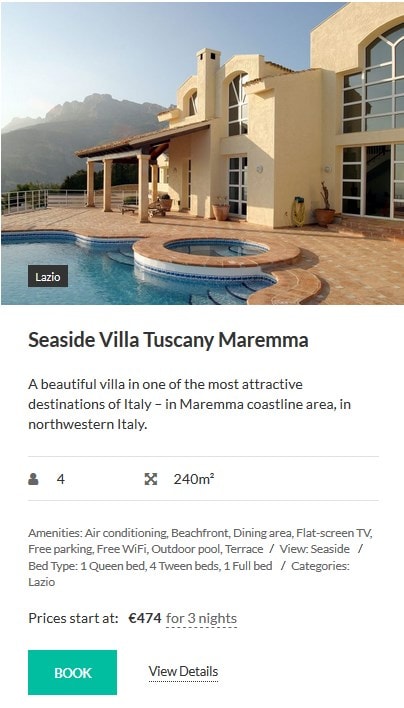 Rates and seasons
The system of this property reservation plugin will help you add different periods, when the price for your accommodations must be different. Then, you'll be able to tie those seasons to rates – the actual prices for all individual accommodations.
The system is really flexible – you set it just once, then no control is needed, the search availability form always displays the up-to-date info for your quests.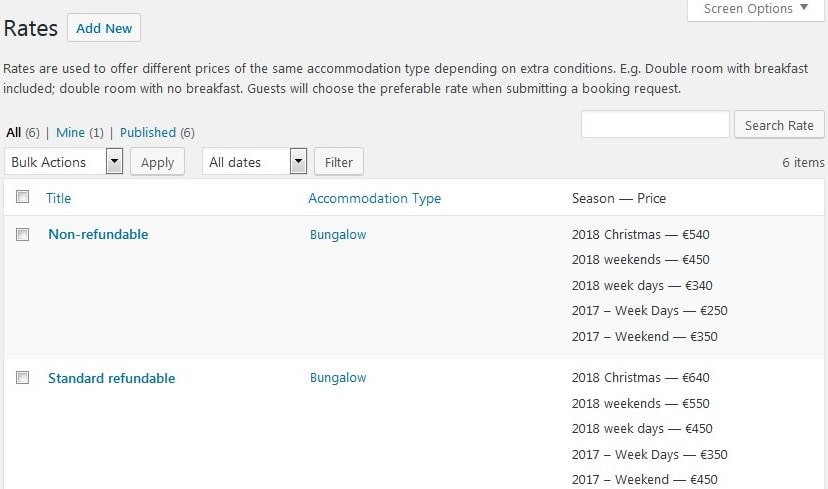 Free or paid extras
If you want to spoil your clients with extra services and packages, you may also add all extras into the admin dashboard. The travelers can add the desired services to the reservation on the checkout page. The service fee will be charged either per person or per accommodation, once or per night.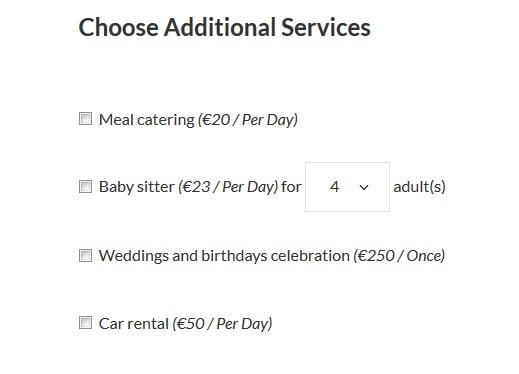 Inventory control
The process of controlling the bookings is fully automated: each reservation comes with its own status (confirmed, pending, etc.), the system tracks and blocks all reserved accommodations, so you simply avoid overbooking. The system also sends automatic notifications to you (admin) and your guests. By the way, you can customize those email notifications to be suited for your brand: content and design are easily editable.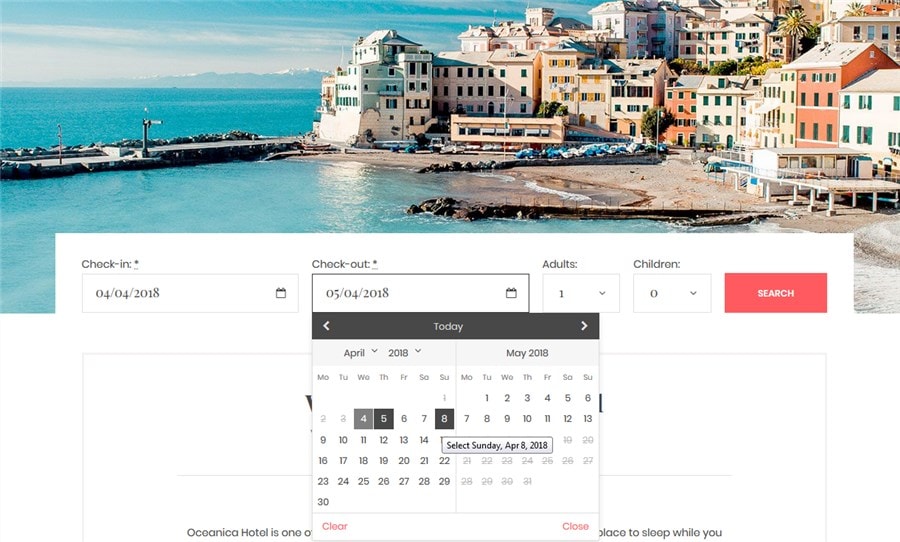 The property management is quite straightforward: you can view the payment history, check details of each booking, view all bookings in a calendar mode, etc.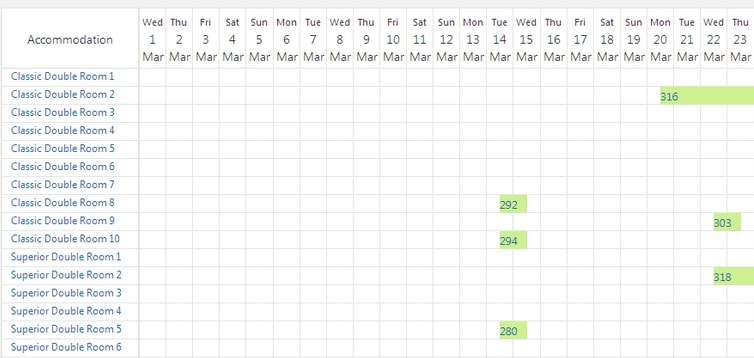 The manual control is also possible when needed. For example, if a traveller paid a deposit before arrival, you may add the rest of the payment manually to their specific booking.
You are also free to block certain accommodations from the dashboard because of maintenance or when travelers make a reservation by phone, for example.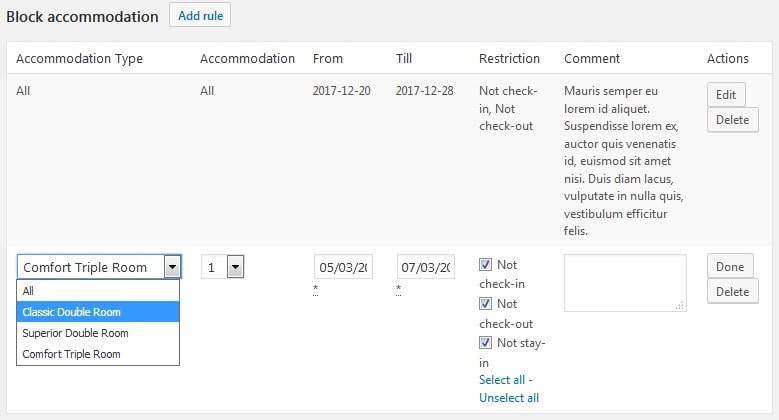 As you see, the plugin provides a really advanced way to do things with just the right level of automation and manual control.
Online payments
The booking plugin can receive online payments via the world popular payment payment gateways: PayPal, 2Checkout, Braintree, Stripe, and Beanstream/Bambora. They are built into the plugin, so you can enable any without extra charges for you.
If you need more payment options that are most suited to your local area, a premium WooCommerce Payments addon created specifically for the Hotel Booking plugin comes handy. You can set the system to accept a full price or deposit (fixed or percent).
Custom discounts
To provide your loyal clients with discounts, you can create custom coupons for all accommodations or individual ones. There are lots of settings for customizing your discount coupons: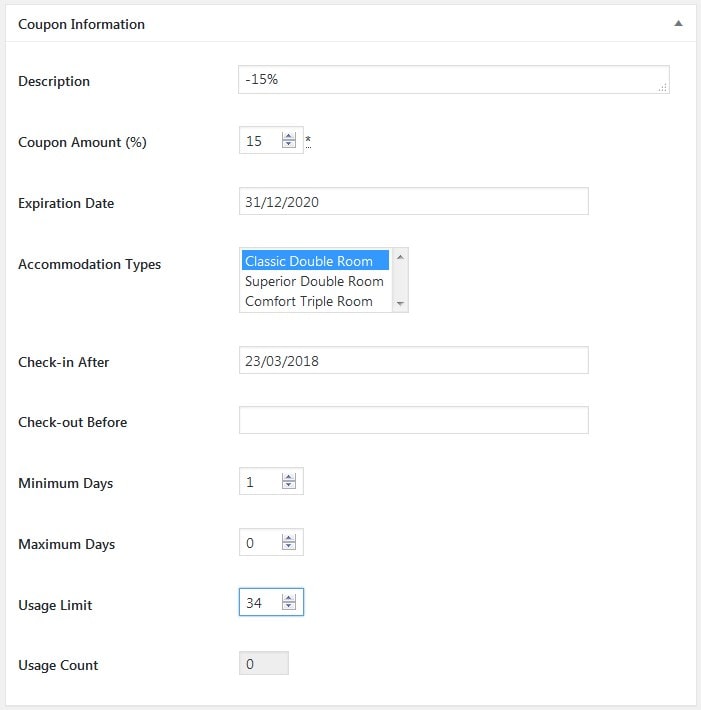 Managing reservations
There are several booking confirmations modes. All depends on how you want to accept payments. If you want guests to only leave the requests, you may enable booking confirmation by email. In this case, you'll either need to take a look at each booking and confirm it manually or the guest will need to confirm it with a confirmation link.
If you are going to accept payments, you may enable an automatic confirmation upon a payment. All the booking confirmation emails will be automatically sent to the guest and the admin.
Property policies – taxes and fees
It's crucial to keep track of all financial info, letting the guests know all the taxes and fees details. The admin settings will let you easily apply mandatory fees, accommodation taxes, service taxes and fee taxes. This data will be stored in the admin dashboard, as well as shown for each reservation. Customers will also see complete taxes and fees info in the summary of charges (on the checkout page).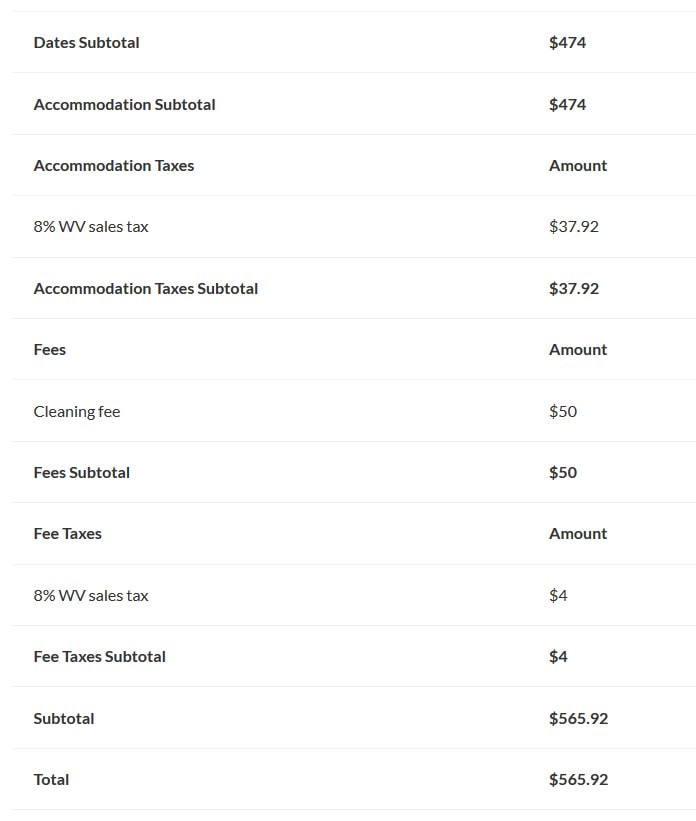 Synchronization with OTAs
Rent out your property on any OTA like AirBnb? The built-in channel manager can help you connect your direct website bookings with those that come from external travel agents. To make it work, you'll need to do the calendars exchange among the platforms and your website, and then set the automatic synchronization. The synchronization can be properly set up if the OTA platform supports iCal file format.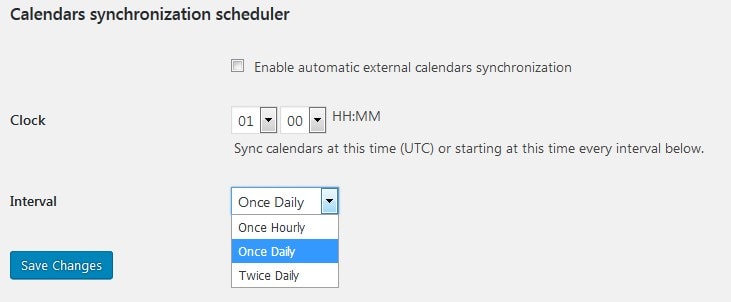 This will help you avoid overbooking and still have your accommodation presented on popular platforms.
More plugin benefits
It's responsive – the plugin content perfectly adapts to any viewport.

It's standalone – the plugin works with any WordPress theme.

It's multilingual – it comes with localized translations for 14 languages and is custom translation ready.
Save money with a theme
As we've already mentioned earlier, you may save some money getting a WordPress theme with the built-in plugin. In such a scenario, you don't need to buy things separately. Moreover, the theme will more likely come with the custom theme styles for the plugin, making it look 100% professional.
For now, there are 2 most popular property rental WordPress themes integrated with the MotoPress Hotel Booking plugin, which is included for free:
Oceanica – WordPress theme for hotels with an elegant, lightweight design.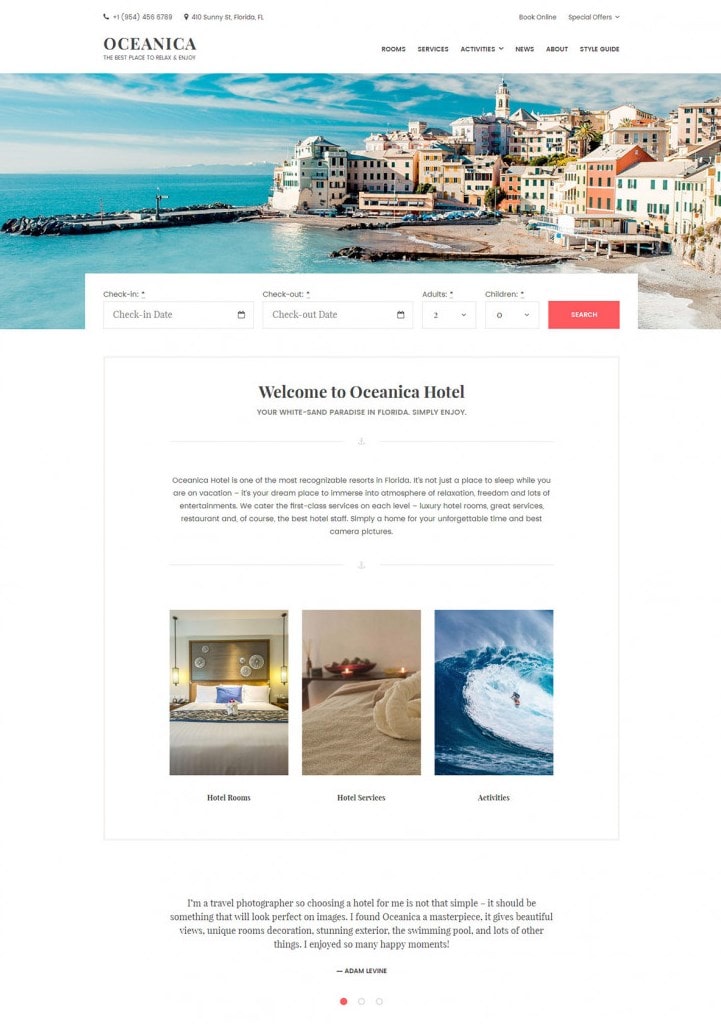 Villagio – WordPress vacation rental theme for multiple properties.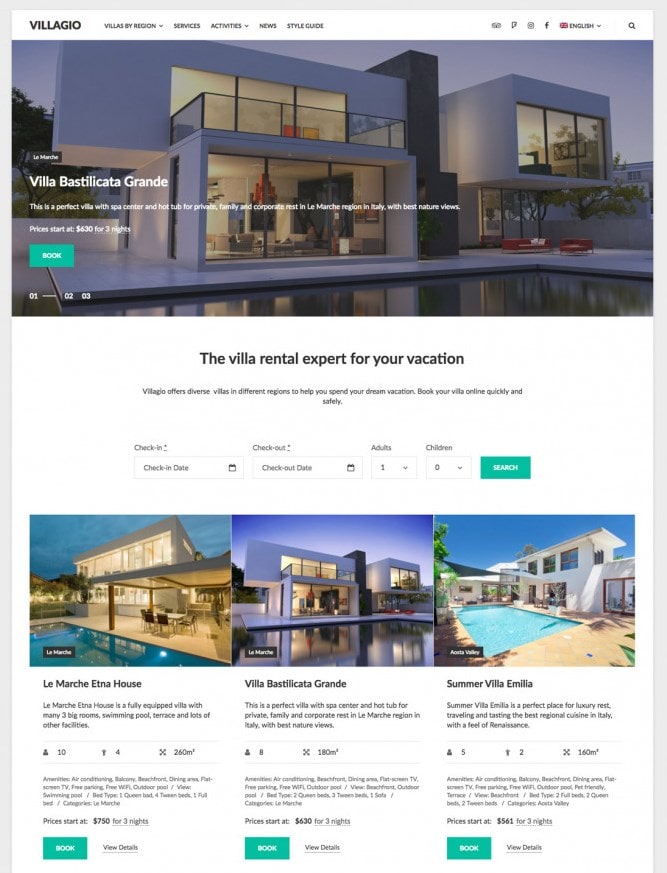 Bottom line about WordPress theme hotel website creation
WordPress is a great opportunity for rental property owners, B&B hosts, real estate agencies, etc. Don't trick yourself into thinking that it's impossible to build a property rental WordPress website without design and coding skills. With any professionally designed WordPress property rental theme and the MotoPress Hotel Booking plugin, it's really doable even for non-tech people.
Is there any important point we overlooked in this post? Got any questions? Just ask.