10 Best Free Email Templates and Newsletter Designs for 2018
As some companies offer prepaid templates, and you hardly know what design you will get in the end, we decided to provide the 10 best free email templates for 2018 at your disposal. Templates for various tastes and occasions.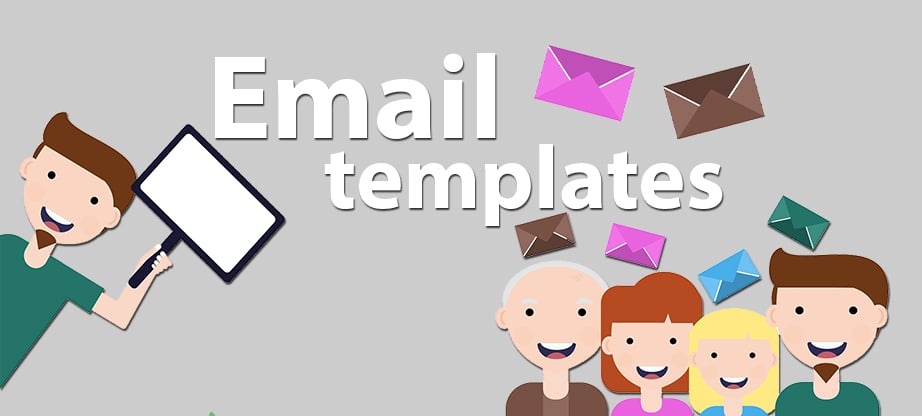 1. Free Email Templates: Abandoned Cart Email Template by  Stripo.email
Event-triggered email marketing newsletter is the most popular type. And Stripo.email is experienced in creating all kinds of triggered and promo emails.
Here you may find a big number of free newsletter templates for further use.
Abandoned cart emails are utterly important as they help you complete about 60% of checkouts. ⅔ of your customers use this opportunity to finish the purchase.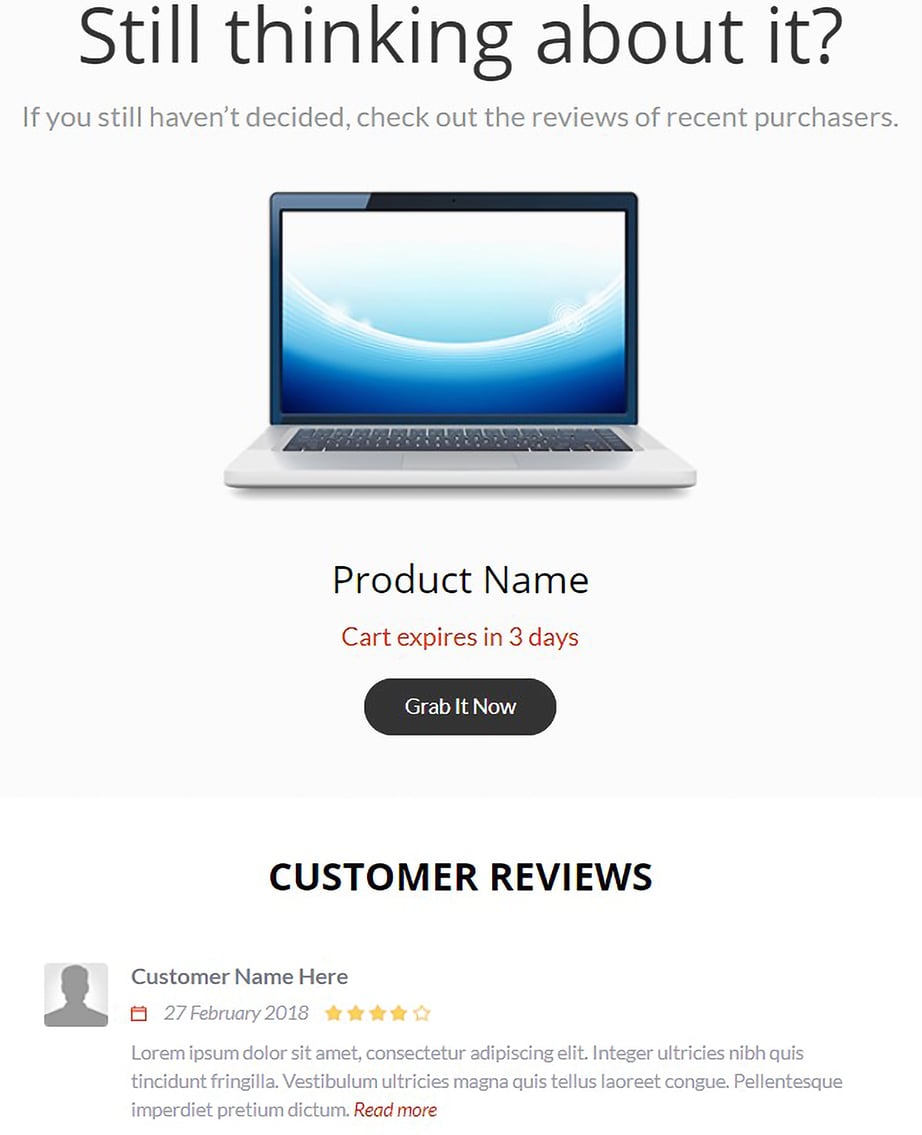 What is so great about this template: it displays the item a customer was about to acquire, but did not, the product's name and price. And of course, testimonials — honest reviews are of a great use if the customer is hesitating whether to buy the product.
Share only honest feedbacks.
It will really take a few minutes of your time to change the product snippet, and insert the proper item name.
2. Free Email Templates: Thank You Email Design by BeeFree
Sometimes we completely forget to say thank you to our customers. And this is not good. There are many reasons why we should do it.
Of course, you may send a colorless message with plain text. But it may seem dull. Use this marketing email template to let your clients feel special and appreciated. Build stronger relations with them.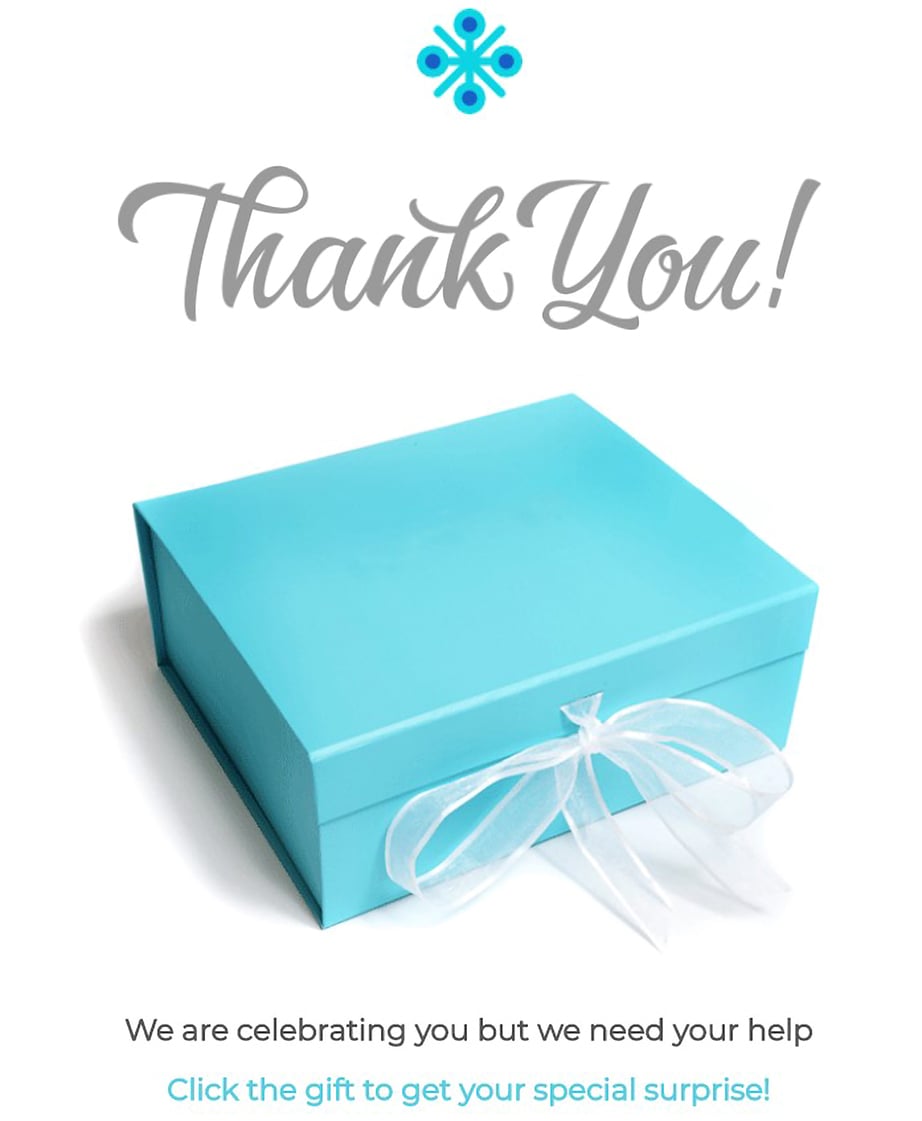 What is so great about this template: its design is simple. They just applied a festive font to "Thank you", and added a box. The inscription "Click the gift…" is supposed to make
the customers click the gift with eager anticipation to see what you have to offer.
3. Free Email Templates Event Reminder Email by Stripo.email
Very often when hosting webinars or conferences, we invite people via emails. And many of them plan to attend. But in fact, less than a quarter of people does it. Why? Because they need a reminder.
A proper event reminder email marketing template should include:
the date;
the name;
the questions to be discussed at the meeting;
the speakers' names and images.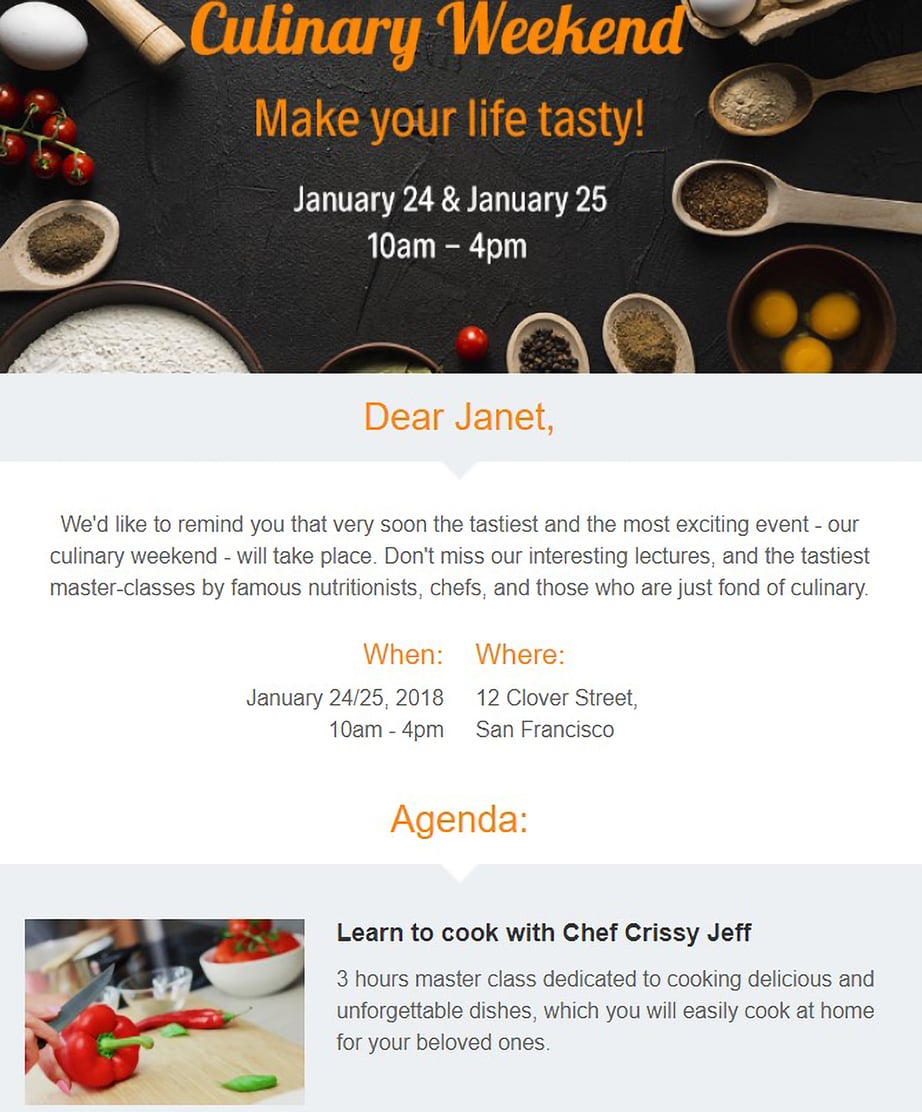 What is so great about this template: it strikes two goals: reminds the place where the event will be hosted, the date, the name, and evokes a desire to attend the event with images and the agenda.
Inform the customers about the event plan. They need to know how much time it will take, if they will be able to ask questions, etc. Share every little detail of the upcoming event with your customers.
4. Free Email Templates: Happy Birthday Email by BeeFree
Definitely, if you know the names of your customers and the dates of birth, you would like to congratulate them.
It is up to you to decide whether to offer some gifts. But anyway, your customers would love to hear from you on their very special day.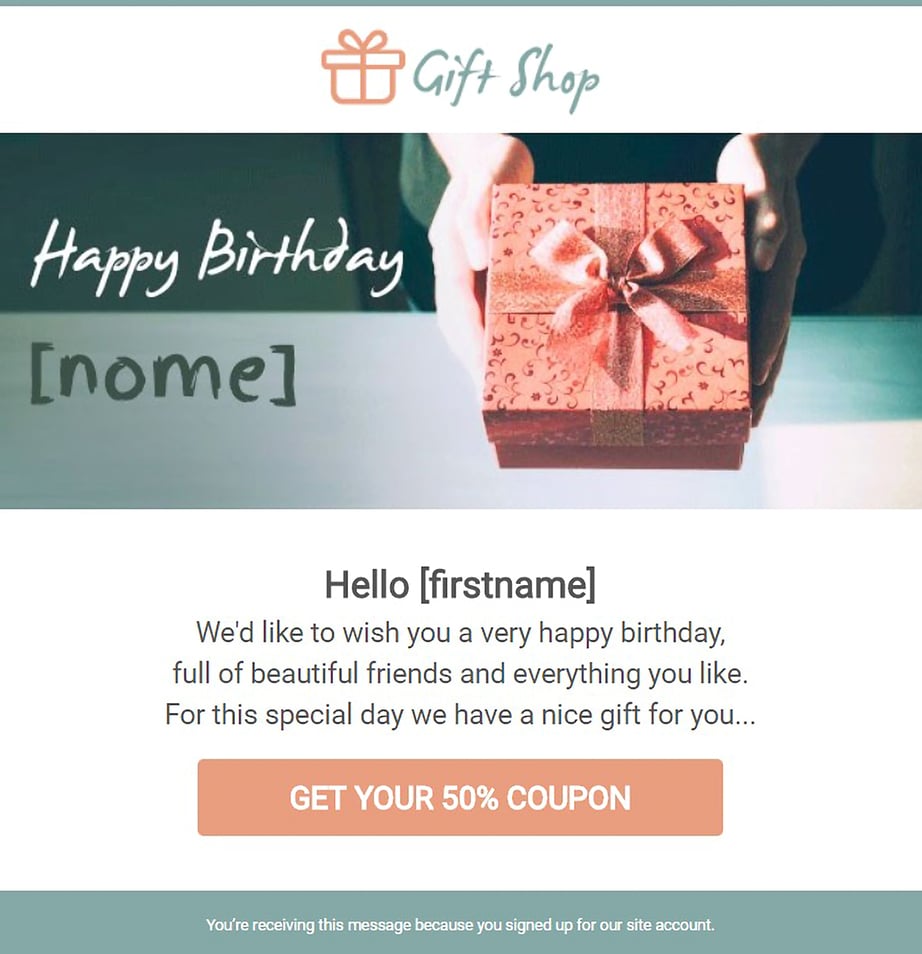 What is so great about this template: simple photo of a gift box, the reason why you are reaching the clients out, and a coupon. Yes, it suggests you be one of those who give a present to the birthday person.
5. Order Confirmation Email Template. Stripo.email
As we all know, it is utterly important to notify the customers that you proceed with their order. Stripo.email offers a nice beautiful informative template.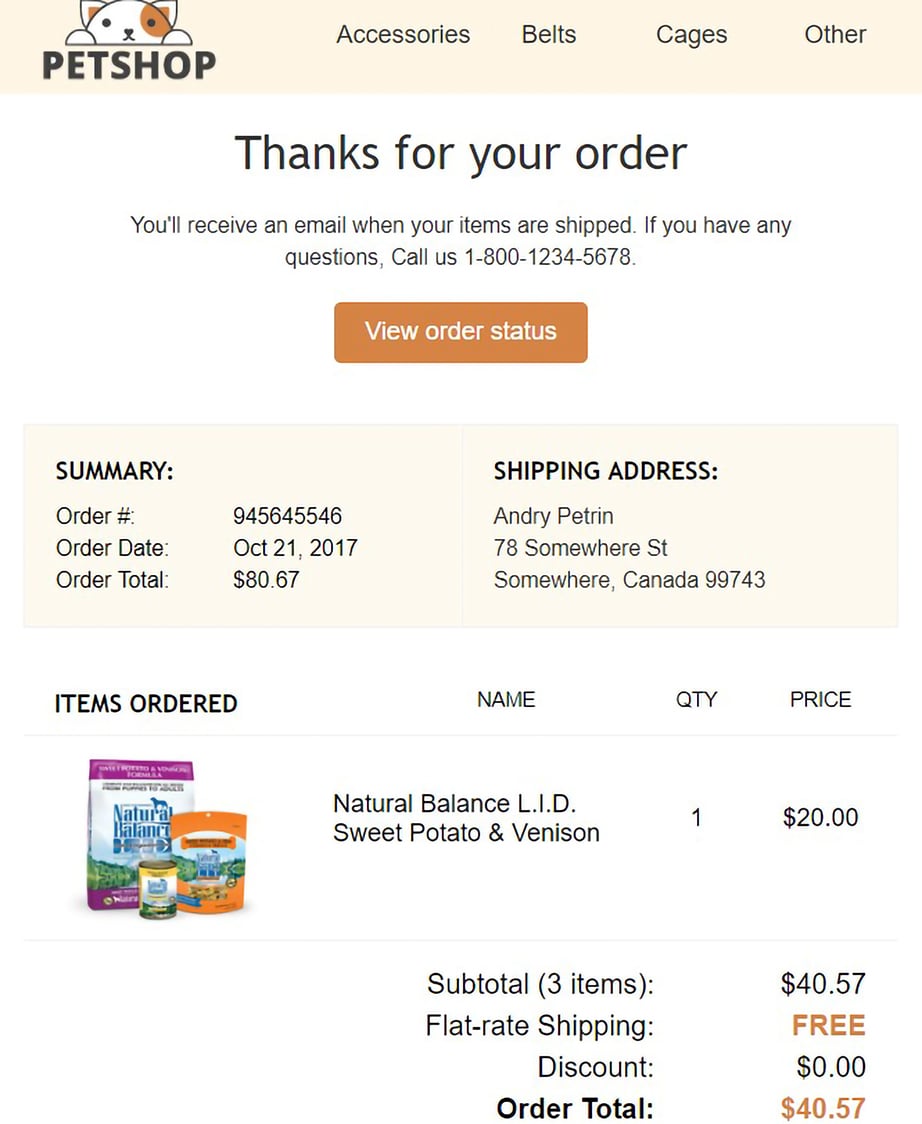 What is so great about this template: it includes the items the client has bought, the picture of the items and total price. Also, it is a great thing to mention the shipping address. In case the customer has moved, he or she will provide you with a new correct one.
6. Product Announcement Email Template by Campaign Monitor
Definitely, selling is the main goal of all marketing campaigns. And with this email marketing template by Campaign Monitor, you will create a perfect product announcement email.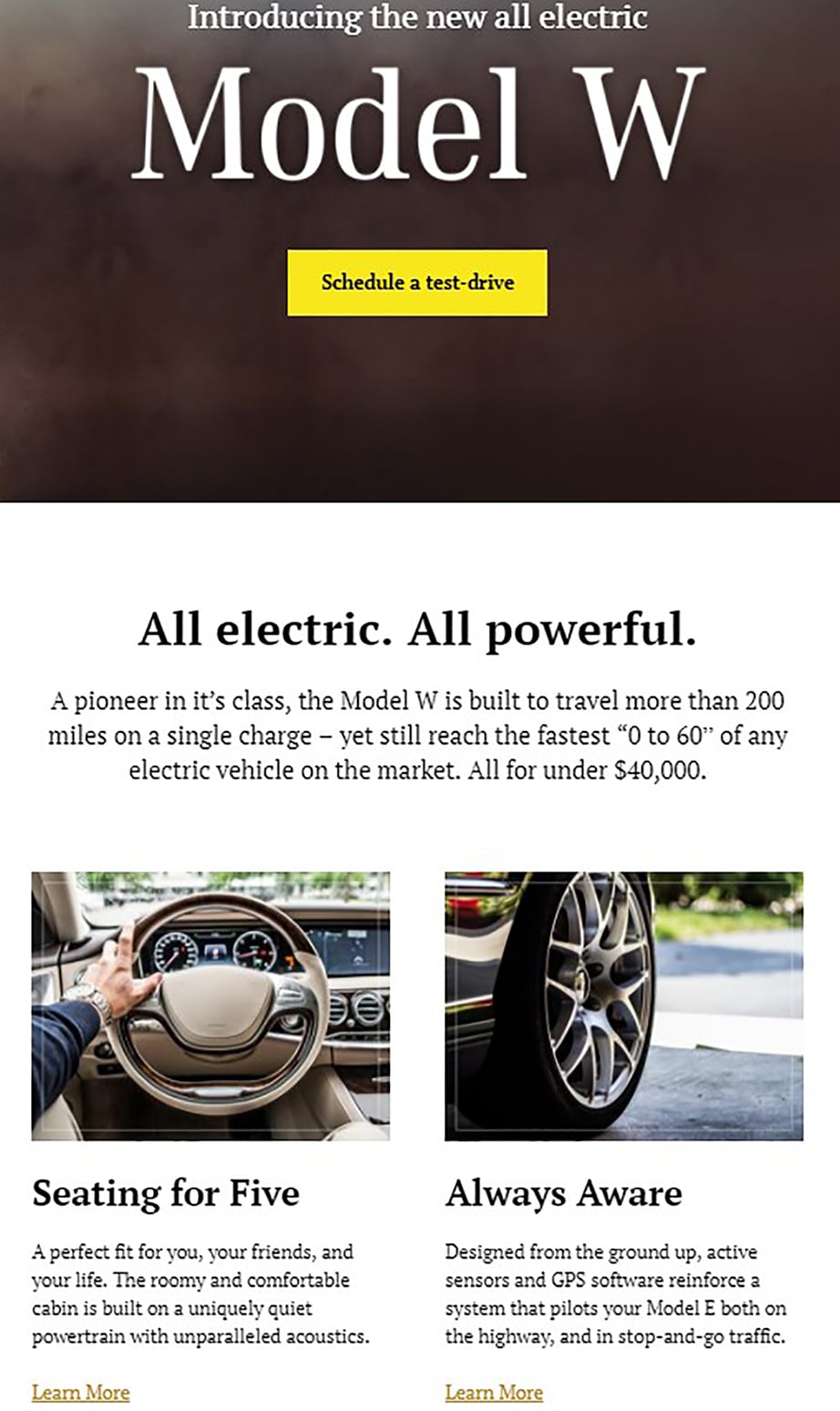 You will be able to see this template only after registration, once you have started your marketing campaign. But this is for free)
What is so great about this template: it contains the photos of the product, detailed description to every image. And the "Schedule a test-drive" button is the cherry on the cake.
7. Free Email Templates: Digest Email by Campaign Monitor
There are no strict rules for the digest email design. But certainly we need to make it appealing, and quite informative. Great if a banner reflects the theme of the email.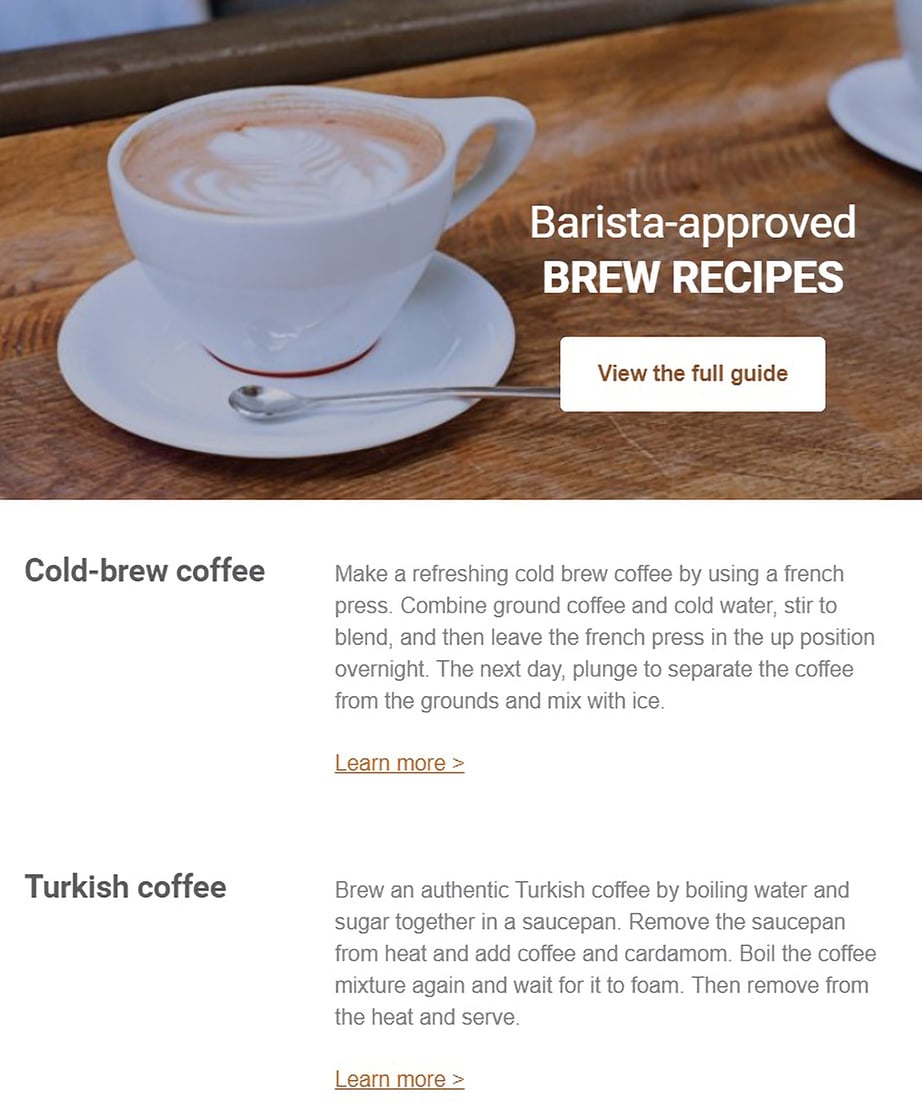 What is so great about this template: they offer a recipe preview. By the first words you see whether you are going to cook this kind of coffee.
If you are talking about more complicated dishes, you may also insert images instead of just using names.
8. Free Email Templates: Sales Email Template. Topol
Sales… same situation as with all other emails: not only generous value proposition matters. Select proper images that will evoke a desire to shop with you. And find short concise words to convince the customers that your items are exactly what they need.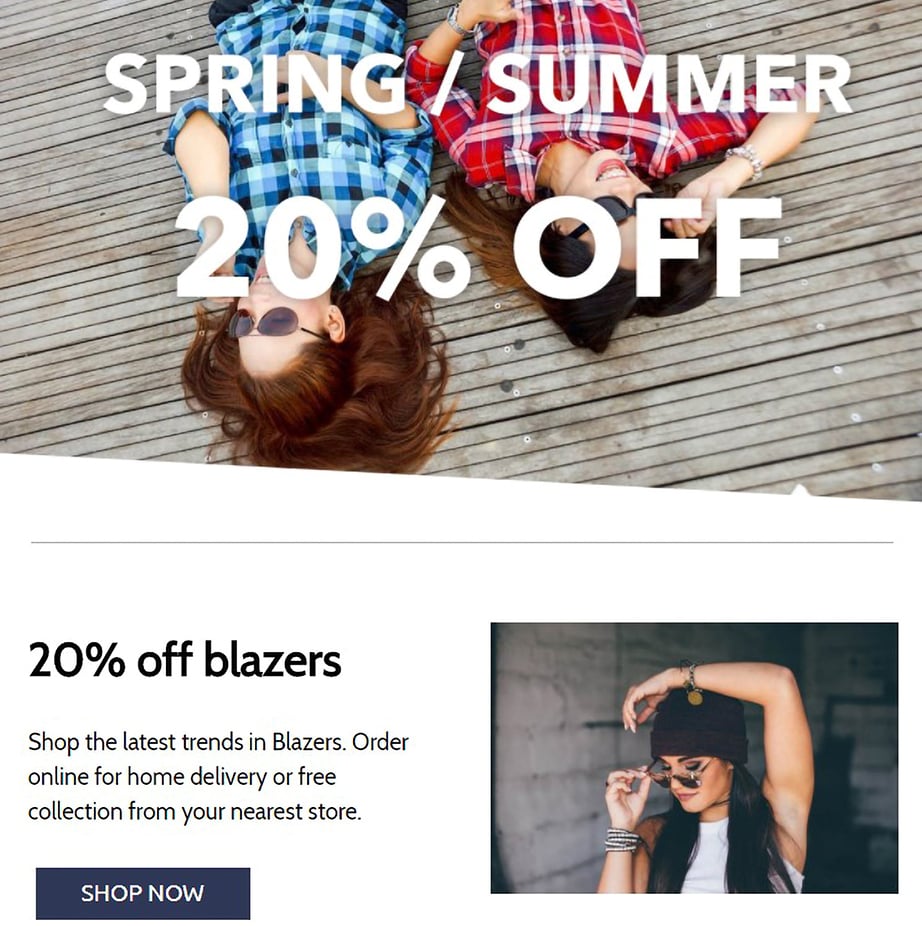 What is so great about this free email template: a cheerful photo. The girls look pretty happy and relaxed at the same time. Contrast CTA button.
Instead of "shop the latest trends in Blazers…" you'd better apply short persuading description.
9. Welcome/Onboarding Email Template by GetResponse
Every day we send hundreds of onboarding emails. Our clients should feel welcome and comfortable with us.
We hope that you will like this email template, too.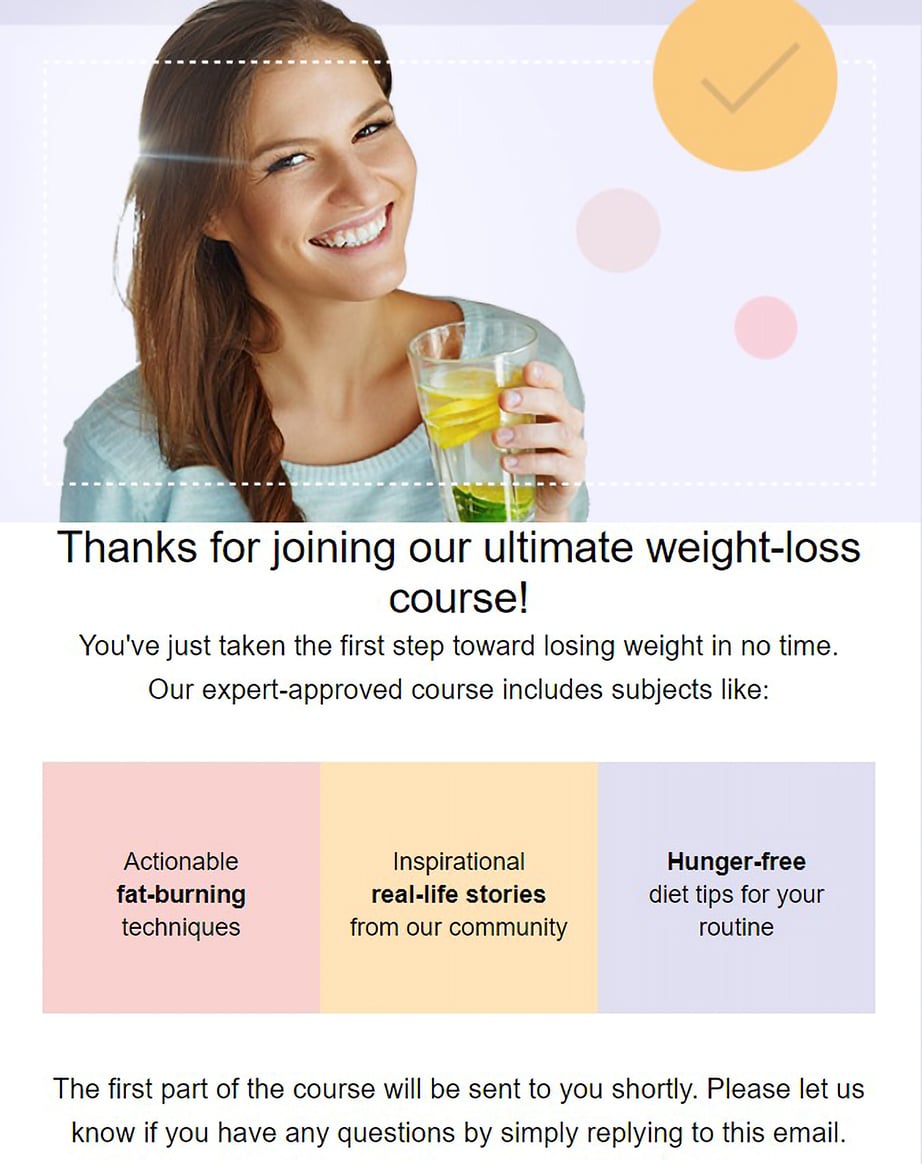 What is so great about this template: it starts with "Thank you" as we should celebrate the new customers. It also reminds the name of the course the subscriber has just acquired. And once again it mentions the steps of the course.
10. Mockup Email Template by Mosaico
All editors try their best to offer us a wide range of templates. But sometimes due to improperly selected colors, we may dislike the entire template and just skip it.
This is why Mosaico offers only two different mockups and no pre-designed templates.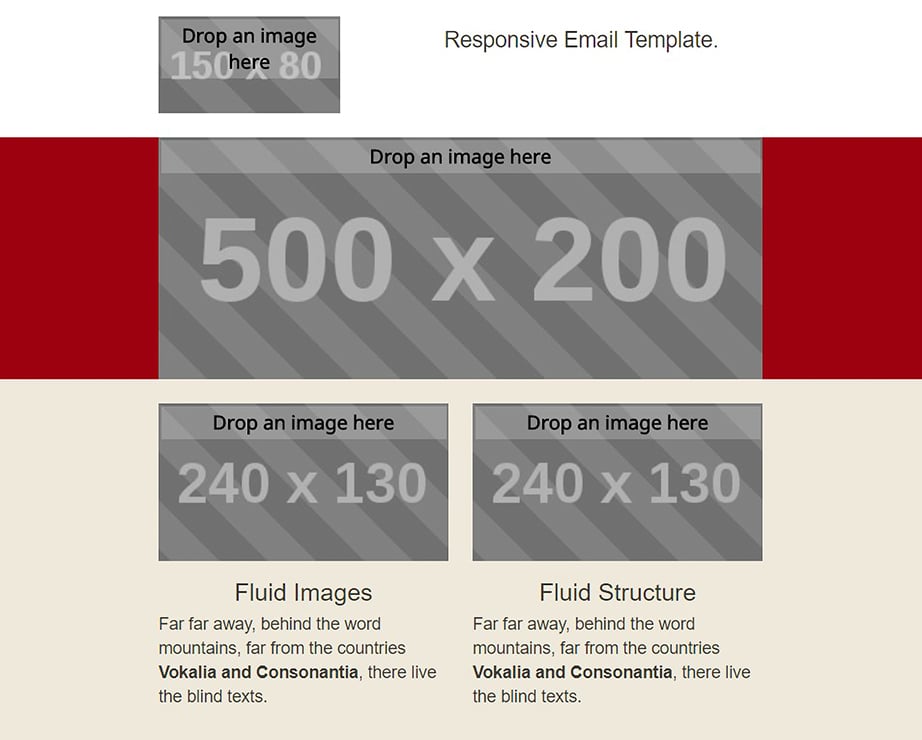 What is so great about this template: there is no text in it. They just provide you with the structure. And inform about the required image sizes.
It may be the best solution for some marketers.
When creating templates from scratch, you may need paletton to select only perfectly matching colors.
Now that we are done with the best email marketing templates, we want to share some tips you should pay close attention to when choosing a template for your newsletter.
Criteria to Choose Free Email Templates
Responsive web design
Open HTML code in case you need to embed interactive elements. Unfortunately, only rare HTML email builder now lets you do it
Ability to create banners. Ability to write text, apply stickers and place logo over the banner
Easy export to any ESP and even email client
Easy edit after export
Work automation. Library of blocks and some other useful features are meant to facilitate your template creation process
Get inspired by our free email templates, and send out only informative, eye-catchy newsletters.