How to Create Farmers Website: Design Inspiration Included
Do you run a farming or agriculture business? Do you work with a client from the respective niche? Do you need to build a farmers website? Every contemporary business should have a solid web presence. The farming industry is no exception.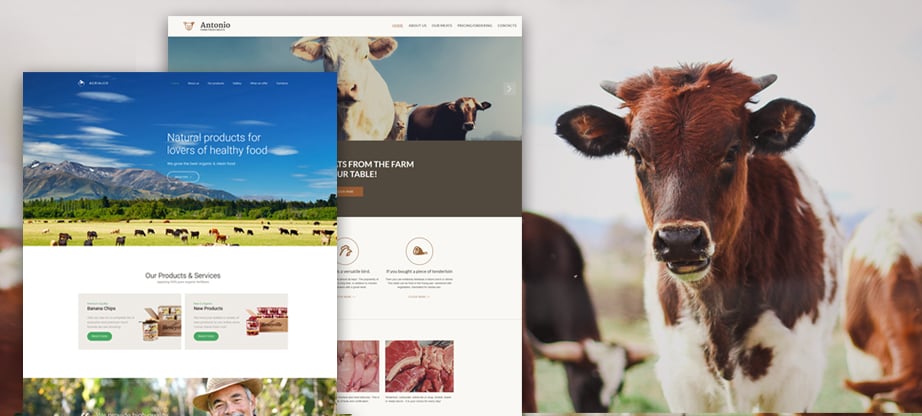 Whenever a farmer decides to bring his business to the web, he starts off with hiring a web designer and developer who will get the entire job done in a professional manner. Whenever one decides to build a website, it's also important to have a plan and clearly set goals.
And what about those users who have little to no idea of how to create a good-looking website for a personal or business web project? Is it possible for the most computer-illiterate person to get a website up and running on his own? The answer is yes. Keep reading further to discover how to build a farmer's website code-free.
Set the Right Goals for Your Farmers Website
The most common mistake that most of the business owners make while launching their first websites is setting too high goals. In that way, they lose the focus for their sites' web designs. In order for this not to happen, keep stick to the focal points of the web design for your farmer's site.
Design your site in the clean and recognizable style. Make the layout intuitive and easy-to-navigate.
Keep your site always updated. This is especially effective for those businesses that work with the seasonal corps. Keep the pages always updated. Post about the availability of specific offers, vendor location, working hours, contact details, special deals, etc.
Keep your business transparent. Let the clients and partners leave the feedback bout their own experience of working with your brand. This will let the online visitors feel more confident in the reliability of the chosen company.
Keep the contact details clear and easy-to-reach. The goal of your website is not only to present your business services. You also need to establish the long-lasting-relationships with the potential clients and partners. That is why, the clearly defined contact details are essential for the professional presentation of your farmers website.
How to Build a Farmers Website?
There are plenty of different ways to bring a farmers website up and running. The most traditional method is to build a custom web design from scratch. This suggests that you need to have the proper understanding of the programming language and certain web designs skills. Building a site from scratch also means that you will need to invest a pretty penny into its creation.
Secondly, you can a freelancer or a web design studio that will get the job done for you. This grows the chances that your website will have the one-of-a-kind design. This will make your business more recognizable and noticeable in the competitive web environment. Hiring a team of professionals is always a good idea. This will work if you are ready to pay $500 or more for their work and wait until the design that meets your expectations is ready to go live.
The most cost-effective solution is to build a website with the help of the ready-made template. There is a growing number of the best agriculture website templates. It's become possible even for the non-techies to create unique web designs code-free, with the help of the usable visual page builders. One of them is MotoCMS farm website builder. The intuitive drag-and-drop interface makes it possible to create unique and professional web designs on your own, even if you have little to no coding skills.
8 Usable Website Templates for Farmers Websites
If building a website with the help of the ready-made theme is exactly what you are looking for, then a selection of the 8 usable farmer's website themes will come in handy. All of them are integrated with the drag-and-drop page editor. The fully responsive layouts will adjust all pieces of data and design elements to all screen sizes automatically. All themes are 100% editable. You can modify any of them in the way that meets your requirements ideally.
Pig Farm Responsive Website Template
Are you in search of a lovely web template that would give your web resource an expert visual appeal? Then you should think about this responsive Website Template. Fully responsive, cross-browser compatible and SEO-optimized, this website design can be used for small to large-sized websites. On top of that, the theme has a responsive design, suitable not just for desktop monitors but also for tablets and smartphones. Hit the demo button and check out the theme in action. Do you have any queries concerning website layout use? Take a look at the rich documentation, also you receive 24/7 priority assistance helping to eliminate any problem.
Harvest Responsive Farmers Website Template
This particular agriculture website template can be a good option to introduce any sort of business. Site navigation is perfectly adapted to current mobile gadgets. Wonder what a web design that is both informative and visually appealing looks like? Watch the live demo to uncover the theme in action. If you have any queries regarding website layout use you can look at the comprehensive documentation. Also, you get round-the-clock priority support helping to fix any issue. Take hold of this web layout to grant your web project a gorgeous appearance and advanced functionality.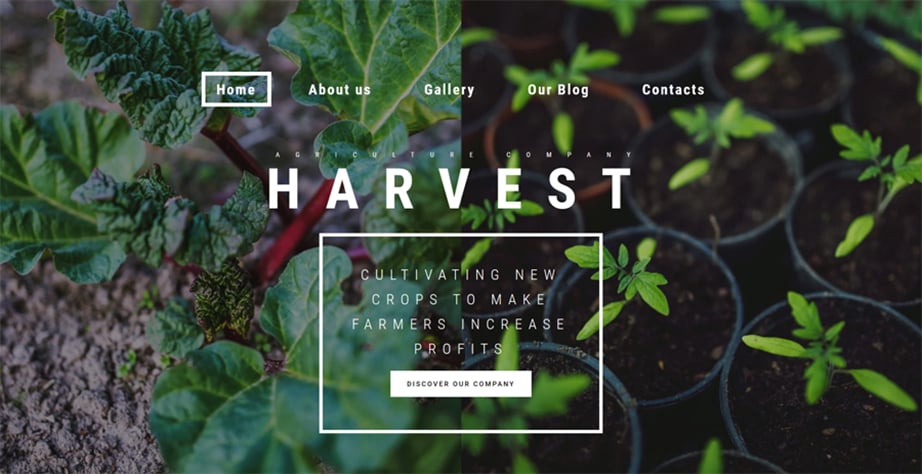 Farmland Responsive Farmers Website Template
If you are seeking for a lovely theme that would give your web project a reliable appearance, then you should check out this responsive template. If you want your organization to be recognizable on the web, then you should go for this pre-designed theme. Visitors will truly enjoy the pleasant user experience offered by user-friendly navigation and smart arrangement of the page layout. Featuring a clear layout, it is supposed to establish a professional and reliable internet presence of a personal or a business resource. Because of its 100% responsive layout, your site will easily adjust to the size of any screen chosen to check out it on. Clean, valid coding and rich documentation will help you in altering this web design exactly how you desire.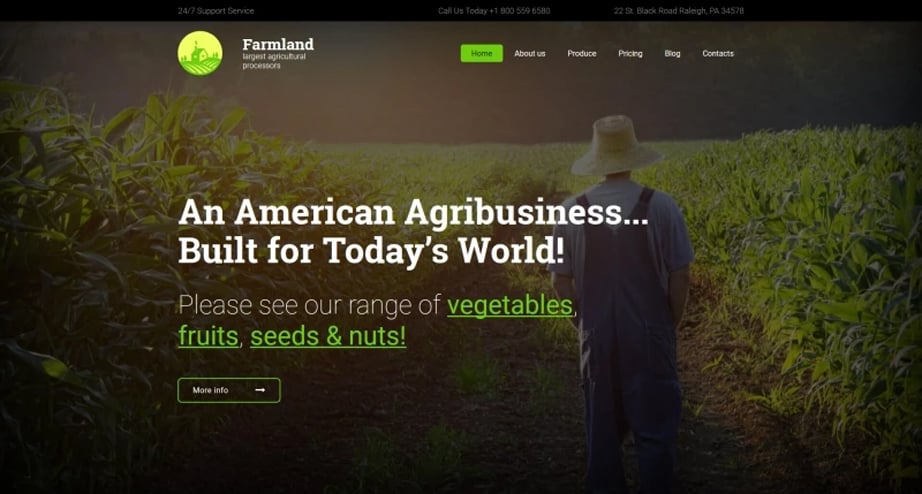 Agrialco Responsive Website Template
Agrialco is an appealing yet profoundly vibrant web template. It will not take you much time and effort to modify the template as it comes full of advanced functionality plus vibrant font and color varieties. Because of well-balanced design, your website visitors will be able to locate the essential content fast and easy. This web theme is responsive. This suggests its high-quality visuals and icons will look and feel just as perfect on displays of mobile devices as they do on displays of desktop computers. This will ensure an ideal website performance on tablet computers and mobile devices.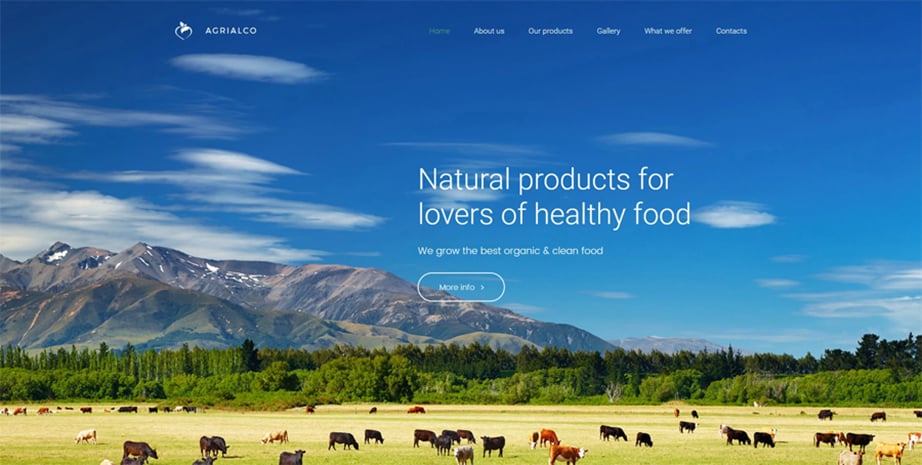 Agriculture Website Template with a Full-Screen Background Slideshow
This agriculture website design is a brilliant example of self-promotion. The layout is spacious and easy-to-scan. In regards to the growing appeal of mobile devices, this particular template was produced fully responsive. Tweaking the theme is a 100% pleasure because of the easy-to-operate admin panel and various options. Neat, valid coding and well-done documentation will help you in modifying this web design just how you need. Check out this layout established with the most effective SEO practices in mind and set up a well-performing web project with an attractive design.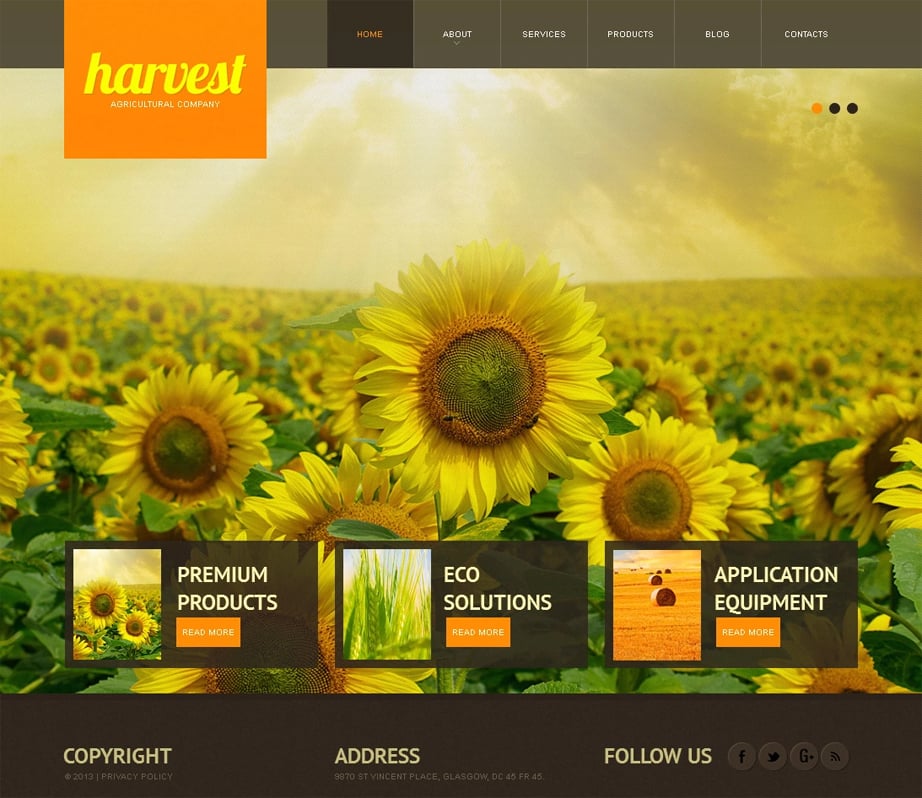 Agriculture Website Design
You'll be able to adjust this web template to any type of business project and build a high-quality site on your own. You will surely win the hearts of new clientele at first glance because of superb visuals and pleasant to the eye colors. The particular web theme is fully responsive. This suggests its hi-res pictures and icons will look and feel perfect on all screen sizes. In the event of any problem with this website layout, you can get in touch with one of the skilled tech support managers. They will resolve the issue of any difficulty for you.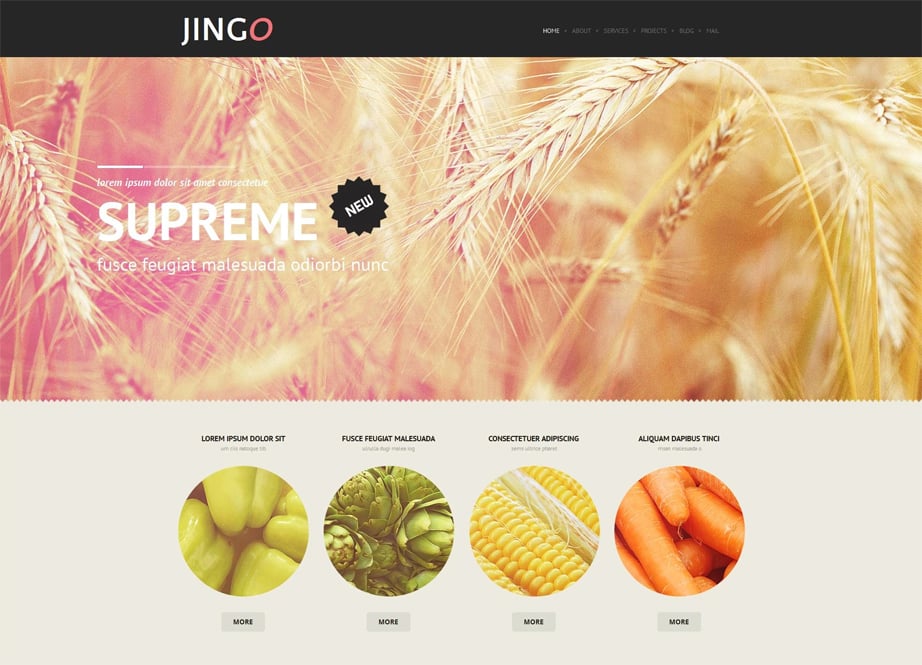 Website Design for Poultry Farming
The poultry farm website design is created by the expert developers, so it will make any website work to its maximum potential. This is a spotless, concise and easy to customize web theme exclusively developed for farming and agriculture sites. It can be also applied for an assortment of other corporate or personal projects. Due to custom post types, every page of your online resource will have an exclusive look. Its functional layout facilitates displaying the wide range of products and presenting your services in greater detail. To make your webpage easily accessible for everyone all over the world, the theme was developed cross-browser compatible and SEO-friendly.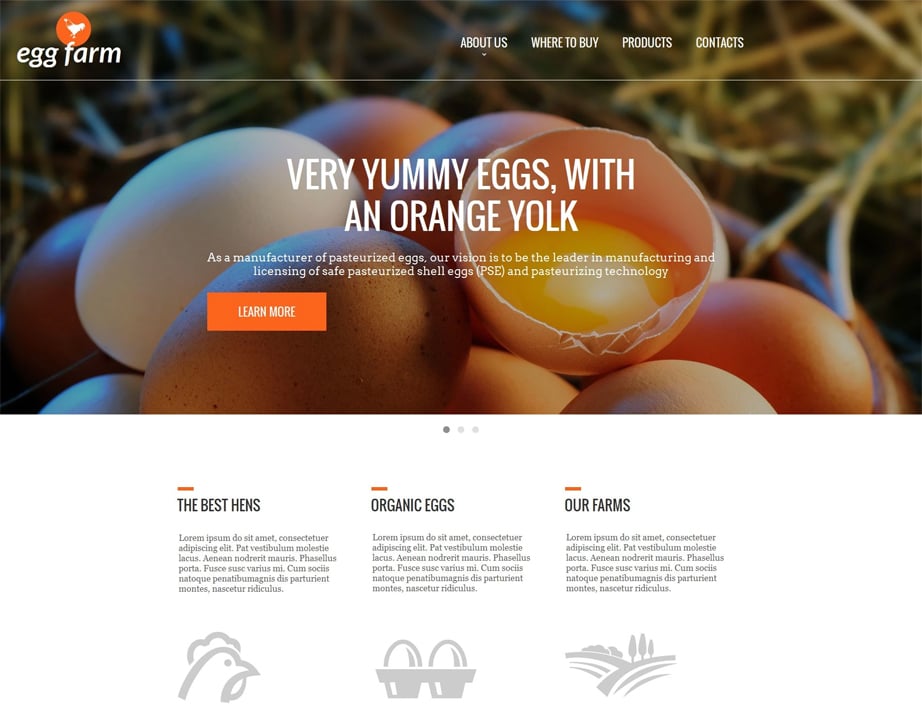 Agriculture Website Template with a Lovely Green Header
Montesorgis a simple web template intended for different kinds of farming sites. This specific website template will be an excellent solution for agriculture websites. Due to custom post types, every page of your online resource will have an exclusive look. This unique template is also richly documented and comes with professional round-the-clock tech support. Test this stylish web template to establish a welcoming site which brings people in.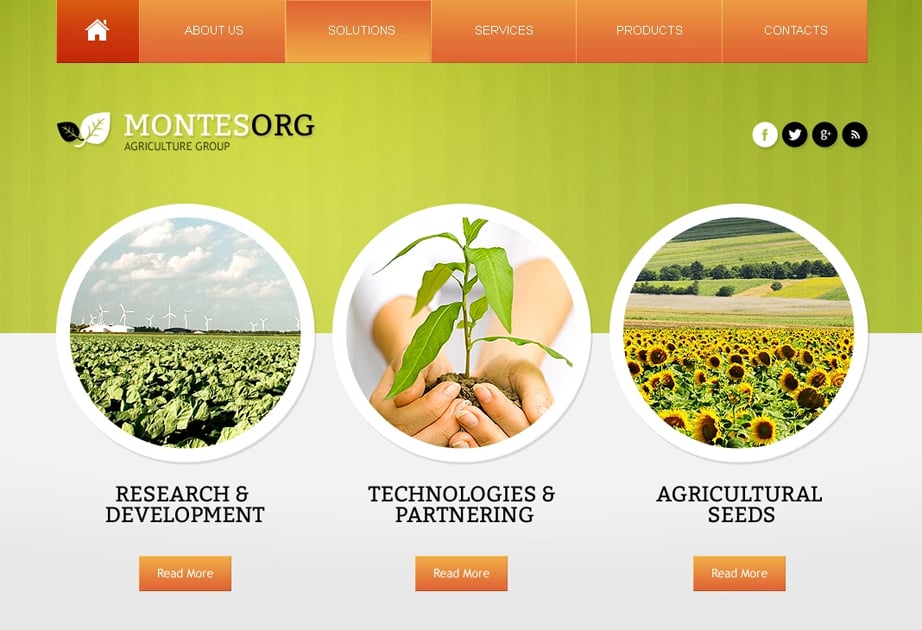 We hope that you found the tips and themes for building a farmers website useful. Apply them in practice in order to make your own web resource an eye-catcher. Enjoy the benefits of the seamless yet no less productive web developments with the drag-and-drop page builder. Make your farming and agriculture business more noticeable and profitable thanks to the professional websites.