Design Subscription Service Review: ONE Membership 
Are you a web designer or web developer launching dozens of projects every month? Are you a marketing specialist looking for cool promotional materials to attract a wider audience? Do you have a strong interest in high-quality web designs or a design subscription service and look forward to expanding your toolbox with more impressive solutions? You can find all that you need inside ONE Membershipby TemplateMonster.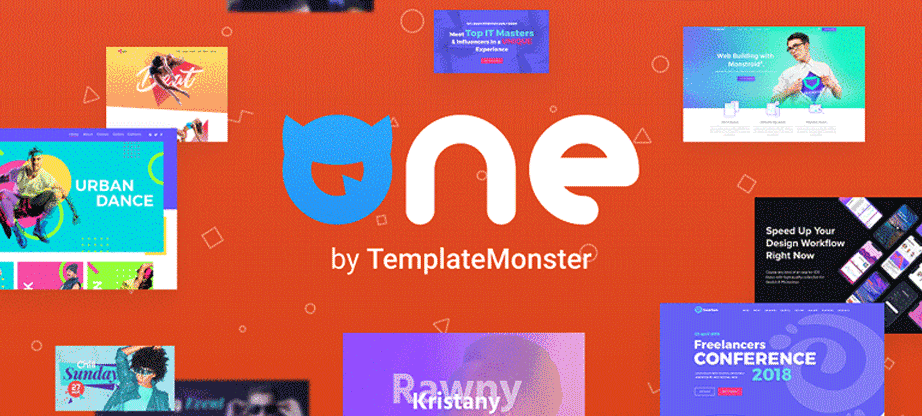 What Is ONE? Is It a Design Subscription Service?
ONE is the ultimate design subscription service that provides you with unlimited access to the growing collection of 31000+ high-quality web designs available in the TemplateMonster digital marketplace. ONE Membership features web themes compatible with all CMS and eCommerce platforms, plugins, graphics, audios, video files, and other essentials needed for all types of topics and businesses.
ONE is a collection of professional web design assets that are suited for different niches and projects. Most of the available items in the design subscription service are also available at the TemplateMonster marketplace as retail products. The selection of products in the ONE Membership keeps on growing every week. Once you get the subscription, you may download any item an unlimited number of times and use it on as many domains as you wish.
Get an Ever-Growing Collection of 31K+ Web Design Products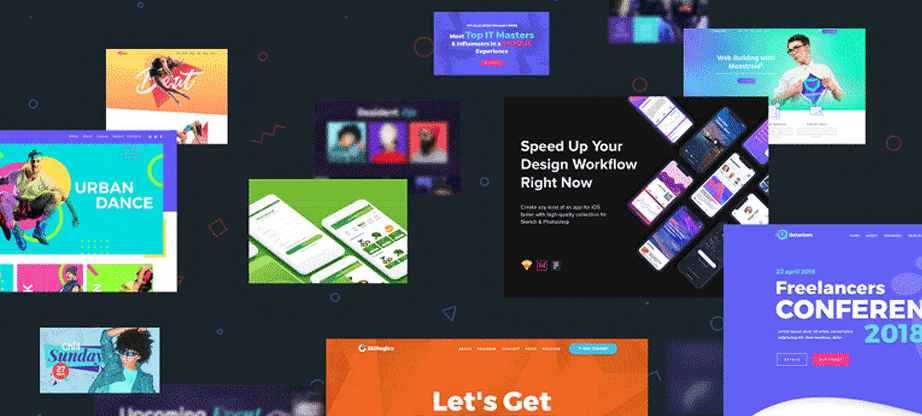 ONE Membership includes both premium products and some freebies that are available in the TemplateMonster digital marketplace. Some fresh releases and best-sellers have been available for public access for a while. Some of the most popular website templates that you can find inside your subscription include Monstroid2 WordPress theme, WooStroid2 WooCommerce theme, Intense HTML theme, Eveprest PrestaShop theme, Multifly Shopify theme, Magetique Magento theme, and StoreFlex OpenCart theme, etc.
ONE provides rich collections of web design assets that you can use with the most popular CMS, eCommerce platforms, presentations software, etc. If you give WordPress preference, you will be pleased to learn that ONE lets you get any or all of the 1400+ premium-quality WordPress themes. Most of these designs include the Elementor page builder that provides for an effortless code-free web development experience.  ONE also provides usable Elementor kits and WordPress plugins that you can use to boost the performance of the digital project you are working on.
If you are mainly working with eCommerce, you may select from thousands of ready-made eCommerce themes that are compatible with all the major platforms for web stores of different sizes, including Magento, PrestaShop, WooCommerce, VirtueMart, etc.
ONE offers newsletter and presentation templates and other graphics that you can use as part of your projects or separately. There are also illustrations, mockups, fonts, patterns, and more products that you can use as many times as you wish.
License and Pricing Plans
ONE Membership offers clear licensing plans for all its subscribers. Unlike downloading items from the TemplateMonster digital marketplace, you do not need to choose the license plan every time you grab a new product to your collection. ONE offers all items under the Unlimited Yearly (or Lifetime) license. It means that regardless of the product you choose, you can use it on as many projects and domains as you need, for both personal and business use.
Speaking about the ONE design subscription service cost, there are three premium plans that you can choose from and one free membership. The latter provides you with free unlimited access to all free web design items available in the ONE Membership, including graphics, presentation templates, HTML templates, and audio files. The number of freebies is due to growing bigger and more diverse, so pick Free-all-items. It won't cost you a single dollar.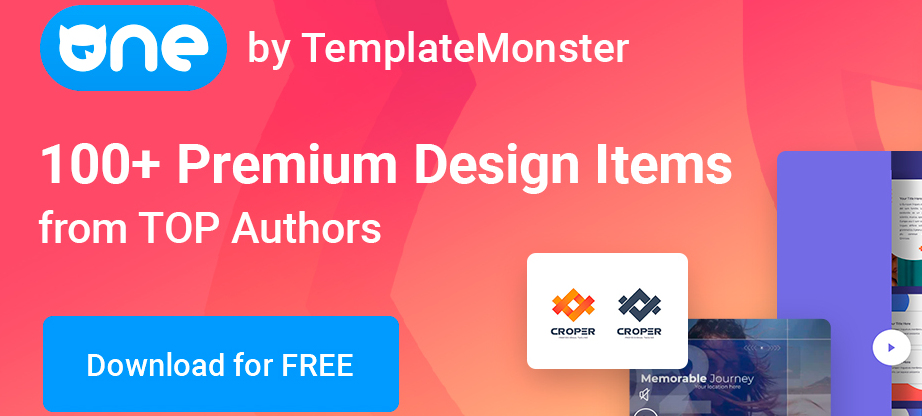 Besides, the three premium plans are:
Creative – worth $82/year – the best choice for creative graphic designers working with graphic and design assets, presentation, audio, and video files.
All-in-one – $179/year – best suited for web designers and web developers looking for high-quality web themes suited for multiple web platforms and CMS projects.
All-in-one lifetime – $599 – provides you with unlimited lifetime access to the growing collection of items included in the ONE.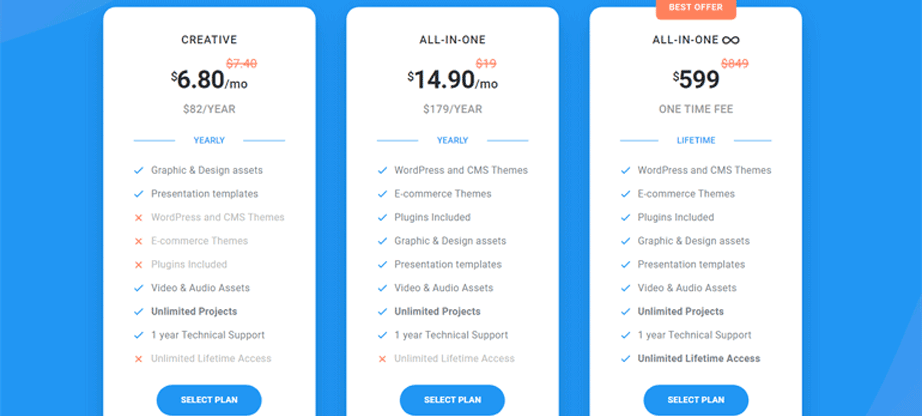 Reasons to USE ONE by TemplateMonster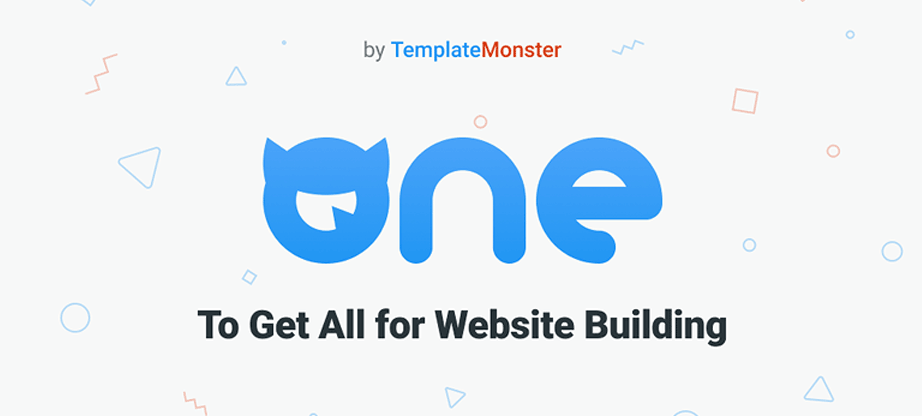 In addition to the benefits of subscribing to ONE Membership by TemplateMonster, many other advantages make the service worth trying. Let's check them out.
Reliable 24/7 support. Everyone who subscribes to the service gets reliable support from the authors of the items they choose. ONE features a usable ticket system, which lets you communicate with the web items' authors or their official representatives.
Additional services. Besides a wide choice of premium web designs, ONE lets you order extra services delivered by a team of professional webmasters. The services range from server maintenance and SEO improvement to your website's launch and customization.
Regular free updates and a constantly growing collection of premium designs. The collection of web themes, plugins, graphics, audio & video files in the ONE Membership expands all the time. New authors upload their web design items for review and add their products for unlimited use. What's more, all items in the subscription receive free regular updates. Even when your subscription expires, you will still receive regular updates for the web design items you have downloaded and installed on your sites.
In case something goes wrong, you can cancel and get your money back. If you order ONE subscription and do not download anything within 14 days from the purchase day, you can request a refund.
ONE Affiliate Program
TemplateMonster lets you join their affiliate program and make money while promoting web design assets from the marketplace. Besides, you can promote ONE design subscription service as part of your affiliate marketing campaign. One affiliate program is more profitable for referrals because it brings you more income from every order than the purchases in the marketplace.
The commission that you get from the first-time order from a client is 30%. Every next order placed by a returning customer brings you 10% revenue.
Get Monstroid2 with ONE for Free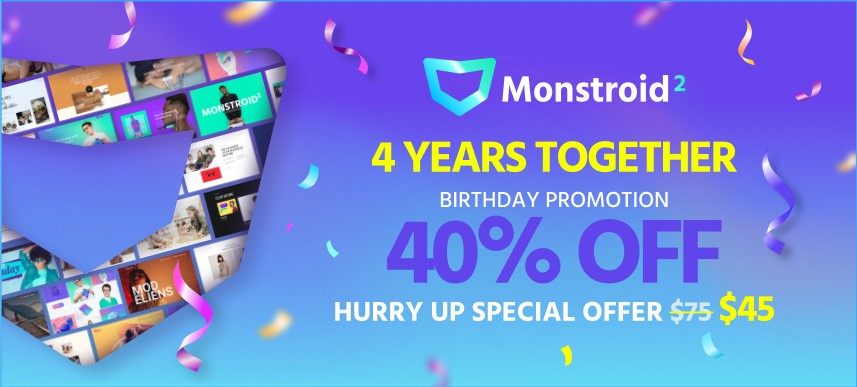 Have you already tried the Monstroid2 Multipurpose Modular Elementor WordPress Theme? At least, you may have heard about it. Through updates and significant changes, Monstroid2 has become so mighty as never before.
For now, it works on the popular Elementor page builder with dozens of cool extensions. This allows any user to create websites without coding and time-wasting. Moreover, the built-in Magic Button library includes 1K+ pre-styled sections and ready-made pages. This feature supports comfort while working on different projects. Plus, you can save your new custom pages as templates to insert them in the future.
To be honest it's impossible to tell about all the perks of Monstroid2 briefly. Yet, just pay attention to the vast number of its pre-designed skins. So, there are 73+ of them! They cover topics that suit any modern business site, online store (WooCommerce), hobby blog, portfolio, and more. Check it in ONE! 
Design Subscription Service – Wrapping up
ONE Membership is the must-have service for everyone related to the web design and web development niche. Paying for the yearly subscription, you get unlimited access to a growing number of high-quality web designs matching all topics and businesses. The ONE design subscription service delivers many lucrative rewards that you will enjoy. Order the service to see what's inside.