Interior Design Website Templates Will Spice Up Your Life [Updated]
Creating websites for designers is a hard task since they know that field like no one else. Creating a website for interior design studio is not an easy thing too. It should be made with keeping in mind that website will be used mostly for promoting design services and showcasing products. Thus, a web designer that creates the interior design website templates should act carefully to not be carried away with enthusiasm and achieve the design that will highlight the product without overwhelming the visitors with its arty-crafty structure and look.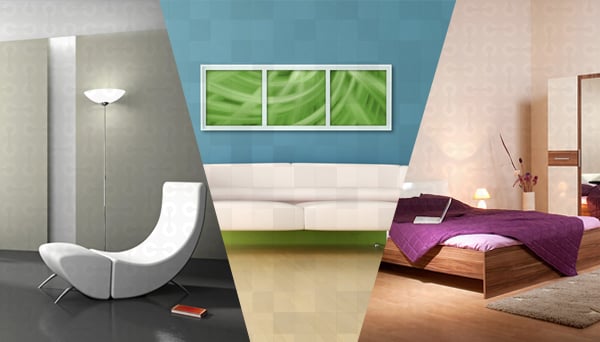 Website templates for interior design should speak more of the content and showcase the products to the best advantage. Most companies and interior design studios use websites to promote their works and attract new clients, deliver the latest info about the biggest trends in interior design as well as to offer buying furniture, decor elements and interior finish materials. The entire website template design should fulfill such purposes and appear a perfect background for designer's works.
Here we offer to you a few tips on creating a cool web template for decor studio that contains all the necessary design and content organization features. Traditionally, we start with the design.
Interior Design Website Templates Layout
Modern interior design studio template is a wise combination of a great style and a perfect functionality. The design of the web template cradles the content and becomes an engaged frame for it. Thus, most of the furniture website templates feature pastel colors and light textures. Companies that sell furniture and decor materials may choose natural textures of wood, fur, fabric and stone to put forward tactile perception of their products. White, beige and grey are favorite colors among the web designers that make templates for interior decoration studios.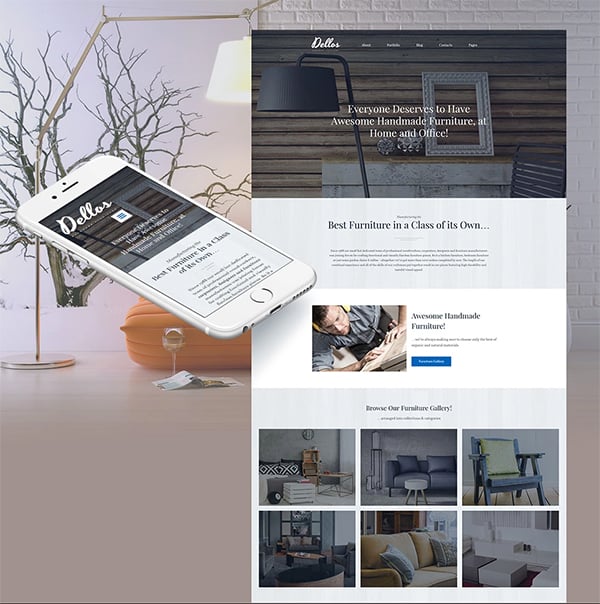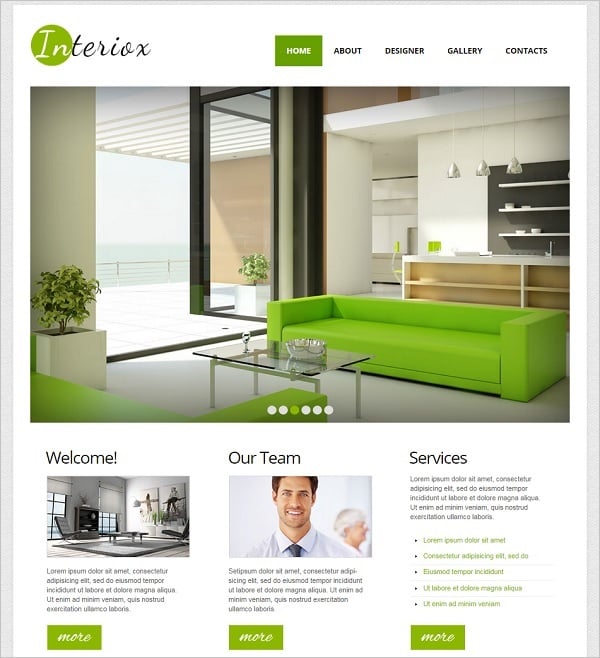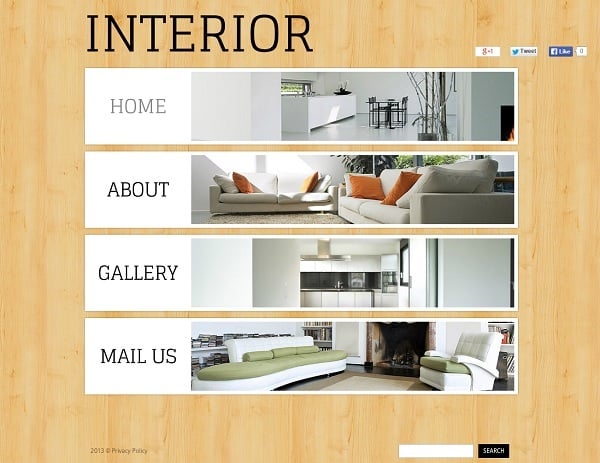 Some web designers make bold statement with the use of dark colors for the interior studio website templates, there can be even used black and dark-brown tones. In any case, the main idea about choosing a color palette for interior design company web template is choosing pure backgrounds without multiple decor elements. It allows keeping the visitor's attention to the content.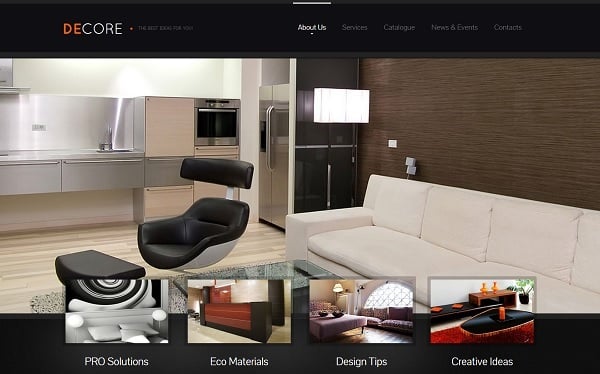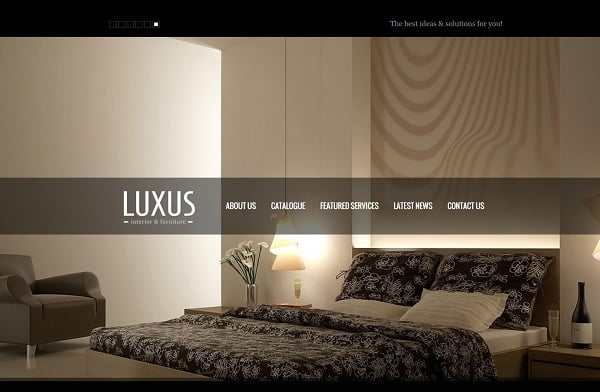 Many web templates for interior design businesses make a great use of whitespace. This often neglected "empty space" around important elements adds air and freshness to the layout and allows other design elements (pictures, menus, buttons etc.) standing out from the crowd and being more prominent.
Gallery and Pictures Importance
Visual content is the absolute must-have for interior design websites. Images and photos that feature the most prominent examples of the interior design trends, demonstration of color palette for rooms and accommodations, catalogs of the beautiful and sophisticated decor stuff like lamps, carpets, shelves etc. appear on almost any page of the website.
Of course, using generic stock photos for such websites is off the question. It's almost a rule of a thumb for any website, but in a case of the design studio sites the use of stock pics ruins the idea of the website. There can be different reasons for using stock photos, especially with a low budget. MotoCMS offers a great variety of beautiful pics within its templates that can be freely used as backgrounds and for gallery. But if you can afford hiring a good photographer to take pics of your products and works, it's definitely worth it.
Quality of photos is another must for design studio website. They should be carefully selected, well edited and resized. Using low quality pics are shameful for the designer and harmful for the business, so pay attention to the use of high-quality photos with a proper focus, color range and removed grain or blurring.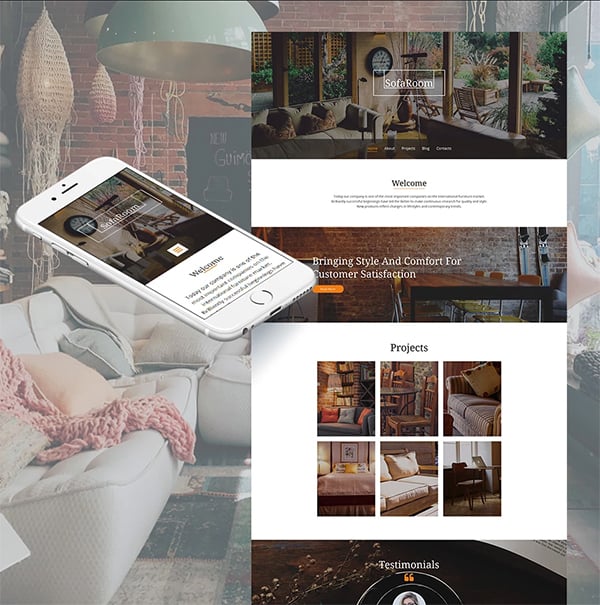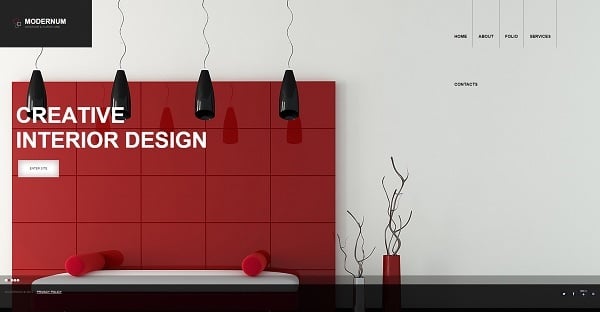 There are a few ways of introducing photos to the website. Traditionally you can use photos for the background of the website pages, for the Home page slider and for the Catalog page. Background photos are rarely used, as we already mentioned, because they can blur with other pics on the website and ruin the impression of harmony. So, it's better to use photos over a neutral background.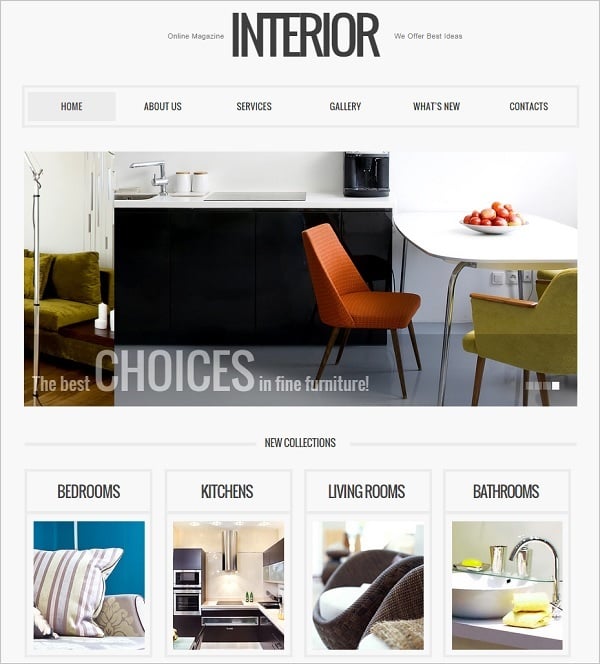 Making a separate Gallery or Catalog page is a perfect opportunity to draw attention of the visitors and making them explore your website with comfort and without a haste. On a Catalog page you can create subcategories to make navigation easier and highlight the important products.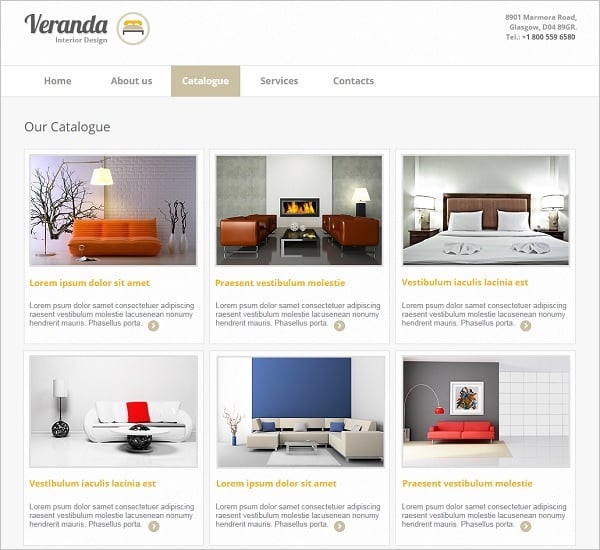 The use of photos for the Home page slider is a great idea for showcasing the best and the latest trends or works of the designer. You may customize the slider to show your latest or the most popular posts, articles, projects or products.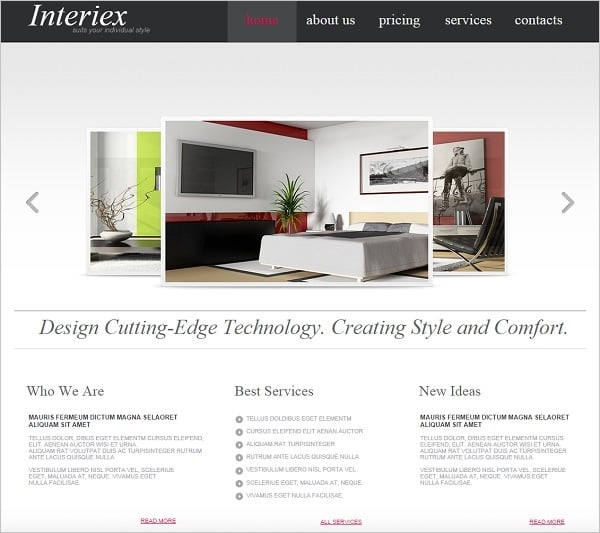 Connection with Customers
As far as interior design websites are mostly used for engaging with potential customers, there definitely should be prominent contact form as well as social media and map widgets.
Social icons that engage customers to follow the company on various social networks are essential for interior design business. They make the company in general look more open and improve the user experience within the website. Social media is a great part of a social life today so creating account at least on a few of the most popular social networks is a must for any business. You can easily find the social media buttons designs that suit your website templates design and place them in the prominent places on the website.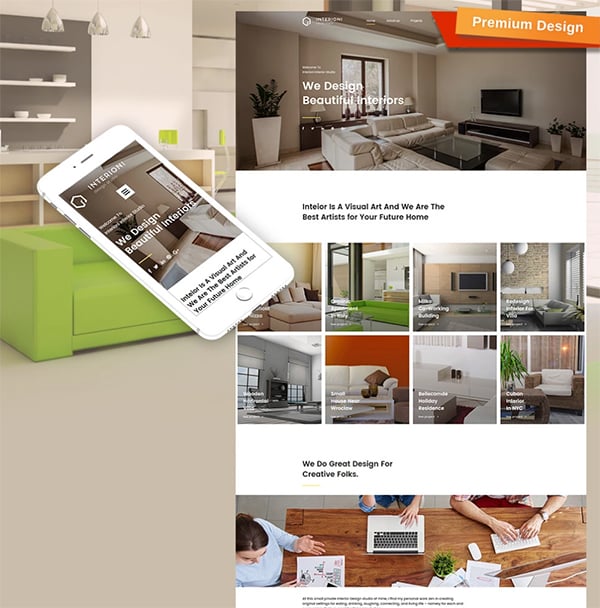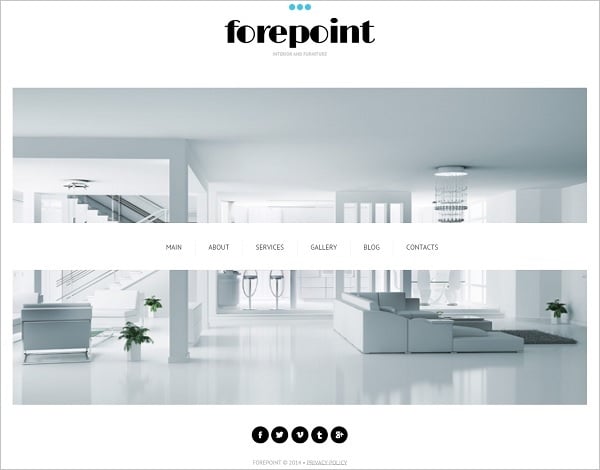 A Contacts page is another category that should be introduced to the design in the first instance. As with many other businesses, contact information of the interior design company or studio is one of the beneficial factors that impacts a good ranking for search engines. So this information should be presented in the clearest and easy-to-perceive form.
Many companies may use a large clickable "Call Us" buttons that are extremely useful within a mobile version of the site. Such buttons allow making a call to the company right from the website if the customer uses a smartphone or tablet. The same idea may be used for the e-mail address or Skype contact. Make your phone number prominent and easy noticeable. It can be placed on a Home page to display your support for the customers.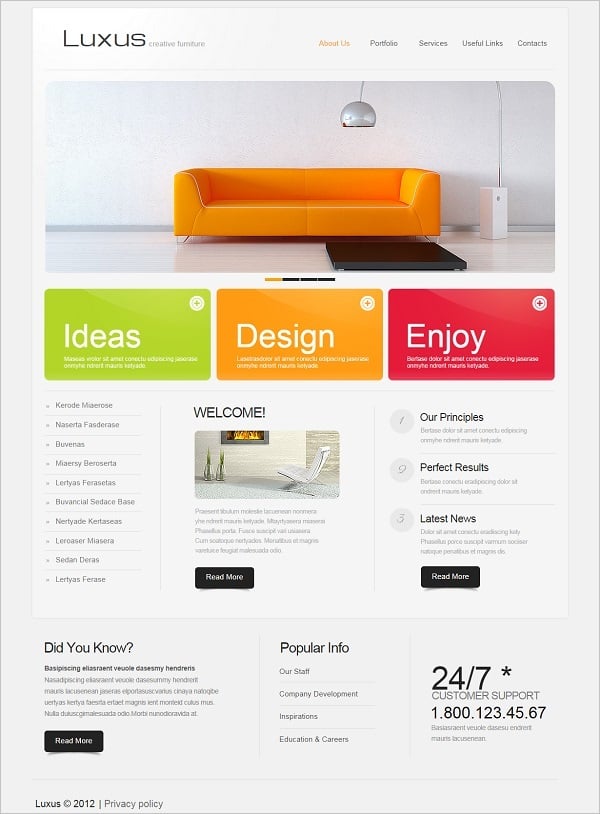 Adding a map widget is essential for interior design studios and decoration stores. Most of interior design companies are locally oriented and customers prefer looking for a designer services closer to their lodgings. Physical address is a must but adding a map where this address is indicated is a perfect way of making the website more user-friendly. Introduce a Contact form that is simple, short and doesn't require filing to many fields.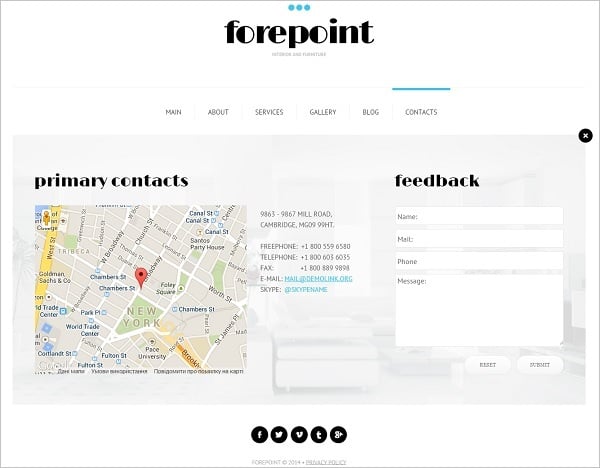 About page is another website template section where you should pay exceptional attention. Here you should provide a clear and useful info about your company or studio, show the most prominent examples of your works, services and products. Showing your company's stuff is a great idea: it attracts visitors and makes your company more open and engaging.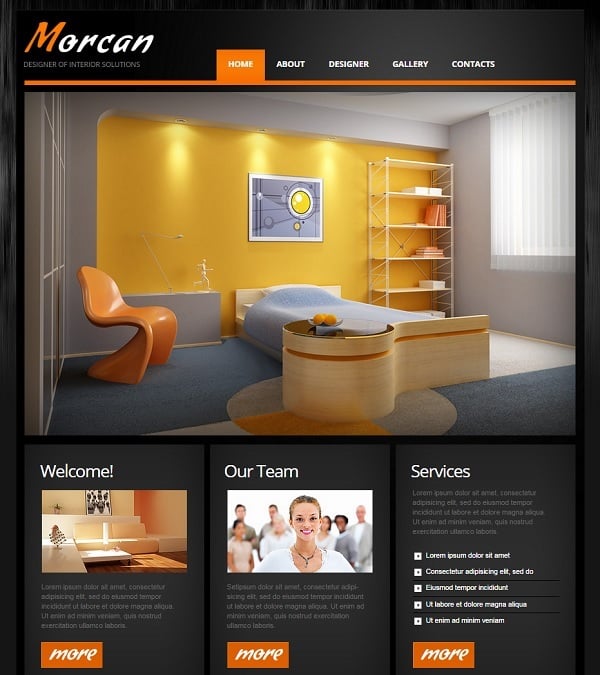 Adding a "Buy Now" button and a PayPal widget also adds a few points to your website template. You are selling your services and products after all, so such widgets make interaction with your business more pleasing and helps turning occasional visitors into loyal customers.
Here are a few more interior design studio templates to get you started. You can also choose among furiture website templates and ones for websites that offer various interior materials and decorations.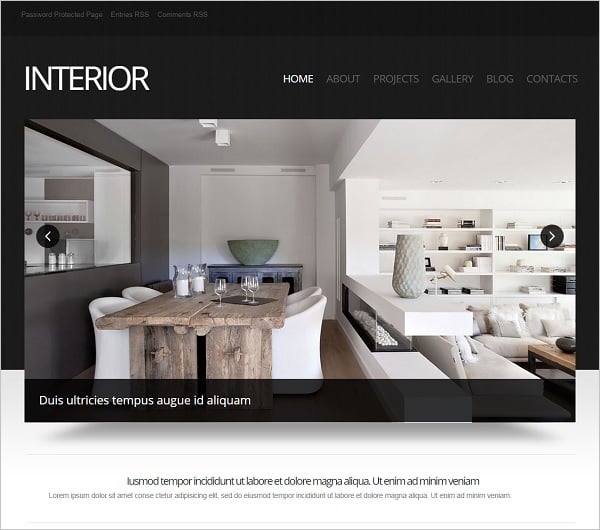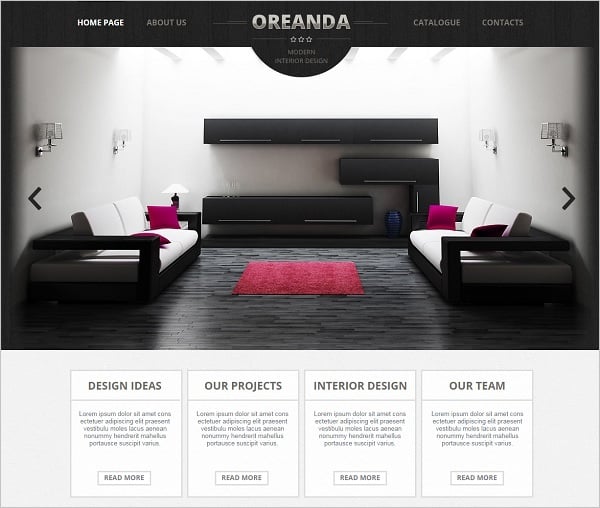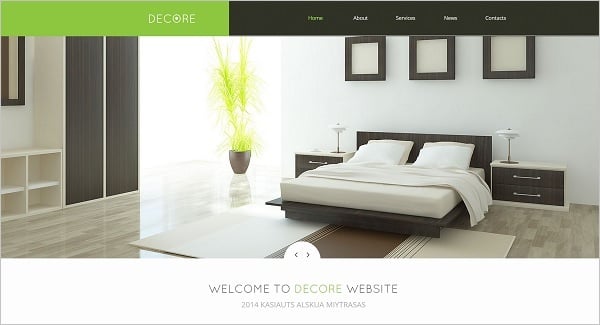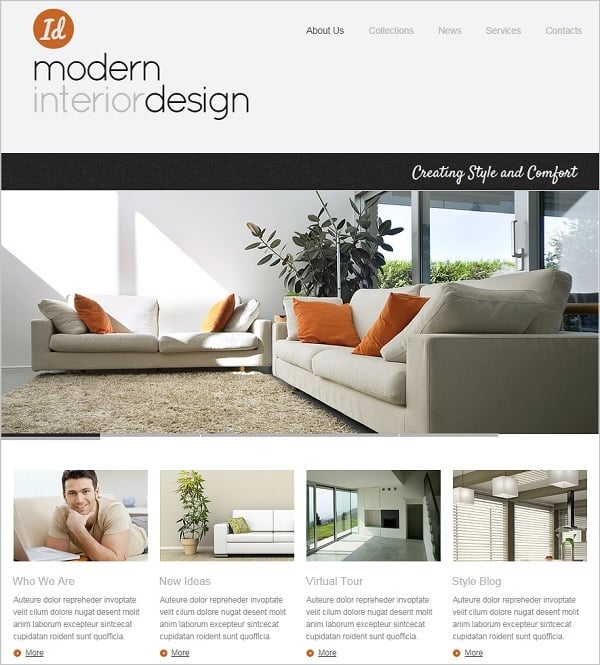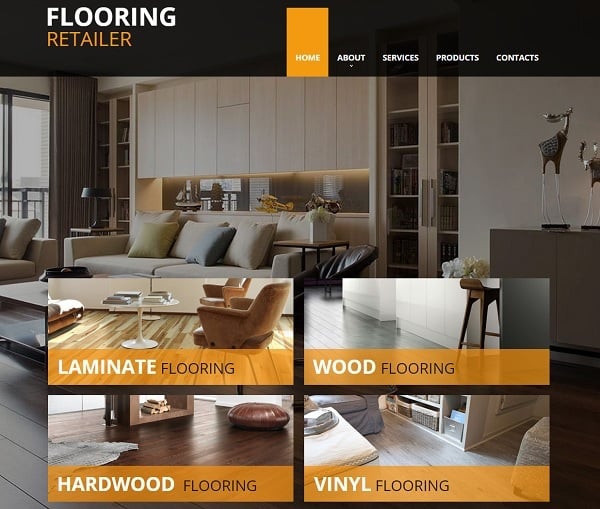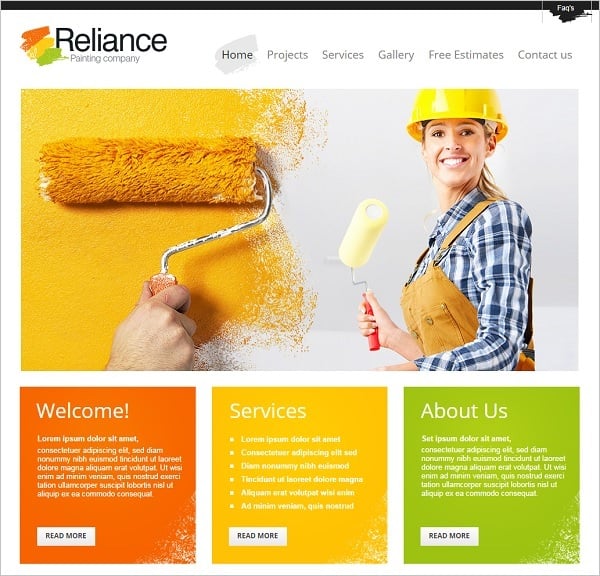 To sum up, interior design website is a perfect opportunity to give a boost to your local business and attract more clients.