Zoho vs Zendesk – Help Desk Software Comparison
Customer service has become one of the most important business battlefields in the last decade. With so many brands available online, modern companies are not trying to outdo competitors with lower prices or better products. On the contrary, they are trying to enhance customer support in order to grow the base of loyal consumers. In this post, we will present you some of the most popular CRM tools currently available. Keep reading to see our help desk software comparison, aka Zoho vs Zendesk.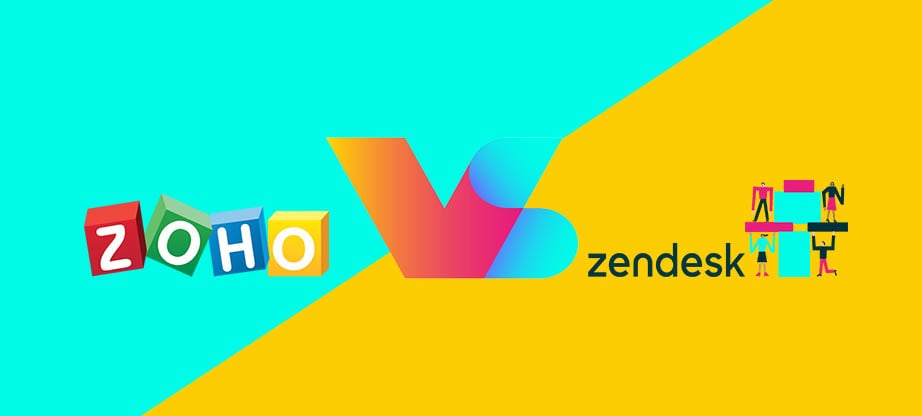 Numerous studies already proved this point. According to the report, 85% of customers are willing to pay more for the upgraded experience. Another research related to Zoho vs Zendesk, reveals that more than half of clients will never do business with a company after only one negative experience.
This is where helpdesk management system steps in to save the day. Today, it's almost impossible to imagine a successful company not using the customer relationship management (CRM) software.
What Is Helpdesk Management System?
Before we begin with our help desk software comparison, we need to explain to you the features and qualities of CRM platforms.
CRM experts at assignmentgeek.com.au define a helpdesk service as the contact point that enables organizations to accumulate, monitor, and manage all customer-related inquiries. In other words, it represents a more efficient way to handle user complaints or questions. Since most of the work is automated, it leaves no room for time-waste or human-made errors.
You can categorize software solutions in a variety of ways, but the common classification is based on the source code accessibility. To help you make it through the "CRM vs service desk" dilemma a little easier, we will describe four different helpdesk categories:
Web helpdesk
This solution is cloud-based, but it can also be the software-as-a-service (SaaS) platform like Zoho vs Zendesk. In this case, you just need to subscribe on a monthly or yearly basis without buying the license. At the same time, the web helpdesk gives you a much cheaper scaling possibility because you don't have to invest huge resources immediately.
On-premise helpdesk
Unlike web helpdesk, the on-premise counterpart means you possess and completely control the software. Most CRM professionals believe this option is obsolete because it requires a lot of investments, equipment, and in-house knowledge, while it often struggles with security issues.
Enterprise helpdesk
This is an all-around software solution for larger organizations. Its purpose is not only to help you solve user inquiries quickly but also to improve operational capabilities on all levels of the company.
Open-source helpdesk
If you choose an open-source helpdesk, you don't have to spend money on it because it's license-free. It means you can modify software features, but you will probably face occasional issues that you will have to solve by yourself because there is no central authority that you can address.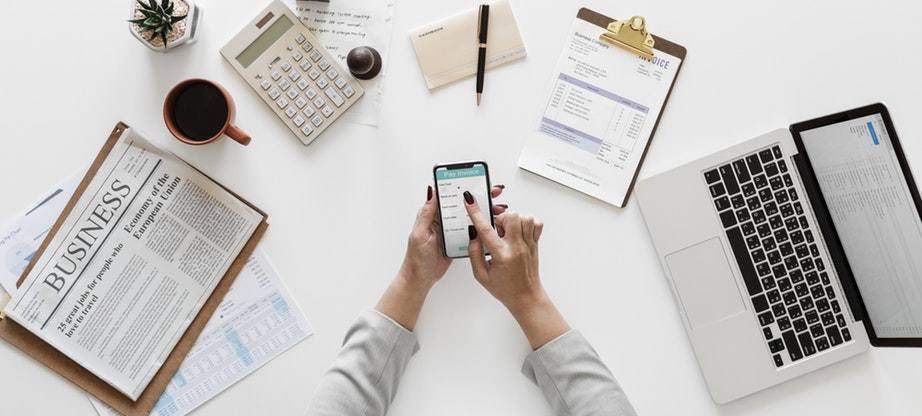 Selecting the right option for your business is critical to the success of your customer service, but you won't be able to prove it without measuring the results. The only way to do that is by following the key performance indicators (KPIs).
KPIs include metrics such as the first call resolution rate, lost business hours, cost per ticket, ticket volume trends, infrastructure stability, SLA compliance rate, etc. Following and analyzing KPIs, you can detect problems in a timely manner and make the necessary changes to improve the overall productivity of your customer service.
The Benefits of Finding a Perfect Help Desk System
All companies can use a help desk system, no matter how small or big they might be. But what makes this software so powerful and beneficial? How does it contribute to the improvement of a customer service and why people ask questions like Zoho vs Zendesk? We will give you no less than ten answers:
Improve customer service performance
The first benefit is obvious – finding a reliable help desk system, your customer service reps can act more quickly and accurately. They can learn all the details about each user, which is the basis of a successful customer service.
Enhanced organization
Automation gives you the possibility to improve functioning and organize database according to your own preferences. Every little piece of information is only a click away from you, so it's easy to keep everything under control.
Improves decision-making processes
With the entire database at your disposal, you can make much better and more accurate predictions or business decisions.
Data reporting
Data accessibility allows you to create simple but effective customer service reports that you can show both to your employees and the customers. That way, you can improve services based on internal or external inputs.
Solve problems
Help desk software gives you in-depth consumer insights, so you can use it to solve common issues and keep your clients satisfied in the long run.
Building a community
With tools such as CRM software, you can build customer communities to gather users who want to discuss brand-related topics. It's a great way to create the extra buzz around your brand while building loyalty.
Eliminate paperwork
Okay, we know it's impossible to completely eliminate paperwork, but you can drastically reduce it using a help desk platform.
Promote self-servicing
A self-service portal has two major benefits – it reduces work from your side and helps users to find the desired answers easily.
Zoho vs Zendesk Multichannel support
Modern customer service cannot be lopsided. On the contrary, you have to allow users to address you across multiple channels, and it's much easier if you do it through the help desk software.
Simplify your business
CRM tools don't only make the job more productive but also much simpler. Don't miss your chance to reduce operational costs while improving customer service.
Zoho vs Zendesk – Zoho Desk Features Explained
Now that you know the basic features of customer service tools, you can explore and analyze various software solutions. Comparing things like Zoho vs Zendesk requires thorough research, so we need to begin explaining the first help desk software, Zoho. Here are its most important features.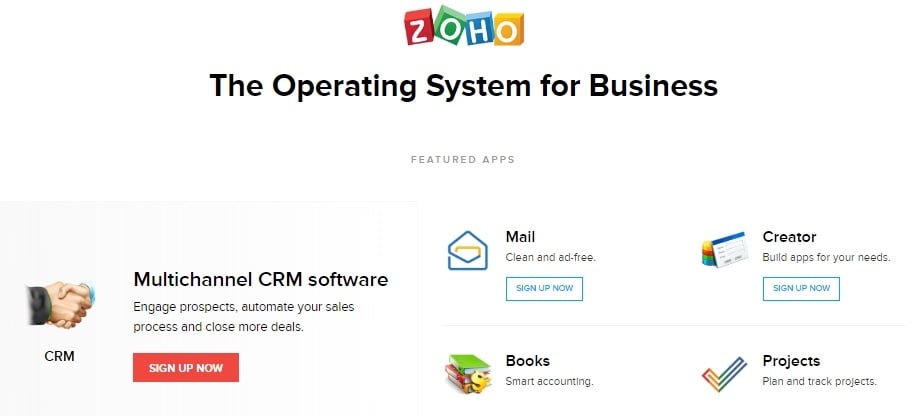 Help Desk
Zoho operates as the SLA that specifies the resolution time for a ticket based on criteria like priorities, channel, and customer type. Using it, you can define rules for automatically escalating a ticket that's past its due time and re-assign it to the different agent.
Zoho gives you a Ticket Status overview, displaying how many tickets your team has received, how many are in progress, and how many have been resolved. The system is highly precise, so you can determine the working hours and holidays to ensure that SLAs are applied accordingly.
Multichannel ticketing system
Zoho gives you the possibility to operate a multichannel ticketing system, combining email support, call center, self-service, instant messaging, social media accounts, and online communities. The phone service integration is essential because Zoho's Interactive Voice Response (IVR) simplifies the navigation of your customer service hotline. Besides that, users can leave voice messages, while you can rewind and playback incoming or outgoing calls.
Agent productivity
Zoho improves the customer service potential by establishing work modes. Its Countdown Mode helps prioritize tickets by displaying them based on when they are due. Tickets automatically move to their appropriate column, so agents can stay updated without having to hit the refresh button. Each ticket contains customer information, which helps agents to adapt to the specific conditions.
Knowledgebase
Zoho creates an all-encompassing knowledge base to help agents focus on the more problematic inquiries. Using Help Center, customers don't even have to get in touch with service reps because they can discover most information on their own.
Collaboration
Teamwork is crucial for the quality customer service performance, but it's often problematic due to numerous assignments, tags, and rules. Zoho is making the process a lot easier since you can simply tag the relevant team, and let them decide who is best suited for the ticket at hand.
Reporting and insights
Zoho's built-in dashboards help you to track and improve services using the most common metrics, but you can also get additional statistics by creating customized reports. You can easily measure and report customer service KPIs, thus acquiring relevant inputs based on which you can improve performance.
Zoho vs Zendesk – Zoho Desk Pricing
Before you make a final decision in the Zoho vs Zendesk debate, we recommend you test both tools free of charge. Zoho offers you a 15-day free trial, so make sure to use it before subscribing. Besides that, this help desk service has three pricing plans:
Free
This solution is for small teams of up to three agents. It offers you:
Email Inbox & Web-form
Work Modes
Customizable Help Center
Knowledge Base
Community Forums
Re-Branding
Domain Mapping
Priority SLAs
Basic Reports
Agent Dashboards
Manager Dashboards
Ticket Overview Dashboard
The Team Feed
Remote Support (for one user)


Professional

The most popular Zoho pricing plan costs $12 a month per agent. It offers all features from the Free Plan plus:

Multi-channel Support
Helpdesk Automation
Multi-department Management
Advanced SLAs w/ Business Hours
Two-way data sync with Zoho CRM
Customer Happiness Ratings
Cloud Telephony using Twilio
Advanced Reports & Dashboards
Zoho BugTracker Integration
Enterprise
This solution is worth $25 a month per agent. It contains all of the Professional Plan features plus:
Multi-brand Help Center
Scheduled Reports
Cross Department Reports
Contract Management
Custom Ticket Templates
Role Based Access Control
Live Chat Support
Zoho Desk: Technical Features
We revealed the most important Zoho-related features, but there are still some technical details to uncover here. First of all, we need to mention that Zoho supports Windows, Android, iPhone/iPad, Mac, and Web-based devices.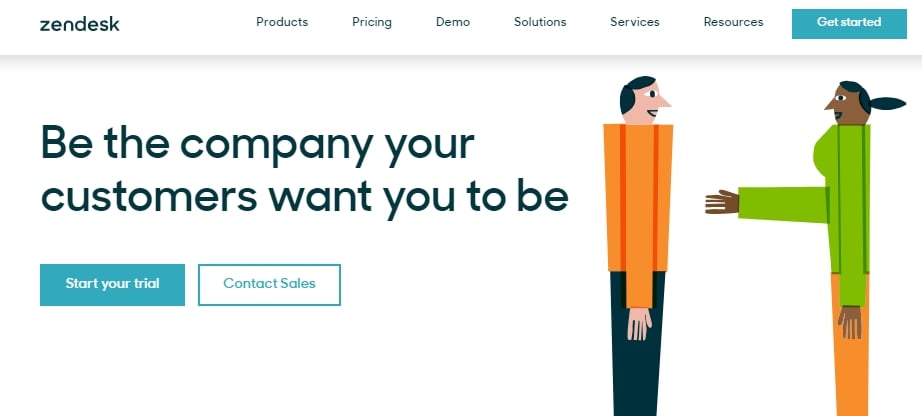 The customer support is based on email and phone, but there are also video tutorials and the knowledge base. It offers a total of 23 integrations, including Facebook and Twitter social media accounts. In terms of security, Zoho has the following specifications:
ISO 27001/27002
Payment Card Industry (PCI) Data Security Standards (DSS)
SOC 2
Encryption of sensitive data at rest
HTTPS for all pages
Multi-factor authentication options
Data backup in multiple locations/GEO regions
Zoho vs Zendesk – Zoho Desk Benefits
As a comprehensive help desk solution, Zoho offers you a number of practical possibilities. First of all, it enables agents to act quickly and make data-driven decisions, thus helping the company to establish stronger relationships with the customers.
Using a multiple-level customer support, Zoho fits all types of businesses regardless of the size and the number of agents. In such circumstances, it is possible to react in real-time to satisfy the needs and requirements of every consumer individually.
The system monitors all channels of communication, including social platforms such as Facebook and Twitter, so it can store and categorize all data based on standard classifications or according to your own, tailored categories. Most users, however, don't even make it to the customer service reps because they find answers on their own via the self-service portal.
Zendesk Features Explained
The time has come to check out the other part of the Zoho vs Zendesk debate. We will use the same methodology and present you all of the Zendesk features firstly:
Help Desk
Zendesk enables support agents to track, prioritize, and solve customer support tickets using the omnichannel support. You can find them all integrated here: phone, chat, email, social media, and any other channel you believe to be important for your business.
Using Zendesk, agents can create and share their own macros in order to quickly respond with a standard reply to recurring customer inquiries. Personalized views let agents see their queue based on ticket status, assignee, group, or other conditions. The system also displays real-time updates about who is viewing a ticket at any given moment.
Ticketing system
Zendesk is a ticketing system that acts as a shared inbox for all your customers' questions and concerns. This way, the support agent is always provided with a consistent ticket, making ticket management much easier for the agent to help the customer more quickly solve the issue to their satisfaction.
While the ticketing system allows users to contact a company via their preferred channel, it also ensures support agents are set up for success with a consistent view of the customers. In case the same customer reaches out again, the support agent will automatically have access to important information about him, including when they last requested support, what the issue was, how it was resolved, and even how long the customer had to wait for a resolution.
Knowledgebase
A knowledge base collects and organizes data into different units – internal knowledge base, IT knowledge base, agent-only knowledge base, and a customer-facing FAQ resource. The best thing about this feature is that you can translate your articles into over 40 different languages, which provides a localized experience that's right for everyone.
Community software
Zendesk creates a customized and branded platform to gather all customer comments and reviews in one place. That way, users can sort and follow posts to stay informed with the latest updates. Community in Zendesk Guide gives you full control of your community design, so you can make it feel like a native company website.
Security
Zendesk takes the issue of cyber security very seriously. They combine enterprise-class security features with comprehensive audits of all applications, systems, and networks to ensure customer and business data is always protected.
Zoho vs Zendesk – Zendesk Pricing
As a comprehensive customer support service, Zendesk offers a variety of different pricing plans to match the needs of all organizations. You can test them all free of charge, which makes it easier to find the right solution for your team. Here are the five basic pricing plans (bear in mind that each upgrade contains all features from the lower-level package):
Essential
It's a beginner-level Zendesk solution that costs €5 per agent per month. It includes:
Email & social channels
Basic help center
Web Widget & Mobile SDK
Team
This pricing plan starts at €19 per agent per month and contains:
Custom business rules
Performance Dashboards
Public apps and integrations
Professional
The professional package is worth €49 per agent per month. Besides the features from the Essential and Team plans, it also offers you:
Multilingual content
CSAT surveys
Custom reports & dashboards


Enterprise

Enterprise will cost you €99 per agent per month, but it also brings you:

Custom agent roles
Multi-brand support
Multiple ticket forms
Satisfaction Prediction
Skills-based routing
Launch Success Program
Elite
The most advanced Zendesk package is worth €199 per agent per month:
Unlimited light agents
99.9% uptime SLA
1-hour service level objective
Advanced encryption & security
Data center location
Zendesk: Technical Features
Zendesk software supports Windows, Linux, Android, iPhone/iPad, Mac, and Web-based devices. In terms of customer support, it offers phone and online support, as well as the knowledge base and video tutorials.
Other help desk solutions can hardly compete with Zendesk when it comes to integrations since it seamlessly integrates with more than 600 tools and apps. We already mentioned the issue of security, so here are the safety specifications:
Cloud Security Alliance (CSA)
Cloud Controls Matrix (CCM)
FIPS 140-2
HIPAA Business Associate Agreement (BAA)
ISO 27001/27002
Payment Card Industry (PCI) Data Security Standards (DSS)
SOC 2
United Kingdom G-Cloud
Encryption of sensitive data at rest
HTTPS for all pages
Multifactor authentication options
Data backup in multiple locations or GEO regions
Zendesk Benefits
Despite its primary function, Zendesk is much more powerful than the regular help desk. The system is so comprehensive that it allows you to turn customer service into the engagement driver across all channels within your organization.
The integration potential is enormous, so you can easily connect Zendesk with social media tools, marketing platforms, and other apps to gain valuable business insights. That way, you will not only improve customer support but also boost lead generation, marketing ROI, and conversion rate.
A variety of pricing plans allows you to carefully scale the business, adopting solutions that perfectly fit your needs at any given moment. With Zendesk live chat, you can engage with high-value prospects and help them to find the information they need in the real-time environment. Assisting those users, you will probably turn some of them into credible leads. That makes it a winner of the Zoho vs Zendesk battle.
The system covers all of the major messaging apps, so you can trace valuable leads across social media to prevent negative comments or inspire positive reviewers to write more about your company. The self-service portal is not only comprehensive but also well-organized, giving both the agents and the customers a chance to find the necessary information on their own in a timely manner.
Zoho vs Zendesk: Conclusion
After everything you've seen so far, you can probably conclude that both Zoho vs Zendesk help desk systems provide clients with quality customer service features. In our opinion, only the smallest details separate the two products, and we believe Zendesk has more details to offer here.
Integrations represent one of the biggest advantages of Zendesk. Consequently, this software offers a long list of external integrations (626 – to be precise), while Zoho doesn't go beyond its own CRM model with the total of 23 integrations.
Besides that, Zendesk is a multilingual knowledge base platform with services available in dozens of languages, while English remains the only option with Zoho. Zendesk also has a more powerful security system, which is particularly important for large-scale organizations which operate internationally.
Zendesk has a more comprehensive list of features. Unlike Zoho, it offers a two-factor authentication, user activity monitoring, routing options, real-time analytics, permission management, multiple format support, issue tracking, drag & drop interface, and many other useful options.
However, the fact remains that both of these help desk providers offer their clients a full set of reliable and customer-centric features, so it's up to you to take a free trial and see which one suits the needs of your organization more appropriately.