7 Ways to Find the Best PPC Keywords
Whether you plan to launch a new or optimize an existing PPC campaign, especially a search one, you need to do keyword research. Undoubtedly, a well-tailored keyword list is essential for your PPC success. The challenging thing about this is to find keywords that will lead to more conversions on a lower budget, instead of eating away at your money without any outcome. But it's not all bad! Here, we share 7 ways to help you discover profitable PPC keywords. With them, you will be able to maximize your campaign outcomes and eventual profit in no time. You can make use of these methods mentioned below that will help you find the best keywords for your Google and Microsoft ad campaign.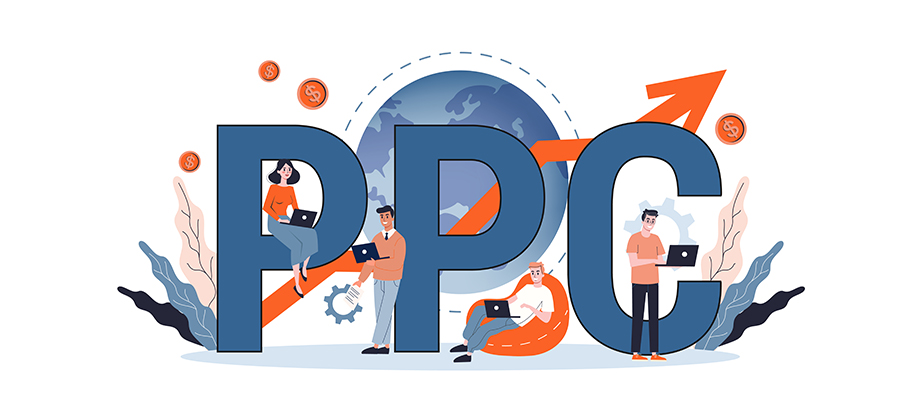 1. Use Automated PPC Keywords Planner Tools
The automated tools do the lion's share of the work for you. However, every tool has its pros and cons you should take into account. One of the most widely used free tools is Google Keyword Planner. Once you have accessed the Planner, you will see two cards: "Discover New Keywords" and "Get Search Volume and Forecasts."
As the name suggests, "Discover New Keywords" will help you find new keywords. You first need to enter products and services that are closely related to your business. Once done, a list of keywords that are related to your business will be displayed.
The "Get Search Volume and Forecasts" is an option you can choose if you already have a predefined list of keywords. All you need to do is type them in and check for their search volume. However, this option will not help you generate new keywords. This tool has been designed specifically for PPC advertisers, and you will find a lot of features, like keyword bidding, that will help you with your campaigns. However, Google Keyword Planner has its cons:
You can only collect keywords for no more than 10 basic phrases at once. This restriction makes Google Keyword Planner not so convenient when providing keyword research for a wide range of products or services.
If you entered your domain at the initial stage of keyword collecting, you will not be able to use the "Grouped ideas" option. Let's say you've collected 3,000 keywords, removed irrelevant ones from the list, and now you want to quickly break them up into groups – but the system doesn't allow you to do this. When you remove the domain name, the keyword count rises up to 3,500. As a result, you have to clean the keyword list once again.
Google Keyword Planner discovers fewer keywords than you can discover with third parties. For example, for the basic phrase "PPC agency," Google's tool suggests 691 keywords in the US. For the same phrase and geo-targeting, the PromoNavi's Keyword Planner gives you 983 phrase-match keywords, 813 related keywords, and 32 search suggestions.
Also, using PromoNavi's Keyword Planner, you aren't restricted to 10 basic phrases per search.
2. Scrape Google Search Autocompletes and Recent Searches
Google Search autocomplete is a search feature that predicts users' queries and provides suggestions based on the user's demographics.
Google autocomplete sometimes provides funny user habits and has accidentally spoiled many unreleased TV shows, movies, and video games. However, as PPC marketers, we suggest you take advantage of these suggestions and scrape Google autocomplete to find effective keywords. Another source of keywords is the "Related Searches" section at the bottom of Google's Search results page. Here you can find ideas for your keyword list expansion.
To automate the keyword scraping, you can make use of PromoNavi's Keyword Planner. Through the use of this tool, all related keywords and autocomplete suggestions will be conveniently shown to you in a table.
3. Keep an Eye on Google Trends
Google Trends is a free tool that will help you understand and know what topics are trending in people's minds around the world. You will find all types of events, ranging from local to global, and everything in between. Google Trends analyzes samples of search data to measure interest in various topics and presents it as a graph. Since 2004, the entirety of Google searches has been recorded and updated in real-time.
When it comes to keywords, browsing through the Trending Searches section may not be your best option. The nature of your business may be too specific to even land on the top 20 results. However, if you have not found any instant suggestions, you can head over to the Explore section filled with all the information related to search queries that have a higher search volume. Here, you can easily find related queries with rising popularity.
Google Trends is a powerful tool for marketers. With its help, you can identify seasonal trends, discover keyword ideas, find the best wording for high-frequency keywords, and much more. You can learn how to deal with this tool in the Ultimate Guide to Google Trends.
4. Go Through Google Ads Search Terms Report
When it comes to online advertising and PPC keywords, the Search Terms report often plays an essential role, as you will see the queries that are actually driving traffic to your site.
With the help of Google Ads Search Queries, you will be given helpful statistics, like which queries are working and which are not. Additionally, you can also set negatives from the Google Ads interface directly. Sadly, the Google Ads Search Terms report was cut off. This resulted in an up to a 60% decrease in search term visibility. However, it is still considered a viable source for keywords, and we recommend using it.
5. Visit Google Search Console
When you link the Google Search Console to your Google Ads account, you will be able to glance through organic and paid keywords. This data will be on the keyword and search query levels, and helps you to see the organic vs. paid terms' incremental value. This is excellent news for Google Ads campaigns and paid advertisers. This new spin will allow you to see organic and new opportunities, including paid ones.
In the simple report, you will see whether your ads perform well organically or whether you may have to pause the keywords or drop your bids if you are on a tight budget. If you are an advertiser that provides both SEO and PPC to the same customers, this is quite a positive move.
6. Spy on Your Competitors to Uncover Missing Keywords
Competitor analysis is a valuable marketing approach both for understanding how advertisers perform in your niche and for discovering profitable insights such as missing keywords. By saying missing keywords, we mean keywords that your competitors are targeting, but you are not. Keywords that both you and your competitors are targeting are called shared. To find missing keywords, you don't need to iterate them manually over Google Search. With PromoNavi's Competitor Analysis tool, the "keyword gaps" are available to you in one click. How it works:
Enter your domain name and your competitors' URLs; you can use domain suggestions as well. Run an analysis.
Scroll down the page to the "Paid Keywords" section. On the "Missing" tab, you can see all the keywords that your competitors have been targeting for the last 30 days.
Use filters to pick the relevant keywords for your campaigns. We recommend you try an interactive "Keywords Overlap" chart. Hover the cursor over the overlapping part and click it to filter out shared keywords. If you want to see unique keywords for a certain domain, click the non-overlapping part of the appropriate circle.
Download keywords in a CSV file or add them to your campaigns directly from the PromoNavi interface.
7. Expand Your PPC Keywords List with Effective Suggestions
There are third-party apps and sites that can help you with keywords for Google Ad campaigns. One of these includes PromoNavi; more specifically, PromoNavi's "Expand Your Keywords List" tool.

Link your Google Ads account to PromoNavi and go to the "Campaign Optimization" section to find the keyword recommendation feature. This particular tool will help you look for new and useful keywords to add to your Google Ads campaign. Thanks to this feature, your ads will receive more clicks, and your campaign will be more effective.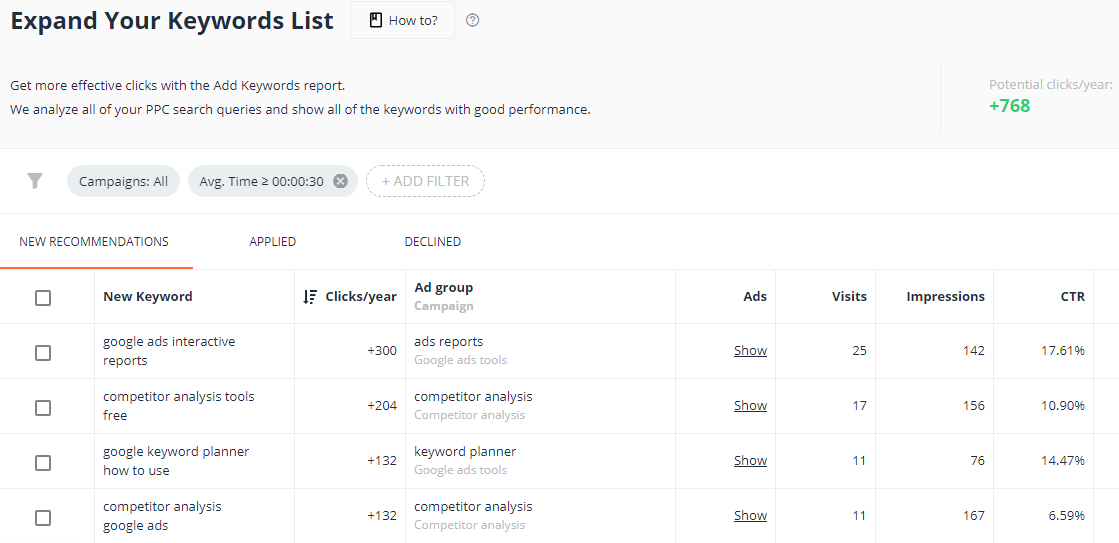 The table of suggested keywords, with potential clicks increase and other useful metrics. Both beginners and professionals can use this tool. Additionally, all of the data from Google Analytics and Google Ads are combined, which allows you to make informed decisions while choosing particular keywords from a variety of options.
PPC Keywords – Final Thoughts
Overall, keywords play an essential role when it comes to PPC campaigns. Through proper utilization, you can even reach future potential clients and customers. Understanding the data you're working with can better help inform your future marketing efforts while maximizing the efficacy of current campaigns. With the help of the methods mentioned above, you'll get your ads up and running more effectively with ease.