Using Instagram for Business: How to Leverage Curated Content
Marketing has come a really long way. In days long gone, making bank used to be about salesmen hawking their wares on street corners and inviting passersby to enter their shops. But it's now 2019 and this just isn't the case anymore. Big brands and small-time business folks alike are no longer standing outside enticing would-be customers to enter their shops. After migrating all their efforts online, they're now directing people to their Instagram accounts. It's a smart move. Using Instagram for Business has powerful marketing tools to help any entrepreneur spread the word about their brands and turn 'likes' into profit.
But even the nature of Instagram as a marketing tool has changed. Previously, celebrity influencers ruled the land. The brands that they supported would pay big bucks for their endorsements. However, the prestige of this role has waned in recent years.
Using Instagram for Business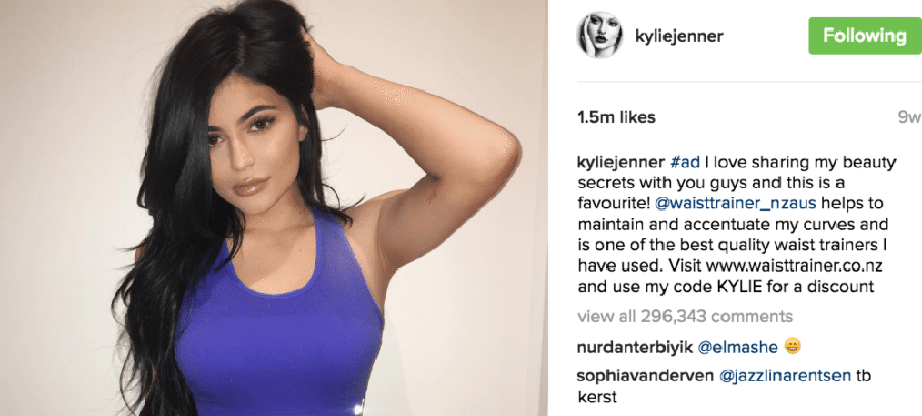 Using Instagram for Business became popular over the years. So did the relationship between influencers and their followers. Celebrity influencer engagement rates were dropping significantly as their follower counts grew. There was a growing disconnect. Followers became wary of products endorsed by popular influencers. Especially when what they saw were advertisements disguised as Instagram posts. It was becoming obvious that these posts weren't the recommendations followers had come to love, but just paid sponsorships. So now it's back to basics with the most reliable type of marketing – word of mouth. But how exactly? Can word-of-mouth buzz on social media be as simple as sharing other people's posts?
The involvement of many major bloggers also suffers because a couple of years ago the bots were popular. For a little money, people bought themselves hundreds and thousands of dead accounts to attract advertisers. And now, with new Instagram algorithms, this dead audience is not active and spoils the statistics. One of the current ways to increase reach is automatic promotion using the Zen-Promo service.
Judging by content strategies applied by some of the most successful players of Instagram for Business, the answer is yes. Before handing over your marketing firepower to fans and followers, here's everything you need to know about user-generated content. You will find out why a user-generated marketing strategy is definitely worth tapping into.
What is User-Generated Content?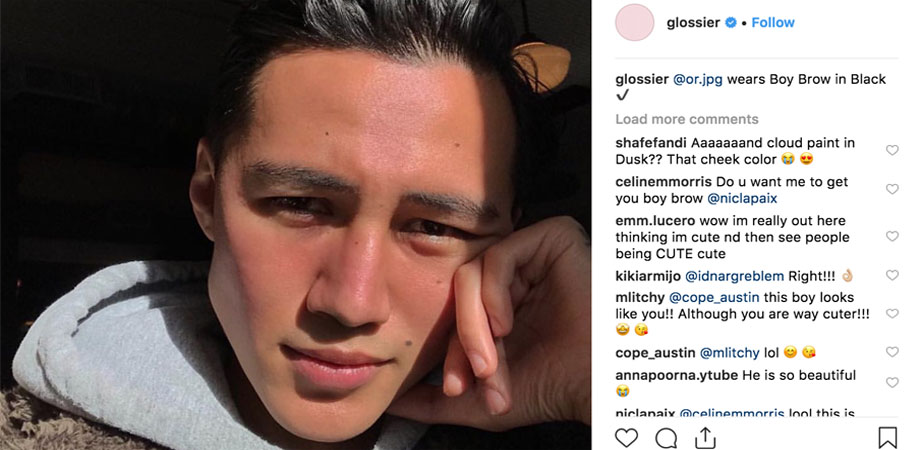 User-generated content (UGC) is any type of content created about a brand or a product by its users. For marketers using Instagram to promote their business, this means getting other people to share posts. They might include photos of their brand products, have fans comment on their posts, or ask followers to upload photos with your branded hashtag. It may also consist of Instagram Stories and videos. They include unboxing videos, short tutorials, or simple displays of new brand products. All were created or posted by users and fans of your brand.
When it comes to utilizing UGC for Instagram and business marketing, Glossier is on top of the game. Their frequent fan features on their page make them well-followed, well-purchased, and well-loved by make-up and skincare enthusiasts around the world.
This type of content has become an important part of the digital marketing mix. It is particularly prevalent on Instagram. There brands can easily republish user-generated content from users' accounts.
Instasize is a photo-editing app that boasts of filters and tools curated and designed to make images pop.
It knows to put its money where its mouth is by featuring real Instagram followers and their real Instagram posts edited using the app.
Today, businesses from virtually every category harness the power of customer content. In fact, approximately 80% of digital marketers look to UGC for authentic and free content. Those use Instagram to promote their business. Yet they think this is just a temporary fad. So they may be setting themselves up for failure as their views seem to stray far from expert predictions. According to the International Data Corporation, more than 50% of commercial content will be created outside of marketing departments by 2020.
A Flash in the Pan, or a Permanent Shift?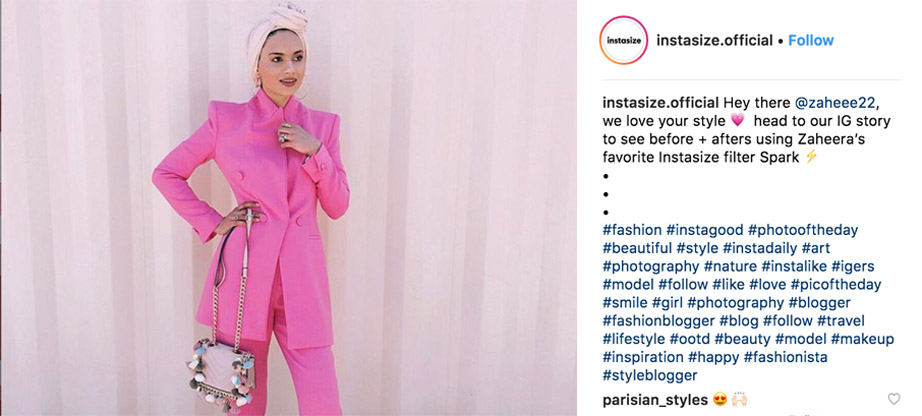 Not surprisingly, the popularity of user-generated content coincides with a generational shift in attitudes towards traditional advertising. Just recently, millennials surpassed boomers as the driving force in the economy. Brands using Instagram for business should understand that marketing requires new approaches and tactics to remain relevant.
Equipped with strong earning power and a people-over-brand mentality, millennials have emerged as champions for consumer-generated content. With 76% of individuals surveyed relying on input from others before making purchases. Consumer-generated content will definitely have a lasting impact on shopping behavior in the years to come.
Pros of UGC Marketing on Using Instagram for Business
The user-generated content strategy presents a powerful answer to modern day marketing challenges. The use of this kind of content helps address three scarce resources that digital advertisers fight over: time, attention, and trust. (Learn more about gaining your target market's trust though marketing psychology of a consumer.)
According to statistics, online marketers spend 62% of their time delivering quality content every month. Creating content is an integral part of every marketing strategy. It can be daunting for those who don't have enough resources and expertise on a large scale. Instead of grappling with producing original creations, you can encourage users to help create valuable content for you.
Apart from speeding up content production, curating creative content from your community is a cost-effective strategy that even smaller businesses can utilize without depleting their marketing budgets. In the age of digital information overload, Instagram users are exposed to an abundance of advertising noise. However, the impact of conventional advertising is simultaneously on the decline.
It isn't easy to make accounting tech feel warm. Though Xero's brilliant use of UGC makes both its Instagram page and brand identity feel human and approachable.
In this constant stream of marketing-speak, user-generated content stands out and gets noticed. Reposting user content helps to engage with followers on a personal level. It lets them see the personality of your brand on top of cutting through the information clutter.
According to a 2017 study by Internet Trends, UGC has up to 6.9 times higher engagement compared to a regular piece of Instagram content. With the advent of the digital age, many customers readily explored the web. They now look for products and services and consult online reviews before making a purchase.
User-generated content is a result of this word-of-mouth culture that values unofficial endorsements. Buried within online testimonials and recommendations are the most trusted and relevant brand experiences people seek. It is these genuine peer reviews that brands can't manufacture. Therefore, associating this type of content directly with your brand invites millennials into a conversation while strengthening the relationship with your consumers.
Learning From the Best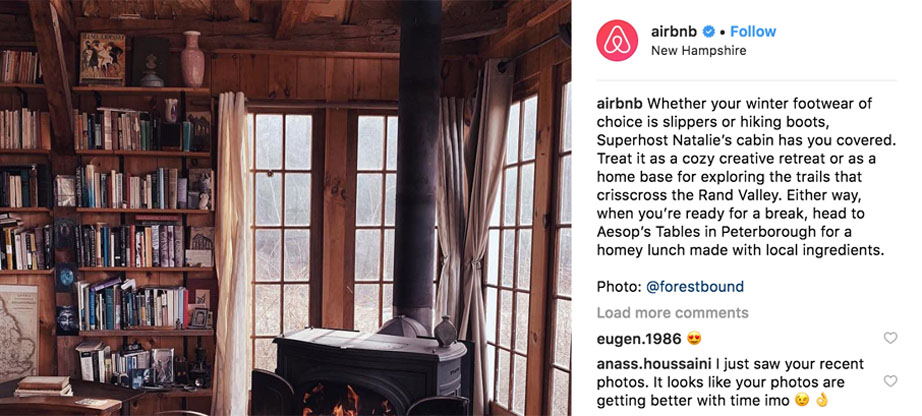 A number of brands have nailed Instagram for business. But only a few come close to Airbnb in being notoriously good at leveraging UGC. The accommodation provider's Instagram page consistently receives a high level of engagement. That's all thanks to the brand's penchant for republishing and reposting user-created content. Take a quick visit around Airbnb on Instagram. You'll find that most of the posted images are not agency-owned. They are sourced from other users and followers.
Airbnb is able to capture and share the unique depth and breadth of experiences a traveler can gain while using the company's services. The brand's Instagram and business marketing know-how shows through their strategy. It also takes advantage of a few organic staple hashtags, such as #LiveThere or #NotYetTrending to unlock local insights and tap into obscure and uncharted destinations.
Their branded hashtag #Airbnb has been featured in almost 2.5 million Instagram photos. It only seems to be gaining in popularity. An impressive feat for any brand currently using Instagram for business. This only shows that when done right, user-generated content helps brands strengthen customer trust, winning their wallet share and loyalty.
Interested in starting a user-generated content strategy? Read on to learn the best practices for properly attaining user-generated content.
Provide Specific Guideposts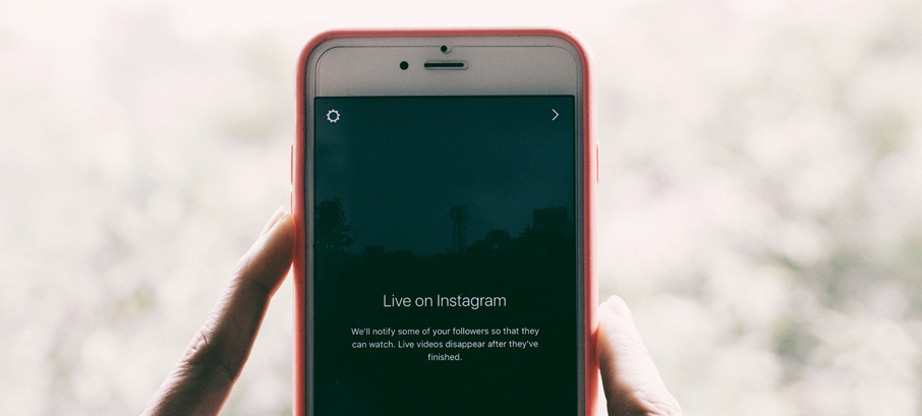 When it comes to coming up with a branded hashtag campaign? It's always necessary to have a definite sense of direction with regard to what you want your users to create. It's true that the strength of user-generated content is using other people's current visual story and language. At the end of the day, the message shared should be yours. Give your followers room to play around and have fun. However, don't forget to draw a line – if people enjoy your UGC but forget to connect it with your brand, all your efforts will be wasted.
At the same time, don't make your customers jump through hoops to participate. Remember that a video is infinitely harder to make than a photo. Even a photo takes time. So it's best to keep your requested content simple to create.
Ask for Permission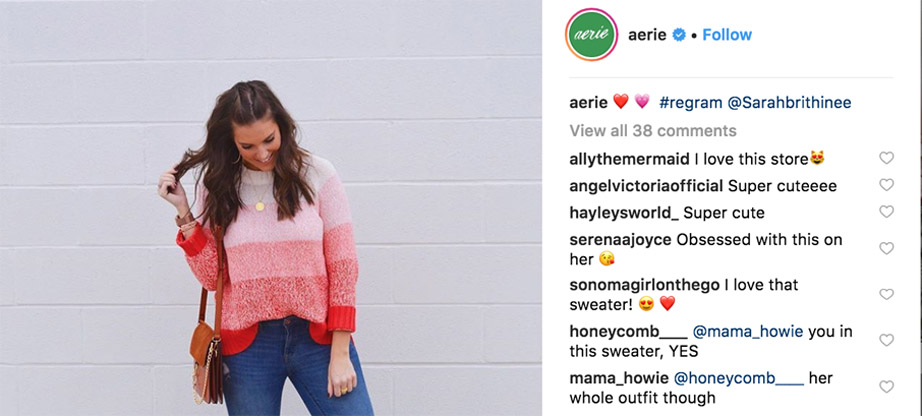 Once you've chosen a content piece that best highlights the experience or the lifestyle around your brand, simply ask the author for permission to use their content. Send them a DM and offer some of your goods and services in exchange for their post. This the polite thing to do. It also helps protect your business from copyright infringement and potential legal hassle.
What you give, you get back tenfold. The added value here is that influencers often share news of a brand reposting their content, and also become more inclined to keep posting about your products. This helps spread brand awareness to new audiences and reach them in a more effective, organic way close to word-of-mouth.
As a brand, Aerie aims to "empower all women to love their real selves." Besides using Instagram as a marketing tool, they've turned the social media space into a means to uphold body positivity.
Put your Best Foot Forward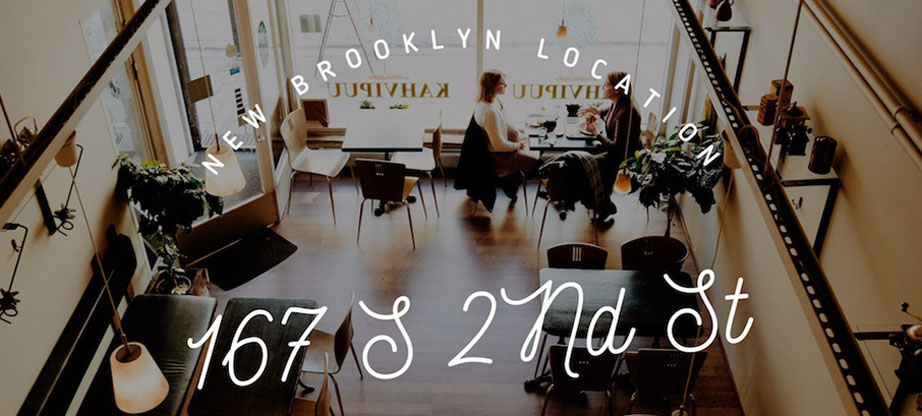 With a plethora of user-generated content at your fingertips, it's easy to get too excited and start reposting. Branding know-how comes in handy here. Particularly when it comes to selecting which user-generated content to use. Only repurpose what taps into your brand's strategy and is aligned with your visual look and feel.
If your page has a specific brand visual theme, feel free to make minor tweaks to the UGC before posting. You can use all-in-one tools like Jarvee to harness the best visual stories and report them to your official accounts. Photo-editing apps like Instasize can also help you customize your content. Use Text Styles to overlay information and copy points while adjusting colors and tones. Make sure the images you choose fit your brand communications.
Again, if you need some inspiration, look at Airbnb's 'Live There' campaign. Each piece of content they feature is visually stunning and immersive. But the images are not just a feast for the eyes. They are also a display of well-calculated marketing ingenuity.
Give Credit to Your Followers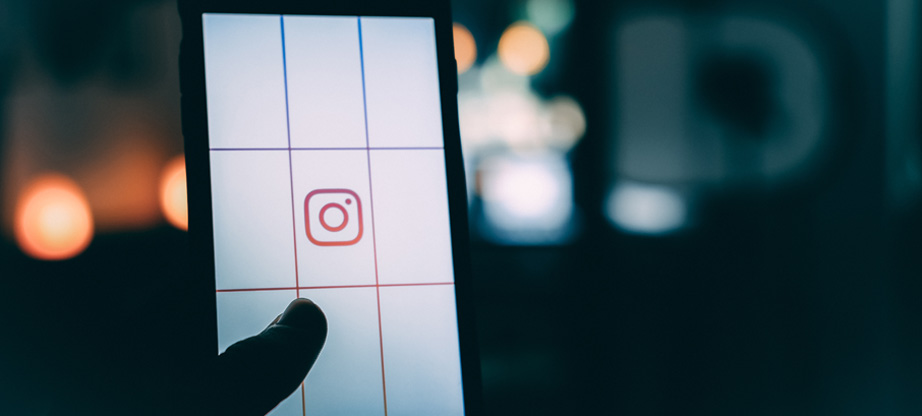 This should go without saying: give proper credit when using your followers' photos. This is a proper photo-sharing etiquette. It's also a way of saying thank you. People generally love shout-outs and seeing their content reposted by their favorite brands. So calling out dedicated users and thanking them through your official Instagram are bound to get them like you even more.
Promoting your online community always requires demonstrating an active voice, loud and clear. This strategy is a win-win and creates more value for your brand.
Whenever you improve products or upgrade services based on consumer input, spread the word. Establishing a two-way conversation is an effective way to build loyalty among current fans. It also lets newcomers know that you care about their experiences with your brand.
Recapitulating
Crafting a user-generated marketing strategy can be an extremely powerful asset in your digital toolkit. Time-effective, memorable, and favored among digital natives. UGC is a proven brand-builder. It will help you bolster your marketing strategy and stay on top of the shifting marketing landscape.