Sports Website Templates Serving Your Needs Online
Making websites aimed at your favorite sport activity can be a real fun. Whether you're an advanced developer or a lowly sport fan you'll enjoy the process of designing and creating a website for active people. Now we'd like to talk about sports website templates that can help you on this way. Don't think that it's too trivial to use generally accessible themes! When chosen right they can save your time and money as well as benefit you in future.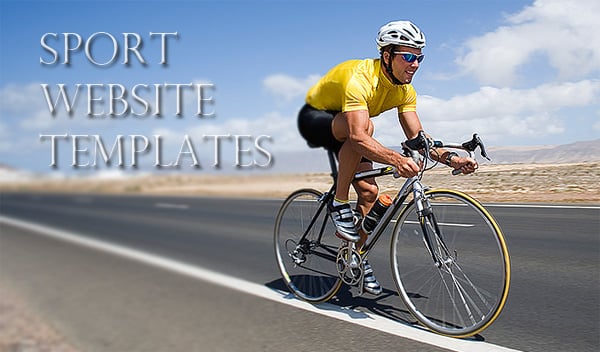 If you have a hosting and a domain name it will simplify your tasks. All you need to do to create a sports website is to adjust theme's settings, to fill it with unique content and to publish the ready-made website. There are several trusted domain name sellers and hosting providers, so you'll easily find a suitable plan for yourself.
Here on DesignWbKit we have a few articles that will help you choose the right hosting provider:
Before editing a website template make sure that it's compatible with your hosting account (PHP, Zend Optimizer, etc.). All thee features are usually mentioned in template's descriptions so be attentive and check everything before making a purchase.
Let's define some significant design elements and features that are inherent in sport web design. All these things work great and increase web pages usability.
Design Characteristics of Prospective Sport Website Templates
Splash page. It's just a kind of fun to have a Splash page. However, it can be a part of the corporate style or help differentiate site visitors by language, location, etc..
Background images. It's well proved that photo backgrounds draw a lot of attention, so if you have an interesting picture taken by a professional photographer you may place it at the Home page's background or within the entire website.
Content sliders (photo + text). Image sliders are still considered to be great attention grabbers. However, when combined with catchy slogans or news announcements they can reach out even more people.
A gray colored design. Gray tones are especially popular among sport club owners.You may follow this trend or try to create something new.
Use clean colors for active sport activity sites and pastel palettes for feminine oriented sites;
Nature elements in open air sport website templates are welcomed and even desired. Featuring original atmosphere of the sport activity will help visitors better understand and appreciate it.
Features of Sport Website Templates
Clear layout. Try to choose designs with standardize pages structure, so that any curves and broken columns can harm them.
Simple navigation. Sport fan are not digitally savvy as advanced developers and they won't be impressed by a super innovative menu of your site. Make all pages be easily accessible and searchable.
Place promos and discounts sections above the fold of the landing page. Very often an available discount is a key factor to prefer your club to some other in the neighborhood.
News sections. Here readers are expecting to see recent news about players, teams and leagues, announcements of the upcoming events and the latest blog posts. If placing the news area at the Home page you'll favor sport fans staying up to date.
Contact form with a real time support is especially important for fitness clubs. Usually people want to get a quick answer to their question, so don't make them wait for too long. The competition is high and it's easy to find a more prompt sport services provider.
CMS (WordPress, MotoCMS, Joomla). An admin panel will be especially helpful if you have no knowledge of programming languages.
Let's look at sport website designs that can be applied effectively to different types of sport activities.