How to Create a Multi-Vendor Marketplace Solution in 7 Steps
The success of aggregator sites like Airbnb, Amazon, and several others is right before your eyes. You know that the future belongs to these fantastic sites that bring together the buyers and sellers on a single platform to close peer-to-peer e-commerce deals. Undoubtedly, the business model reflects that this game is worth your candle if you believe that another multiple vendor marketplace won't damage. The recurrent pandemic-induced lockdowns may be adding fuel to the fire. But, we believe that the online market space will not stop growing if you seek assistance from marketplace software and create your own website. Thus, in this blog, we will share the top 7 steps you need to follow to create a multi-vendor marketplace solution in no time.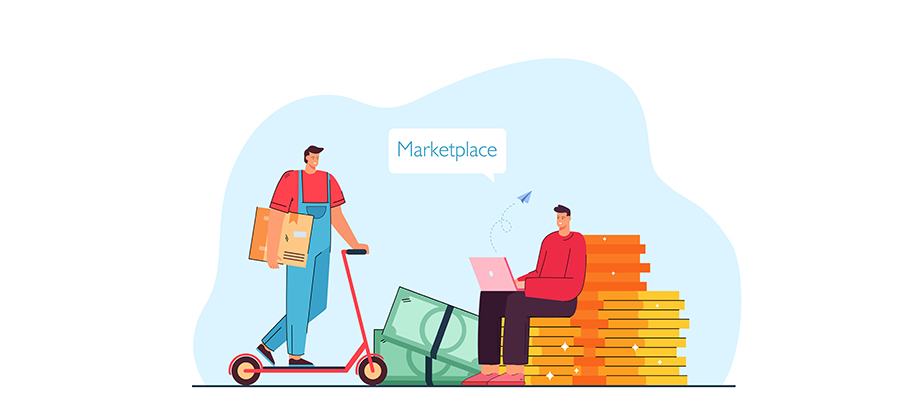 Multi-Vendor Marketplace Solution – Analyze Competitors and Niche
So, have you decided to curate your marketplace? To do that, you have to select a developer, technology stack, business model, name, and niche. In order to do it perfectly, you must invest time researching the market technologies, competitors, target audience, trends, and the like. The first step is determining the potential users' value proposition- the option of what to trade. Select the specific niche and expand the listing as you get famous. To choose a niche product to sell, analyze your competitors. For instance, make a highly specialized niche where you make a website that sells men's clothing. Narrow it, and your website will comprise men's suits; the more you narrow, the website will comprise boys' suits.
Name and the Site's Domain Name
This step is essential because the name and domain name of the site is much like a sign that you would place at your store's entrance. The sign will meet users and let them know your sales products alongside the company's mission and how you promote the service or product. You can invent new names words pr simply merge two words or more to form a new name. We recommend not counting too much on super creativity because that can harm the business as strange names scare the users away and fail to explain what the site does and what kind of website it is.
Multi-Vendor Marketplace Solution – Design, Functions, and Concept
The website concept means general points where you incorporate functions like real-time chats, search, filters, profiles, user accounts, registration, login, reviews, and ratings. You can integrate your website with social networks and add additional functions for buyers. We mean gift certificates, wish lists, product recommendations, comparison, and pop-up notifications by functions. Hire experts for the UX/UI site design to look memorable and attractive with a specialized niche.
Methods of Website Promotion
Remember that you are not the owner of a traditional store, where you are the only seller. By multi-vendor platforms, we mean your platform must focus on users of two types: buyers and sellers. That means you will have to solve the egg and chicken dilemma- attract buyers without the sellers and attract sellers without the buyers. Hunt for sellers, and after finding them, pay heed to them. Offer bonuses, promotions, and discounts among the first sellers. Later, search for the buyers using social networks and Google.
Development Approaches
One of the three development approaches is developing from scratch. This one requires lots of effort, time, and money but permits you to understand unique ideas. The second thing you can do is create a multi-vendor platform by using any open-source software. The result may not be outstanding, but the cost of money and time will be significantly reduced.
The third approach can be using the Saas solution. It implies utilizing software platforms to launch a simple trading platform quickly. This approach requires is similar to creating a social media account. But, the process is quick and straightforward as you do not have to stress about the technical aspect.
Multi-Vendor Marketplace Solution – Budget and Planning
To implement any project successfully, you need to plan as that regulates the development process and permits you to create an estimated budget for the project. When you plan, make a budget; design wireframes; develop specifications; and write a detailed business plan which has risk analysis, marketing strategies, and all the like.
MVP, Prototype, and Development
The prototype is a simplified model or sketch of the marketplace implemented digitally or on paper. It will help you understand how the multi-vendor platform will look like in the end. MVP or the minimum viable product's idea is to transfer products to your target audience in the nick of time to test them for fundamental processes. This testing will happen for less money, but you will have reviews from users. Use those reviews to make significant improvements on site- right from adding design changes and new features.
After you start the project, you have to curate a feedback system. This step will fall under website development; Use questionnaires, Google Analytics, or A/ B testing for this. Based on these data, you can analyze user actions and experience using the feedback and improve your multi-vendor marketplace.
Create a Multi-Vendor Marketplace Solution – Conclusion
Now that you are well informed on creating a multi-vendor marketplace, get started with building your own. Do the research, plan out USP, find multiple vendors on board, and the target market to grow exponentially.