Car Website Templates – Points to Look For
When starting an online vehicle business you can't be sure it will be profitable. All autos-related markets are highly competitive and you should be ready to work hard to succeed there.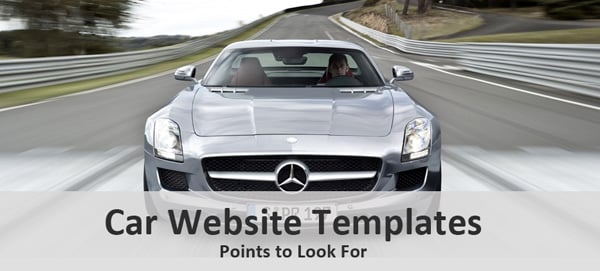 What if you reduce the amount of time, money and efforts and therefore save more resources for real business? It becomes feasible if you choose the best cars website templates built with a reliable platform. As an example, you can check out the CMS comparison table that features 3 popular content management systems. Whatever you choose you still need to follow several key tips and now we will share them with you.
Car Website Templates
User-friendly Platform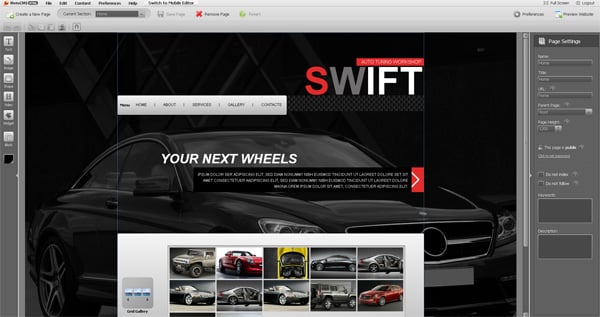 When you start building a site using a car dealer website builder, you should understand that it won't be that easy whether it's your first experience or not. All rent a car website templates are special and there is no single option to fit everyone.
In general, a site coded from scratch will be more expensive than a template-based one. It's up to you to decide what kind of design you really need but weigh out the pros and cons carefully.
There is a thing that can benefit you anyway – it's a CMS (content management system). This tool will allow you to edit site content without the developer's assistance. Moreover, it's always rather easy to add new features when using CMS. It's an effective way to save money in the future and to get a full control of your site.
Photo Gallery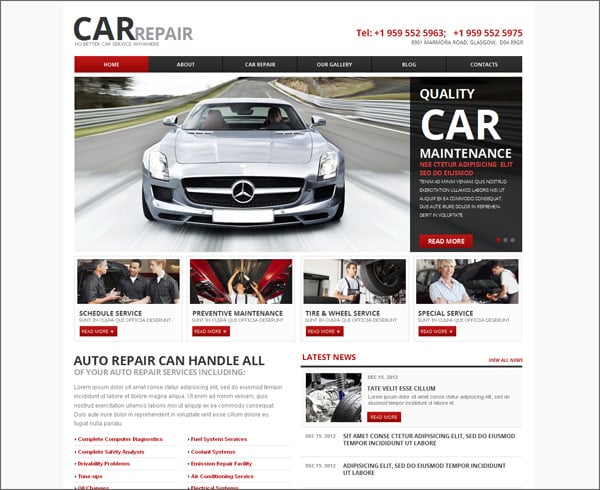 An ability to showcase car photos is a significant value of car website templates. The importance of this statement can hardly be overestimated. Site visitors will definitely look through all the entries you have before making a choice. So make sure your photo gallery brings a convenient viewing experience. Use image titles, descriptions and thumbnails to make the gallery as informative as possible.
There are a lot of questions about the use of image sliders on Homepages. Maybe you've even read that this is an unnecessary thing that impacts website load time and therefore it is not good. To some extent, it is really so, but it will take just a second of site visitors time to wait for the site to load. A momentary delay will hardly influence a client who really needs help.
A Homepage image slider that is visible above the fold is a strong trigger for people to look for more on your site. This is a small step for users engagement and converting them into regular readers or clients. We can't ignore it and that's why a good-looking image slider is a must-have thing for car websites. You know, auto fans can't stand aside when they see a cool shiny car, so the more professional pics you have the more chances that your site visitors will be satisfied.
Simple Website Structure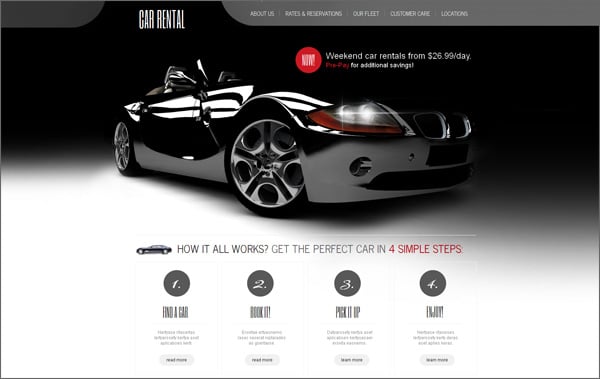 People who're interested in cars are not necessarily professional web surfers. More likely, they are just strangers who want to buy/rent an auto or just want to read about it. They won't understand your super innovative navigation where pages are opened somehow unexpectedly and illogically.
Have you ever thought about why people like cars with automatic transmission? They find it more convenient to drive an automatic transmission than a manual one. Also, it requires fewer skills, concentration and in general it's easier (especially for inexperienced drivers). An automatic transmission is like simple website navigation – it's intuitive and understandable for different categories of users.
Thus you'd better choose one of auto parts website templates with a simple layout and convenient navigation with one sub-menu level. It will allow you to clearly display information and make it readable/viewable.
Mobile-friendly Design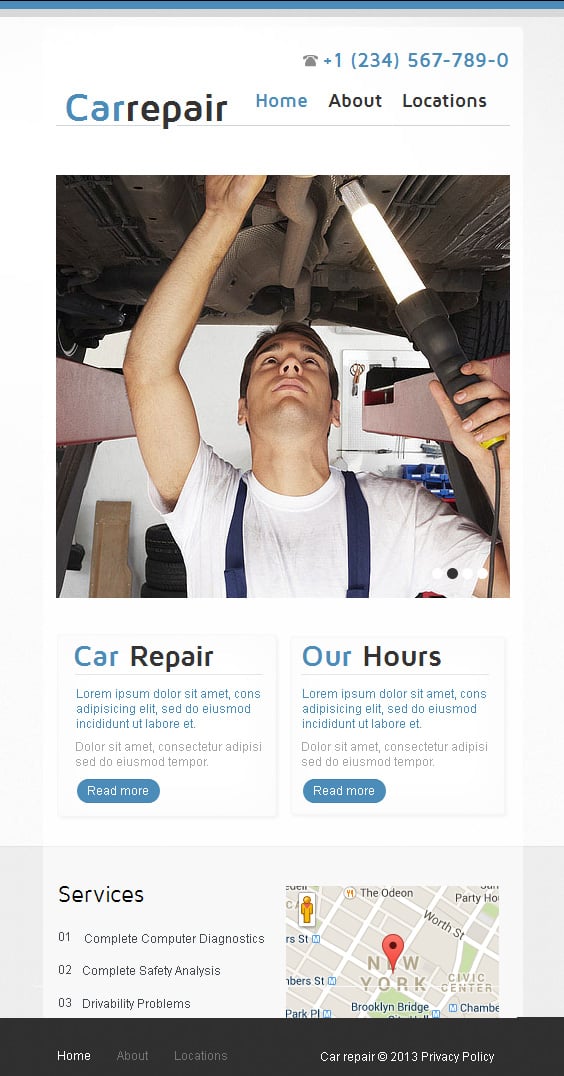 It happens that people need car services when they are out of town or somewhere else without a computer. They have to use smartphones or tablets. How will they contact you if your site is not optimized for mobile devices? You should test your website on your own gadgets to see what your potential client observe.
You may choose a mobile-friendly or responsive web design. There are many peculiarities of both of these types that you may take into consideration. However, everything depends on your budget. Responsive websites are considered to be better for search but they are also quite expensive to produce. Having an additional mobile website is a good solution when you need some unique experience for users of mobile devices.
MotoCMS (the provider of car website template we use to illustrate this article) gives you mobile-friendly versions of every theme. They are based on the content management system and can be easily edited by site owners. The system looks reliable and convenient, so most likely you'll be happy with it.
Clear Contacts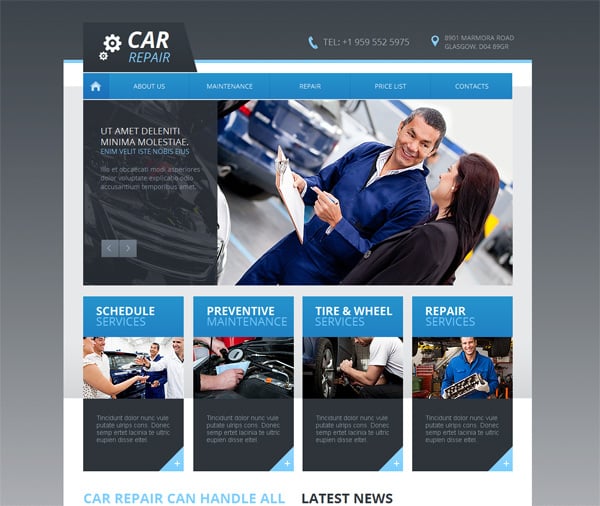 What's the most important element of a car website? It's the contacts info.
When choosing a car website template powered by the auto dealer website builder make sure that it's easy to place a phone number in a plain view. It's even better to use a 'Call Us' button to help mobile phone users contact you quickly and easily. For car repair and auto rental businesses it may be the most demanded information.
Website's header or footer are the common places for this type of information. Web surfers are used to finding phone numbers and emails within these areas, so it will be natural and very effective to do the same on the website.
That's all for today! We really hope our tips will help you create better websites. To inspire you and to show you more successful car website templates we feature more designs from MotoCMS.