7 Tips On Making Your Own Zoom Background
Zoom backgrounds have exploded in popularity in recent months, but rather than sticking to the default set of options that are included with the software as standard, you can go one step further and create your own custom background from scratch. Here are a whole host of useful tips to help you through this process, covering everything from where to find great templates for virtual backgrounds to how to use downloaded fonts.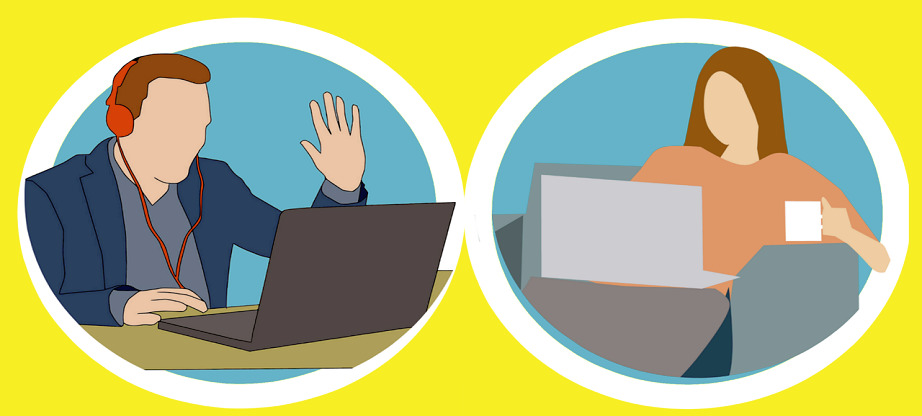 Find a Professional-Looking Background as a Starting Point
While you can go ahead and requisition one of your photos to use as a virtual background in Zoom, the likelihood of your snaps matching the quality of professionally lit, composed and shot pictures are pretty low. This is where a service like Hello Backgrounds comes into its own. You can find hundreds of high-quality background images and colors for video conferencing that have been created by the pros specifically for use with Zoom.
Of course, at this point, you might be happy to call it a day and just use one of these backgrounds, without worrying about how to use downloaded fonts or any other editing software to add your own twist. This is perfectly fine as a standpoint and probably makes sense if you are eager to appear as professional as possible in your next Zoom meeting. But if you want to go further when making your own Zoom background, there are tons of other tricks to try.
Harness Intuitive Editing Software
If you are already accustomed to using popular, fully-featured image editing solutions like Adobe's Photoshop, then you will likely need no more guidance on making your own Zoom background from a software perspective. However, newcomers will likely need a bit more guidance and could well be intimidated by the more complex platforms out there.
Luckily there are a lot of image editing software services that are eminently accessible, no matter your experience levels. Canva is a good example that has risen to prominence in recent years, especially since it is focused around social media image editing and comes with lots of free resources alongside its paid-for options. Pixlr is another service for creating and editing images that runs entirely within your web browser. It offers many of the capabilities of its premium counterparts, although is of course limited because of the context in which it operates. Knowing how to use downloaded fonts will still see you in good stead when using browser-powered image editing software as well as other free apps.
Get the Aspect Ratio & Resolution Right
Zoom may not impose any kind of restrictions on the size or shape of the images you can use as a background, but unless the one you choose matches the aspect ratio that your webcam is set to, you will get black bars at the top or sides of your video window.
While webcams can vary in terms of their aspect ratio, the vast majority operate in a 16:9 setup, by dint of using popular pixel counts like 720p and 1080p. If your webcam has a 4:3 mode, creating the classic square aspect ratio, you will obviously want to take this into account. The simplest way to ensure that your aspect ratio is right when making your own Zoom background is to use your image editing software of choice to crop it to fit. For a 16:9 webcam, a 1920×1080 background will work best. For 4:3, choose 1024×768.
Find out How to Use Downloaded Fonts
There is no reason that your bespoke Zoom background has to only feature a photographed scene and nothing else; indeed you might need to be able to get across information to other participants and viewers using text without harnessing the screen-sharing feature. This is where knowing how to use downloaded fonts can be a boon.
There is a whole heap of funky font options that can turn even the work of complete amateurs into something that looks like it was cooked up by graphic design experts. It is a good idea to use a reputable service like Google Fonts to achieve this if you have a relatively limited amount of time to dedicate to editing your very own Zoom background. Installation is straightforward and you can have a plethora of impressive typography options on your PC in a matter of moments, meaning that learning how to use downloaded fonts really is a breeze.
Of course, there is an art to custom font use, and you need to resist the temptation to go with a design that is too outlandish if your meeting calls for information to be delivered in a clear, concise way. For example, perhaps all you need is to add your social media information to your background so that others can easily work out how to find you on the various other platforms you occupy. If you know that your meeting is going to be viewed more widely, broadcast in some way, or recorded for publication elsewhere, this kind of detail can make all the difference.
Consider Creating Something Minimalistic
The temptation to go all-out with a custom Zoom background which is packed with detail features a whole host of eye-catching elements or is even a full-blown video that is intended to draw the eye of the viewer to it whenever possible will be strong. However, this is certainly a scenario in which the old adage of 'less is more' can ring true time and again.
With a custom Zoom background you do not even need to use a photograph, but can instead opt for a plain color, a series of geometric shapes or a background composed around the branding of the organization you represent.
This of course ties into the decisions you make once you know how to use downloaded fonts because overburdening the aesthetics of your custom virtual background will be just as much of a problem as under-utilizing the resources at your disposal.
Get a Second Opinion
With all of this in mind, it is certainly sensible to show your efforts to someone else when making your own Zoom background before you use it for the first time. The input of an outsider will be enough to iron out any wrinkles, point out any problems and set you on the right track to success during every Zoom meeting that you join from here on out.
Making Your Own Zoom Background – Keep on Creating
Now that you know what is involved in making your own Zoom background, you should be in a perfect position not only to start cooking up a creation that you can use for a particularly important virtual get-together but to continue leveraging these skills going forwards. Custom Zoom backgrounds can be great for every occasion, from pitching ideas in a professional context to keeping in touch with friends and family in other parts of the world. Let your creativity fly free and you will soon become an expert in making your own Zoom background.