How to Carve a Halloween Pumpkin: Simple Ways and Stunning Examples of Jack o' lantern Artworks
As Halloween is on the way, each of us starts preparing for this holly and jolly holiday. Every year new frightful costumes, accessories and intricate customs have been appeared, but a carved pumpkin remains the main attribute of the feast. This freaky creation can be of different shapes and colors, with various creative prints and signs, everything depends only on our daft imagination. Funny and scary Jack o'lanterns make our holiday brighter and really unforgettable. If you are tired of a classic crazy smile on pumpkin's face, our post is just what you need on Halloween eve.
Specially for this holiday, we've selected the roundup of humorous and striking Halloween pumpkins. In our set you'll find Jack o' lanterns with social symbolics and mysterious cartoon styled pumpkins. Moreover, below the showcase we present the detailed instruction how to carve your own impressive Halloween symbol. 🙂
Apple-logo pumpkin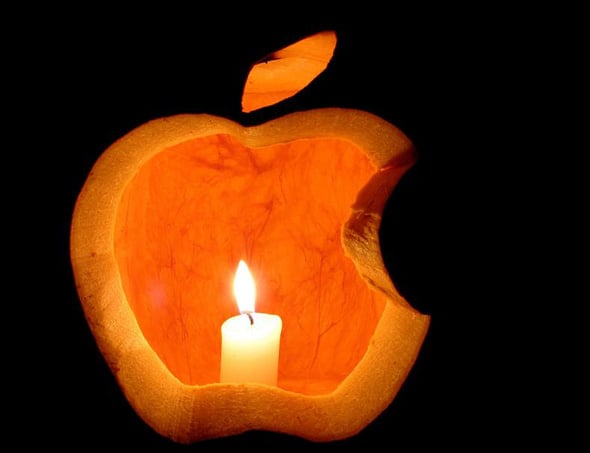 Powerful and enigmatic pumpkin shaped as an Apple logotype. It will be one of the most memorable Halloween creations and one more way to give tribute to Steve Jobs.

WordPress Halloween pumpkin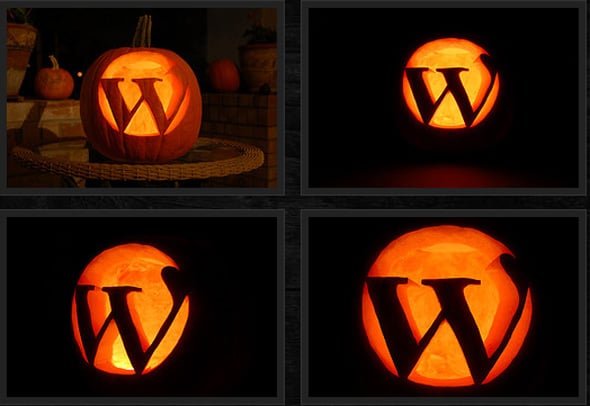 Halloween orange WordPress pumpkin on a dark background looks like a secret door handle into a mystic ghost's world. If such a cool creation will be shown on your window or threshold your neighbours at a glance understood that you are a WordPress fan.
Twitter Jack o' lantern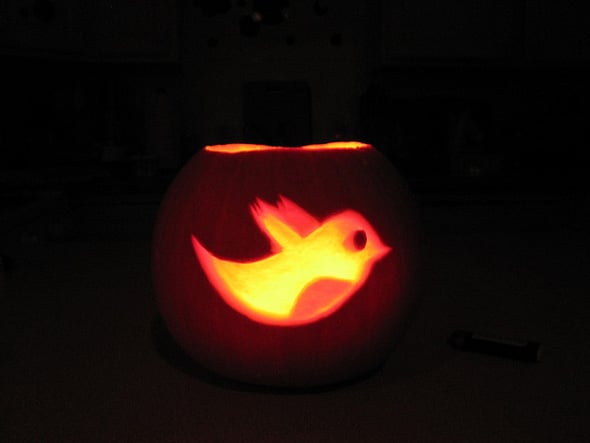 What Halloween party can be without Twitter? We need it to connect with friends and also to surprise them when they visit us and see this unusual social pumpkin 🙂 It'll be cool if every member of the company brings his own Halloween craft-work to make a contest for the best Twitter Jack o'lantern.
Angry bird pumpkin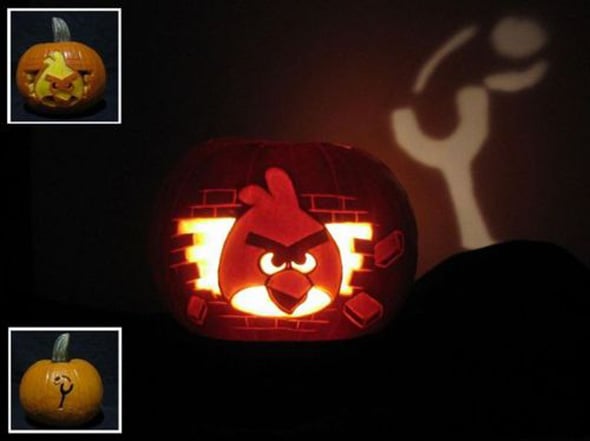 Everybody likes Angry birds, so everybody will like Jack o' lantern with the carved birdie. Put the candle into a pumpkin and make it alive 🙂
Google Chrome pumpkin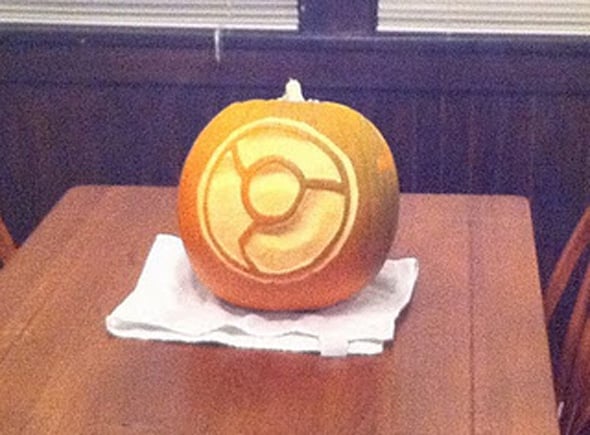 The Google Chrome logo carved on the bright-orange pumpkin. Click to the picture which leads to the steps of making the Halloween attribute.
Emoticon geeky-pumpkin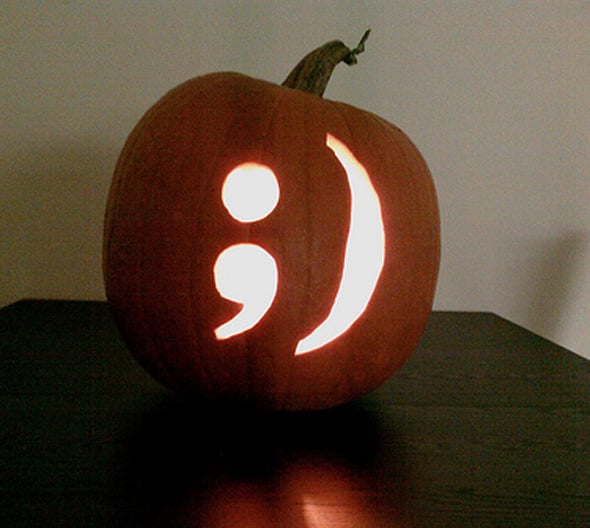 Source: Stylisheve
Such emoticon Halloween decoration will be a centrepiece of your party. It won't cost you much money,all you need is only patience and diligence.
Halloween Mario pumpkin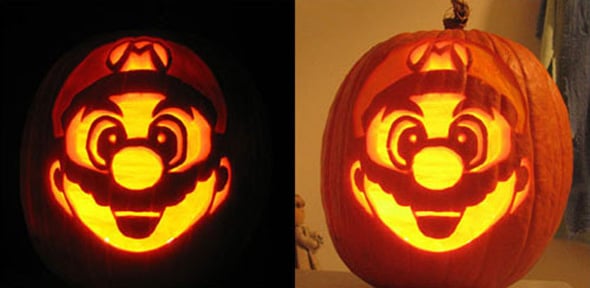 This fictional character came from his video games specially to congratulate us with Halloween. So, trick or treat?
Windows 7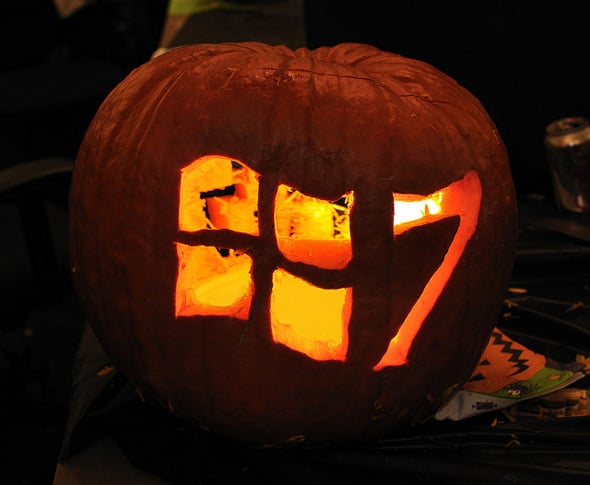 Windows 7 lovers can use this pretty example and create their own pumpkin artwork. You can also bring it along to your party if you are working in Windows 7 team.
Drupal Halloween Pumpkin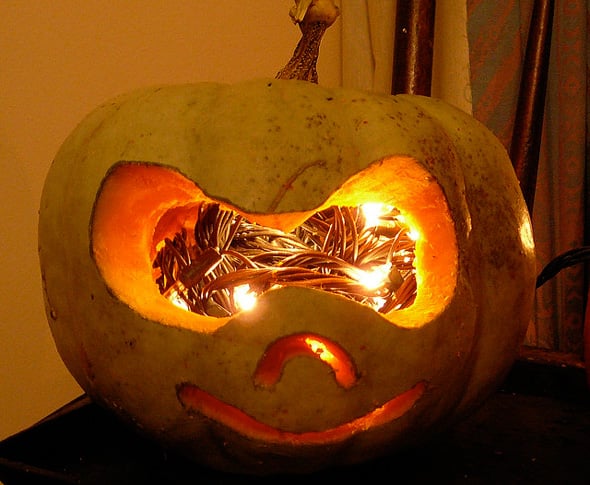 This Drupal Jack o'lantern is worth showing to your colleagues, friends and clients. Making such an original pumpkin is a good and unobtrusive way to promote this open source content management platform. The advertisement will be really viral and unobtrusive. Don't you believe? Just try 🙂
Tux penguin pumpkin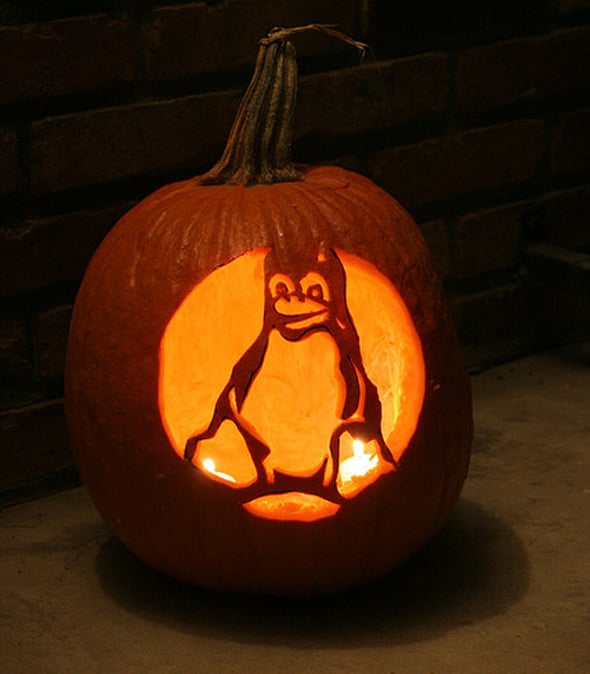 This cartoon character is used in many various Linux programs as a general symbol of Linux. Why not utilize Tux as your Halloween decoration?
Cat-Themed Pumpkins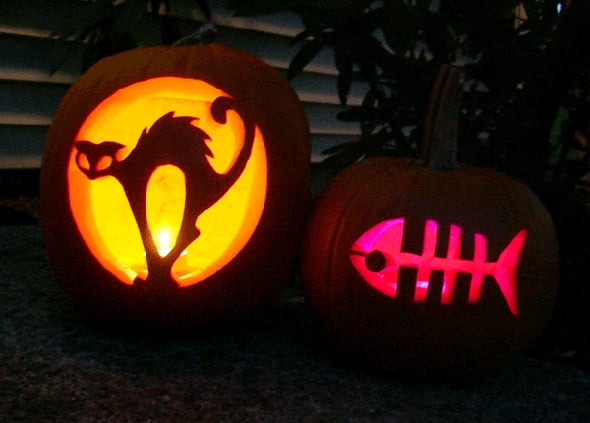 These beautiful Halloween creations inspire to make our own Jack o' lanterns. Pumpkin with the black cat was made by using electric carving blade and fish skeleton pumpkin is illuminated with a red lantern. Halloween amazing artworks give us the idea that we can use lamp of different colors to light up our festive attributes.
Office 10 Halloween pumpkin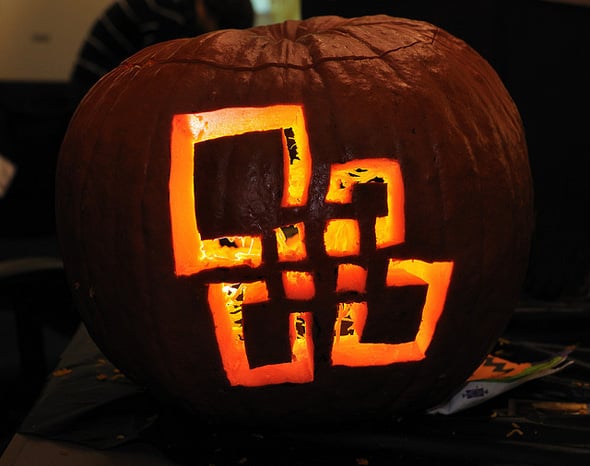 This modern "Office 10 Jack o'lantern" brings a happy spirit of Halloween to all Microsoft Office fans 🙂
How to carve an eye-catching Halloween pumpkin
After a close look at all these Halloween creations I have a great desire to carve my own Halloween decoration. I think I'm not alone, so let's make our Halloween pumpkin together. 🙂 We can do it easily without buying expensive accessories. All we need are only a pumpkin, sharp knife or pumpkin-carving saw, spoon, some paints, cool stencil to draw a freaky face and candle to illuminate your design.
First step. Choose a fresh pumpkin in a round or oval shape that fits to your needs.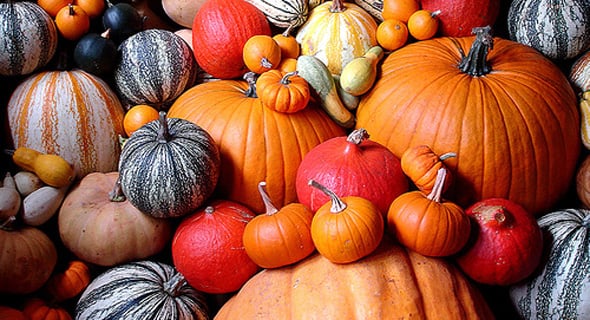 Source: Hybridrastamama.blogspot.com
Second step. Draw the circle on the top of the pumpkin to prepare the space for your hand to reach through. Then cut via the stem end and use to and fro motions to cut down the tough skin.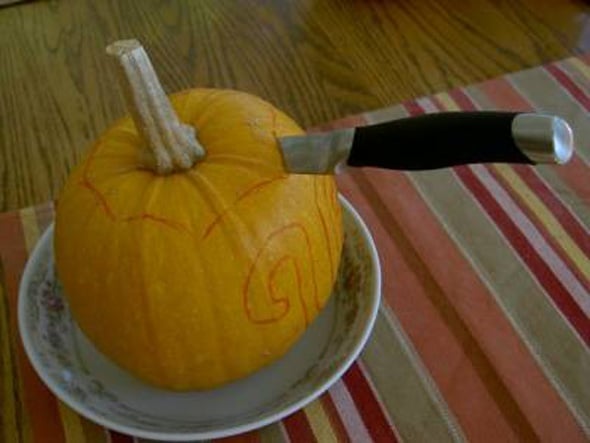 Source: Sikhism.about.com
Third step. Pull the steam gently to remove the top. With the large spoon scrape away any seeds and pulp.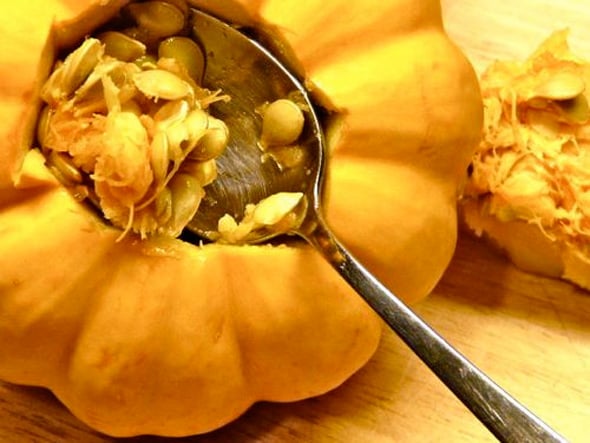 Source: Gingerbreadsnowflakes.com
Fourth step. Sketch the face of your Jack o'lantern on the clean pumpkin. It would be better if you practice on a paper at first. You can draw the picture with the help of pencil, pen or water-resistant marker, make sure all details are large enough to cut out small features.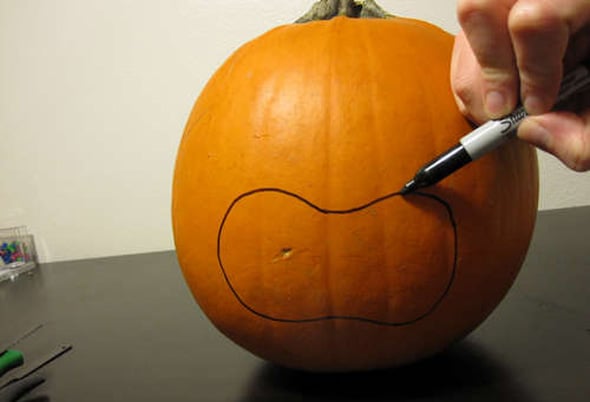 Source: Instructables.com
Fifth step. Now it comes time to cut out your design. Follow the sketch while you cut the face, then push the cut-out parts from the inside of a pumpkin. To keep your Halloween pumpkin fresh, coat the cut edges with oil.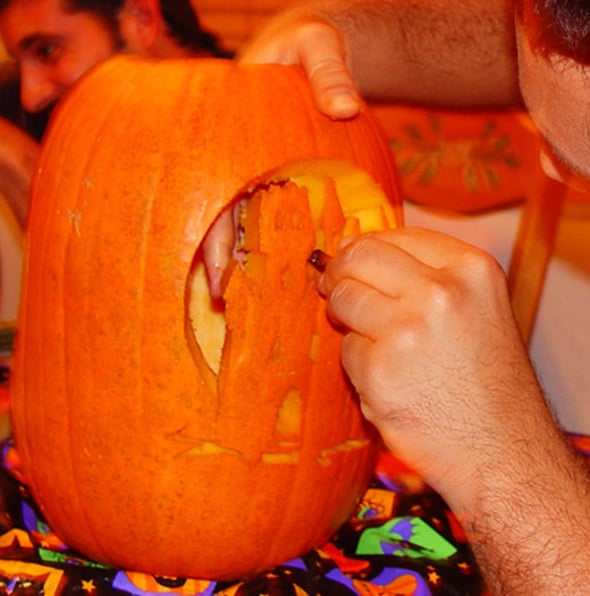 Source: Bulbinblue.com
The ending step. Place the candle inside the carved pumpkin to illuminate Jack o'lantern and create a mystic fire.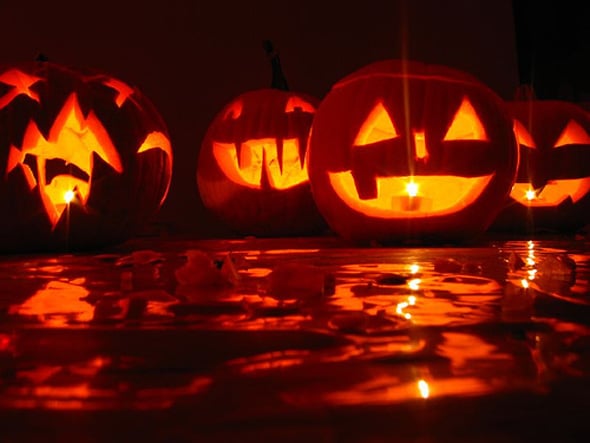 Source: Mimaggie.com
Pumpkins can be carved with comical or scary faces, it depends only on your Halloween pattern. So choose the sketch and go ahead! Good luck 🙂