Grunge Website Templates Add Personality to the Site
Grunge website templates are trendy during recent years. Usually people think of a good website as of clean and tidy designed web pages with strictly structured layout, geometric elements and bright colors. In most cases such designs look boring and unattractive. Ideal forms and straight lines are not specific for nature and asymmetric elements look more pleasing for eyesight. That's why grunge design is so popular and attractive for customers.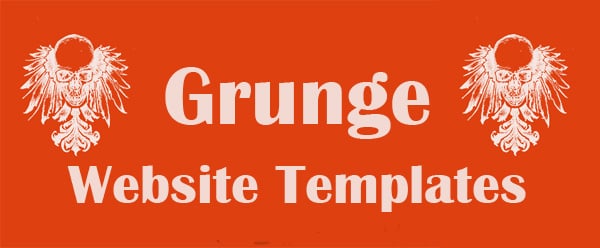 The main purpose of grungy design is to provide the website with more realistic and personal look. Most designs use hand-drawn elements for that purpose.
Other characteristics of grunge website templates:
Stained and dirty backgrounds and other elements;
Grunge fonts;
Torn edges and creased paper;
Dark tones and subdued colors.
Colors are important in grunge designs. Most of them use black, brown and grey as the main tones. Bright colors are rarely used and mostly stand as accents. Dark red and yellow are the most popular, as well as such green tones as olive, dark green and sea green. The overall color palette of templates created in grunge style includes chalk tones and subtle colors that remind of natural materials like wood, stone, paper, mud etc.
Most designs use just a few elements of grunge design to create special and unique templates. It can be background photos and textures that remind of crackled walls, yellowish paper with stains and torn edges. All that helps to create more natural and individual style.
Most elements of the site in grunge style are placed in chaotic manner. Icons and pictures are often misaligned, "attached" with scotch tape, pins and nails; many pictures are placed one over other creating a layered effect.
In any case, grungy doesn't always mean messy and dirty. All patterns are used to create a personalized layout that will stand out. Let's take a look at the most interesting grunge templates.