Delicate Beauty of Vintage Website Templates
It may sound paradoxically, but retro style never becomes outdated. This style is one of the most flexible and light, so vintage website templates are extremely popular and can be used in various spheres of business and entertainment.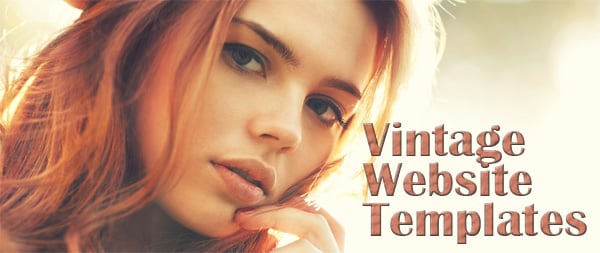 Vintage design creates special ambience and adds individual style to the site. It shows personality of the owner and helps visitors to establish connection. Sometimes adding even a small element of retro style makes website stand out.
Vintage Design Characteristics:
Retro fonts and typography, handwriting;
Old photos, illustrations, posters and movie style;
Old devices and stuff (cars, TV, vinyl disks etc.);
Yellowish crackled and torn paper, retro-style wallpapers;
Retro-style icons, signs and labels;
Dark or pastel colors, subtle tones;
Pop-art and disco elements.
Most of retro website templates feature design elements that remind of times of Great Depression, hippies, disco or pop-art. However, there are a lot of styles that include designs, fonts and backgrounds reminding of Wild West, Renaissance or even antiquity.
Backgrounds for retro templates are often based on retro illustrations and graphics. Poster-like and pin-up illustrations are perfect. Many designers create photos especially for retro-style website templates and make them look like worn-out sepia-toned or classic black-and-white pics. Pop-art illustrations are used for music or night club website templates.
Torn and crackled paper, maps, magazines and newspapers are perfect for creating a vintage look of the template. In combination with retro fonts and labels it makes perfect effect of an old-style website template.
As it was already mentioned, color scheme of vintage templates for websites includes monochrome palette and sepia tones. Sun-bleached and faded colors are great for creating retro ambience of the site. Darker tones are not the most popular in vintage style designs and mostly used as accent tones. However, some organizations, like music clubs or tattoo studios, can use dark color palette to add energy and make a statement.
Businesses and Organizations that Use Vintage Website Templates
Following companies and organizations make use of retro-style templates for their websites the most:
Music clubs, night clubs, bands' and artists' personal pages;
Photographers' portfolios;
Web design studios and advertising agencies;
Restaurants, cafes, cooking websites and food blogs;
Travel websites etc.
Here are the most prominent examples of vintage and retro-style website templates.