12 Free Website Speed Test Tools for Lightning-Fast Website [Updated]
Website loading speed is one of the most essential things that impacts website performance. Our fast developing and fast living world requires lightning-fast performance and solutions. Modern people hate waiting for website page to load and may leave a website if they don't get what they need in mere seconds.
In response to such users' behaviors Google introduced website loading speed into its ranking algorithm. Thus, you should make your website fast-loading if you wish it to get higher in search engine results page. But first you should learn what loading speed does your website have and what issues may slower its performance.
Page Speed Test Tools Roundup
In this roundup I give you a set of the coolest page speed testing tools you can use for free.
To help its users and webmasters check out the loading speed of a website Google created a Google Site Speed Test Tool. This set evaluates your website in accordance with the latest Google requirements to websites and shows what pages slow your website's performance. There are several ways to check out website with PageSpeed tools: you can run the service online or install a Chrome application to analyze websites right in the browser. Additionally you can install PageSpeed on Apache or Nginx.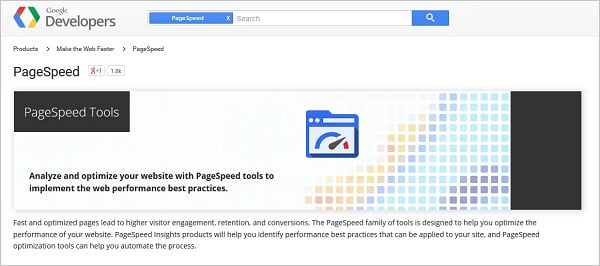 GTmetrix tests your website and evaluates its loading speed. You can use a free online tool to get general analysis of your website speed issues. You can register for an account as well and get deeper insights on your website desktop and mobile versions (Android). GTmetrix allows you monitoring website's URLs and getting valuable advice on how to increase its performance.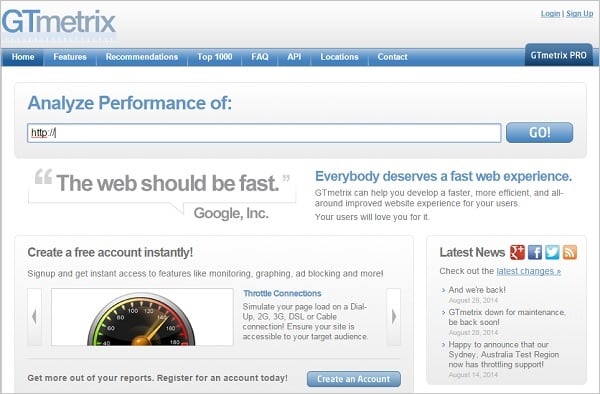 Yslow from Yahoo! analyses website's performance based on 23 Yahoo's rules on page loading speed. It assesses a website within one of three default rulesets. A user can also set its own ruleset and get insights on how to improve page performance based on it. Yslow is available for Chrome, Firefox, Safari and Opera as well as for PhantomJS and Node.js Server.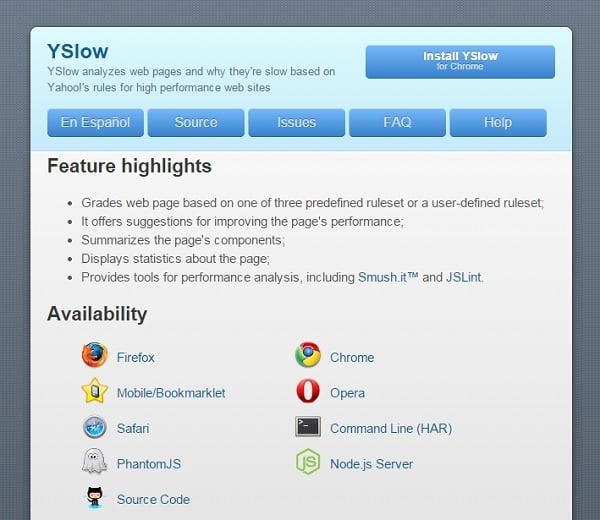 Web Page Analyzer is another free online tool that allows checking out website speed and performance. It evaluates website composition, size and loading time. After assessing all its elements it combines the data and offers recommendations on performance improvement based on guidelines and techniques of WebsiteOptimization.com.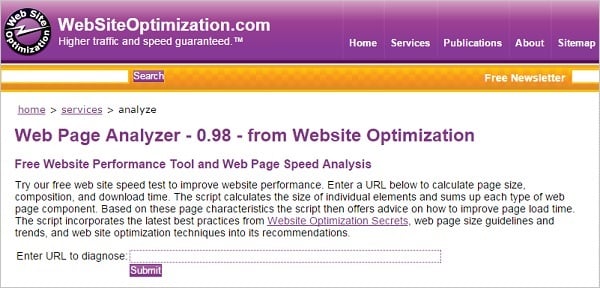 Pingdom has a pretty interface but also offers a powerful tool for testing website's performance and checking loading speed issues. Its Website Speed Test evaluates your website loading in different locations of the US and Europe. Its statistic reports are free as well as some useful advice on how to improve website performance. Website Speed Test provides its checkout in real browse so you can be sure the results are reflecting an end-user experience.

Dotcom's Page Speed tool also checks out website's performance from different locations worldwide. The results show your website performance in different browsers including Chrome, Safari and Firefox as well as on Android-based devices. In result you'll get a set of free waterfall reports, graphs, charts and other valuable data that should help you to improve page loading speed.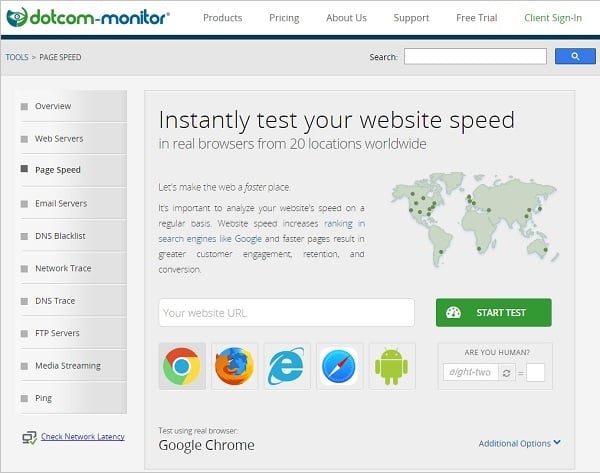 Like the above mentioned tools, Web Page Test provides checkout of a website performance in different locations and browsers (including IE and Chrome). It uses a real end-user's connection speed for testing in simple or advanced mode with multi-step transactions, content blocking, video capture etc. Results include resource loading waterfall charts, various page speed loading checkouts and suggestions on performance improvement.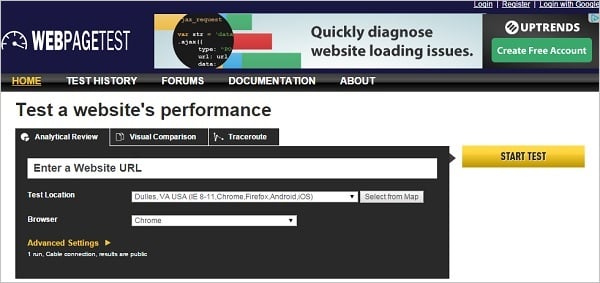 Website Speed Test tool from Page Scoring has a simple and clean interface and offers you an easy testing of your website domain and everything on it. In report it shows you average website loading time, redirection time, URL errors, and download speed of 15.74 KB of data.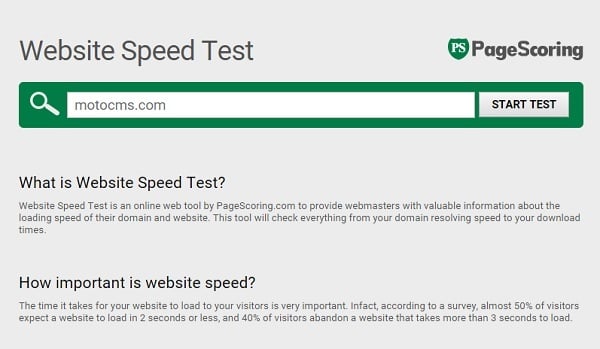 Show Slow uses open source tools to test a website performance. It takes metrics from Yahoo! Yslow, Google's Page Speed Insights and some others, and gathers their results into one chart to show you what you can improve in your website. Online tool keeps your data for 90 days, but you can download an offline version to keep your website speed insights private.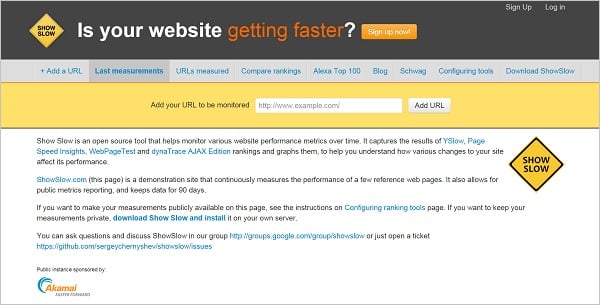 SiteSpeed tests your website URL availability from multiple spots around the world. It shows the best and the worst page loading times from those locations and gives an average page loading speed time.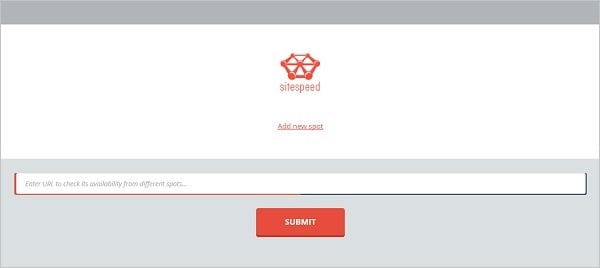 Free online tool of LoadImpact offers you a deep insights on your website's performance around the Web. It shows graphed results about user's loading time (simulated by virtual machine) as well as requests per second. It allows you to assess how well your website server can handle user requests and how fast it answers them.

SiteTimer from OctaGate gives you plenty of data about your website page URLs performance. You submit an URL to the tool and get a results page that contains all the info about its download start and end times as well as duration on each of them. It allows you quickly seeing what page object affect its loading speed and undertake quick measures for improvement.

There are even more page speed tests around the Web. Tell us about your favorite ones in comments below. And once you have tested your page speed, use these solutions to increase it.