8 Printable Resume Templates That Get You the Job of Your Dreams
In a modern world resume is still an essential thing that any job seeker should have. And the more you're longing for a good and highly-paid position – the more polished and thought-out your resume should be. There are many discussions on the Internet about whether one should or should not use resume templates while creating the resume.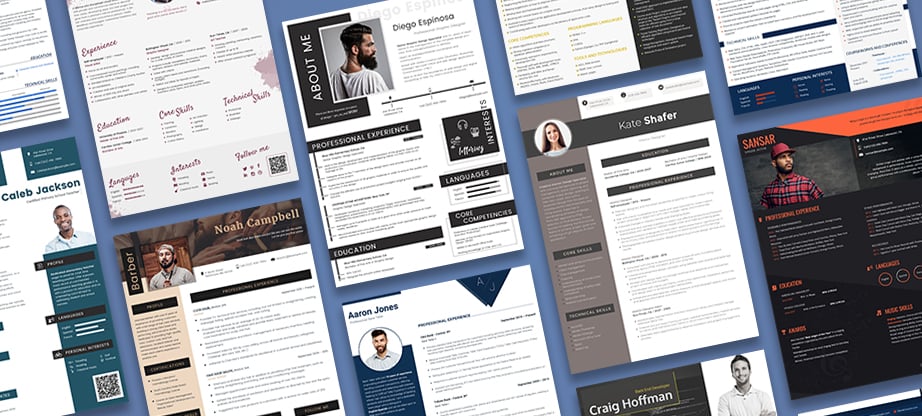 Most opinions on the use of resume templates include the following arguments:
Template makes your resume look like thousands of other resumes;
Templates are way too mediocre to display the job seeker at his best;
Templates tell recruiters that you are too lazy to write it yourself.
You know what? Most of these arguments have absolutely no ground today.
Resume templates aimed at making your life easier. A resume is a standard document by definition. It allows a recruiter to evaluate an applicant. And like most standard documents, a resume requires a particular structure. In other words – there should be a certain template or guidelines that help you write a good professional resume.
Resume templates all follow those guidelines: they have those necessary sections like 'Personal Info,' 'Education,' 'Professional Experience.' etc. The applicant should just fill those sections with personal info.
Even creative CV templates require some work. Resume templates are often seen as some cookie-cutter solution that makes an applicant look a one of a crowd of the same candidates. But in fact, there are tons of professionally-designed resume templates for any taste and personality.
Moreover, almost all elements of a template can be tweaked to fit a particular applicant. So there will hardly ever be two absolutely identical resumes made of one template.
Templates for a resume are perfect solutions to organize the info about the applicant the right way in a short time. A user may change the background and add or remove some sections he or she considers unnecessary. It may sound odd, but a template even helps to show an applicant's personality with the choice of colors, background, and writing style.
MotoCMS has a nice collection of printable resume templates for any taste and job application. Just consider a few things when choosing your perfect template, like:
What kind of corporate culture a company has;
What skills and personal characteristics do you wish to represent in your resume;
How the template can help in showcasing your skills and personality.
Now let's check out some of the coolest resume templates from MotoCMS.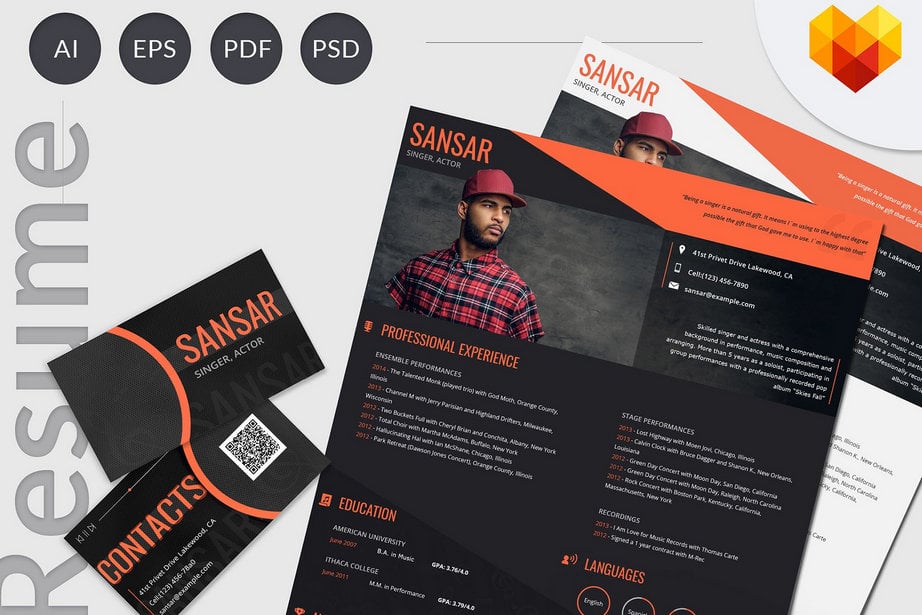 This resume will fit creative job applicants who would like to showcase their personality. It requires just a bit of effort from the user and some basic Photoshop skills to tweak this template and make it reflect your personality. It comes in two variants: light and dark. So you may choose which side of the Force to join. It also contains a poster template, fonts collection, cover letter and business card as bonuses.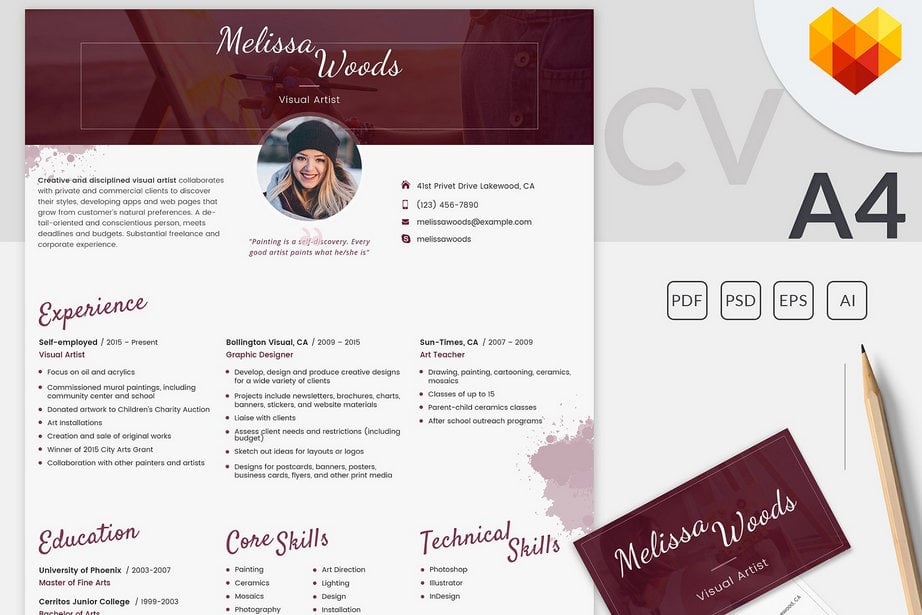 This nice and clean template for a visual artist resume contains 2 pages to present the applicant's skills and showcase the portfolio. The template comes in 4 formats (PSD, AI, EPS, PDF), making it easy to use even by a non-techie applicant. The latter can also choose one of two versions for his/her resume – with or without a photo. The other sections include Contacts, Professional Experience, Education, Core Skills, and other necessary ones. Business card and cover letter templates, as well as a set of fonts, come as bonuses.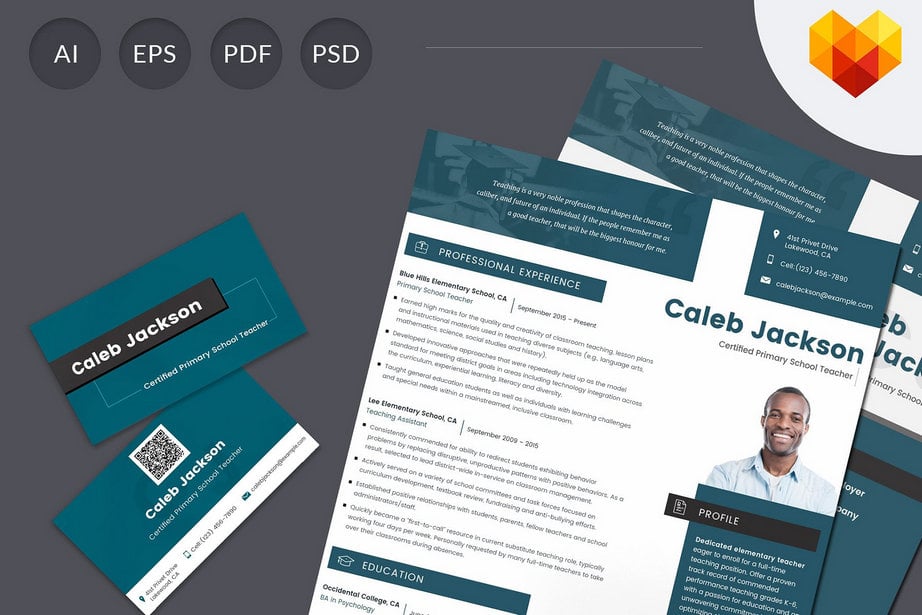 This professional resume template is created in blue-and-white colors, making it a great choice for almost all applicants. Sophisticated style and clean design will make your job application look professional and attractive at the same time. You may wish to choose the version without a photo to make a recruiter pay more attention to the text. And this template also includes a cover letter, business card, and a collection of fonts.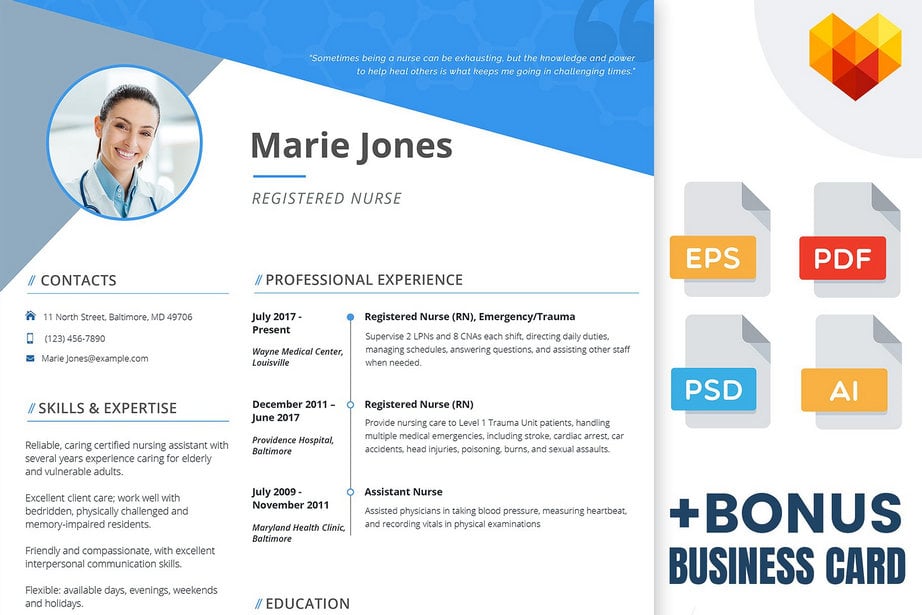 Another clean and minimalist resume template with a creative blue header. The inspirational quote in the header helps attract the attention of a potential employer or recruiter. However, it can be removed if you wish as well as other elements can be customized with a little bit of Photoshop knowledge. The template structure is well-organized and contains all the vital info about the candidate 'above the fold.' Like with other resume templates from MotoCMS, 2 variants (with/without photo) and 4 file formats.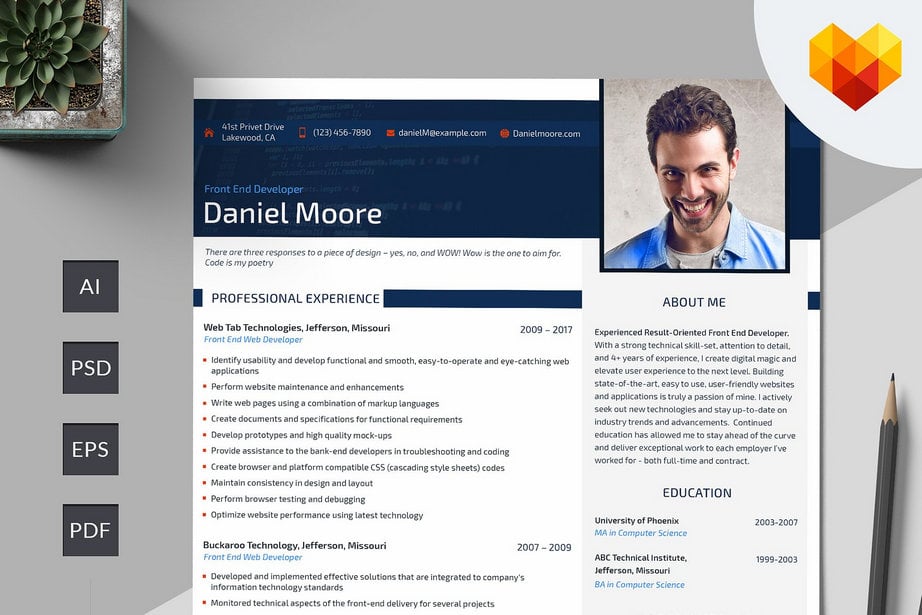 This resume template is very powerful despite its minimalist look and simple structure. It has the main contact info right in the header section and puts the emphasis on the professional experience in the first place. The applicant can use any of two variants of the template with the photo or without it. The template also includes a QR code that makes a printed copy a handy way of getting an electronic version with no efforts.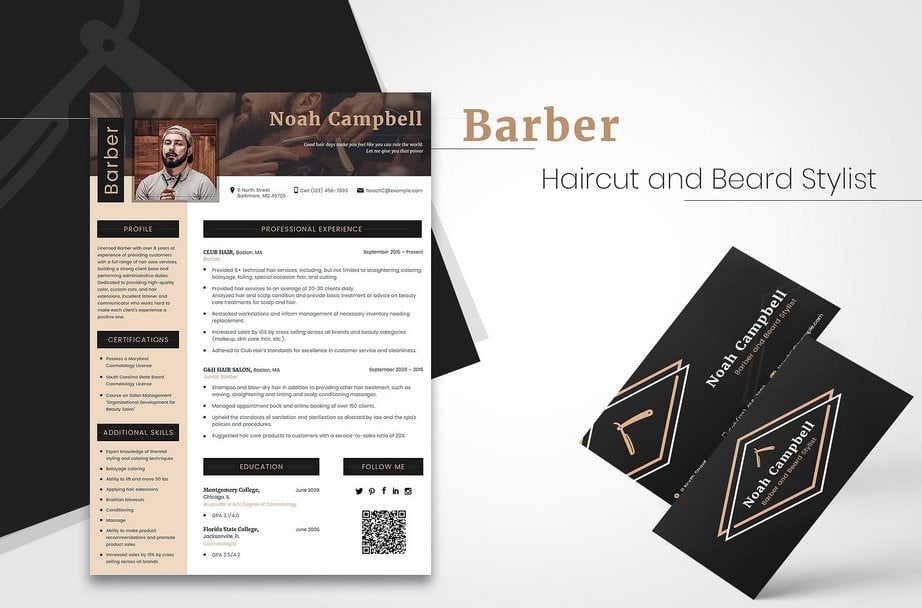 Warm colors of this template make a good impression and may become that trigger that will win you the interview among many other candidates. The sidebar contains the sections about the applicant's certifications, additional skills. The main information about the experience is placed in the center to get the attention first. It also has links to a social profile of the applicant and a QR code. Several file formats are available to make the tweaking easier and more convenient.
Amazing pure-white resume template for those who love traditional resumes, with no bells and whistles. Clean background, blue elements – one of the best and the most pleasing to the eye combinations. It starts with the main information about the applicant: his or her core competencies and the contact info. Just put the most surefire skills in this section – and may be a recruiter will call you right away, without digging any farther. Of course, any customization is easy with 4 file formats.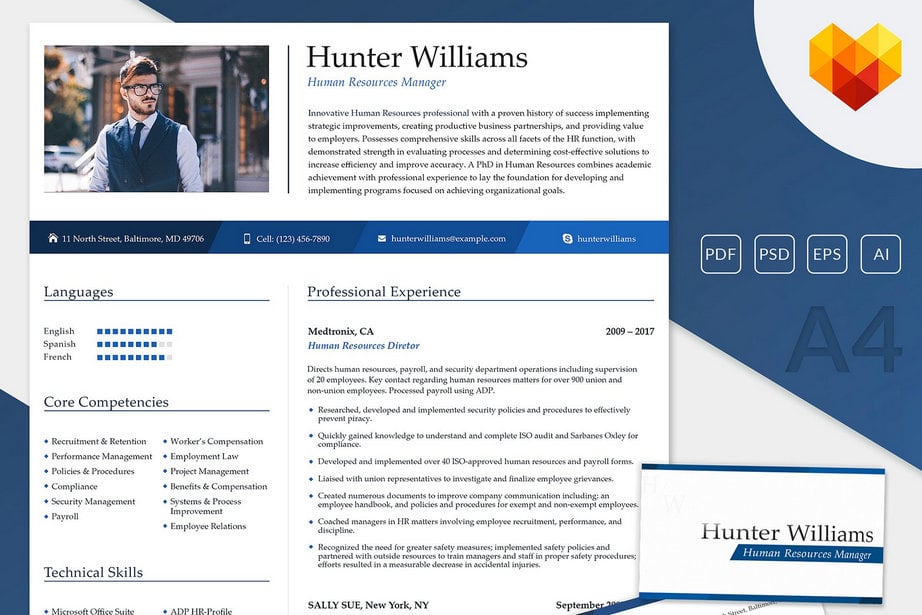 This template is perfectly crafted for HR professionals – it may happen even to the recruiters you know – who seek a new position. The template is divided into handy sections. The upper part includes basic info about the candidate. The left sidebar includes language knowledge, core competencies, and tech skills sections. A business card template, as well as a cover letter and a bunch of fonts, are included in the package.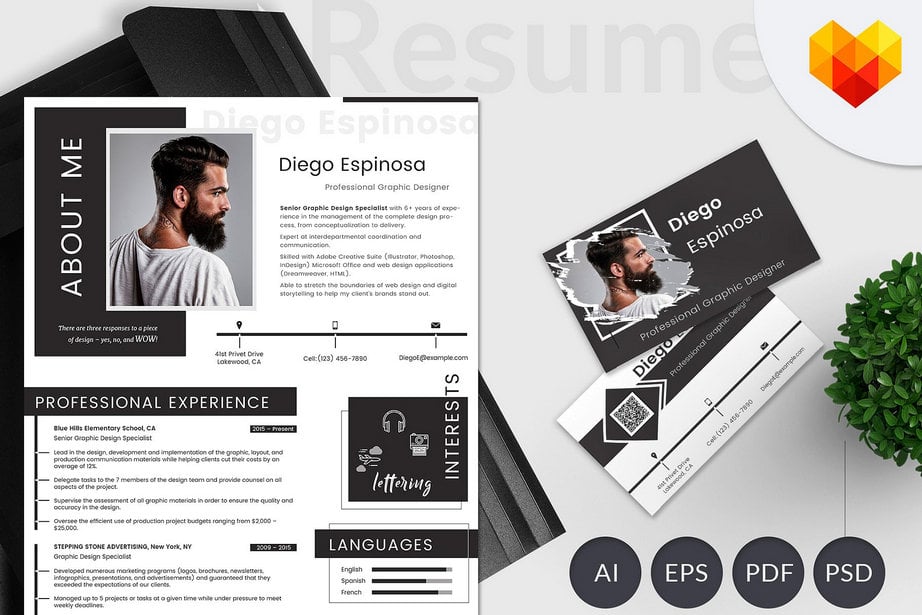 Last but not least, in our collection of the coolest resume templates is this one for a graphic designer. Its elegant black-and-white design is worth a thousand words. The largest sections of the template that catch the attention are the header section with photos and the main info about the candidate; and the one that describes the artist's professional experience. It also includes a Portfolio page, a cover letter, and business card templates.
I hope you have found here the template for your future super-successful resume! Just check out the MotoCMS page with these and other printable PSD templates to make the right choice. And good luck with getting the job of your dreams!