How To Make an Image Background Transparent with PhotoWorks
Photo-editing can prove to be a difficult task for people like me who are scared of the plethora of complex options available on the toolbar of the editing menu. As a result, every few days I end up at the photographer's shop to get my photos edited. Interestingly, most of the time it is just a simple task, such as making image background transparent, so I have to wait for at least a day to get my pictures done. Though there are other easy options of how to make an image background transparent like Ms. Paint and Ms. PowerPoint available to me, they do not produce the results like professional software.
Fortunately enough I came across PhotoWorks, which is simple and easy-to-use software that provides all the features a professional photo-editing tool provides.
Here is what I felt like after using PhotoWorks and discovering how to make an image background transparent.
PhotoWorks Review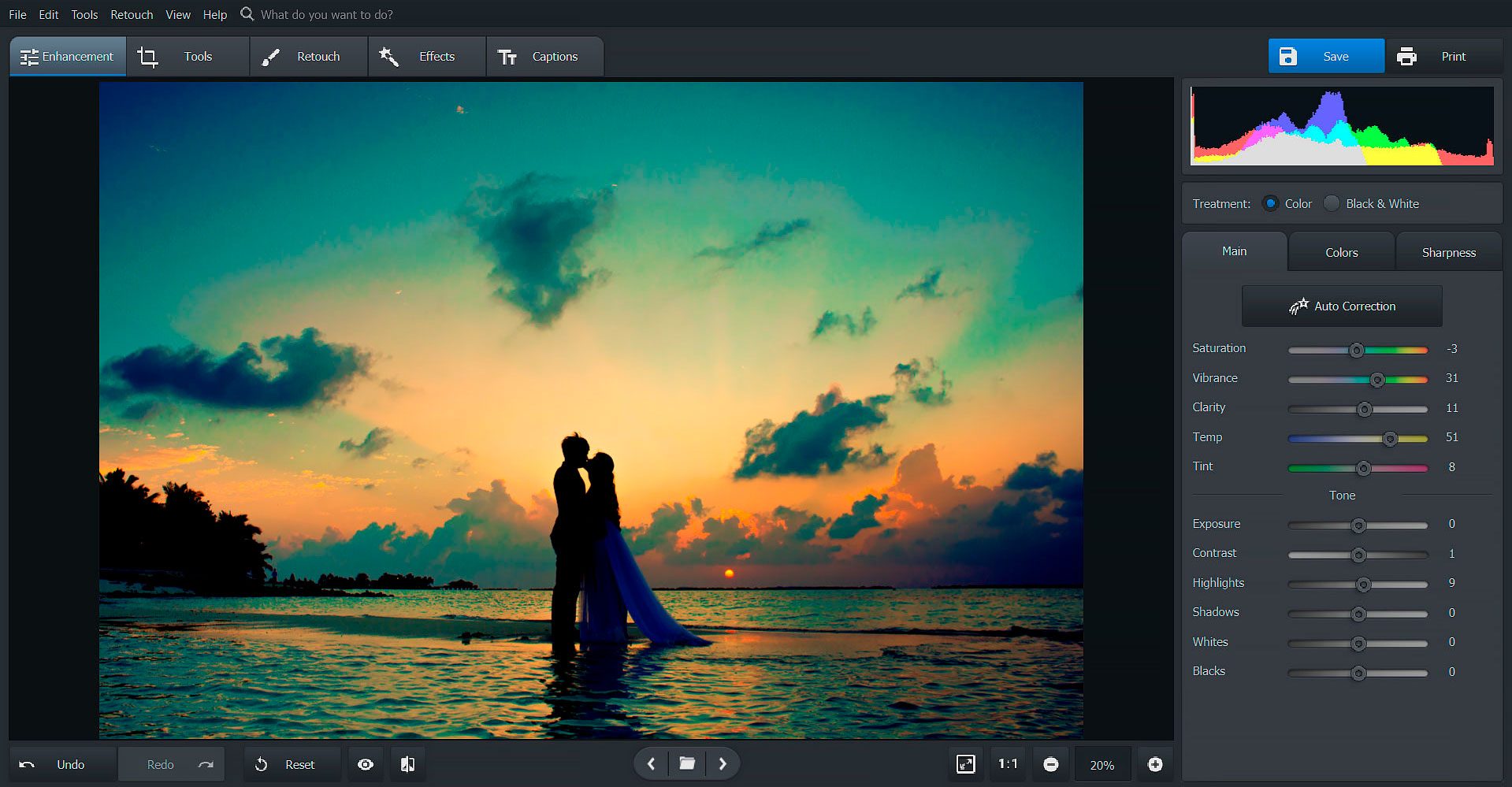 PhotoWorks is easy-to-use software and can be downloaded free of cost for a trial version. You can get the feel of the software during the trial period and then if you are impressed with its features, can order the full version.
Is it For Everyone?
I believe there are more people out there like me who are on the lookout for professional photo-editing software that is easy to use and in web design trends. Amazingly, PhotoWorks makes it ridiculously easy for you to create images with transparent backgrounds and perform other photo-editing tasks with just a few clicks. Its simple interface and easy-to-use functions can help you become a photo-editing Pro in no time.
Functions
PhotoWorks offers a range of professional photo editing functions from color adjustments to removing blemishes and setting the tone of the image. But what truly makes it such great software is the AI-assisted editing. PhotoWorks' AI is very powerful as it can understand your requirements and prove exquisite results thereafter.
Here are a few other features that PhotoWorks has to offer.
Simple and Minimalistic Interface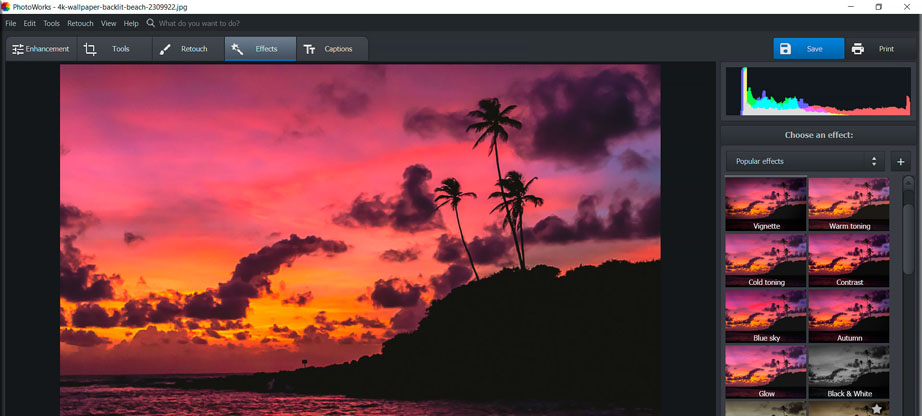 Most of the professional photo-editing software have a complex interface that is flooded with tabs and options and give a difficult-to-use feel to beginners. In comparison, PhotoWorks has a very simple interface where you can find options easily and work your way around.
Easy Photo Retouching Options Available
The AI-powered photo retouching options make it easy for anyone to use. As such, photo retouching becomes extremely easy and you can create "magic" in no time with your memorable images.
One of the most impressive features of the photo-retouching tools was the "healing brush function". It gives you the amazing power to correct small blemishes and make your image appear perfect. Amazingly, AI picks up the background of the area and creates a wonderful "heal" as if the blemish had never existed.
Image Editing Becomes Very Easy with PhotoWorks
PhotoWorks offers all the basic and advanced photo-editing features in a simple and easy-to-use way. In addition to the basic editing features, it also offers the "change background" option that is to create wonderful transparent image backgrounds in just 3 simple steps (more on this below).
Video Tutorials Are Available For Every Function
Although the functions and features of the software are extremely easy to use, still, a video tutorial is available for you to help you out in case you don't know the way out.
The tutorials are easy to understand and explain the PhotoWorks features in a simple and engaging manner.
Price
PhotoWorks offers a 5-day trial period after which you will have to purchase a package to use the software.
You will get a surprise to find out that PhotoWorks offers all these professional features at a much lower price than any of its competitors. Where other professional photo-editing software of the same category and functionality charge you a hefty amount, PhotoWorks is available for a mere $19.25.
Though, if you want to explore the advanced features of the software you can get the deluxe and pro versions at a slightly higher price than the standard version.
3 Packages and Their Features
The explanation of these 3 packages and their features are below:
Pros
Offers professional features for photo-editing
Extremely economical
Simple and professional user interface
Easy to use
Quick turn-around time for scans
Cons
MAC variant is not available as yet
Only the 5-day trial period is available
Verdict
Keeping in view our experience with PhotoWorks we would give it a double thumbs-up for offering professional photo-editing options that are extremely easy to work through, at an extremely affordable price.
How to Make an Image Background Transparent
Making an image background transparent is perhaps the most used feature of photo-editing software. Thus, we will be comparing a few available options that you can use on your PC to edit the pictures and create images with transparent backgrounds.
Currently, there are many possible ways on how to make an image background transparent including free software like Ms. Paint and professional ones like Adobe Photoshop. Here is the review for each of these software's background removal process, quality of results and the ease with which you can work through the software.
Using PhotoWorks
PhotoWorks offers an easy option to make image background transparent by just a few clicks and mouse drag. Amazingly the resulting snippet is of high quality and no-one can tell that the photo has been edited.
Here is how you can make an image background transparent on PhotoWorks in just 3 simple steps.
Step 1 – Select Change Background Option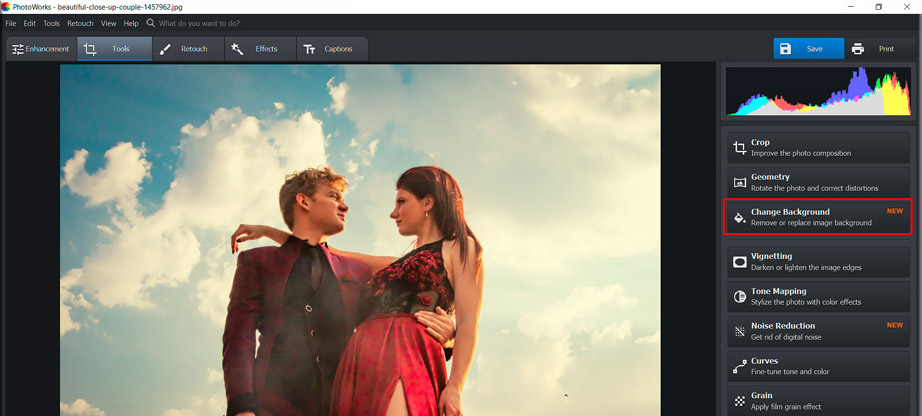 Select the "tools" option from the quick bar or the dropdown menu at the top and select the change background tab from the available options.
Step 2 – Mark the Image and the Background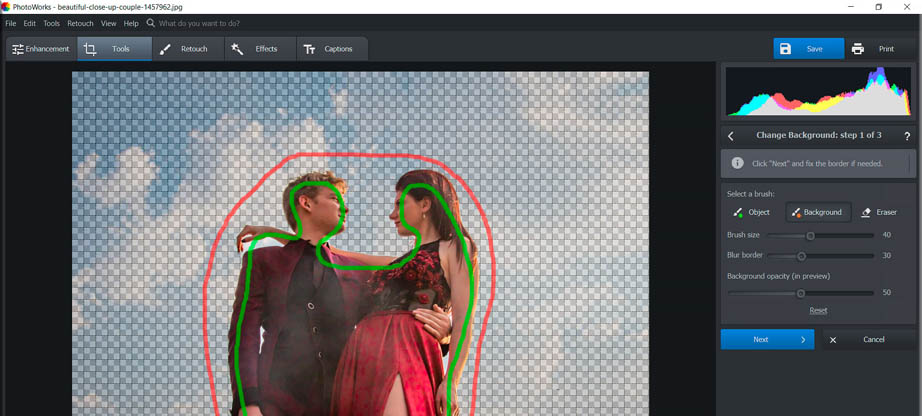 Next up you will have to segregate the "background" from the "objects" for AI. One can do it easily by using the green and red markers in the toolbar. The green marker is for the indication of the objects that you want to keep. And the red marker is for marking the background that has to be edited.
Step 3 – Make the Final Adjustments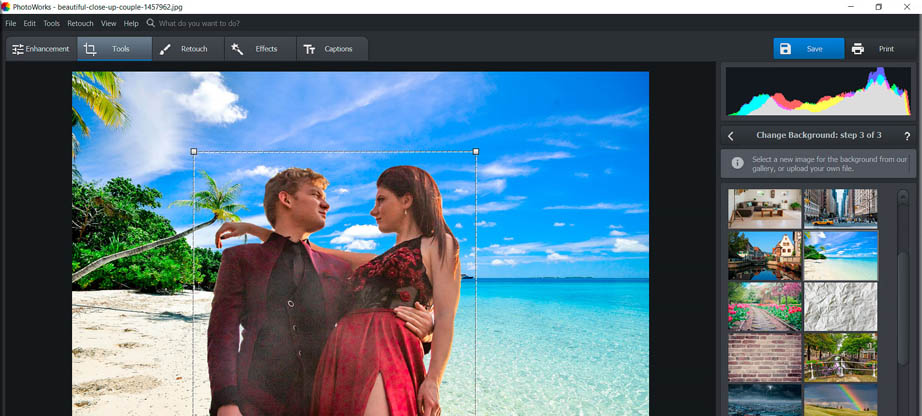 Once you have finished segregating the objects from the background you will have to make small fine-tuning edits to the picture. For this, you can adjust the size of the "background" and "object" brushes and make the fine changes that might have been left over during the 2nd step. Once you have finished the fine-tuning, click the next button and you will have a transparent background image at your disposal.
Using PowerPoint
PowerPoint is another famous tool from the Microsoft Office Suite used to remove image backgrounds. The easiest way to do so is by adding the image to the slide and the option will available on the toolbar regarding the removal of the background. Although the method is easy for background image removal the results are not so great. Also, the edited image suits the PowerPoint requirements and moving it around to other platforms can become a tricky affair.
Using Photoshop
Adobe Photoshop is perhaps the most popular tool by professionals to edit images. Again, Photoshop is a very powerful tool when it comes to removing the background image but it requires a considerable amount of skill level to do so. Also, you will have to purchase Photoshop license before you can use the software, which can cost you a bit.
As such, Photoshop is indeed a very powerful photo-editing tool but requires certain expertise level and a cost that makes it a professional yet not-so-easy option to use for beginners and laymen.
Using Microsoft Paint
Ms. Paint is the oldest and perhaps the easiest way to make the background image transparent. The snipping option of the software offers an easy drag-over snipping function to make the edit. Unfortunately, the result is of extremely poor quality and the blurred edges of the snipped picture along with the leftovers of the background can still be observed.
As such we observed that PhotoWorks provides extremely professional results for making an image background transparent and that too in an easy and economical manner.
Conclusion
Summing up, PhotoWorks is extremely easy-to-use software that will give you all the basic professional features of photo-editing software. Having such simple yet powerful photo-editing software at your disposal will surely turn you into a photo-editing pro.
What do you think about the PhotoWorks? Share your views and experiences here with us and let us know more about this amazing software.