What You Need To Build a Website – Top 5 Checklist 
Like any First-Time activity, building a website and launching it the first time is intimidating, overwhelming, and in all honesty, can also get a little frustrating. Despite some technicalities here and there, it's quite a manageable task, even if you're not a tech whiz. So, what do you need to build a website?
Someone who can't manually code or afford a developer can spend considerable time learning to do so or be rescued by certain helping tools. Tools that are specifically curated to build you a website from scratch. The two most common tools or apparatus for constructing a great first-time website are Web Builders and CMS (Content Management System). Let's skim through what both of these tools specifically cater to.
CMS – Pros and Cons
As the name suggests, CMS manages all the content on a website and might seem a little complicated to beginners. It is online software that leverages a pre-built framework where you can easily design and set a theme with a drag-and-drop feature or simply purchase customizable, predefined themes and many add-ons. The main advantage of CMS as your tool of choice is that you have more room for creativity. You can create plug-ins and insert or delete features and designs you find appropriate. It helps you manage, create, search, and store content that is customarily stored in a SQL database. Installing plug-ins is not only an easy way to improve your website's functionality and usage but also helps you manage backups, security, and statistics.
For CMS, you will require a host that, if need be, can be changed without any downtime or complex changes. Acquainting yourself with all the ins and outs of CMS may steepen the learning curve if compared with Web builders, but it also presents many options for themes and features. All are easily manageable by people with minimal technical know-how. The open-source access to the main underlying code allows you to tweak the code and make the open-source ranges, unlike a web builder. Some commonly used CMS are Joomla, WordPress, Drupal, and MotoCMS.
What You Need to Build a Website – Specifics of Web Builders
Moving towards Web Builders, they offer relatively less flexibility than a CMS. This is because they are limited by a platform that they are hosted on. Web Builders use some proprietary tools and pre-built components that help to create a fully functioning website without any coding and technicalities. They are more user-friendly in comparison with CMS as you can completely change the layout of your website from simple, streamlined tools in a drag and drop function.
No matter how quick and easy setup is with a Web builder, they still hit a limit when some changes and features need to be made/added. This is why they are not ideal for larger organizations and businesses that need control over their websites for scaling and customization with time. Some popular web builders include Shopify, Weebly, Squarespace, and Wix. Understanding the difference between the two is not sufficient to get started. You need to keep in mind certain things before launching a new website. Here's a little checklist for building a first-time website in no time!
What You Need To Build a Website – Pick a Domain Name
First and foremost, pick a domain name! A domain name, a.k.a URL of your website, is the address that will be used to identify, visit, connect or find your website. After several attempts (for the availability of name) your first step of building a website will be out of your way. Creating a domain will cost you no more than 15$-20$. You can easily register a domain name online at platforms like Domain.com, GoDaddy, NameCheap, etc.
Choose the Right Web Building Platform
As discussed earlier, you can either opt for creating a first-time website by yourself or go for a platform that offers tailored tools for this very job. But the choice between the two can be influenced by many factors. The end goal of your website will determine which of these website creation tools you should be using. For instance, if it's a blog site you intend to run, have no coding experience whatsoever, and have no time to go through the technicalities of a CMS, then a Web Builder is your best pick. Consider the skill level and features you want on your web page. Your target audience might help you decide how advanced or simple your website should be appropriate.
Web Builders are a perfect choice for all the first-timers as they are inexpensive, quick, and require absolutely no prior knowledge. Have a thrilling new idea? Get on a web builder and get your website up and running in only twenty minutes. As easy as a web builder's operation is, they also offer a great cost-saving solution. You can pick a professionally designed template off of your web builder software and start off. A pleasing first look at the website creates a good impression on the visitor and encourages them to stay, read, or share your website. Pick from antique, modern, colorful, or subtle templates according to your requirements.
Read also: How to create a website without coding
Website Hosting
A website host is an online location where all your data and content from the website are stored and kept. The host is a server that is accessible by all users of the internet. This directs users to your website at any time and hence allows 24/7 reachability. You can host your website from a website builder or your domain platform. If your website is getting more and more visitors, you might need to upgrade your host to a more advanced one that can handle the increased traffic. The website's loading speed will be enough to indicate this need for up-gradation.
What You Need To Build a Website – The Logo
Hire a graphic designer if you have the budget. If not, simply use free online logo originators to create a catchy yet sophisticated logo. You also get paid logo originators online, which is still a less expensive option than a professional graphics designer. Though they cost more, your logo is worth the investment. The logo is half the part of your brand identity, and it depicts that your brand is trustworthy, serious, and here to last! Lastly, if you own some artistic skills yourself, all you need is Photoshop or Adobe Corel draw to put together a fascinating logo quickly.
Content to Rank
SEO and uniqueness of content are crucial for any web site's success! You must be well-acquainted with how Search Engine Optimization works if you're building a website. Make sure that your website has a good SEO foundation. Take sufficient time to figure out the content hierarchy, site architecture to metadata. To rank high on Google search results, you need engaging, interesting, and original content on your website.
Hire professional writers and copywriters who are aware of tactics that capture more visitors to your site.
KarDone Multipurpose Shopify Theme to Build an Effective Website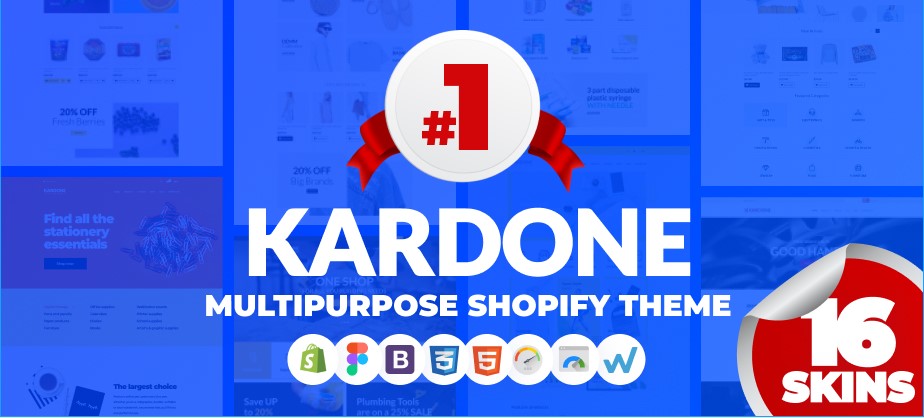 What is the fastest way to create a website, especially an online shop, which is a must-have nowadays? Surely, it's building the website on a base of the ready-made Shopify theme, such as KarDone. Why is it one of the most efficient themes? The first benefit is a Shopify visual builder. With its help, you get the possibility to create as many unique layouts as you need. Just expand your limits and order the sections as the ideas spring to mind.
Then, you will be pleased to get only one theme with a set of 16 templates inside. They allow you to build a diversity of websites with the necessary topic, for instance, auto parts, medicine, sport, fashion, and others. KarDone provides the online shop with responsive pages, sliders, wishlists, product reviews, and multilingual options essential for any customer. Catch KarDone Shopify theme, build your layouts and fill them with your content and gain clients.
Sirius – Handmade Minimal Shopify Theme Store for Dropshipping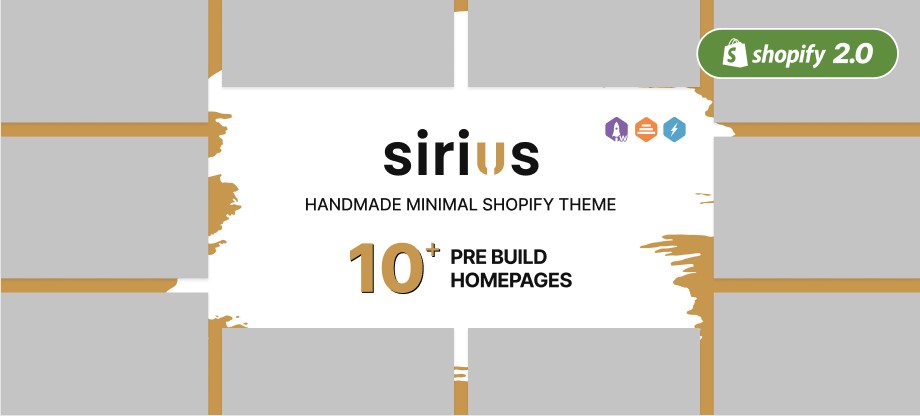 No matter who you are: a student, a beginner entrepreneur, a representative of a large company, or just a person who is well versed in modern technologies – sooner or later, you may have a desire or need to create a site on the Internet. What do you need to do? Perhaps you are stopped by a lack of experience or lack of time. With the minimal Shopify theme store, you get a lot of benefits that can make your work much easier.
Despite the fact that each site is unique, this topic can become a great base. You can change the design and fill it with unlimited products. It will help you create a multi-page site or simple landing. Take advantage of the great features and tools: to set up an online store, attract customers, and increase sales. Sirius is the best solution to help you promote your business.
Mysterio – Fashion Shopify Theme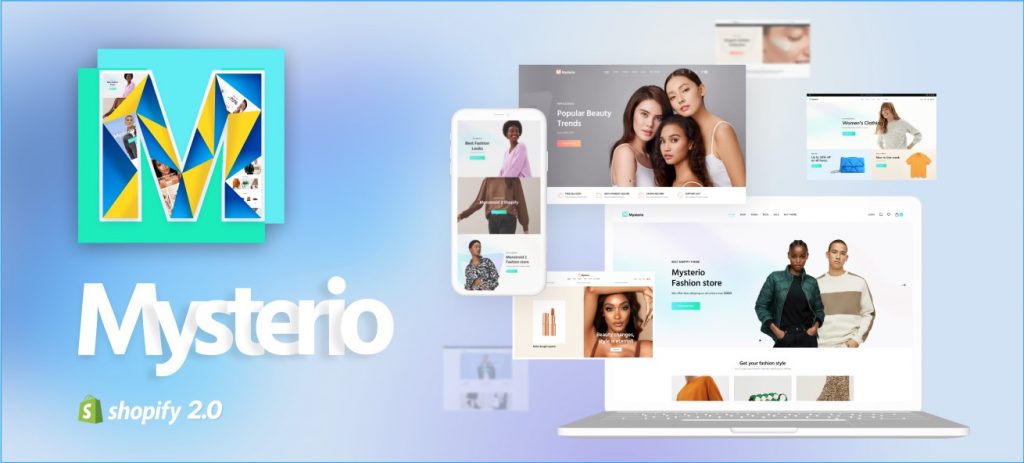 Today, aspiring entrepreneurs most often rely on customer acquisition through word of mouth and social media. However, even in the case of a small business, the site can serve as a good help and give new impetus to the growth of the client base. Having your own representation on the Internet is an important step in strengthening the company's image and increasing the confidence of users/buyers. It is also a great way to find new partners and quickly gain the trust of the audience. Don't know where to start? Use Mysterio – it's a great foundation for building any website.
It is important to understand the sequence of actions. Especially if you are working on the site for the first time. Working with Mysterio is easy. You will find detailed documentation in the package. You can even create a list for yourself if that makes your job easier. You will be sure that you will not miss anything, and your website will become a great helper for the development of your business.
Bottom Line
Any kind of first-time website can be crafted by following the aforementioned checklist. The list of things that you need to build a website may seem like a lot, but in the end, it always proves to be worth it. All you need to do is plan, break it down, and stay on track. Using web builders and several other online tools, you can pull off a great first-time website all by yourself. And once you do, be consistent with fresh content, and you're good to go!