How to Design an Original and Effective Product Page
It goes without saying that a well-designed product page can be a real deal-breaker when it comes to the actual purchase done at an e-store. Catchy and creative design, combined with the knowledge of the most basic facts regarding the consumer psychology, is what can considerably facilitate the purchase ratio and popularity of your website. Here are a few things to consider when designing product pages for an e-shop.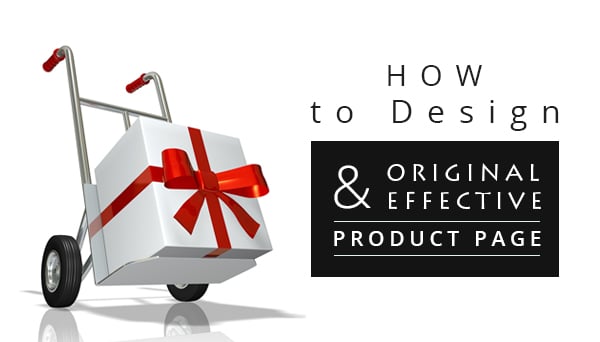 Simplicity in Design
One of the problems we have to deal with is the great amount of information that we'd like to include on one page in order to present a complete picture of the product. The truth is, we need to learn to manage the information overload. Here the web designers come to help. Remember that the page structure must be not only aesthetically pleasing, but also coherent. You need to have clear sections division – for a product description, images, videos, reviews etc. You may also engage copywriters, who will develop content that is both informative and fun to read. A product copy should unveil all the benefits of a product.
The visuals play a decisive role in the initial contact any customer has with your shop. A recent study has shown that users spend only three seconds on home page to decide if they want to stay on the website or look for the products somewhere else. That's why you should make absolutely sure that during these three seconds you offer enough visual materials to achieve two goals: drive the consumer into your shop and ensure he knows exactly what it is that you're selling. In short, a clear, well-structured and pleasant design is crucial for starting and maintaining a relationship with the clients.
Content – the Basics
There are several elements that simply must be included on an effective product page. Among these are, of course, a clear name of your product and its price. Clear pricing and no hidden costs to be discovered at the later stage of the purchase make for a good experience.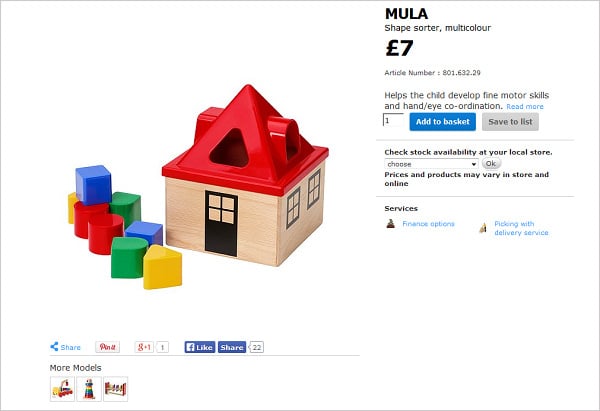 The next thing you should concentrate on is visual material. Make sure you get the best of it – a striking figure of 92.6% of consumers admitted the visuals to be a top influential factor affecting a purchase decision.
Don't ignore the 'Add to Cart' button, a little one, but probably the most important button on the page. Don't make the users waste time looking for it. It should be highly visible, and you may choose a bright color to make it stand out. And remember about the mobile devices users – make it bigger for them too, so that it is easy to touch.
The users should be able to zoom in large and high-quality images of the products that you are selling. Don't forget about videos, as they play an equally important role in the overall purchase process. Videos give you a chance to convince an undecided buyer that the product really meets their expectations. Customers tend to trust video materials more than images and are more influenced by such materials. Make sure to offer various modes of representation for your products, including a 360 degree view, a zoom feature or modal boxes to enlarge picture thumbnails.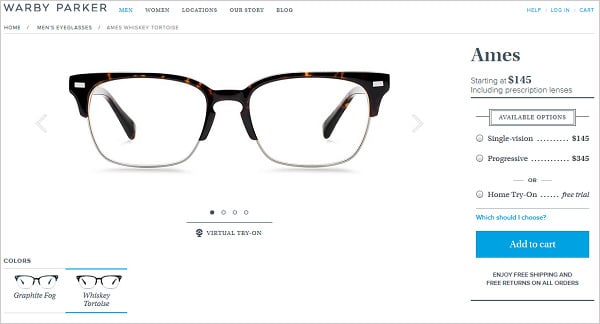 Content – Optional but Useful
After you make sure that you got the hang of the basic elements, you may proceed to enrich your product page according to the individual needs of your shop. You might want to add a quantity button to help your customers ordering several items of the same product, or a selection of product options like size and color, especially relevant if you sell shoes or clothing. A notice showing the stock availability and a clear placement of the manufacturer's name and logo can considerably facilitate the decision-making process.
What's also important is the checkout. Although it exceeds the subject of the mere product page, you might want to consider placing visible logos of various payment methods already on the effective product page. Lack of customers' favorite payment method is one of the most common reasons behind cart abandonment. Remember that you should require registration from users when they actually want to buy something and proceed to the checkout – never when they only browse through your products.
Content – Customer-Oriented
If you think that no one reads customer reviews below the product, you are wrong. The shoppers know that it is the company that is behind the product descriptions and for that reason they might want to get to know other customers' opinions. Adding a feature that asks if a review was helpful in making a decision will boost the popularity of these reviews that actually do influence the purchase by featuring practical information and unbiased opinion.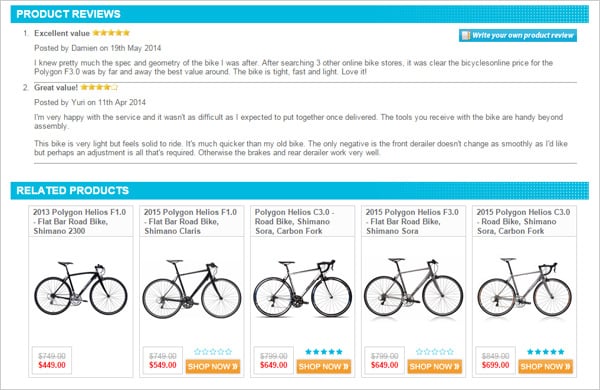 A different thing to consider is adding a section "Customers who viewed this item also viewed…" which offers a possibility of cross-promotion that might benefit your sales as the products shown here might not otherwise be noticed by your customers.
To sum up, when designing your product pages, think like a potential buyer and try to facilitate the process of decision-making, purchase and checkout as much as possible.