Create a Professional Business Website for Any Goal & Intent with Skyline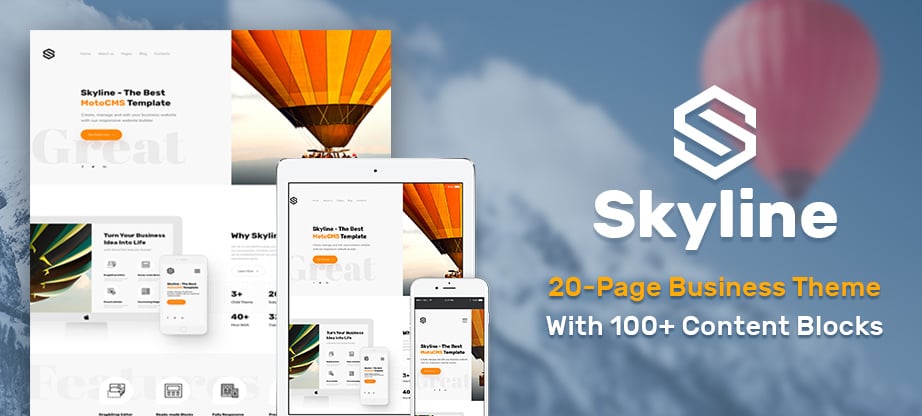 Do you already know how much time you need to build a website for your business? What if I told you that you have an option to start creating it right here right now?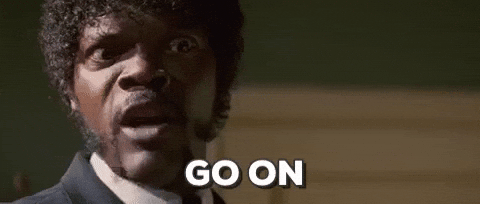 Skyline is an extraordinary business website theme, released for the entrepreneurs of all levels to deal with the challenges of the modern world and launch any kind of a website in two ticks. I do not plan to feed you with idle chatter. Just a few real facts.
Why Skyline Business Website?
Powered by a website builder from MotoCMS, this website template:
does not require any programming knowledge. The CMS you get with your copy of Skyline is easy to use with no assistance of a coder, developer or any other savvy person.
includes an instant free access. Launch Skyline for a free trial period and create a website any way you want without any charges and see the outcome before its official launch.
is made for any online business on Earth. Skyline business website template combines a very big number of useful features, allowing its owner to create a website with any purpose and much more.
For more details, watch this brief video:
The MotoCMS Block Editor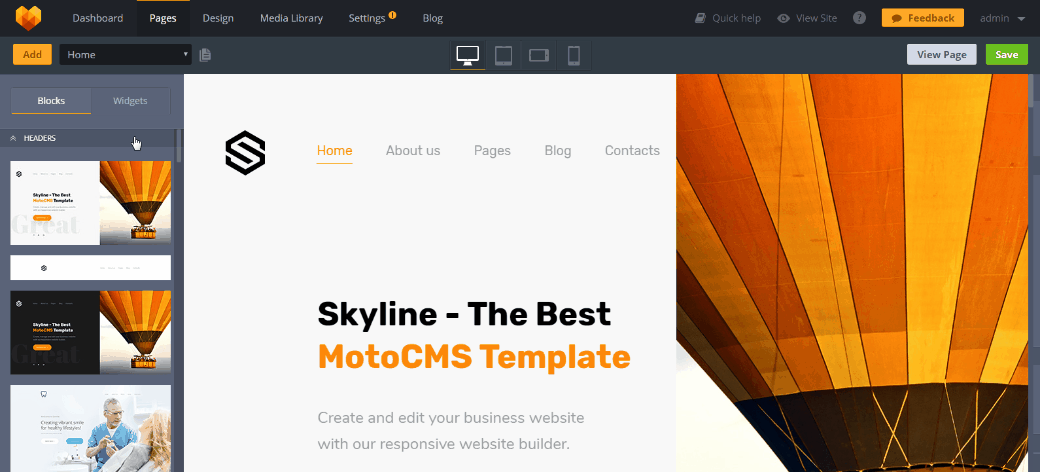 The customization process of your future website is intuitive thanks to the Block Editor in MotoCMS corporate website builder. It provides beginners with a ready-made solution to create a professional website easily and give a chance for advanced website producers to save own assets and boost the workflow tremendously. Just tweak all necessary content blocks on the layout with the drag & drop functionality to build and manage a unique website in the shortest term.
100+ Content Blocks with Original Design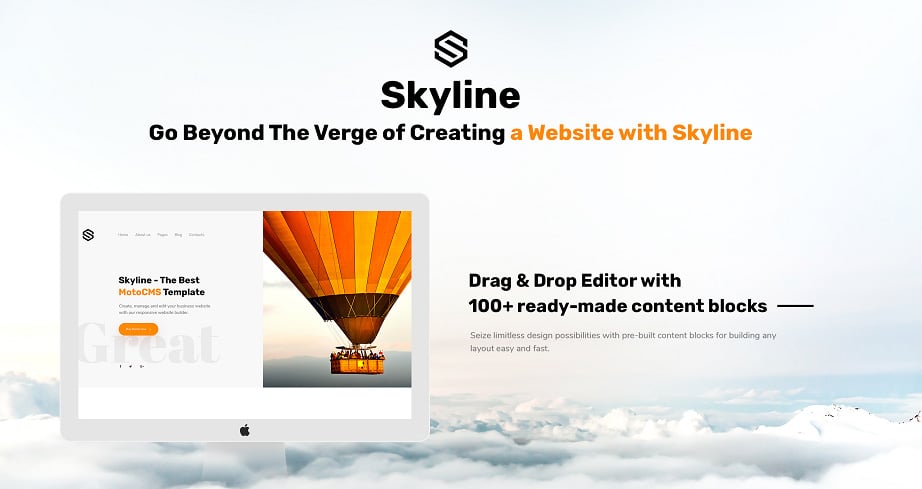 The good news is the Block Editor includes more than a hundred content elements you are welcome to use in any way you want. Create as many layout variations as possible and then come up with the final design you like the most.
The Complete Set of Widgets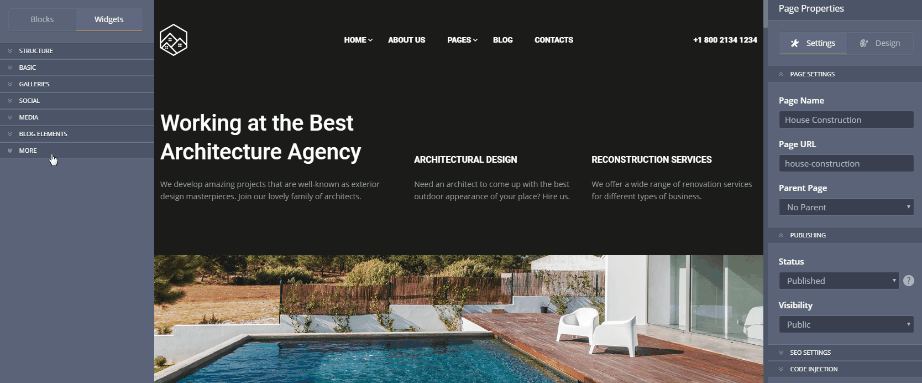 Once you assemble your website with all necessary blocks, you can polish its design with a wide range of widgets for customizing the inner construction and content of each page. There are seven widget categories in the admin panel from MotoCMS: Structure, Basic, Galleries, Social, Media, Blog Elements and More.
20 Made-Up Pages for Any Intention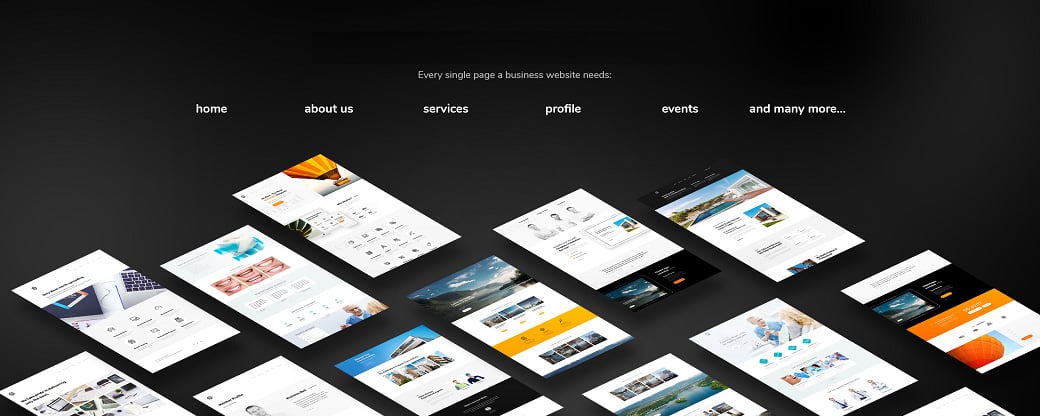 One more reason why any user is able to make any website with Skyline is its full spectrum of pages. Realize all possible goals on your website by taking advantage an all-inclusive home page and pre-built pages to reveal your team, contacts, services, gallery, projects, prices, testimonials, customers etc. Check out the full range of Skyline's pages:
Home
About Us
Contact Us
Careers
Team
Profile
Services
Single Service
Gallery
Projects
Customers
Privacy Policy
Events
Single Event
Testimonials
Prices
503
FAQ
Blog
Contacts
4 Additional Home Pages
Set any of four alternatives as your home page to complete your web design: Home Black, Dentist, House Construction and Travel Agency.
Skyline Home Black
Save time for enhancing your site and make your home page with a custom eye-catching design, colored in black. Add your personal content and voila – the renewed home page is ready to represent your business!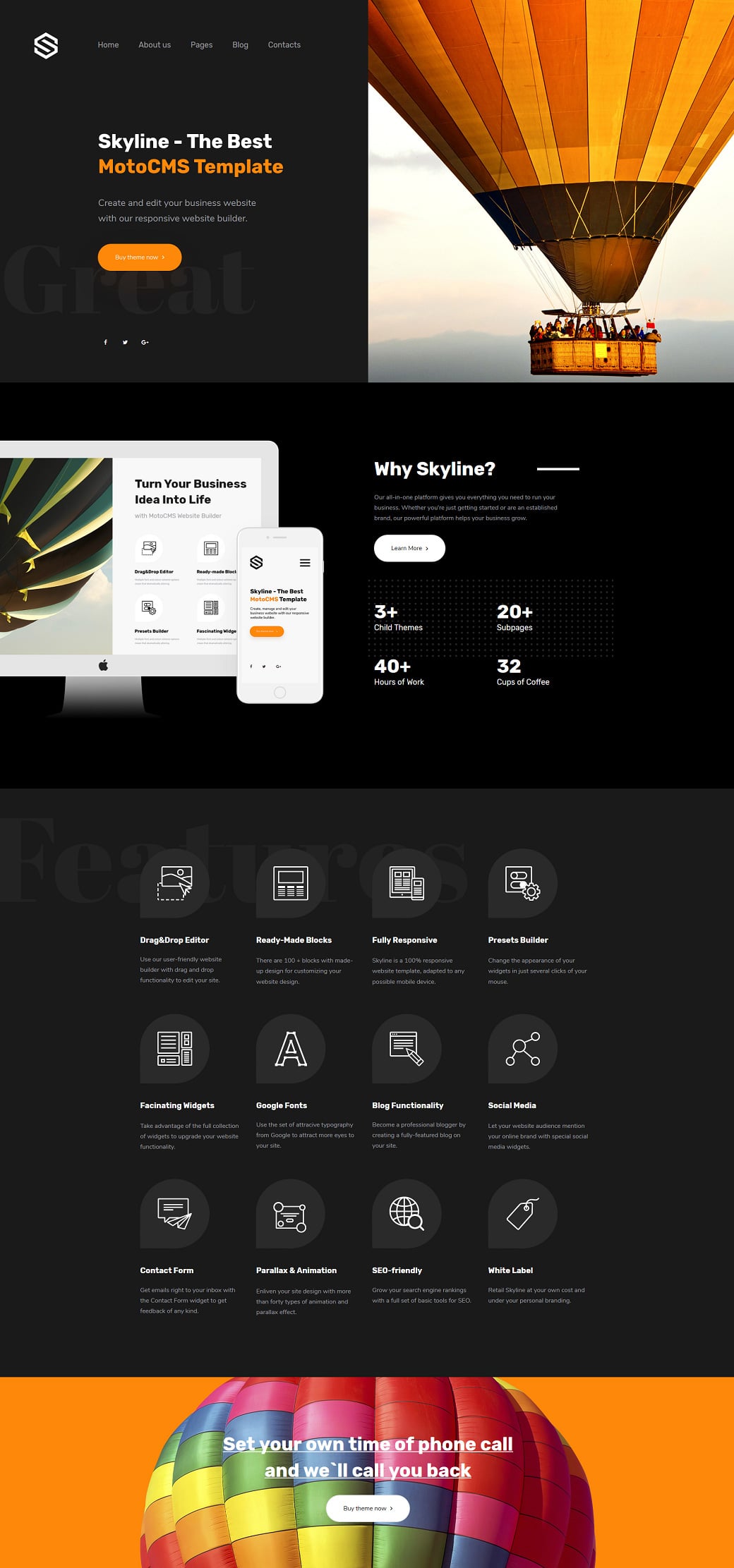 Skyline Dentist
The next home page will fit one of the most-demanded fields of medicine – the dentistry business. Take advantage of the super catchy icons set and stock images to display your services in the most creative way.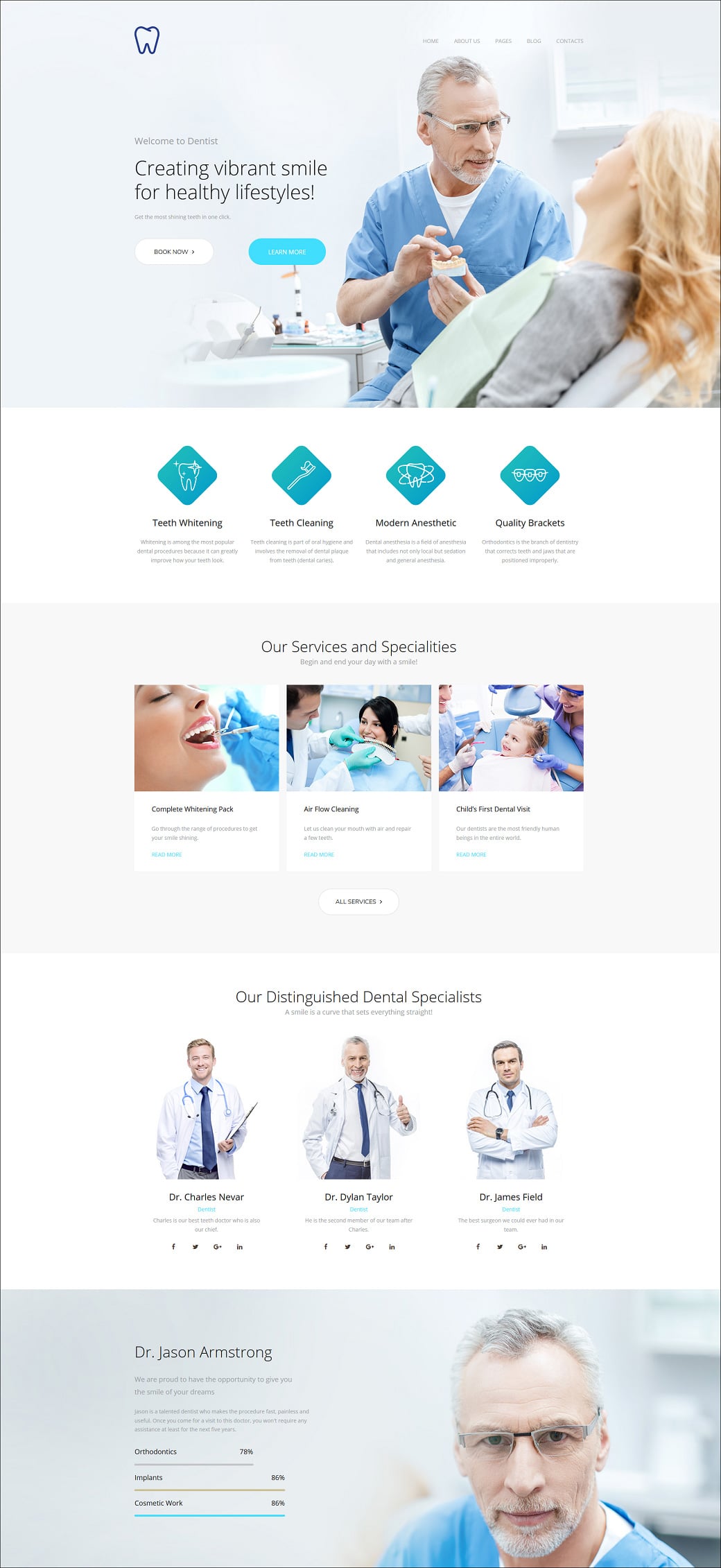 Skyline House Construction
You are very welcome to use this Skyline home page if your business is related to construction and architecture industries. The universal design of this welcoming page will suit a website of an architect, building contractor, construction firm, landscape design agency etc.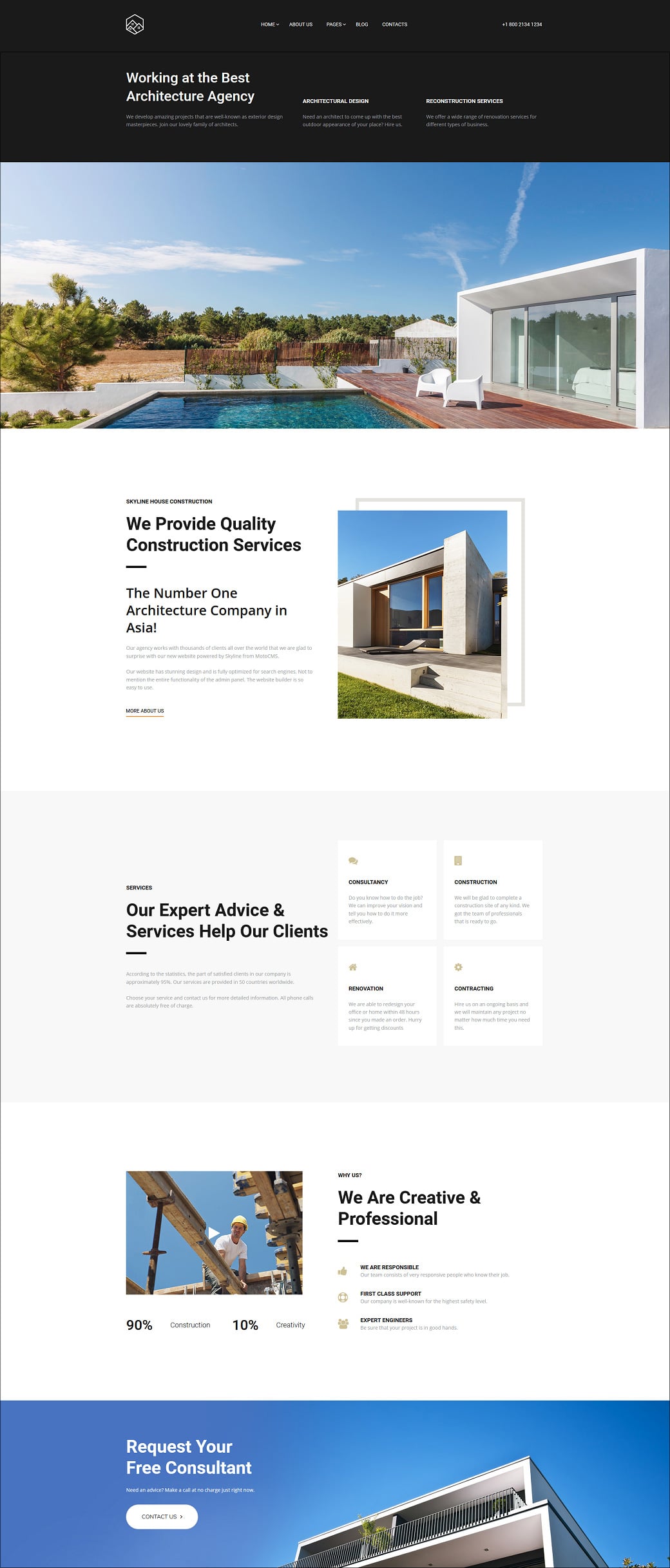 Skyline Travel Agency
Start your travel business two times faster with a ready-made home page for travel agencies. The main white background pattern looks fascinating with thematic imagery, implemented with the effect of parallax.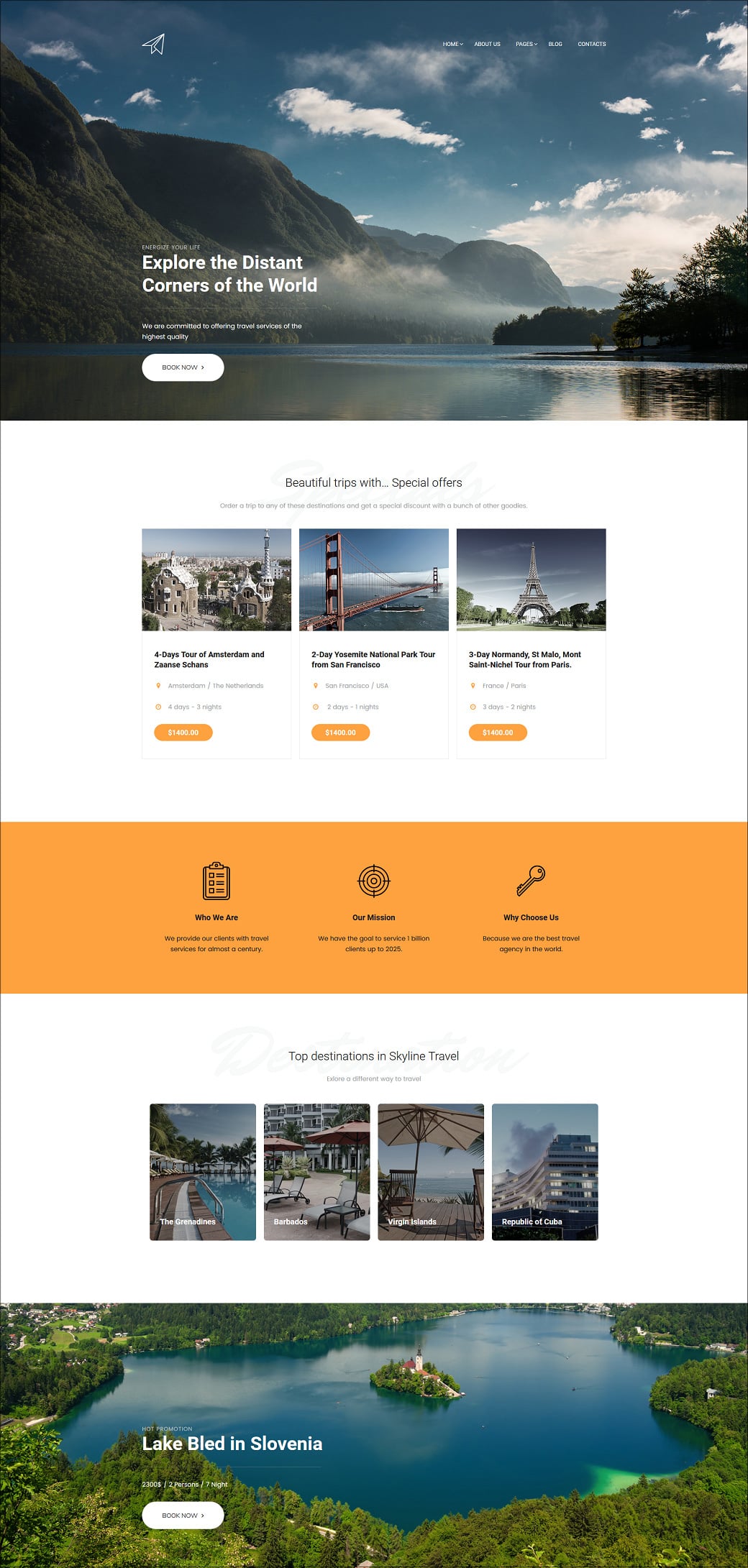 The Fully-Featured Blog Functionality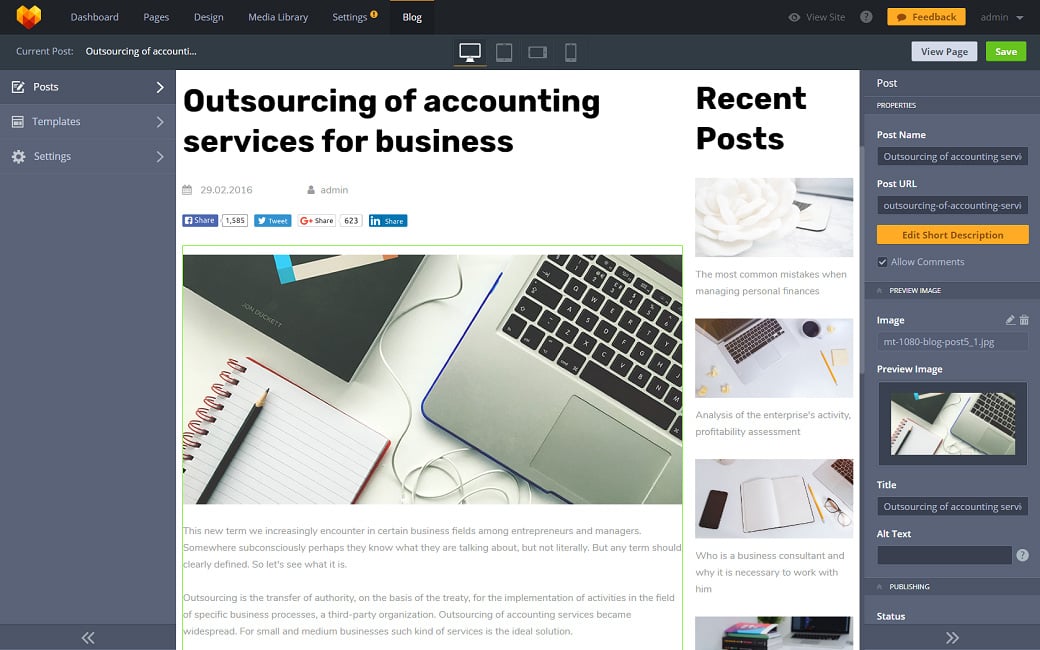 Blogging is one of the most tried and tested ways to boost your business online no matter who you are and what you are involved with. Grab your own piece of pie to get new traffic on your website by using the blog functionality that is already built in Skyline. Create a blog for your personal and professional needs, customize its design anytime and publish useful and original content on the go.
SEO-Friendly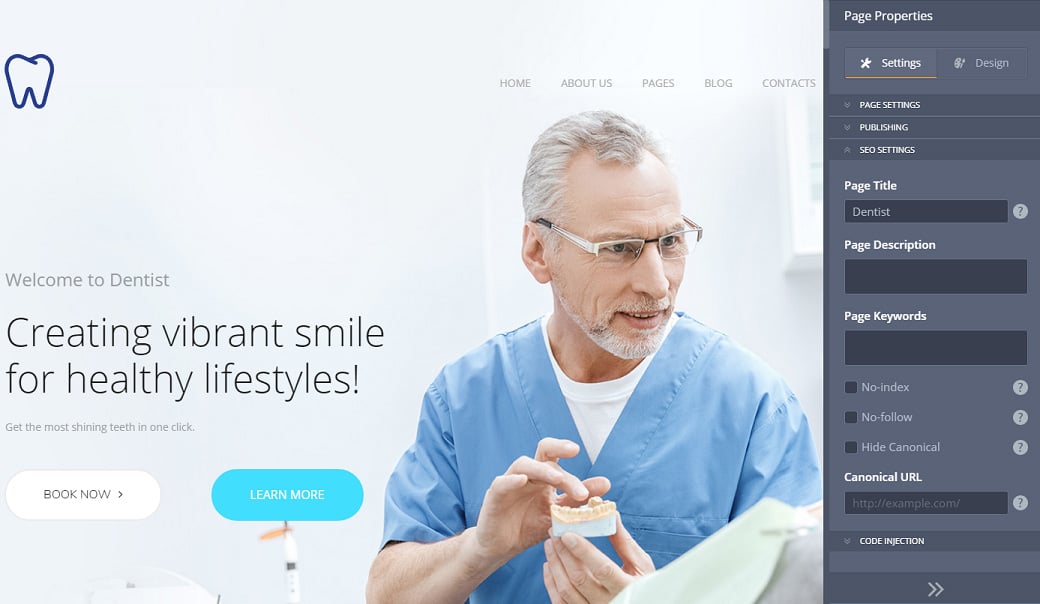 Skyline comprises rich potential for initiating your website search engine optimization campaign. Use SEO tools inside the admin panel from MotoCMS to engage search engines with your website. Enter meta tags, keywords, ALTs for images in the properties of each page. Add 301 redirects. Set No-index, No-follow and Hide Canonical features and more.
Google Analytics & Webmaster Tools

Connect Skyline to your Google Analytics and Google Webmaster Tools accounts in the Settings of the admin panel from MotoCMS to keep an eye on your site statistics and influence its performance.
Responsive Design

Lure mobile users from all over the Web with an engaging responsive website. Skyline is 100% mobile-friendly by definition, adjusting to any device screen resolution. So you have no need in developing an extra mobile version for your site because you have already got one.
24/7 Professional Tech. Support

Getting Skyline, you join the family of MotoCMS customers who are supported at no charge throughout one year. Address your requests to a specialist with any possible means of communication. The MotoCMS support team will be glad to proceed your ticket, reply in a live chat or call you back once you set the time of your call.
Create a Website with Skyline Free of Charge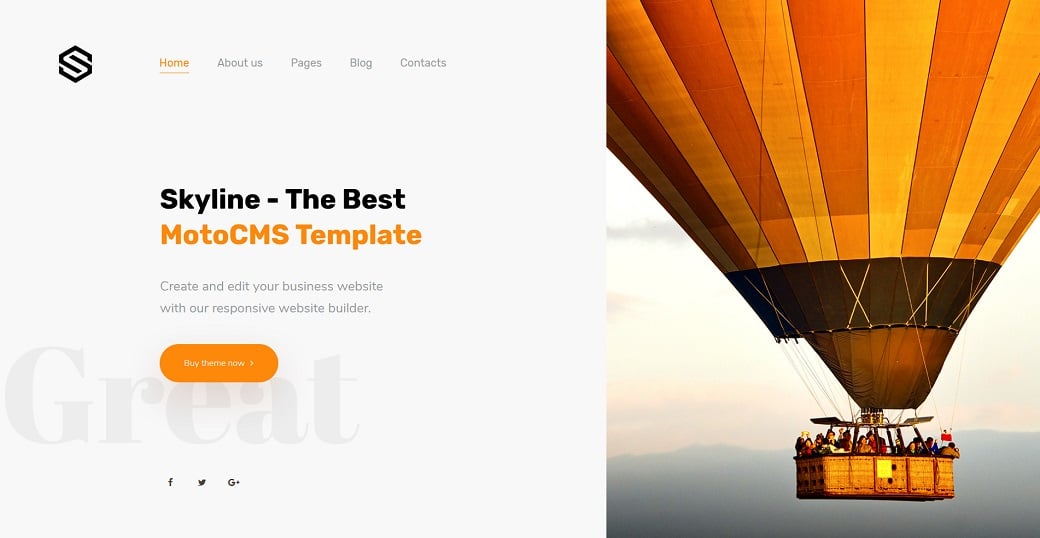 Remember how I mentioned in the beginning of this article that you can access Skyline instantly? Launch Skyline right now with your social media account and email address and start its customization free. Why is it worth to test Skyline?
Meet the entire functionality. Discover all the features above and more by launching a free test and create a professional website yourself with joy and no boundaries.
Get a website that is ready for launch. Build your site and fill it up with any needed content cost free.
Each potential customer of MotoCMS gets an opportunity of buying out Skyline during the free trial period. Once you are sure that Skyline and the MotoCMS website builder fits your requirements and you are ready to go online, contact the MotoCMS team right away to get your complete website and launch it on your hosting server. Good luck!