Top 10 Most User-friendly Content Management Systems
There are plenty of different content management systems all around the Internet. No matter you're setting a personal blog, a corporate website or just want to start out your online business, the age of CSS and hand-codding pages are left in the past. Today all it takes is purchasing hosting and installing a content management system (CMS) on your computer. And in no time you will have a cool website that displays all the needed content.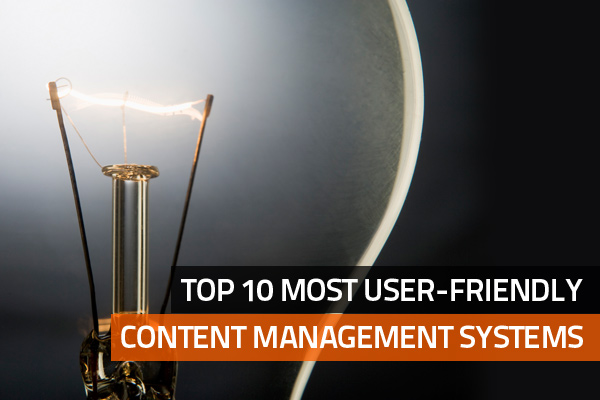 There are lots of ways in which you may use your website from running a technical support to displaying an image gallery. Therefore, in spite of popularity of the WordPress platform, there are a lot of other content management systems available. Each of them has its own advantages and disadvantages. So, let's figure out what kind of CMS will suit you the best.
[th_ft count="4″ title="Pick a Design for Your New Website!" cat="" type="63″ keyword=""]
Of course, it's the most commonly used and the most accessible CMS. Its main advantage is a quick installation and a huge developers' and users' community. As a result, there is a variety of plugins that will surely help you in your work with WordPress platform.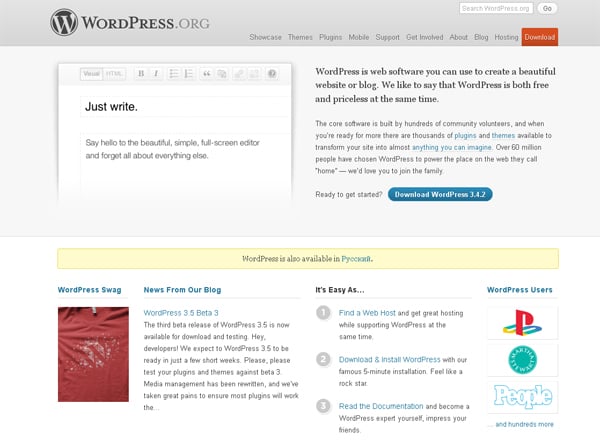 Easy PHP, CSS file editing and a big templates library make WordPress an amazing platform for creating any kind of website ranging from a personal blog to an e-commerce online store. In order to learn more you can visit the official WordPress website.
This CMS is suitable for any purpose and extremely customizable. A brief trip to Joomla official website will confirm this statement, because you'll see that millions of websites are running on this software.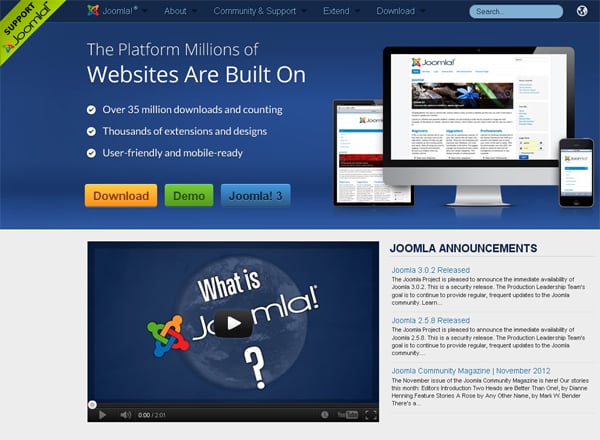 Joomla is often used for small and medium businesses, non-profits and individuals. Joomla's admin panel is easy to use. Many different options, from styles for adding feeds to website templates prove that this is a quite popular choice. You can try out a demo version or download a copy in order to test Joomla.
Drupal is an open source free CMS that is why it's often the best choice for building the first website. Drupal is suitable for either personal blogs and enterprise sites. And like WordPress it has hundreds of modules that can be added to your website and increase its functionality.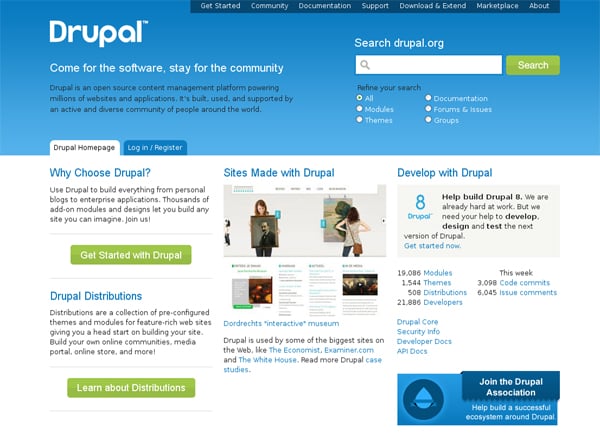 If you click on the screenshot you'll be taken to the home page. There you can take a look at a showcase of websites that were made with Drupal. The latest version has some technical flaws, but it is worth noting that Drupal is one of the most popular CMS.
MotoCMS is a great content management system that allows you to create your own website without programming skills. You need just drag and drop visual elements of the website to customize it. All MotoCMS templates have this built-in CMS or it can be added to an ordinary web theme at your request.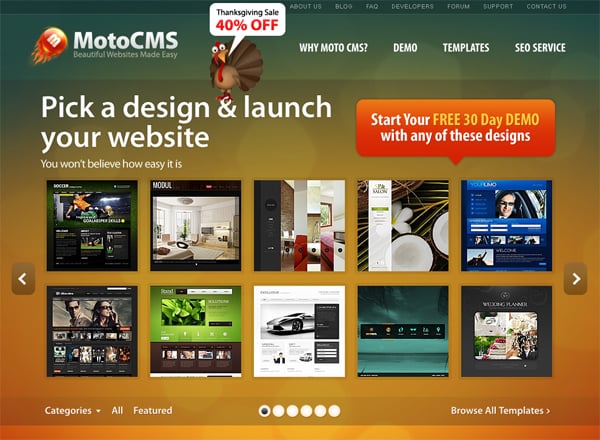 There are lots of different website templates for any kind of business ranging from online stores to photo portfolios in MotoCMS store. You can easily go and choose the one that will fit your needs properly. The MotoCMS comes with a website template in one pack.
Sometimes you need a little coding knowledge to use CMS applications and ModX is a powerful example of this. There are more than 100,000 websites running on this CMS. ModX allows to use multiple styles on the same web page.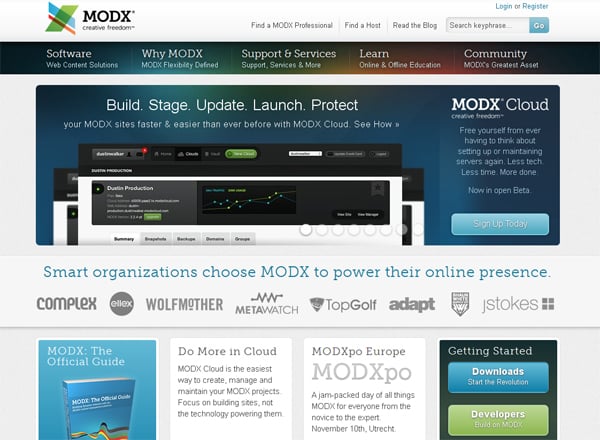 Moreover, ModX minimizes the need for SEO experience as it was developed as a "brother"of search engines. Without additional plugins you'll get all the needed information required by Google, Bing and other search systems.
Of course, there is a chance that you have already found the right CMS from a list below that will surely suit your future website. But wait. If all you need to do is just display a couple of useful and functional pages, the TinyCMS will be a good choice.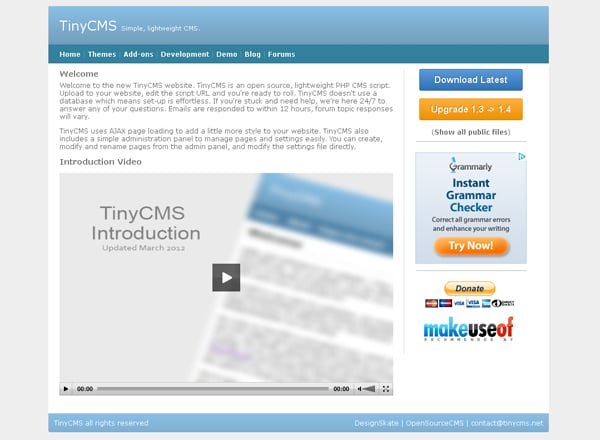 It's a perfect option for a small website and simple things. It uses a TinyMCE article submitting tool and PHP files in order to create a website. You can learn all the details and check the demo out on the official website TinyCMS.
TextPattern is an ideal solution for producing blogs and corporate sites. It has direct minimalist admin interface and flexible design engine.
It's equipped with important tools that allow you even transfer content from another CMS. It also contains an anti-spam system to avoid unwanted messages. A range of plugins that can be easily installed via the browser window make TextPattern a good solution for your business.
The main aim of this CMS is to make it possible for everyone to create and to manage a website without investing lots of time and efforts.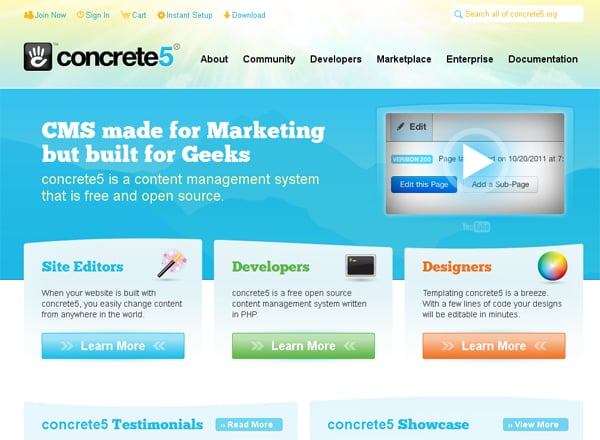 It's a time saving solution for developers, designers and site owners, so it accounts for its popularity. It is focused on the end user, so Concrete5 is quite easy in use.
RefineryCMS is based on Ruby on Rains framework, therefore it provides an easy hook to add new functions and to redesign the front end.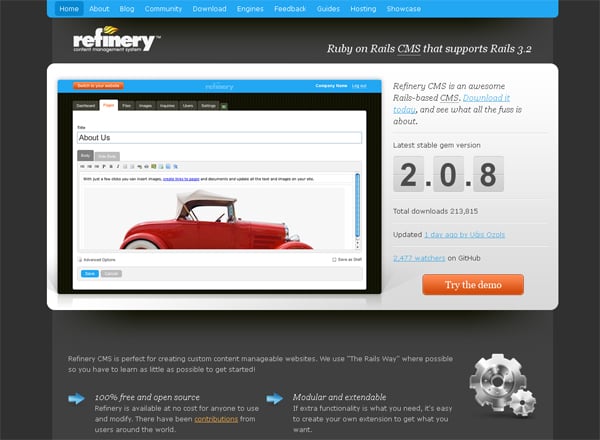 A lot of different engines such as blogs, search, membership, image galleries, and much more are featuring by RefineryCMS. It's the most suitable option for any kind of business. The admin panel is simple and user-friendly, so end users feel invited.
Software of DotNetNuke is written in Microsoft's ASP, so it's more suitable for Windows servers. It's a very strong reason to use this CMS, because many corporations host their intranets on Windows server.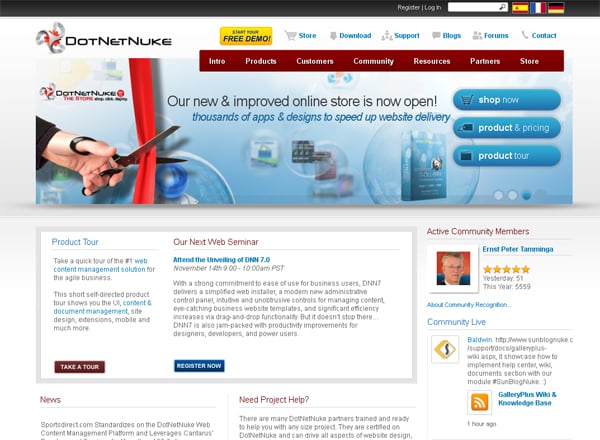 Thanks to the open API developers can simply customize a web application. Of course, end users also benefit from this easy in use CMS. It's not a free system, but you can try out its demo and trial versions on the official website.
[th_ft count="4″ title="Pick a Design for Your New Website!" cat="2″ type="63″ keyword=""]
Conclusion
If you're looking for a CMS that will perfectly fit your needs, you should open official websites of the systems that are listed here and try out demo versions of each of them. There are lots of things you need to consider while choosing a CMS for your future website. Your choice depends on particular kinds of business as well as on your skills. I hope I could alleviate your difficulties and clarify some moments regarding the most popular CMS.