Web Design Conferences 2014 – The Most Anticipated Events for Developers
Web design conferences are great because they bring new opportunities into your professional life whether you're a freelancer, an office employee or a business owner. On such meetings you have an opportunity to talk with true experts and to learn a lot from their experience. Web design conferences are also good because there you can find new partners and build new business connections. So either way it's a priceless experience!

These web design events are aimed at helping you create better websites and get the most from online business. If there is a conference that you'd like to enter hurry up to buy early bird tickets before they are sold out! In most cases the earlier you buy your tickets, the cheaper these tickets will cost you. Some events are extremely popular and a great number of people will want to be present there.
March 2014

This developer conference is placed in Linz, Austria. You can visit it on March 1, 2014. All the discussions will be aimed at programming languages and troubles that people of different cultures can face with.

The conference is aimed at web developers, designers, entrepreneurs and other digital professionals. It will be held in Pan Pacific Hotel Perth, Western Australia on March 14 – 15, 2014. The confence is organized by Australian Web Industry Association
If you read Smashing Magazine you will definitely try to enter this event. It will be taking place in Oxford on March 18–19, 2014. The conference offers 1 track, 2 conference days, 5 workshops, 18 speakers and just 350 available tickets.

The event will be held at Palais Liechtenstein, Vienna on February 28 – March 01, 2014. Use the following promo code "jQuery" to reduce tickets price from €259 to €170.
April 2014

Here is the 3rd annual online, live responsive web design conference. Tickets for 3 session days (April 1 – 3, 2014) are available.

This popular conference will be held in Stockholm, April 3, 2014. Add yourself to the conference's waiting list.

A day long conference is running April 23, 2014 in Newcastle upon Tyne, UK. Conference tickets cost £199. There are also 4 workshops which require additional tickets available at £249 each.

The conference is held in New York from April 3 – 4. It features 14 speakers.

April 24 – 25 Amsterdam, the Netherlands. On this conference you'll participate in the latest web trends discussions and learn new business practices. Tickets for the event are available for $550

This 8th annual conference will take place in London on April 7 – 9, 2014. The organization team welcomes group booking. In case you'll be unsatisfied with the event your registration fee will be returned.

Mobile interface developers are welcomed on April 7–9, at the Denver Marriott City Center, in Denver, CO. It's possible to register for 1, 2 or 3 days.

This two days conference will take place April 28 – 29 in Brooklyn, NY. Register early for the best rates. Hurry up because registration is limited.

Web design conference for people who care about code, design and usability. The two-day conference will be held on April 28 – 30, 2014, so hurry up to register tickets.

This annual Toronto conference for designers, developers, freelancers, startupers and other creative people will be held on April 27 – 29, 2014.. Over 70 presentations are waiting for you.
May 2014

This conference will take place in Columbia, SC – May 1–3, 2014. There are 7 workshops to be attended to: Front-end development, Design, Gaming, Makers, UX, Development and Business & Marketing.

The event is held May 7-9 at the Oregon Convention Center's B Series Meeting Rooms. You can buy tickets for 2 of 3 days pass.

Trinity Laban, London 28–30 May 2014. User experience designers will be educated on the themes of Products, People and Platforms. There are three-day tickets as well as a limited number of one-day tickets.

Talks, workshops and intimate sessions of the conference will be interesting for designers, engineers, researchers, startups, VCs, marketing & brand professionals. The international event will take place in Berlin, 2-3 May 2014.

Three events (Creative Industries Summit, Interactive Exhibition and Technology Awards) are combined in one. Enter the conference on May 7-8, 2014.

Enter the the 13th international design conference holding on May 19–22, 2014 in Croatia. The core ares of the conference are Design theory and research, Design organization and managements, Design processes, Design methods, Design support tools, Design information and knowledge, Design innovation, Human behavior and design, Engineering design practice, Systems engineering and Designs, Sociotechnical issues in design, Industrial design.

This is one of the biggest design events of 2014. You'll be able to enter such sessions like Print design, Web design, Package design, Leadership, Creativity, Freelancing, Technology and Management. The conference is held in Boston during 5 days. Hurry up to register and to save some money!

The event will be held in Austine, TX (May 5–7) and in Baltimor (September 29 – October 1). Choose the city that fits you because both conferences will feature the same speakers and program.
June 2014

This international conference is aimed at startupers and web entrepreneurs. The conference will be held in Old Billingsgate, London on June 9–10, 2014. There are tickets for startups (£ 500.00), groups of 3 people (£ 600.00 valid till March 18, 2014), very early bird tickets (£ 750.00 valid till March 18, 2014) and regular tickets (£ 1,500.00).

Attend the conference in San Francisco, CA during 28–30 June, 2014. The event will be interesting for iOS and Android masters, web developers and designers. The conference tickets cost $1995 (for general conference rate only), $1795 (for government & non-profit rate conference only), $495 (for each of 3 additional workshops)

The third event of the world's WebVisions conference will be held from June 19–22 in Barselona, Spain. The tickets can be bought till April 4, 2014. This conference will feature some aspects of the web and mobile design, digital media, user experience and technology.

This international conference is placed in Faenza, Italy on June 5-6, 2014. It is focused on typography. There are discounted tickets (79€) for students, regular tickets (175€) and early bird tickets (140 €, available till March 31, 2014).

The Conference is organized by net magazine and Creative Bloq. It will be held in New York on June 20, 2014. Late on September 26, 2014 you'll be able to enter similar event in London.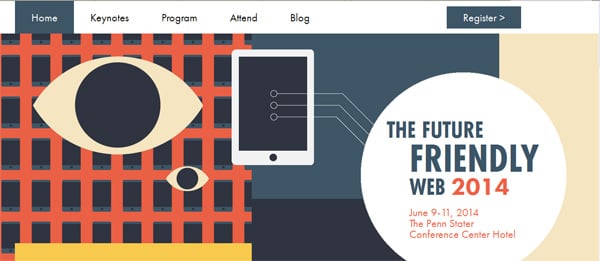 This 17th conference will take place in the Penn Stater Conference Center Hotel, US on June 9–11, 2014. Sessions to enter: Content, Design & development, Marketing, Programming, Training & education, Usability and Accessibility.

Visit Berlin on June 1–4, 2014 and meet PHP developers, webmasters and IT managers. If buying tickets till April 3, 2014 you'll get special rates and a tablet for free.
July 2014

On the 18th of July 2014 in Cardiff you can enter a full day conference for freelancers and web development business owners. Early birds tickets are available till July 18, 2014.

From July 30th to August 3rd you can enter this conference in Washington, DC. Typography professionals are welcome.

This is a summer camp style conference for a wide range of professionals from hardware developers to mobile apps geeks. Visit Walker Creek Ranch, Marin County, California on July 3 – 6 to listen to professionals, to meet other attenders and to work with them within worksections.

This one day workshop (July 9, 2014) is hold in London, England, for designers, developers, project managers and anyone who's involved in building sites or apps interfaces.

You're able to attend the conf in Portland,OR, UAS (August 21 – 23) and in St.Petersburg, Fl, USA (July 10 – 12).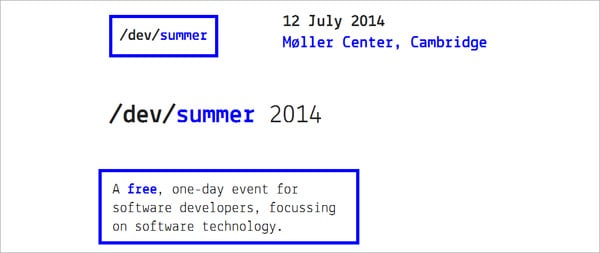 This is a free one-day event (July 12) based in Cambridge, England.All developers are welcome.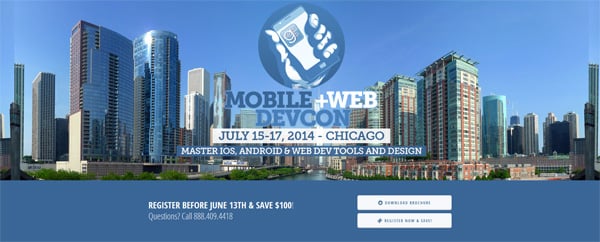 This event will help you to improve IOS, Android and web developing skills.Don't forget to be in Chicago during July 15-17, 2014.
August 2014

This event is ideal to combine work and rest. It's a kind of summer camp for geeks in a giant waterpark in Wisconsin Dells, WI. Tickets registration starts on May 16th and the event will take place in August 11–13, 2014.

Visit Caracas, Venezuela on August 1–2, 2014 There are only 400 tickets available.

During August 25 – 27, 2014 you may listen to 12 speakers. You can registe just for 1 day workshop, for two-day conference or sign up for the entire conference.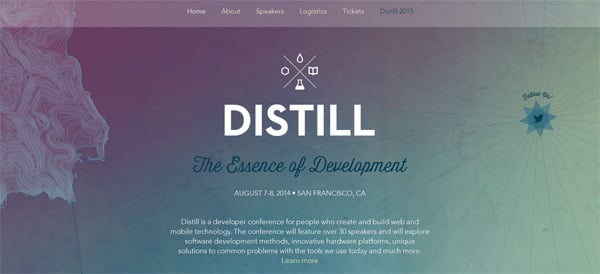 30 speakers are waiting for you in San Francisco, CA during August 7-8, 2014. You'll explore trendy methods on how to create web and mobile projects and which tools are best for that.

Glasgow, Scotland is waiting for you on 15 – 16 August, 2014. Here you'll be able to listen to professional speaches, learn new practical skills during workshops, participate in discussions and debates.

"From August 18 – 22, 2014, developers, software architects and designers will land in Redmond, WA at the idyllic Microsoft headquarters for 5 days of cutting-edge education on the Microsoft Platform."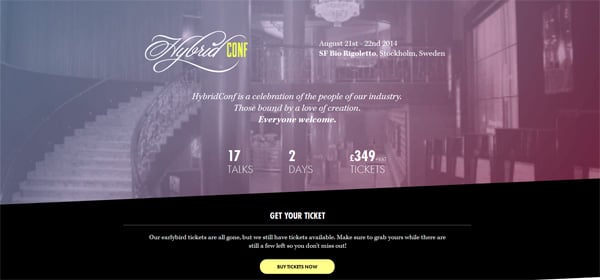 The Hybrid Conf 2014 is arranged in Stockholm, Sweden for designers and developers. The two-days event (August 21-22 2014) includes 17 speakers, a bowling tournamentand an after party.

This one-day developer conference is arranged in Bournemouth, UK on August 22nd. Early bird tickets are available until June 24th.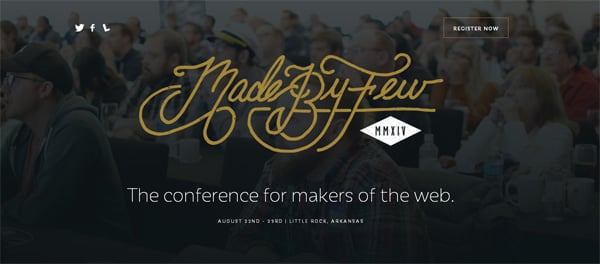 This conference is made for designers, illustrators and developers. Regular ticket's price is $235.00. If you're interested then visit Little Rock, Arkansas on August 22-23.

This New York summer will be hot because on August 23–29, 2014 your are able to get best practices on user experience. During the conference period you can choose one course per day (from 9am until 5pm).

The conference is proclaimed to be "the biggest ember.js event in Europe.". The event will take place in Barcelona, Spain on August 26-29, 2014.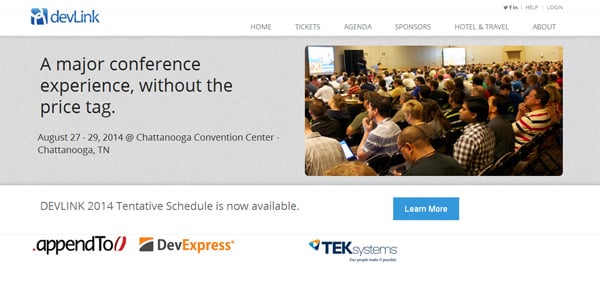 If you're going to improve your software development skills then visit Chattanooga, USA on August 27-29, 2014. Pre-cons start on August 26th and include a full day dedicated to AngularJS, jQuery and JavaScript Fundamentals, as well as Web Developer Workflow.
September 2014

The conference is held at the Siskel Film Center, Chicago over a two days period (September 25-26). Tickets can be bought till August 2014.

This conference is for East-European web designers and developers. The event will be held in Bucharest on 23–24 September. More details will be announced later.

This web design conference offers you to listen to Luke Wroblewski (CEO and co-founder of Input Factory Inc), Aarron Walter (director of user experience at MailChimp),Whitney Hess (UX coach, author of the blog Pleasure and Pain), Josh Clark (designer specializing in mobile strategy and user experience), Jared Spool (founder of User Interface Engineering) and Jeffrey Zeldman (co-founded the multi-city web design conference An Event Apart). Join the conference on September 22 – 24, 2014.
October 2014

This time the conference is held in Orlando on October 13–15, 2014. The registration for the conference is open. The most popular sessions of CSS Dev Conf will be repeated on Day 2. Attendees will vote for their favorites anonymously.

This is one of Europe's largest conferences on front-end web development, organized in Amsterdam yearly. This time the event will be held on October 9-10, 2014 in Amsterdam.

This 3 days AEA will feature 18 speakers at Walt Disney's Magic Kingdom®. To get extra bonuses you may subscribe for a Gold Pass that costs about $300. It gives you an access to e-books from A Book Apart, a 30–day lynda.com premium membership, and an exclusive backstage tour of Walt Disney World®.
November 2014

This is an educational learning session for designers and developers. It will last for 3 days (November 17 – 19, 2014) and the third one will be interesting for mobile design oriented attenders.
December 2014
Coming soon…
New events will be added to this list of web design conferences. Add this page to your bookmarks to come back later and to know about the upcoming classes and seminars.