Neuromarketing in E-commerce: 15 Effective Ways To Ramp Up Sales
Digital marketers and advertisers today are employing neuromarketing in e-commerce. It is a powerful, cost-competitive manipulation technique to influence customers for boosting sales and generate revenue.
Neuromarketing is a relatively smart field of marketing. It is based on a research activity developed by the insights of customer brain science. Mapping the human brain may seem to be an impossible task for a marketer. However, there are indeed several techniques to harness the customer's brain reactions on noticing certain products. As humans react instinctively, Google utilizes machine learning to gather more data about the customer conduct. Tapping into these predispositions, Neuromarketing indicates the common behavioral patterns of consumers. It also displays in ways which become the basis of how you can achieve conversions in your target market.
Before diving into the mighty neuromarketing tricks that can help you while strategizing your e-commerce web design and development strategy, let's first discuss what exactly neuromarketing is.
What Exactly is Neuromarketing?
Neuroscience + Marketing = Neuromarketing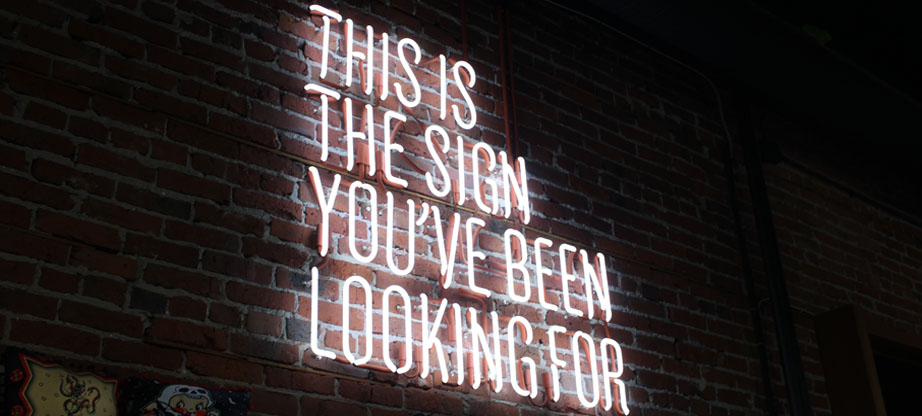 Neuromarketing is defined as a branch of neuroscience research which aims to perceive the consumers through their cognitive processes. It also finds applications in marketing, deciphering consumer's preferences, expectations, motivations, and predicting their behaviour. Moreover, it explaines failures or successes of the advertising or marketing campaigns.
In other words, Neuromarketing means understanding the rationale behind how customers make purchase decisions in their journey and their responses to marketing stimuli.
How Neuromarketing in E-Commerce Works?
Digital marketers today have access to intelligent tracking tools like SEMRush or Google Analytics. However, it is difficult to measure the most important element of your marketing campaign. Which equals the ability to make your audience feel something.
Previously, marketing researchers used traditional methods like customer surveys and interviews to understand how their advertisements impacted consumer behavior. With the advancements in technology, marketers used tools like functional magnetic resonance imaging scans (fMRI), electroencephalograms (EEG), Transcranial Magnetic Stimulation (TMS), Positron Emission Tomography (PET), Magnetoencephalography (MEG), with fMRI and EEG as the predominantly used techniques.
Besides, neuromarketing in e-commerce also uses the implicit associations' test and other biometric instruments, methods, and techniques. They comprise measuring the psychophysiological reactivity, eye-tracking, assessing the heart rate and the respiratory rate, and measuring the electrodermal reactivity.
The information from these tools helps e-commerce marketer researchers to analyze the neural activity of consumer behavior in real-time. Moreover, these tools facilitate to capture the first impression a customer perceives and also the ease with which they interact with your website's layout.
Using the research information, major e-commerce brands are incorporating neuromarketing tactics while designing their packaging, products, and advertising campaigns. For instance, Frito-Lay discovered the shiny packets with pictures of potato chips triggered a negative response. When tested against matte bags with pictures of potatoes on them. After which, they abandoned using the shiny ones.
E-commerce giant Netflix uses neuro-trackers as their tool to predict how successful their online shows will be with 84% rate of accuracy.
So, the knowledge of customers psychology helps e-commerce business to channelize their marketing and manufacturing efforts a better way. Ultimately, emotional engagement brings, in turn, quality content.
But, this was all about how neuromarketing has been advantageous in e-commerce space, let's next discuss. You can hire an eCommerce Product Data Entry specialist. The expertise can help you in catalog conversion, building and indexing eCommerce product.
15 Neuromarketing Tactics in E-commerce To Boost Sales
Marketers have devised compelling strategies to attract potential customers who can effectually convert. Once you are aware of the right tools, you can apply them to your small e-commerce business. Have a look at some of the most effective strategies for neuromarketing in e-commerce. They will help you increase your conversions.
1. Convert with Contests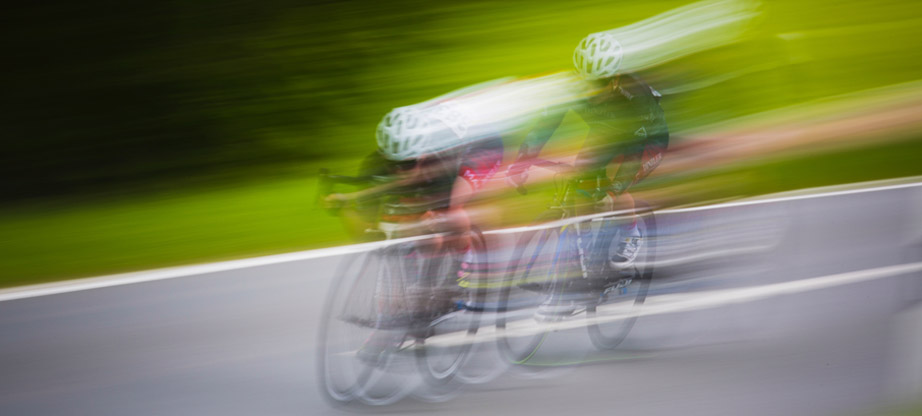 Contests can be seen as an incentivized interaction. It helps e-commerce owners drive traffic to your website, generate new email leads, and make sales. You can organize any contest such as a photo contest, video contest, vote contest, and others. Contests are a brilliant way to let your customers know about your brand and raise the awareness. The 'offering' or 'giveaway' will be a motivation for your customers to make the effort of participating in the contest. Analyze and select the appropriate hashtag and keywords to steer your contest in the right direction with a quality content. Businesses that use contest strategy have been seen with resounding success.
Key Takeaway: Comprehensive tools can be used to create a result-driven contest approach. SEMRush keyword research tool, for instance, can be used to search powerful keywords to increase the buzz around your contest. Use Hashtagify to search for the unique hashtags. In order to develop content, measure its content SEO as well as social performance. Another effective tool called Content Analyzer can be of great significance while you plan for contests.
2. Display Social Proof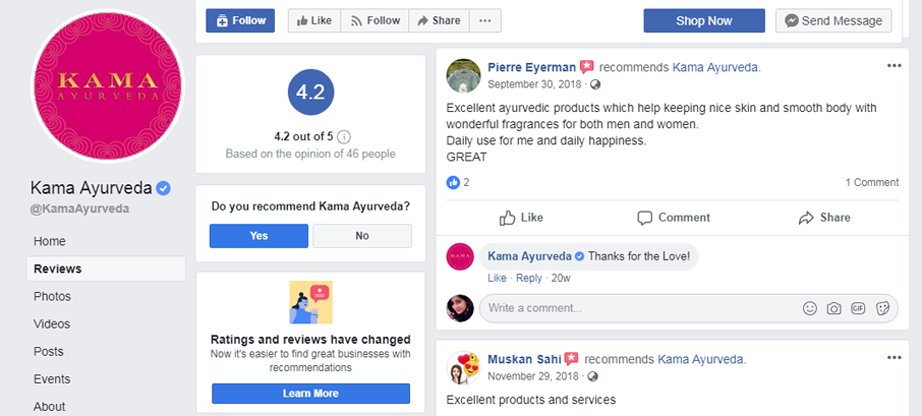 Have you ever paused and checked the customer reviews on social media about products you planned to buy? Or has an article with huge engagement, triggered your psychology so much that you were convinced to share it ?
Well, this is an important marketing asset, called 'social proof'. It can be of many types: public praise, endorsements from trusted experts, popularity, and proof of demand.
As e-commerce store owners, you can instill social proof on your website, social media, in emails, on blog posts, and in PPC campaigns. It all has one aim to create a positive impression on new customers for buying your brand. Thus, by building your brand reputation, trust, and authenticity, you can outstand your competitors and increase your sales.
Key Takeaway: You can integrate third-party apps/plugins. For instance, Loox app (in case of Shopify) and Proof extension (in case of Magento), PopQuick app (in case of BigCommerce templates) with your e-commerce store. Or, you can leverage your social proof in an innovative way through custom app development by the e-commerce experts.
3. Memorable Hippocampal Headlines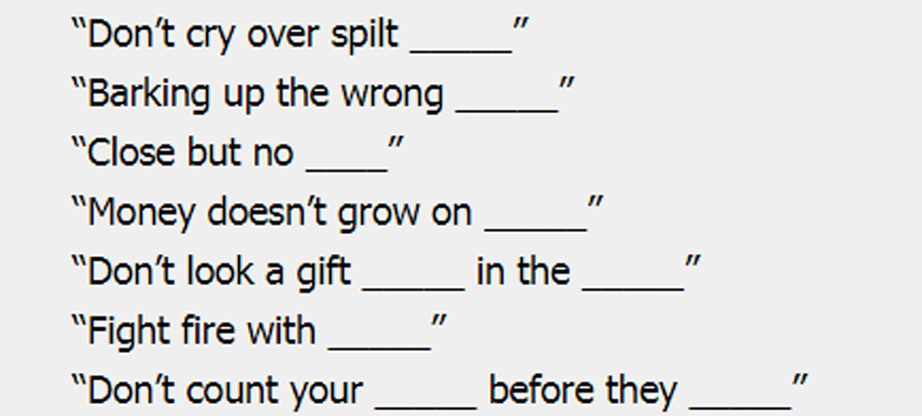 Sometimes more important than the article itself, headlines can make or break your article. So, write catchy headlines that grab user attention immediately.
In this context, a clever neuromarketing technique called "Hippocampal Headlines"  has been coined. According to research at the University College London, when a familiar phrase is slightly altered, our brain snaps to attention.
For instance, the marketing slogan "Practice makes Patron" is an example.
Key Takeaway: So, the next time you are writing content headlines, print ads, and brand slogans, seize your customer's attention by substituting the unexpected words in the familiar mottoes, slogans, etc. 'Hippocampus Headlines' trigger the brain and create a long-lasting impression on your customer.
4. Make Consumers Remember With Complex Fonts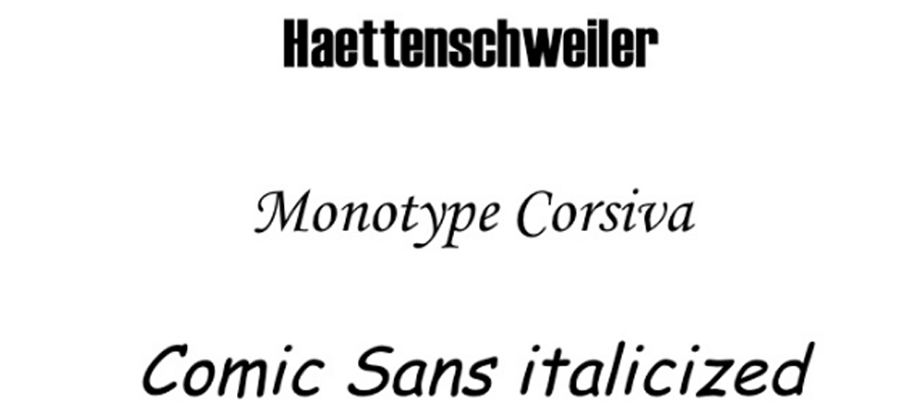 In case you are selling an expensive product, use of a hard-to-read font may persuade customers to buy it. Using a fancy font and a complexity of wording can increase the belief that it is a unique product. Moreover, it also allows the viewer to spend time reading what you want to convey. Using this smart tactic of neuromarketing in e-commerce allows customers to absorb and remember your message. However, keeping a balance is a must else over-complicating your copy could result in an adverse response.
Key Takeaway: Using 'disfluent fonts' requires additional effort from the customer end to read. It leads to deeper processing, and ultimately a better recall. Thus, retention becomes significantly better for complex fonts such as Haettenschweiler, Monotype Corsiva, Comic Sans Italic, etc.
5. Use of Price Anchors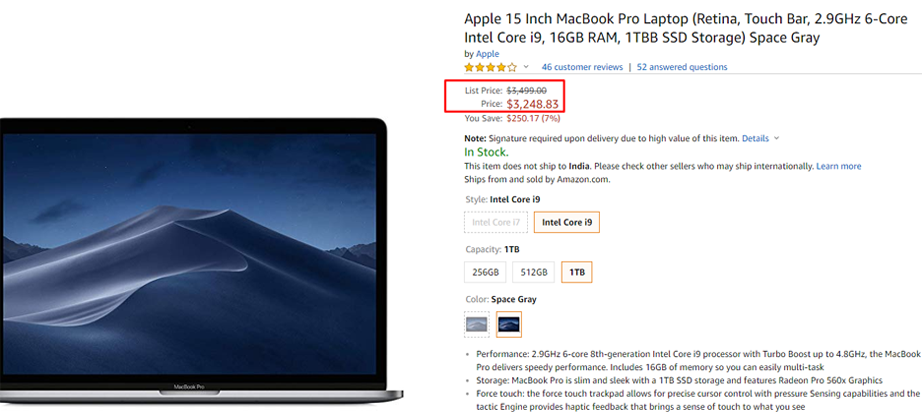 The human brain is wired in a way that buying decisions are made from the same area which controls human emotions. So, marketers use price anchoring when running e-commerce sales on their websites. The use of price anchors hit the customers' psychology. It lets them see a higher price first before seeing a lower price.
Customers thus, are tempted to buy the stuff whose base price is more as compared to the sale price.
Key Takeaway: Attract customers using price anchors by crossing out the higher amount with a much lower sale price under. The anchor price helps your customers believe the product is of much worth than the price. It makes the sale price much more appealing.
6. Fear of missing out (FOMO)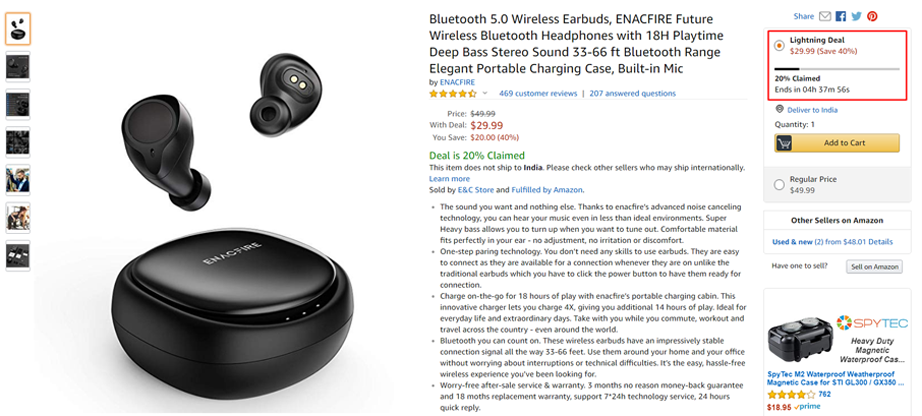 Creating the fear of missing out in customers help merchants sell their products effectively. Merchants make use of scarcity cues "Limited Edition" or "Almost sold out" advertisements to create a sense of urgency. You can set up a 'lightning deal' for the customers with a timer.
These selling appeals take advantage of a customer's fear of missing their favorite product out. Using a timer on product pages can serve the same purpose.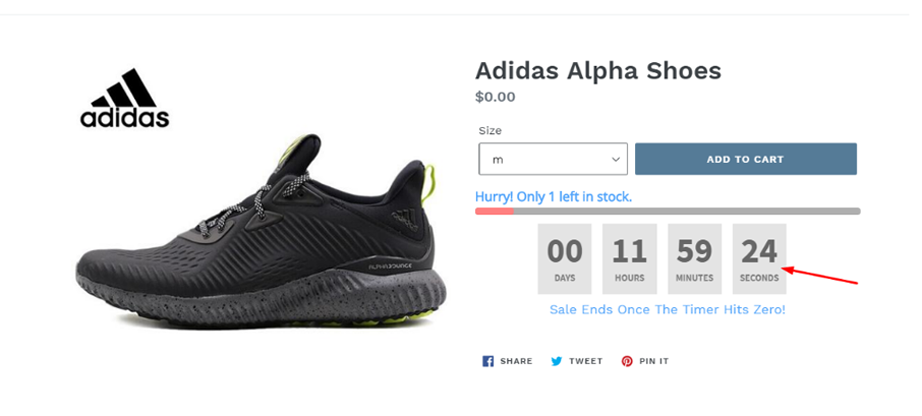 Key Takeaway: The trick to taking advantage of this fear is to find out how your customers rush to buy the products. For the items running out of stock, merchants often use "product coming soon" to keep customers interested. The aim is to create urgency by indicating scarcity and remind customers what they are going to lose by not buying, thus converting "loss-averse" leads. This way of doing neuromarketing in e-commerce leads to increase in conversion rates.
7. Impulse buying
Knowing about the sudden whim of psychology, E-commerce store owners use the concept of impulse purchase to help increase their average order value. For example, compel customers to purchase an additional product that is relevant to their cart items at checkout. You can suggest a similar or recommended products either on the product page or through the follow-up email.
Key Takeaway: To make the customers make purchases without your extra efforts or lots of thoughts, take measures like choosing the right products, recommending them with the relevant products, grabbing customer's attention. Additionally, using a combination of high perceived order value, scarcity, urgency, and great deals like "buy two, get one free" works wonders for a product. Using countdown timer apps like Hurrify, you can drive your customers into an impulse purchase
8. Personalization Persuades Powerfully
Creating personalized experiences and delivering them across multiple channels in an authentic manner by spanning sales, marketing, and customer service with the aim to resonate deeply with customers have made them feel valued and appreciated.
Tapping the 'pleasure points' of customer's brain, along with the intention of seeking their attention, ecommerce owners consider 'Product Customization' as an important tactic to grow their businesses.
Key Takeaways: Segmenting the audience by being cognizant of your customers' mindset could be beneficial while creating the personalized content. And, with the advancements in website development technology, it is getting affordable even for small and medium size e-commerce businesses to accept custom product designer set-up or software.
9. Website Layout, speed, and SSL
From color schemes, font size, layouts, and beyond, neuro marketers are taking into consideration what particular website design is preferred to generate better sales. Neuromarketing provides a rule of thumb when it comes to creating websites. For example, using SSL certifications to ensure security to customers, social widgets for earning trust, and testimonials to attract new customers.
E-commerce companies are providing customers with a sense of safety and security, speed and efficiency. Ebay's PayPal conducted an experiment in which they found that the promise of convenience activated human brain more than security. So, using this information they convert more shoppers to their online payment service by pitching their speedy payment system.
It is necessary to provide the optimum speed of loading your web pages as you can lose potential customers if your pages load in < 2 seconds. It also annoys the customers before they make a purchase, which increases the bounce rate.s
Another important tactic to be followed while designing a website is a vertical website layout are more effective than horizontal. Because reading website pages from the top to bottom engage the brain and make viewers more likely to keep scrolling.
Key Takeaway: Use science and some robust ways to inform your website design. It includes everything related to providing an attractive UI of your e-commerce website.
10. The importance of gaze and directional cues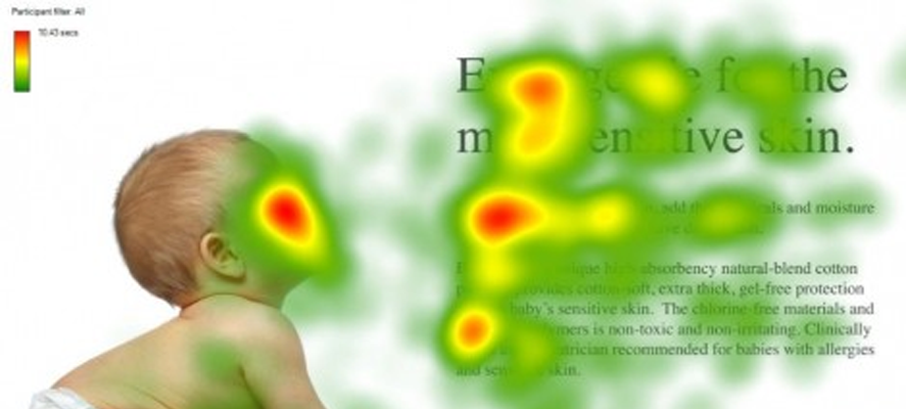 Considering eye tracking as an essential feature in web design, Nielsen Norman Group discovered that people viewing websites tend to scan them in an F-shaped pattern. This is the reason why the most important information is being presented in the upper left corner of the website.
In a popular example of advertisement banners which include images and videos of babies tend to attract more focused attention from potential buyers. The use of eye gaze finds importance in such advertisements.
If the infant looks face on, the viewers will also look at the baby's face instead of focusing on advertisement content. However, if the infant is directing its gaze at the product then the viewer's attention will automatically be drawn towards the advertisement content.
Key Takeaway: To increase ad efficiencies and attract the user's attention, providing the readers with directional cues ensure effective conversion. The visual cues which include relevant images will guide your website/ad visitors to key areas of your site. Use heat maps to understand the focus of visual attention of several viewers a time distributed over the stimulus. Gaze plots to analyze the order, location, and time spent gazing at locations on the stimulus.
11. Using Effective Packaging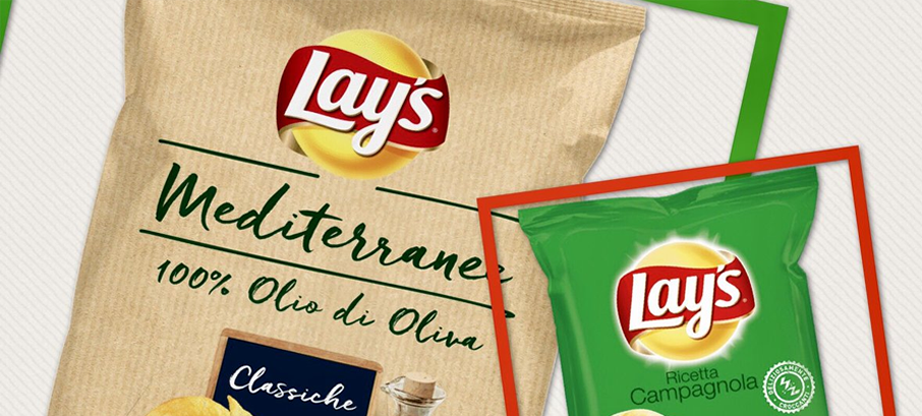 The prime role of product packaging is to protect the products from damage. This technique of neuromarketing in e-commerce brings an opportunity to brand your stuff. It is critical in online retail sales, as the right packaging design can attract your customers' eyeballs and make the product stand out from your competitor's product.
While advertisers are well-aware of the fact that it's not always what's inside that counts, but the impact of neuroimaging has managed to a take it to a whole new level. Top brands like Pepsico's Frito-Lay and Campbell have used neuroimaging to reimagine their packaging.
Key Takeaway: Running an A/B test of product packaging help you to learn what your customers are liking. Ask for their feedback whether it be negative, positive, or neutral through your social media posts. In addition, you can interview your consumers extensively in relation to your packaging's text, color, quality, and imagery.
12. Colors that sway buyers
Colors play an important role in building a brand. Selecting colors for your brands can influence how potential customers feel about your brand. Studies have consistently shown that there is a link between particular colors and certain emotions.
Simply utilizing a color effectively can be a powerful neuromarketing tactic in e-commerce. Choosing a right color for your products to catch the customer's eye quick. Neuromarketing experts who specialize in color have divided colors into several subgroups to let e-commerce owners use them effectively.
For example, if you wish to attract professionals, cool blues are the go-to color. However, as per another research women respond positively to pink as it denotes enthusiasm, love for oneself and others, friendship, affection, harmony, and inner peace.
Key Takeaway: Ensure that you learn and keep in mind how colors may be used to influence the purchasing behavior of customers. For more information on how colors affect the conversions, check out this article.
13. Build Customer Trust
Earning your customers' trust is essential for generating sales. Adding trust badges and security seals can help to assure customers that your store is not a fraud. Moreover, use a reputable payment gateway like PayPal will let your users know that they are using a service that is recognized and trustworthy. This ensures customers that their money is safe and the transactions are secure, giving a sense of satisfaction.
Another tactic of implementing neuromarketing in e-commerce can be to display user-generated content as in genuine product reviews from real customers.
Key Takeaway: Using the trust signals in your e-commerce stores can help you drive more revenue from existing traffic.
14. Show Your Products/Goods in Action
It's often seen that customers are unsure about the quality or appearance of the product. Sometimes, they mistrust your product description that may not be enough to satisfy their concerns.
One way is to display your product with high-definition images with different views and angles. What's better is to add rotatable 360-degree views of the products. This will help customers to get a more thorough picture of how the product actually looks.
The other way can be adding product videos such as 'unboxing the product videos' that shows the product in action and how the product looks like. Brands like Nine and eBags.com makes great use of the videos. Often, the videos can be 'product explainer' or about 'how-to' information for the customers.
Key Takeaway: Product in action can help customers see more details about the product. With some products, it becomes essential to show them in the video, here are a few examples.
15. Risk reversal
Risk reversal is a sure term that facilitate e-commerce businesses to improve the conversion rates. Before making a purchase decision, a myriad of questions run through your customer's mind. Whether to trust the store? What if he doesn't like the product and needed a moneyback? Or what if the product comes out to be completely torn out? and more. By employing the risk reversal tactic, you can ease customer fears. This ensures that you are trustworthy and a genuine brand.
Key Takeaway: Putting all the risk on yourself rather than your customers can help you gain the credibility. The popular ways to utilize risk reversal are: free returns, money back guarantees, and quality guarantees.
Final Thoughts On Neuromarketing in E-commerce
With Brain-wave marketing becoming a trend, embedding these neuromarketing tactics in your campaigns can be your best ally to rule the wide digital market. Utilizing neuromarketing in selling your products is a robust way to build e-commerce trust with your customers, increase sales, and generate revenue. Future would bring more solid techniques to learn and satisfy your customers.
Have you used any other neuromarketing technique in your e-commerce other than these? What are your thoughts about the same?