Top 10 Amazing eCommerce Website Design Examples
Humans seem to love beautifully designed things, whether it is a presentation of the food at a restaurant or a new smartphone. The same goes for the website also. If you are not presenting your customers with an appealing website and the products categorized properly, you are definitely letting the money go off very easily. More than 20% of the online shoppers mention improper eCommerce website design and poor navigation as primary reasons for abandoning the website.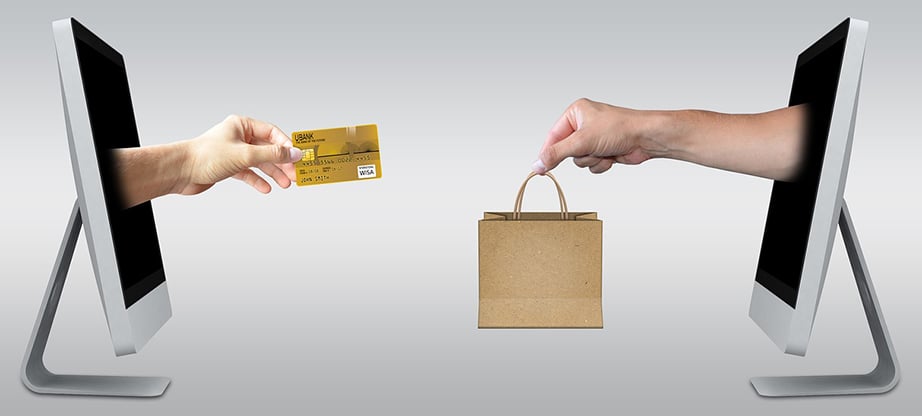 Attractive websites always play an important role in the success of an eCommerce store as they increase the value of the products and work to make your website look more trustworthy. Now, if you are planning to create a new eCommerce website or wish to redesign your existing website, the list below can give you ample design inspiration to take your online store to the next level of interaction, engagement, and, finally, conversion.
Ecommerce Website Design Inspiration
Hebe Designer Boutique eCommerce website design is a destination for style seekers and shoppers. This website is beautiful and well designed. The thing that stands out the most is the great photography. High-quality photos are important when running an online eCommerce business. The font is also a little bit thicker than you usually see online. It makes website design stand out and look good even more, guaranteeing to boost the conversion rates.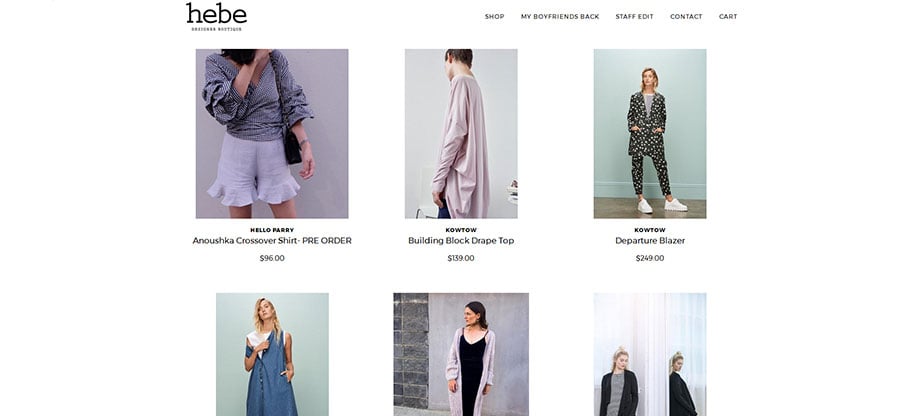 Delori
Delori is an unusual template that can be used to create an Instagram online clothing or accessories store. But, in general, you can safely choose this ready-made solution if you need to present some goods related to fashion. Many Google fonts and relevant images are already included in the template package, so no one has to spend time on additional elements in terms of personalizing the template. In addition, an excellent design will please you with a quick and simple process of creating a unique look for a future online store.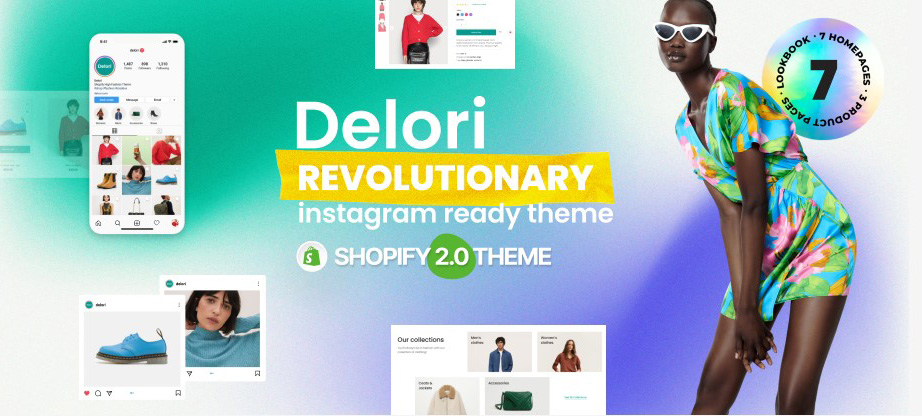 This great template will allow you to create an online store with an extensive list of products. It will easily speed up and simplify the browsing of products in various categories. The mega menu, slider, various options for sorting products, and the ability to subscribe to the newsletter will also attract the attention of many potential buyers. You will undoubtedly appreciate the possibilities of this theme.
A great color scheme paired with subtle animations gives this eCommerce website both style and personality. Mouse over the little hairdryer, and it bounces on its cord; hover over the icons at the top, and a tiny animation gives you some feedback. Touches like this make the site fun to use without being overwhelming or annoying, making the visitor return repeatedly.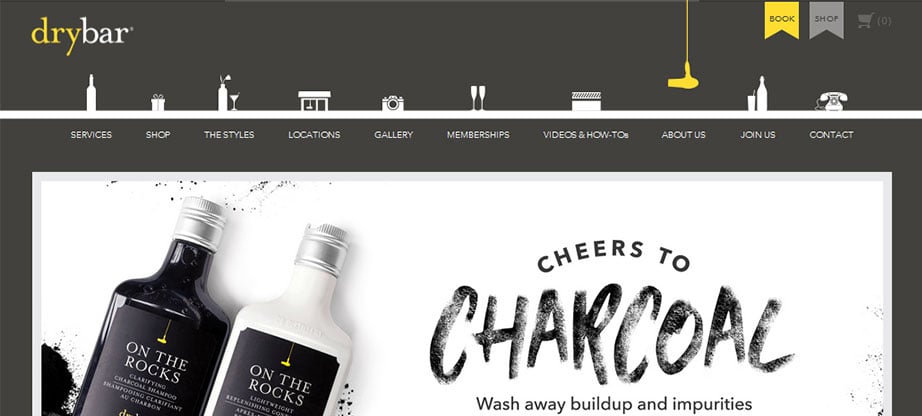 This winery eCommerce website design is a perfect combination of imagery and colors. The clean background turns the focus to stunning pictures and highlights calls to action. The design looks great on any mobile device.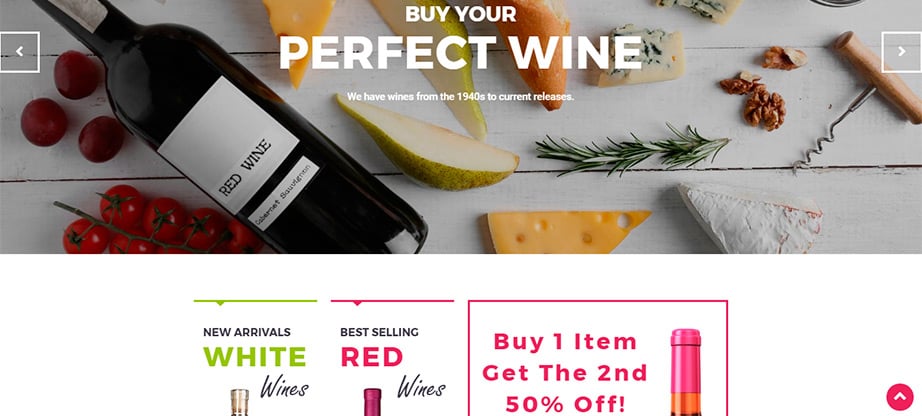 Beyond its fashionable modernity, Shun Cutlery still holds on to shades of a traditional eCommerce store. The best example is the home page. A full-screen photo carousel partnered with a minimalist navigation menu over a pure white background gives the site a futuristic appearance, and the result is an amazing-looking website.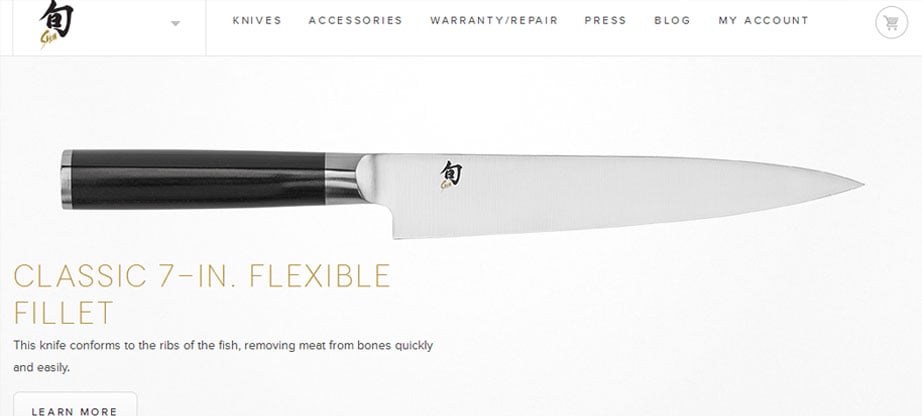 This ready-made template for an online store features a stylish design in a clean style. The White color is used as the main one to move the focus to the products. This template also shows us a good example of functional and well-organized footer website design. The design is responsive, and it looks amazing on any device.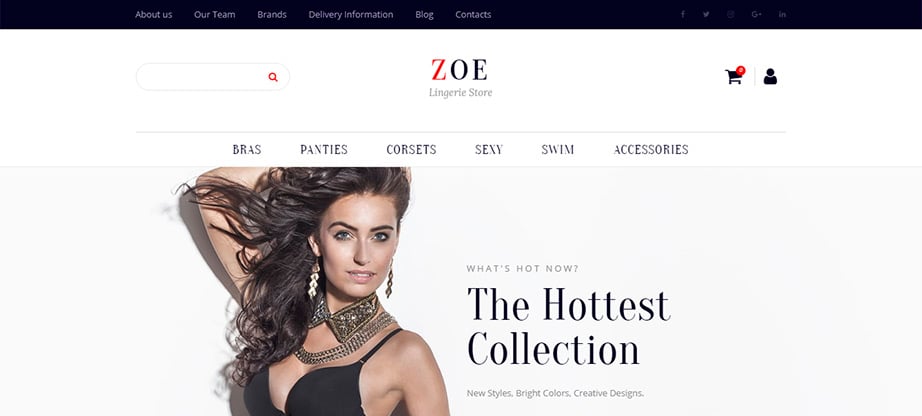 The Obey online store is not a complex design. However, a minimalistic approach towards putting the product in the consumer's eyes and concluding a sale effortlessly. The black-on-white design here works really well. On the checkout page, you have a few selections of sizes and colors, and the checkout button is fairly straightforward, which encourages a quick purchase.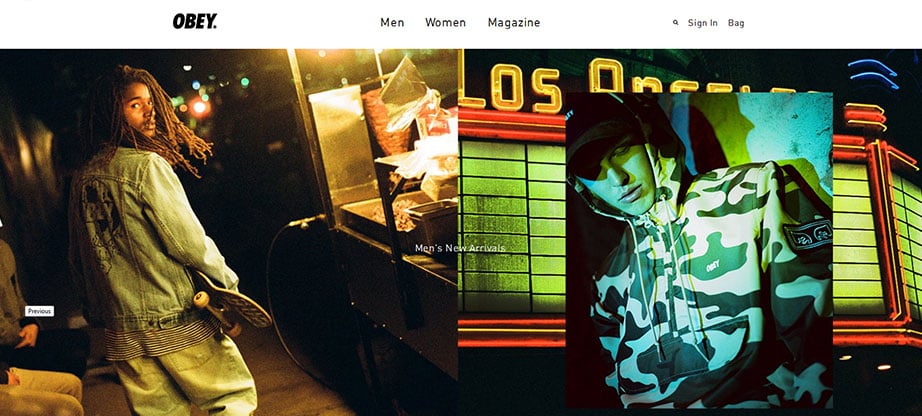 Dress Up sells clothing online with a mission to help women realize their worth. It is no wonder their eCommerce website design is full of photos of beautiful women in stylish clothing. Their homepage is filled with various promotions such as free shipping, a few sales, new arrivals, and promotional offers that engage the visitor on the page and make him/her buy the items.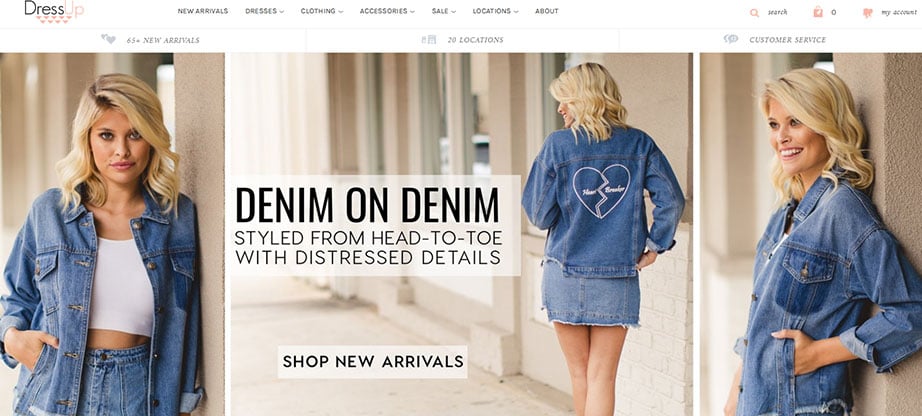 This eCommerce website design creates a fresh look by moving away from established eCommerce design patterns, placing images and text on a grid that feels much less familiar. There is plenty of white space, and each page contains a few simple images, making it seem a lot less busy than most of the web. The description is formatted conventionally with an eye-catching call-to-action.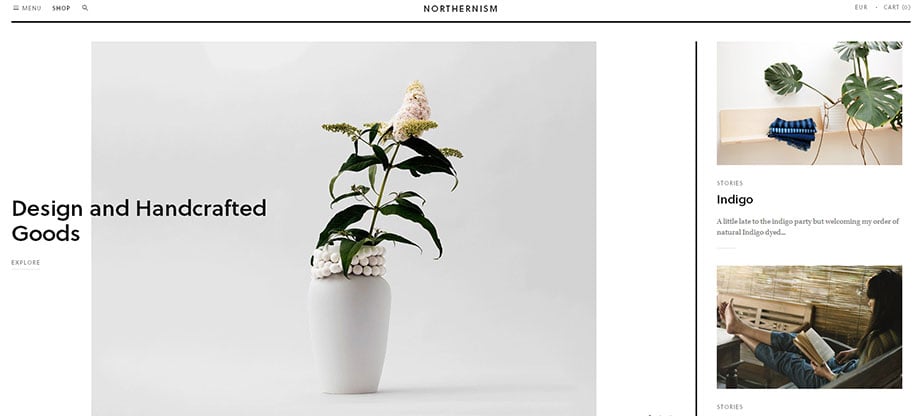 The designer accentuated large images and bright colors, and this was a great choice! The design elements are combined wisely, and the design makes a great impression on visitors.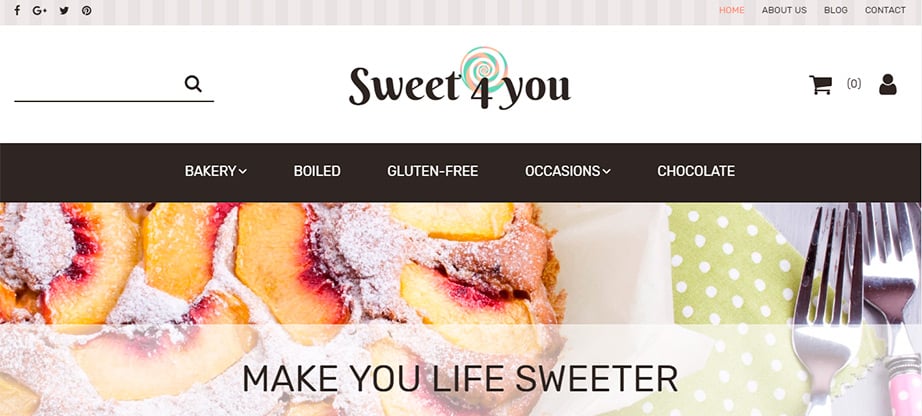 Paul Valentine takes a few risks; however, it still pulls out ahead. They open on a text, less on an image, showcasing two of their most popular watches. Without any navigation, they are hoping that the visitor will figure out that they need to scroll. Another risk is the vertical navigation menu, and the bag icon at the bottom left instead of the top right. These enhanced visuals take attention away from the design and place it on the product.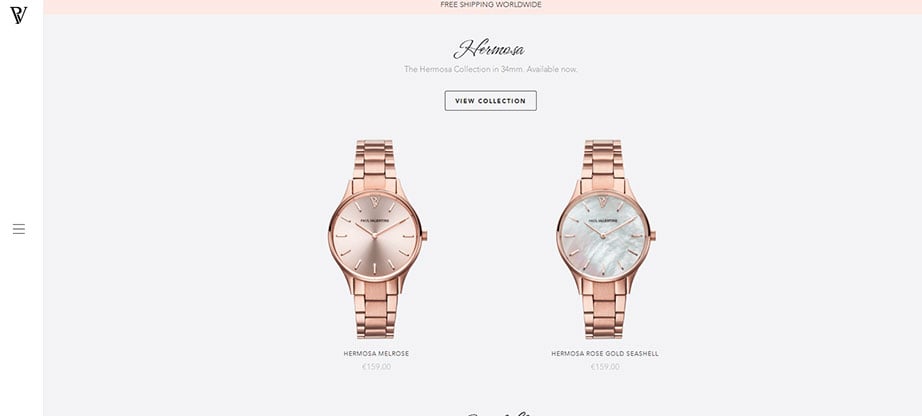 Roxxe Multipurpose WooCommerce Theme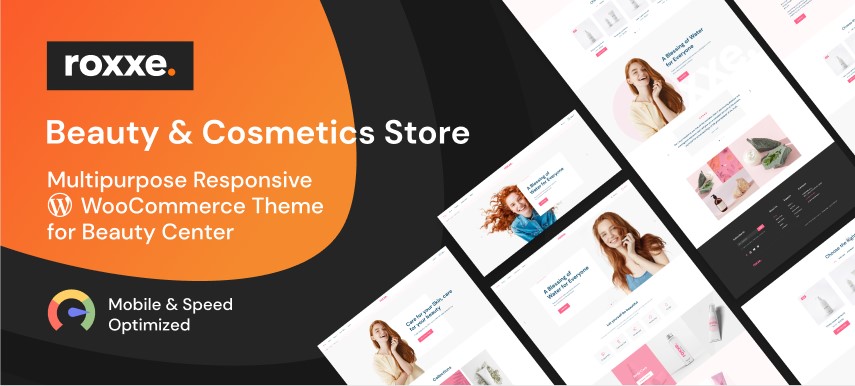 Wondering how to promote your business in the beauty sphere in a preferable way? There is one efficient method that will help you in boosting any salon or cosmetics shop. Meet Roxxe multipurpose WooCommerce theme based on which you can build a modern and high-quality website. Exploring what is on the surface, we first see the design. The stunning design of Roxxe can attract more customers and create an atmosphere of a friendly and fashionable beauty center. Then, please take a look at the pages and their minimalistic content, focusing on client and product trading.
Roxxe Tools
Now, it's time to find out what's under the hood and how effective the Roxxe multipurpose responsive WooCommerce theme works. Roxxe is based on Bootstrap 4, Elementor page builder, and WooCommerce plugin. These tools allow anyone to build web pages easily and rapidly:
Bootstrap 4 frameworks will help to create a responsive website that fits any device.
Elementor editor boasts of drag-and-drop technology, which is the most helpful for even rookies in-page editing. Thanks to it, you can fill each page with the necessary widget, as their number is almost limitless and let you make your design ideas real.
WooCommerce plugin is oriented toward launching an online shop. Its package includes a product page with a smart filter system and a capacious wishlist, leading to the shopping cart's favorite product. Besides, equip an online store with a personal account and save their order history there.
Moreover, Roxxe contains loads of ready-made layouts that will save you time. Use any suitable pre-styled elements or sections, and forget about the code lines.  As a bonus, fill your website with a Megamenu to raise the usability and boost the website's functionality and provide the visitors with the latest products.  Roxxe is a multipurpose responsive WooCommerce theme, so it's suitable for all screen sizes and creates smooth adaptiveness to let the customers use your beauty shop on any device. Mobile-first websites are on top today. One more element to boost a website is search engine optimization as well as responsive design. The SEO-friendly theme can raise your website to the top of Google results.
Use full-width sliders, attractive banners, and multiple testimonials to make clients confident in your shop. Also, add engaging galleries full of images with your services. Don't forget about the Contacts page with a Google map and info to help visitors find your beauty center. Certainly, Roxxe gets ready for producing brand-new templates to increase your collection of eye-catching websites. So be sure you will meet new Roxxe skins pretty soon.
KarDone Multipurpose Shopify Theme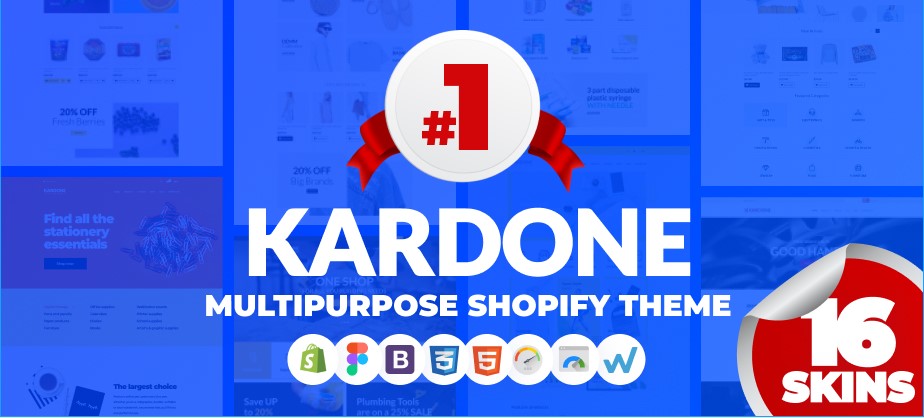 In case you're in search of a vivid, charming, and just modern theme for building an online shop to any taste, then the KarDone Shopify theme will leave no one cold. This theme is a rich all-in-one collection of templates with a diversity of marvelous stores. Get a chance to build product pages with a wide range of items, which categories and exclusive features can sort.
Please the customers with a wishlist, shopping cart, and manageable menu full of the elements that make the website navigation free. Draw your attention to the customizable homepage with ready sections. Just change the order, take out the segments you don't need, and create a fully unique layout.
Also, all the pages are responsive and look stunning on any screen, so the customers can use the device they want and freely use the website. If there are any questions, a friendly support team is ready to give advice.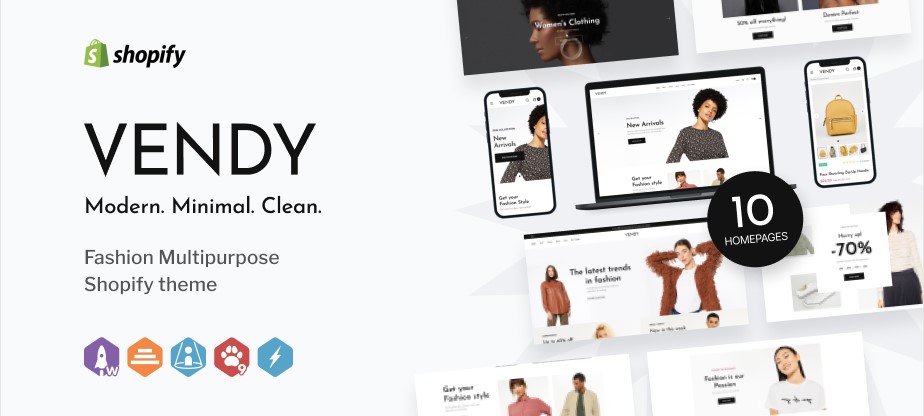 Many people know that in the field of the fashion trade, online stores compete with offline stores. There is no surprise, as online shops can afford more tempting prices for buyers. This is possible due to the noticeably lower costs of maintaining business and the absence of geographic restrictions. And these are just some of the benefits. And, what about you? Do you want your online store always to stay up-to-date? Then, just have a look at the design of Vendy. This fashion multipurpose Shopify theme is a winning mix of innovative UI elements and clean design. There also lots of pre-made page sections and eCommerce elements for quick customization of product grids, listings, gallery styles, shopping carts, wishlists, lookbooks, and more.
Plus, you don't have to be tech-savvy to work with Vendy and dozens of its features! Feel free to change anything you prefer in the user-friendly drag-n-drop Shopify Visual Builder. As a bonus, Vendy goes with 10 homepage layouts and:
Listing pages;
Product pages;
About Us pages
2 Lookbook pages;
2 Collections pages;
attractive Blog pages;
3 newsletter pop-up variations.
They are addicted to probably the most popular eCommerce niche – fashion. As you may know, fashion covers clothes, accessories, shoes, and other branches. With the Vendy Fashion Multipurpose Shopify Theme, you can stay assured that your shop will be available on screens of all possible devices. The matter is that Vendy is fully responsive and retina-ready. As well it's SEO-friendly, so it will be easier for you to grow your business.
Above all, Vendy is backed with live technical support and well-commented documentation. Hurry to check it on your own!
Mysterio – Fashion eCommerce Shopify Theme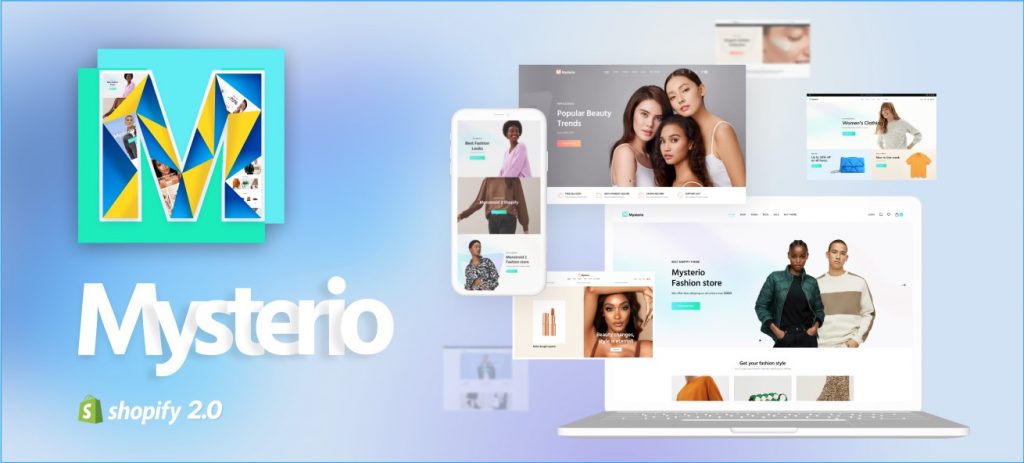 The most successful websites have two things in common: great content and amazing designs. If your website design is lackluster, your content will not be able to shine, and you will impress all your visitors. This means that you need to start thinking about style and how to design the site from the moment you start creating a new project. You may not have thought about how important this is. Mysterio is designed for those who don't want to spend time building a website. This is a turnkey solution that can be easily adapted to your business.
We want to share with you simple tricks that will help you achieve great results. Using the Mysterio theme, you will create an amazing site. Your resource will look stylish and interesting, even if you created it yourself, without the help of developers. Don't worry. You can create an amazing website even if you are a beginner. So let's talk about how to create a website!
Conclusion
Considering the above designs and templates, you can pull in more customers with an enhanced and improved website when you are all set to make your website more beautiful. Also, consider other tools that can be integrated to help get more customers to your online store to drive more sales. The Brihaspati Infotech can help you customize the website's templates and design to make it more appealing and user-friendly to online shoppers.