Digital Marketing KPIs – Eight Indicators You Can't Ignore
Key performance indicators (KPIs) gauge a company's overall long-term performance. A digital marketer's job is to ensure they're meeting these touchpoints throughout the customer journey. But, let's be honest. You can't really know if you're successful or not until you have the numbers to back up your claims. With this in mind, let's explore eight digital marketing KPIs that you can't ignore.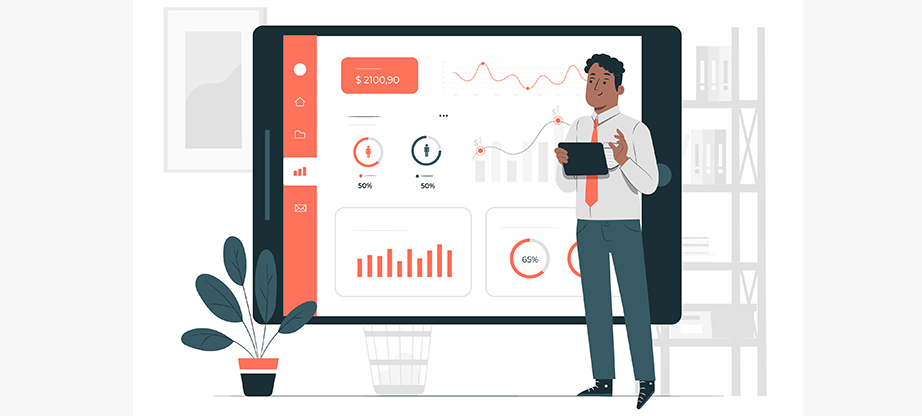 Digital Marketing KPIs
1. Cost Per Action (CPA)
CPA measures the cost of specific actions, like sales, clicks, newsletter signups, etc. If you're aiming to increase conversions, you'll want to track your CPA so you can optimize the audiences, channels, and tactics that are giving you the most bang for your buck. As your campaign goes on, you'll want to check the quality of those leads who have taken your desired action. For instance, you might find that it's reasonable to pay a higher CPA for better-qualified leads than a lower CPA that ultimately doesn't send people down the sales funnel.
2. Inbound Link Building
Link building is the process by which you acquire hyperlinks from other sites to your own. Anytime a website links to your content, the link acts like a thumb's up to the search engines that your page is legitimate and offers valuable content to readers. This is like a positive vote that can help improve page rank.
Inbound links (also known as backlinks) can be tracked using a number of online tools. These are both free options, which usually provide a list of backlink URLs, anchor text used for those links, and authority scores. If you want more robust options, paid platforms will give you insight into a lot of things, such as:
More detailed reporting
Link monitoring over time
An enhanced background on your backlink profile
Flags for possible bad links
3. Digital Marketing KPIs – Conversion Rate (CVR)
When it comes to digital marketing KPIs, you should always be paying attention to your conversion rate. That is, audience members are actually converting on your website versus the total number of people who have visited it. Let's look at an example: Say you're getting 100,000 visitors to your landing page each month. That number makes it seem like your campaign is doing awesome, but when you do the CVR math, you realize only a small percentage of people actually make purchases.
Conversion-based KPIs will push you to shift your campaigns in ways that target a more qualified audience.
4. Bounce (Exit) Rate
Your bounce rate tells you if your visitors are leaving your site immediately. You can also learn where your visitors are when they decide to leave. With this information, you can usually determine if there's an issue with your campaigns, content, or landing pages.
Monitoring your bounce rate helps you identify how effective your content and website design are. As a general rule, you really want your website bounce rate to be under 40%. While a range between 40% and 50% might be acceptable, a range between 55% and 65% tells you that you have significant room for improvement. On the other hand, if you have a bounce rate below 20% or above 90%, you might want to investigate whether there's a tracking or code installation error.
5. Digital Marketing KPIs – Impressions Served
As far as easy-to-analyze numbers, impressions served is one of the digital marketing KPIs that's simple enough to undertake. However, easy doesn't mean unimportant. It's quite the opposite, actually. Since impressions represent the number of times your advertisement has been shown to your online audience, you can use this KPI to understand your overall brand awareness. This metric can help identify how many impressions are required for your company to stay at the top of consumers' minds as they move through their customer journeys.
This metric can be useful in letting you know when it's time to promote brand awareness by way of an impression-based campaign if you notice that your website traffic has decreased.
6. Revenue Per Channel
When you measure how well each channel you're using in your digital marketing campaigns performs, you can obtain the information you need to make every campaign thereafter even more successful. Not only that, but you'll be able to see which channels aren't worth the time or energy you're spending on them. For instance, not all social media channels work for all brands. You might find that Instagram is lucrative for your business, while Snapchat doesn't bring any qualified leads once you have the data in your hands.
7. Cost Per Click (CPC)
CPC is often one of the most important digital marketing KPIs because it measures the amount of money paid for each click on an ad. It tracks the total cost of a marketing campaign divided by the number of clicks. The end result helps digital marketers inform their budgets and bid amounts to maximize the number of clicks they can get without overspending.
8. Return on Advertising Spend (ROAS)
ROAS is a metric used to calculate the revenue you receive for each dollar spent on advertising and other marketing efforts. For many in this profession, ROAS is an unavoidable digital marketing KPI and is often seen as the single best metric for measuring marketing success and effectiveness. If you're spending money on marketing, but you do not see any income from sales, there's likely something going haywire with your marketing strategy. If you're able to keep your ROAS goal at 2:1, 4:1, or 5:1, you'll be more apt to realize success.
On the other hand, if you aren't getting your desired ROAS, you should never stop your marketing and advertising efforts altogether. Instead, look at some of the aforementioned KPIs to see if you can hone in on the problem. You might find that your campaigns are experiencing stunted reach, are targeting underqualified website visitors, or are being directed toward channels that aren't optimal for your ideal audience.
Digital Marketing KPIs – Final Points
If you're unsure how to wrap your head around the digital marketing KPIs that can ultimately help bolster your brand, it might be time to consider working with a professional digital marketing agency Malaysia. When you're armed with a team of pros who do this for a living, the overwhelming nature of key performance indicators quickly converts into a world where you can understand how your efforts are impacting your audience.