Digital Marketing for Manufacturing Companies – 5 Top Advantages
Bill Gates was quoted as once saying, "The internet is gradually transforming into the focal point for a global village of the future tomorrow." It is evident that we exist in an era where the digital edge is widespread and has been accelerated by rapid technological advancements. In the manufacturing industry, advancements in technology have set in motion its growth, and other industry segments have also not been left behind, as different businesses continuously reap the benefits of operating in a digital age filled with rapidly evolving technology. As the advocacy of internet usage continues to rapidly expand, the demand for digital marketing for manufacturing companies has experienced a surge as start-ups, medium-sized businesses, and large corporations demand the service.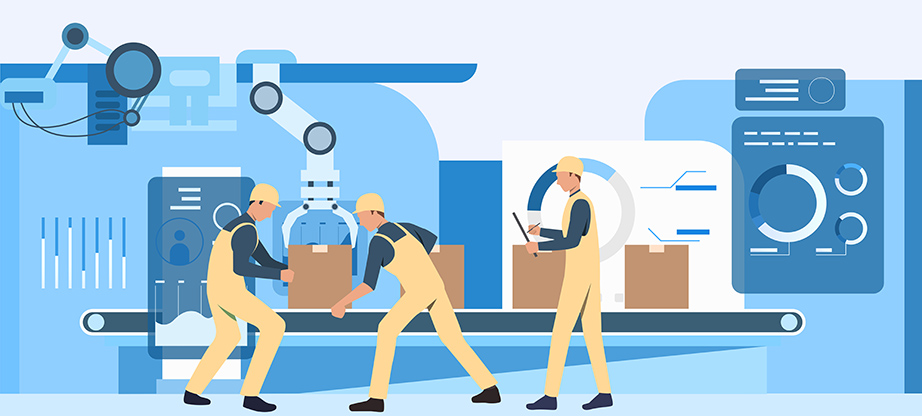 Digital Marketing for Manufacturing Companies in the Industry
When it comes to digital marketing for manufacturing companies, this industry has not completely experienced a full transformational change in terms of digital marketing. This is because many manufacturing companies still rely on traditional and conventional marketing techniques. However, if the digital marketing strategy and campaigns are well structured and tailored towards the needs of various manufacturing companies, these businesses can also experience the perks of digital marketing and enjoy saved time and marketing costs. 
It doesn't matter whether you are an automobile manufacturer, or a company such as Fluent Conveyors, which specializes in manufacturing niche equipment. Manufacturing companies that make an active decision to have a well-structured digital marketing strategy tend to enjoy a competitive edge in an industry that is filled with stiff business competition. This is because digital marketing provides manufacturing businesses of all operational sizes effective ways for them to connect and engage with their customers—whether they are other corporations or end consumers.
However, it is worth noting that digital marketing doesn't happen naturally as it would for other industries that aren't specialized in manufacturing—crafting a digital marketing campaign plan can prove to be a daunting and tiresome task. Thus, manufacturers should also ensure that they not only hire skilled engineers but also specialized marketers who are able to brainstorm and come up with practical solutions relating to how your manufacturing company can capitalize on the current digital marketing trends. Here is a guide to some of the benefits that manufacturing companies stand to reap if they adopt a distinct digital marketing strategy. 
Aids in Establishing Dependability
In digital marketing for manufacturing companies, it is not only vital for your company to be specialized in a specific industrial niche, but your company also needs to be able to illustrate this to the general public—mostly to B2B and B2C customers. It goes without saying that clients prefer working and seeking out products and solutions from business establishments that have a good operational track record and those that have been able to prove time and time again that they are conversant with their niche. 
This is the sole reason why market leaders tend to enjoy increased profitability and sustainability in their scale of operations. One of the ways in which the aforementioned characteristics can be accomplished is through manufacturers participating in online industrial marketing. This can be achieved through the use of online platforms (such as blogs) to publish how-to guides and tutorials aimed at spreading knowledge, and it will eventually help your manufacturing company to develop a credible reputation of being a well-respected leader in the manufacturing world.
Digital Marketing for Manufacturing Companies – Generates Brand Awareness
Manufacturers who aspire to generate brand awareness for their offered products and solutions can opt to expand their digital marketing efforts. The marketing teams in manufacturing companies can help set up a social media presence, and also generate keyword-targeted content that should be posted on the manufacturing company's blog. 
By doing so, they will be helping prospective clients stumble upon your company through conducting organic searches, as well as improving the general brand awareness of your company by frequently posting on social media platforms such as Facebook and Twitter. Manufacturers can build their brand's awareness in the following ways
By encouraging current customers to follow the company's profile on different social media platforms such as Facebook.

Starting social media forums and groups and encouraging conversations on specific topics by implementing the use of hashtags.

By having a marketing department that is solely focused on coming up with high-quality converting content and strategies related to SEO.

Implementing the use of a pay-per-click strategy to help spread their brand awareness.
Digital Marketing for Manufacturing Companies – Helps to Boost Lead Conversions
Email marketing and marketing automation—which are some of the digital marketing strategies employed by businesses—can help grant your manufacturing company a greater chance of converting prospective customer leads. Thus, manufacturers should consider sending out automated emails to prospective customers based on the prospective client's activity on the company's website. Utilizing this strategy can help to follow up and offer solutions that your manufacturing company presents to the general public, and it may result in up to a 77% conversion rate.
Improves Customer Loyalty
In the present day and age, a lot of customers love reaching out to the brands they interact with via the internet. Studies have revealed that 95% of adults aged between 18 and 34 years prefer interacting with businesses through social media platforms. Manufacturers can capitalize on this by setting up company profiles and engaging with their current and prospective B2B and B2C customers in order to build a solid customer relationship. 
When manufacturers, businesses, and start-ups adopt a digital marketing strategy that is clearly crafted and defined, it tends to help build sturdy customer loyalty. Also, customers who enjoy a positive customer experience on social media are more than likely to spread information relating to your manufacturing company's brand through word of mouth.
Digital Marketing for Manufacturing Companies – Showcase Your Offerings
Nowadays, the internet has provided not only individuals, but also companies, with an array of methods through which one is able to illustrate their skills, services, and products. This can prove to be useful in the manufacturing sector as it's difficult for prospective customers to witness first-hand how the products and solutions being offered by your company can help solve their problems.
You can keep up with the latest technological tools by posting video demonstrations online, which may help expand your customer base.