5 Essential Digital Marketing Analytics Tools for Online Business
Using digital marketing analytics tools is the best way to get your message out to the world today.
With almost everyone connected online through a tablet, laptop, or smartphone, it's crucial to have a virtual presence for your company. Yet, a shocking 49% of all organizations surveyed by a Smart Insights report said they don't have a clear digital marketing strategy.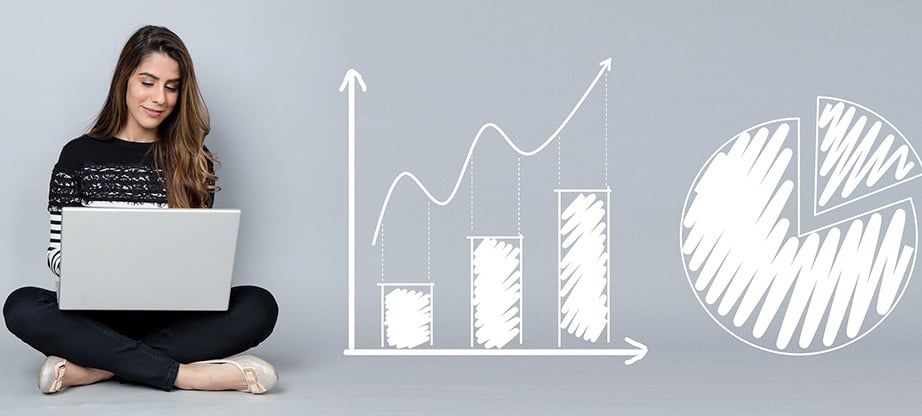 While you might think that running your campaigns, crossing your fingers and hoping for the best is enough to give your business the results it needs, the truth is that the best campaigns come from the right data. Without the right digital marketing tools, it's impossible to know which of your strategies are having the right impact on your audience, and which are simply wasting your marketing budget.
Fortunately, there are now more web marketing tools available to choose from than ever before – each with their own unique benefits to bring to the fold. Choose your strategy correctly, and you'll have everything you need to build a valuable online business, ready to attract customers and buyers alike. Choose the wrong digital marketing reporting tools, and you'll end up with nothing but a confusing handful of numbers.
To help you get started, here are just 5 of the best (most valuable) digital marketing analytics tools for 2018.
Cyfe
The ultimate end-to-end business dashboard for eCommerce companies and digital brands, Cyfe combines some of the best features of a host of digital marketing analytics tools, to bring you an all-in-one dashboard. With this tool, you'll see everything from real-time reports on your performance, to historical data and more.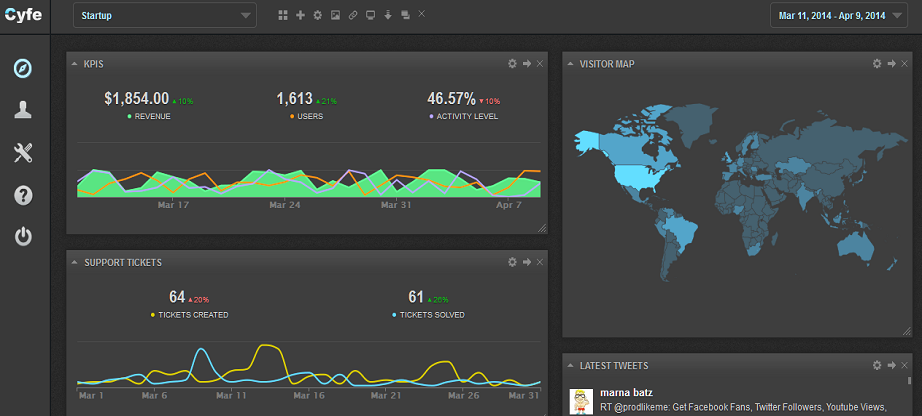 The great thing about Cyfe is that it separates your dashboard information to make it easier to absorb. You can see your social strategy, marketing insights, web analytics, and project management tools all on their own unique screen. You can also integrate Cyfe with things like Google AdWords and Salesforce too, so you see all the data you gather from around the web.
If you're looking for a simple and immersive digital dashboard, then Cyfe is one of the best digital marketing reporting tools around with plenty of actionable information. You can even track the latest tweets from your Twitter profile, so you can respond to customers immediately and improve your customer service reputation.
Google Analytics
When it comes to digital marketing analytics tools, they just don't get more popular than Google Analytics. In fact, Google Analytics is so well known that it's become a natural part of building your online business. You build your website, set up Google Analytics and start marketing – it's that simple.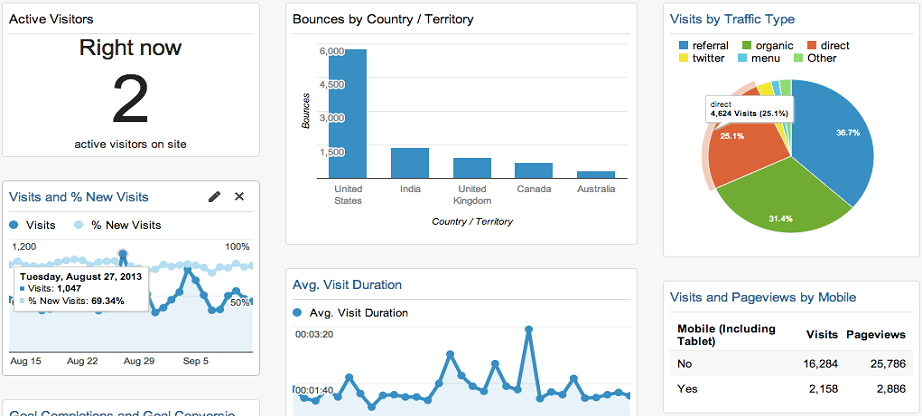 Since most people turn to Google for their PPC advertising strategies, and everyone wants to be seen at the top of the search engine results pages, it makes sense that Google would be one of the best web marketing tools around too. The good news is that it's incredibly easy to use. With this simple dashboard, you can track everything you need to know about your users, from their demographical information, to what kind of screen resolution they have.
Google even offers opportunities for A/B testing, so you can improve your campaigns over time and make sure that you're getting the best bang for your buck. It's no surprise that Marketing Land said that Google Analytics was already being used by up to 50 million website back in 2015.
Kissmetrics
Kissmetrics is another well-known name in the world of digital marketing analytics tools. As one of the top digital marketing platforms designed to optimize your campaigns, Kissmetrics is specifically intended for companies who want to analyze their digital efforts and find out how they can keep as many of their top customers as possible.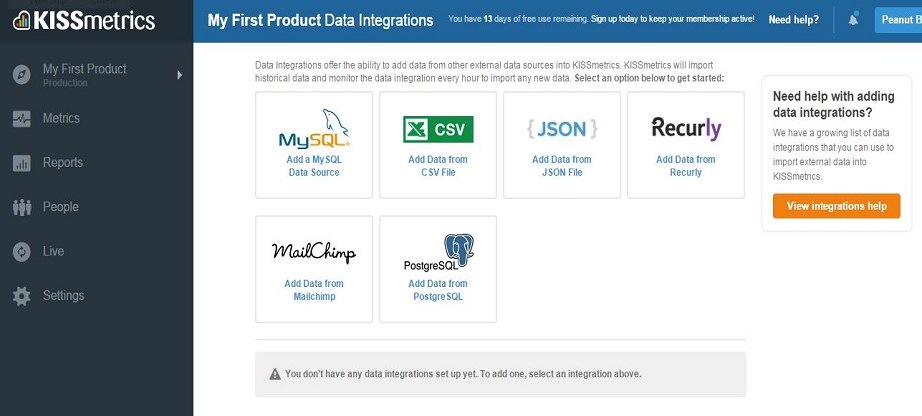 Kissmetrics helps companies to make stronger decisions about their marketing by analyzing previous audience behavior. The more you learn about your customers, the more your campaigns can grow. You can set up reports to tell you just about anything you'd like, from where you're losing customers in your sales funnel, to what you need to do to improve retention.
As digital marketing reporting tools go, Kissmetrics can be invaluable, particularly if you want to create personalized communications for specific groups in your strategy. You can target people in the same stage of the sales funnel to boost your strategy for instance. Kissmetrics is perfect for anyone who wants to integrate their automation and analytics strategies in an exceptional easy-to-use dashboard.
Moz Pro
Designed to combine SEO insights with performance analytics, Moz Pro was created by industry experts, for industry experts. One of the best digital marketing analytics tools around, Moz Pro provides state-of-the-art tools and intelligent data dashboards to give you more information about your campaigns. With Moz Pro, you can boost your visibility online, and improve your chances of getting ahead of the competitors.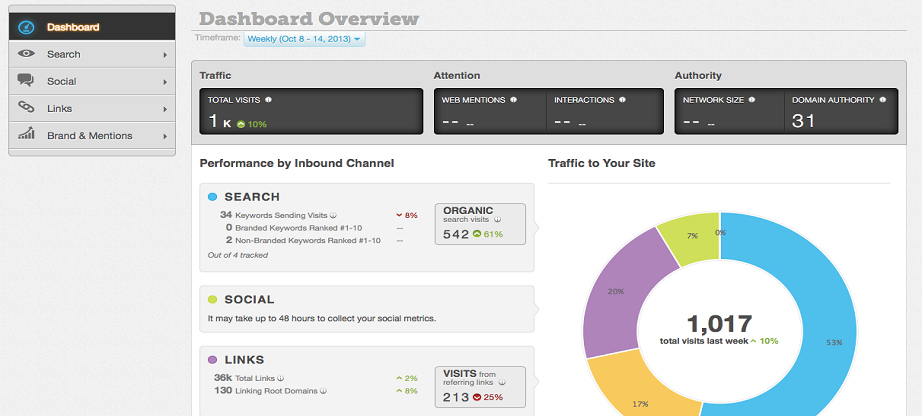 Moz Pro comes with plenty of great features for your SEO insights, including keyword research tools, ranking lists, and site crawling information. If you're looking for a way to stop using endless free tools for your SEO each day, then Moz Pro can save you a lot of time and effort. There's also a service called "global rank tracking" which helps you to watch any keywords that you need to appear on major search engines like Yahoo, Google, and Bing.
With Moz Pro, you can access segmented data, find out what your competitors are doing, and even research how well your keywords are ranking over time. If you consider yourself to be a serious online marketer, or a digital professional, then Moz could be the perfect tool for your kit.
SEM Rush
Last, but not least on our list of exceptional digital marketing analytics tools, is SEMrush – a competitive analysis system intended to help you uncover what your competitors are doing online. While you can't simply copy and paste someone else's strategy and expect some success, it does help to look at your competitors when you're trying to figure out where you can build and improve your marketing strategy.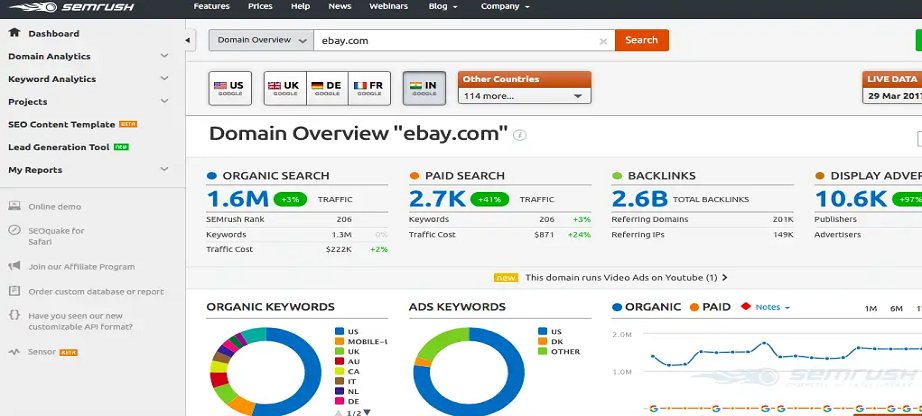 SEMrush comes with a host of great features that you might expect from one of the top digital marketing reporting tools. For instance, you can download analytics reports that offer up information about which keywords your competitors are using, and how well your ad copy is performing online. There's also a backlink analysis tool to help you find out who's linking your way, and a keyword difficulty tool for your keyword strategy.
If you want to be able to see what your competition is doing online – and more importantly, figure out how to beat them, then SEMrush is the right analytics platform for you.
Choosing Your Digital Marketing Analytics Tools
When it comes to finding the best web marketing tools for your company, there's no one-size-fits-all option. As the market continues to innovate and grow, more analytical tools appear to help companies make the most out of their digital assets. You may even find that you want to use a combination of tools to improve the depth of your marketing analytics.
Whatever you do, don't overlook the importance of tracking your performance online. The more you know about your campaigns, the better your digital ROI will be.