50+ Single Page Websites from Anywhere
Some people may think that it's easier to create a single page website than a complex and huge site with several pages. They think that it takes less time and efforts. But in practice it is a great fail.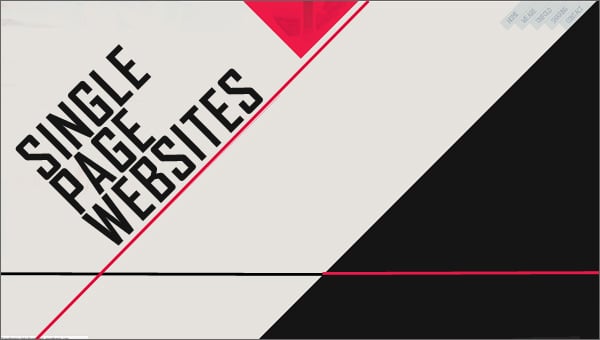 A single page website creation process can be compared with a flat repairing.
When your living space is roomy you know that it's rather costly to fill it with comfy and beautiful details. However you can easily plan your future interior and start completing it to the best of your ability. If there is a lack of money you can overhaul several rooms to live in. Close doors to unready accommodations and your guests won't know about them. The same goes with huge websites. If you don't have time to complete all pages at once you can close them from search engine crawlers or even hide them at all. Thus site visitors will get the most important information from your source without viewing broken links and outdated designs.
Now let's think about the craziness that a repairing of your one room apartment can bring into your life. It can be hard to find a good place for a TV, a bed, a dinning table, a fridge, book shells and tones of small things in your room. It doesn't matter how big your flat is – there is always something excessive. Now think about a single page website. There are several types of info that need to be displayed in your design:

info about you and your business;
contacts;
portfolio;
description of services you provide;
testimonials;
Do you still think that it's easy to combine these types of info to make the entire design look great? By no means! Moreover, single page websites require impressive graphics and well balanced color combinations. It can complicate a designer's task greatly.
Please don't think that we try to reason you out of creating a single page website. We just want you to understand that it takes a professionalism to arrange these specific designs. So if you're sure you are able to design single page websites inspire yourself with our collection and go ahead!