Interview with Christian Hecker, a professional Digital Artist and Matte Painter
Today we are happy to share with you the knowledge and experience of an incredibly talented digital artist and matte painter Christian Hecker, also well-known as Tigaer, professional designer from Germany. The author of stunning environmental artworks and the merited owner of CG Choice award on CGTalk and a Gold Award on CGHub for his benchmark painting "Gates to Elysium". Christian is also interested in concept art and in macro, scenery and sky photography. To know more about our honourable guest, look at the conversation below, we are sure you'll find many interesting thoughts and ideas 🙂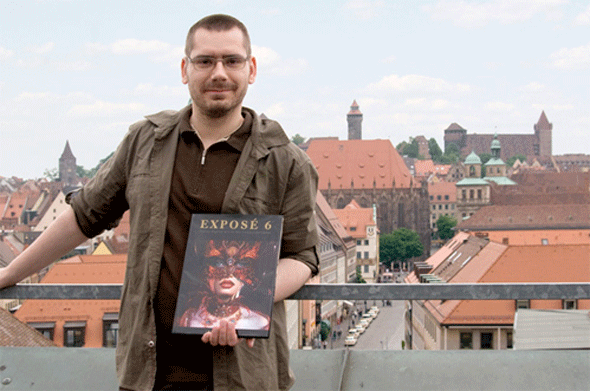 Hello Christian, it's a great pleasure to interview you for our MotoDesignBlog readers, thank you for this wonderful opportunity. I know that you have more than nine years of design experience and your career started when you were only 19. Have you remembered your first work and what or who inspired you to create it?
When I first started my endeavour into the realm of digital art I had no real inspiration to be honest. At this point the only thing I knew was that I wanted to do something with computers. My first contact with an image editing software was in the late 90s. I was enthralled by the possibilities and a little intimidated by that too. It took me a while to get going with the matter. That's probably the only let down when it comes to autodidactic learning. It was more family and the friends I had that pushed me further and further at the beginning. Later when I started to explore digital painting and similar techniques my inspiration were artists like Dylan Cole, Gary Tonge and Syd Mead… just to name a few.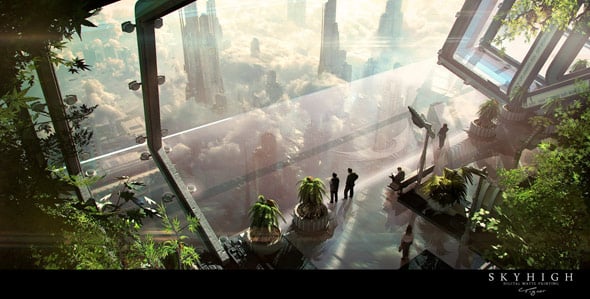 Why did you choose the digital painting direction?
Digital painting is a rather broad technique these days… so I would specify my own way to work as a mix between 3d, photo manipulation and digital painting. Mixed Media so to speak. The technique I use to create my pics is so chaotic! But to answer your question… I would say it did choose me. I never intended to do what I'm doing now. Let alone reaching a level of quality where nice people like you are interested in interviewing me about my work. That's amazing and a wonderful motivation.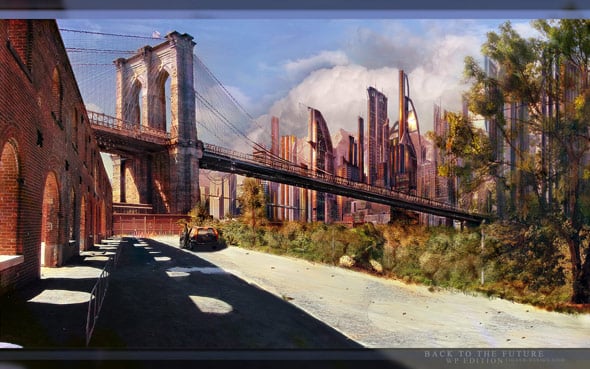 As you do a lot of mixed media work, what applications and tools do you use most?
Like mentioned above my usual way of creating a picture these days consists of 3D elements, photos for textures and digital painting for details and additions. The 3D part is created with Vue. Vue is a 3D tool completely specialized in artificial landscape creation. You can create mountains, forests, deserts… pretty much everything landscape related. To bring it all together I, of course, use Photoshop. That's where texturing, manipulation and painting happens. I use the 3D part mostly to create myself a base of operation that, once rendered, will be fully worked out through Photoshop.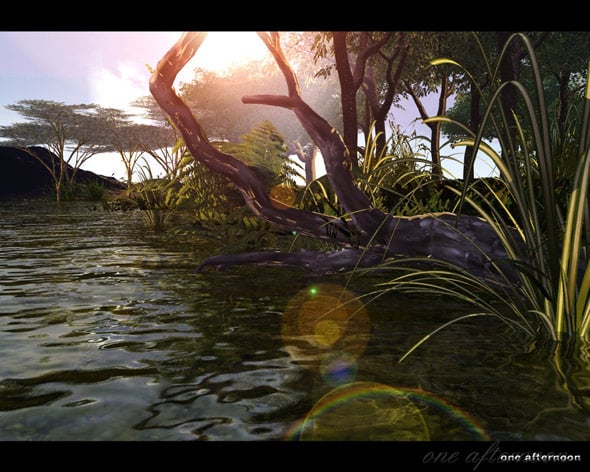 Your digital creations are really impressive and exciting, all of them showcase a high fly of imagination. Do you keep an ideas journal to remember your conception and all necessary details?
Usually when you have an idea you sit down and create a sketch from it. To see how it works and to find a composition. While that is the usual professional approach… I'm a little different. When I created 'Artificial' in 2005 I had that kind of image in my head for a while. But I had no clue how to realize it. One day I sat down an started to work. When it was done and received some great feedback I knew I should try to continue with creating such things. Nowadays when I create personal work I open Vue and start to play with it until the results lighten up the creative spark. From then on everything comes together by itself. Sometimes you have to leave a project for a few days to find a solution to a certain problem though.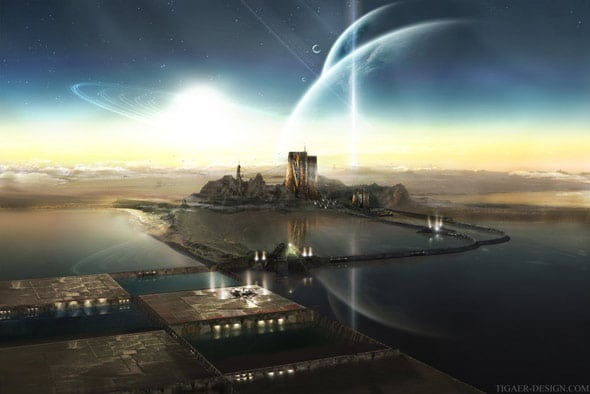 When it comes to commissioned work first sit down with Vue too and try to find a good starting point with atmosphere, lighting and composition. So I'm rather unconventional that way, not necessarily using sketches.
How does your job influence your life, do you feel that you see things around you differently?
Yes it definitely does influence my life. Whenever I'm watching a movie I'm pretty much studying it. Camera, composition, lighting… these kinds of things. Of course the visual effects too. There often are these "yeah I can tell how they did that!" and "I know what tools they worked with to get that!" moments. Especially when you're working with Vue these days. But you're also constantly studying your own environment. In my case it's lighting situations, foliage and atmospheres. Skies, clouds. You will never stop observation.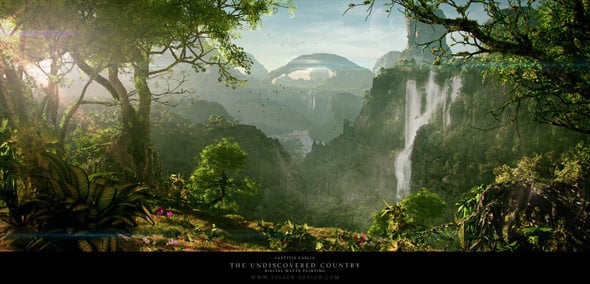 What, for you personally, are the pros and cons of being a designer?
You can't get the one without the other. So for example I'm very happy about all the feedback I get on sites like deviantart. But it's often so much that I cannot read every comment or reply to every question. But I tend to answer pretty much all notes and mails.
Another negative thing is art theft. That's a big really issue and almost uncontrollable. Maybe they come up with a technology that hinders people from publishing work that's not their own and they do not own a license for.
Your head is pretty much never offline when it's about thinking. Your current project is always ghosting through your mind. You rarely have a few hours where you are able to completely focus on something else. That can be a little annoying at times. That's at least how it is with me.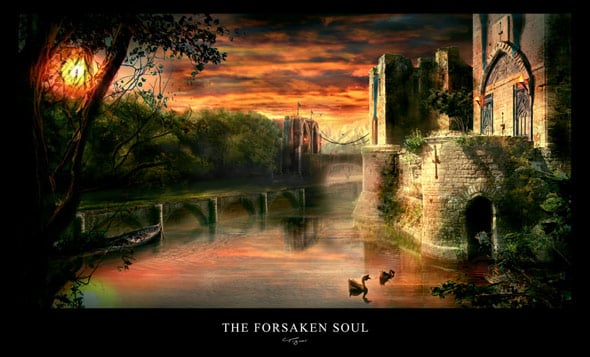 A positive thing in my case would be that it's cool to have the technical expertise to realize and, at the same time, explore the worlds I create.
It's also cool to hear when other artists come and tell you how you inspired them.
Beside that there are quite a few things more but that would make the interview explode, I fear!
What are your favorite online resources to stay up to date on the web design industry?
I'm not constantly on the search for news. Every now and then I stumble across something and read it. Most my news I get from the CGTalk/CGSociety newsletter. These guys are pretty much the way to go when it's about digital art news.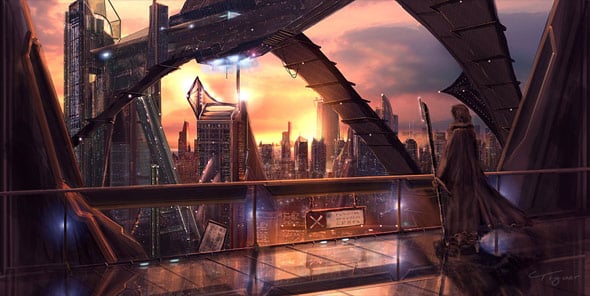 Which members of your social media circle would you recommend to our readers to follow and why?
Not exactly a member but a collective of talented people would be The Luminarium. It's an art group with some really good artists from around the world, doing everything from music and photography to graphic design and digital art. They frequently release so called 'exhibits' to certain themes. These are collections of art created for that specific theme. Then there is Simon Becker. One of the most talented street photographers I know. He also won awards and publications with his work. Check him out here: http://simonsawsunlight.deviantart.com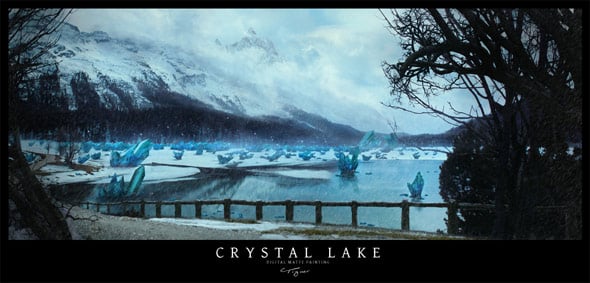 List three things people might not know about you
I'm a girl. Just kidding! 🙂 Well… three things… let me think.
I – I own 5 birds. One parakeet (for more than 9 years now) and two pairs of zebra finches. One of the finches got born and breed here in my room three years ago. That must have been quite a face I made when I discovered that little, featherless grey spot in that nest one evening. It was quite an experience and actually an accident. And yes… that is funny! =) He's still alive and kicking. So I must have done it right I think.
II – I'm left-handed. And that's cool!
III – If you read the short bio on my page then you probably know it. But the town, Bitterfeld, I grew up in was back then labeled as Europe's most dirty town. It was pretty much the industrial headquarter of fromer East-Germany. But let me tell you something. I'd rather grow up in the environment I grew up in than anywhere else nowadays. I had a good time. Good friends. Bitterfeld now is the complete opposite. Clean. Fresh air. 'Green' would be the politically correct term I think. But the city is pretty much dead since, after the wall came down, everyone wandered off. No future in good old Bitterfeld. So it came that we moved in 2001 too.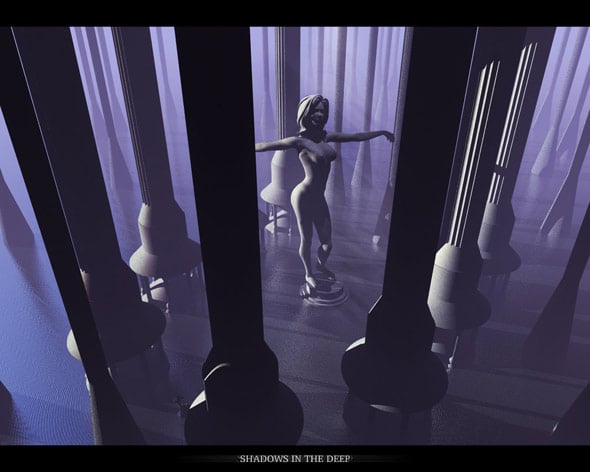 What do you like to do to relax in your spare time?
I'm a big movies fan. So when I really need some time off I see what I have in my collection and watch something. Or I play some games. I have a nice group of friends who I really enjoy playing Left4Dead or Battlefield with. I also discovered that I'm a fan of podcasts. When it's a smaller break I need, I sit down with my guitar and try not to wreck that beautiful thing. But to be honest I'm almost constantly working. At least in my head. And when I have some spare time I try to learn more about the tools I'm working with.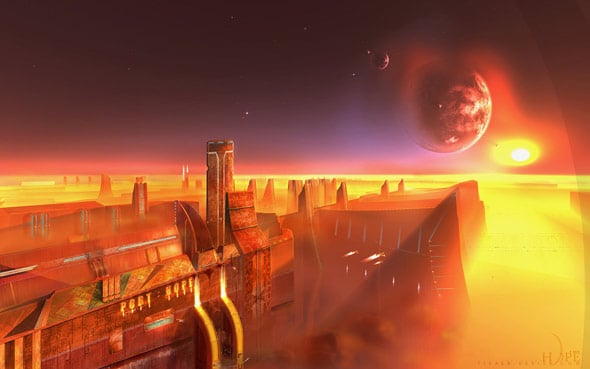 What advice would you give to someone just starting out as a designer?
Well it all comes down how serious that person really means it. How much drive is in that person. Because that's what it needs. I've seen some people who were really talented in something but never had the drive to go with it, trying to get better and better. In a creative field you often have to get up and find solutions to problems yourself. You not only have to be visually creative… you also need to be creative in solving problems that might come up in your visual creative process.
However. If you have the drive and passion it needs… go with it. Give it time to evolve. Listen to advices from other folks. Keep going. Every now and then check out artists who are the high end and get inspired and motivated by their work. Don't necessarily set yourself goals. Just try to become better with every project you're doing. Try to learn from every project. Sooner or later everything will come together and fall in place. Patience is the key.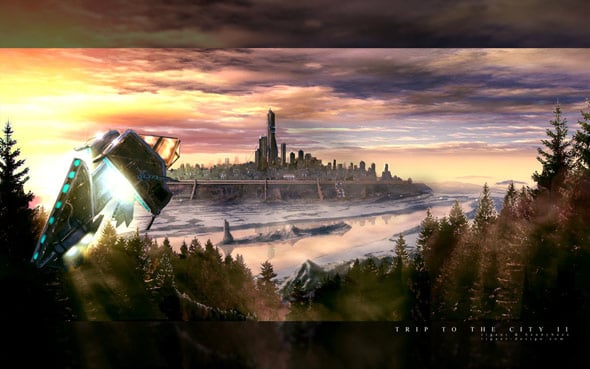 Once again, thank you, Christian, very much for the interview. We also wish you always stay passionate about what you do and don't loose that drive we appreciate in your beautiful creations!
Tigaer around the Web:
Tigaer-Design.com
Twitter.com/Tigaer
Tigaer.cgsociety.org
Tigaer.deviantart.com