Happy Birthday MotoCMS! Thanks for the 30% Discount
When your friend has a birthday it's a great holiday for you too. It's a good occasion to have a day full of fun and joyful moments. Today is just that very nice day because our good friends MotoCMS celebrate their third birthday. So we want to congratulate them and to wish them new outstanding achievements and success in the year to come.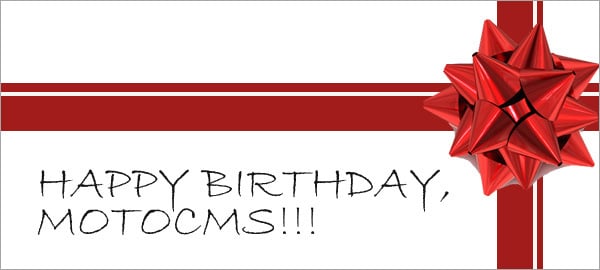 Do you know what MotoCMS really is? MotoCMS is a living example of how the American Dream comes true. Three years ago a few people knew about their Flash content management system. Nowadays nobody will argue that MotoCMS made a true revolution in the Flash development world. Many web developers and common site owners all over the world use MotoCMS and, we're sure, they won't change it for any other platform. They say, MotoCMS is one of the simplest systems for websites creation and now it's available at a lower price. MotoCMS presents you a 30% discount on any Flash template from their store. Take the PROMO CODE below and apply it at checkout to receive the birthday discount.

motocmsbirthday3
So we would like to once again congratulate our friends and to thank them for the discount they gave to all of us. The promo code you see in this article is valid
till November 12, 2012
. We'll be glad to know that you also appreciate
MotoCMS templates
(like we do), so please say Happy Birthday to our friends with a template's purchase! Here are some designs from MotoCMS – in practice these templates are as nice as they look at this post page.