The Games People Play: Gaming Website Templates Tips [Updated]
Games are the important part of human life. Kids start learning and discovering the world around us with a help of the game. It's no surprise that games are staying with us in adulthood. Computer and online games as well as mobile gaming apps are ones of the most popular leisure activities today. Thus, finding the best gaming website templates is essential for those who wish to promote the gaming business, share the latest game news and project announcements, as well as establish new connections with gamers from all over the world.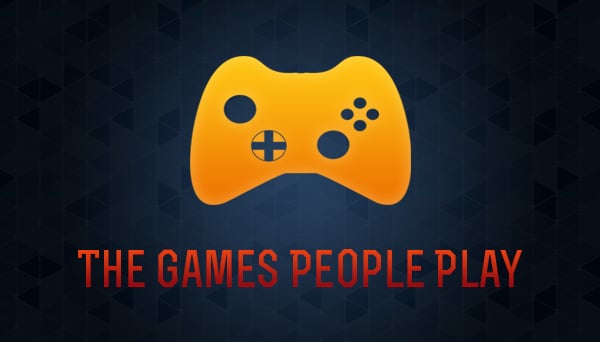 Gaming Website Templates Basic Features
Creating and running a website won't be a great challenge for computer and online games developers. However, if you would like to concentrate more on your projects and feel more freedom in website building, these ready-to-use MotoCMS website templates for the gaming industry will be a perfect option. Most game website templates may be used for various goals that include the following:
Sharing news about game projects, platforms, updates, and events;
Posting game reviews;
Gathering a community or a Clan to keep in touch with fellow-thinkers, share experience and establish new connections;
Offering a platform for playing games online;
Organizing an online store for games and gaming products.
In any case, in picking up your web template you should opt for a feature-loaded one to create on its base an interactive, dynamic and user-friendly website.
Choosing a Color Palette for Gaming Template
As you may notice, most popular gaming websites use dark color scheme for their websites to create a mystic and engaging ambiance. The most popular colors for such websites are black, brown, grey, and khaki. In many cases, the overall color palette of the gaming website templates may tend to feature pastel hues.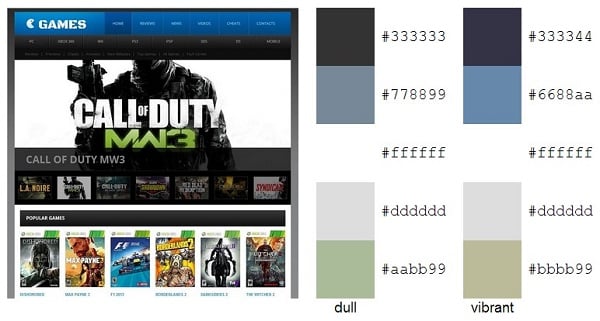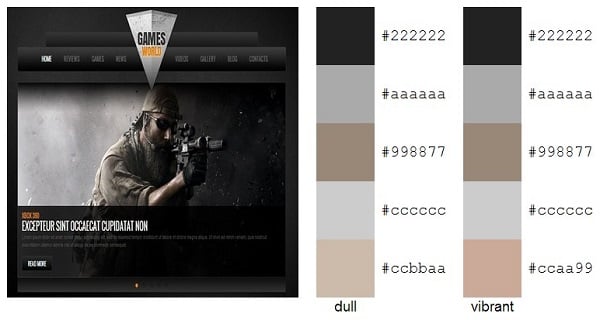 As color accent there may be used dusty yellowish and reddish hues to create an image of a battle, or bright and warm earthy tones that remind of dust, earth and smoke. For instance, the web template below features warm color palette for the background and introduces bright red tone to the logo.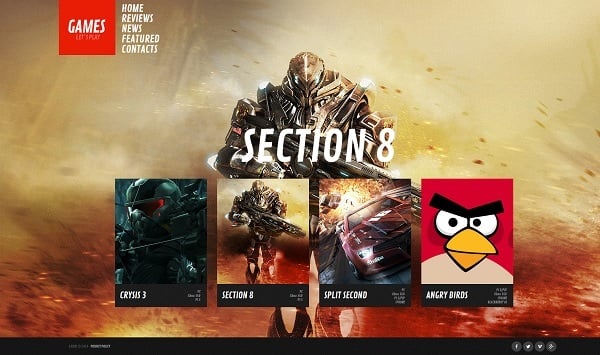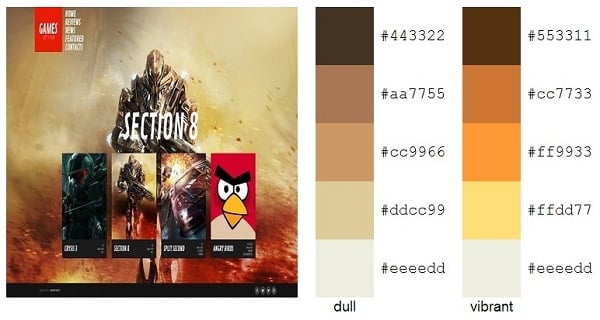 Many website templates for gaming sites introduce cold metal tones to the color palette to keep connection to the colors of weapon.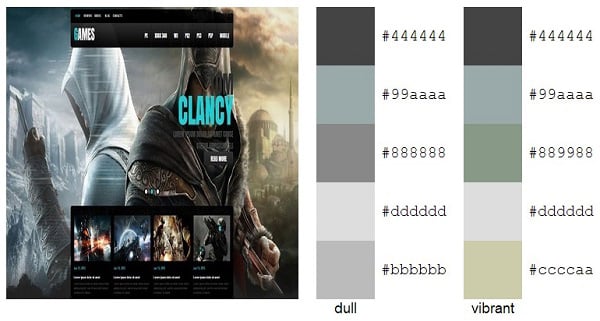 Content Choice and Organization
Content is another essential thing for gaming web templates. It makes sense to load the website with content after the layout is ready. You will need a few traditional pages that are used on almost any website like Home page, About and Contacts. You should also include a News and/or Reviews page to post latest info about gaming products, platforms, new or upcoming games.
First and foremost you may notice that gaming websites are heavily loaded with visual content and media. Vibrant pics and screenshots, multiple widgets and apps, video and audio content appear on any page of the website.
Users may want to see basic features of the games, estimate graphic, gameplay and characters. Thus, adding an image gallery to the template is essential. You may also wish to use a content slider or image slider that will show the latest news and reviews that appear on the site. The template below features colorful slider on a Home Page with vibrant screenshots of the most popular or the latest featured games. Most of these screenshots introduce game characters so the users may evaluate the game style before reading the reviews.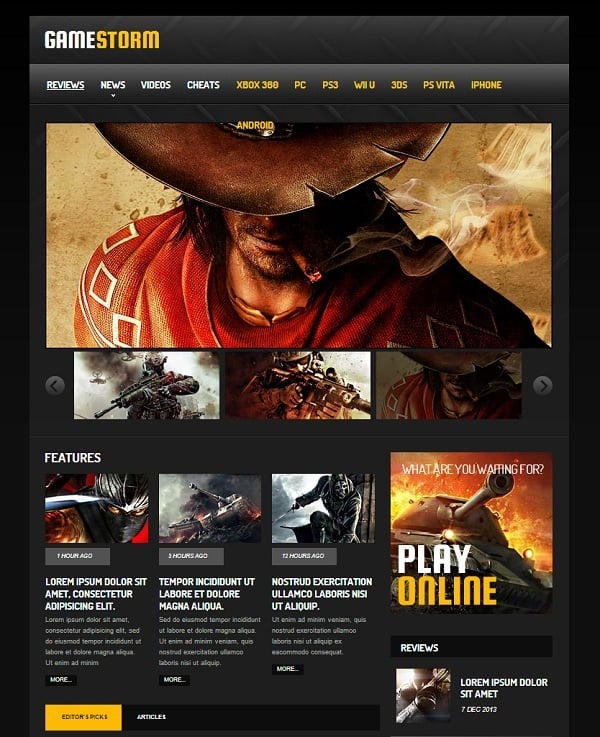 Adding a special Gallery page may also be handy. It may include screenshots of the game brightest moments, reveal main characters, weapons, landscapes and levels etc.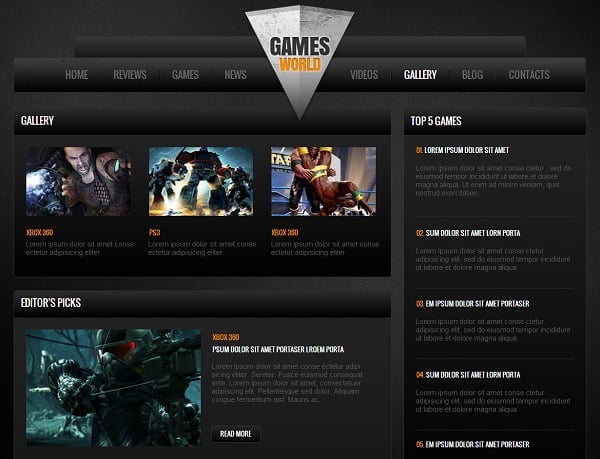 Video content is another essential feature of the gaming website. it may also require creating a separate page with several subcategories. Video content may consist of game trailers and teasers, video reviews as well as previews, cheats and walkthroughs. Additionally you may include interviews with apps and games developers, and podcasts.
The template screenshot you may see below features a category in the Header Menu and a specific page that contains multiple videos on games, gameplay, cheats etc. Large video previews allow to easily browse the page and find the necessary content.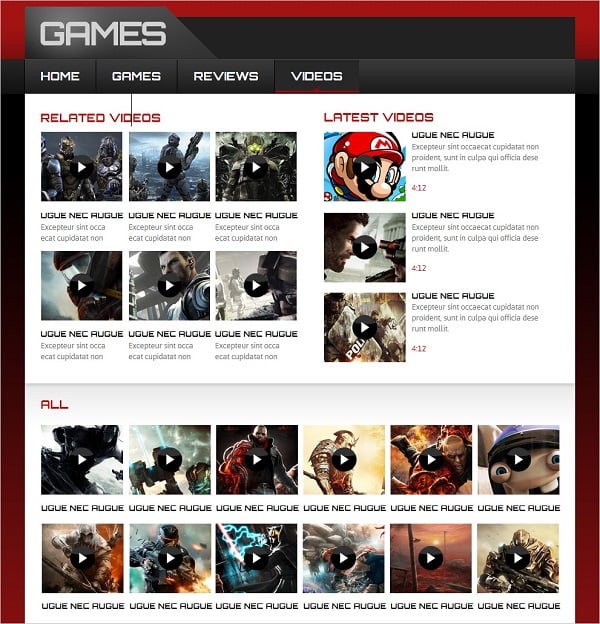 Gaming websites in general feature more categories and subcategories than other websites, so creating a perfectly organized navigation menu within template is highly important. A drop-down navigation is the best option to organize such versatile categories as Games or Consoles that are usually include numerous subcategories divided by types, technology or manufacturer. Thanks to such neat type of menu the header won't look crowded and the users will navigate between the pages with comfort.
The example below shows the website template for gaming portal that features three-row navigation in the Header. Large menu with main categories feature a drop-down menu for the Reviews category that shows up when hovered. A navigation bar below introduces subcategories based on the type of the gaming platform (XBox360, Wii, PS3 etc.) The smallest menu bar repeats some of the main categories but you can easily manage their titles and content.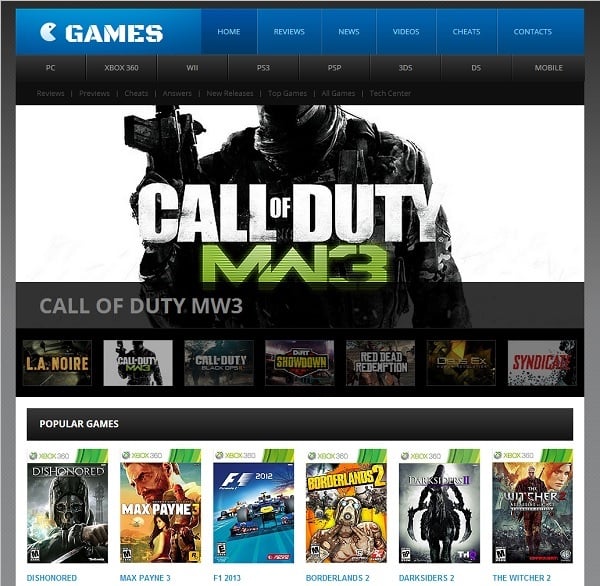 With fast development of mobile world creating a mobile-friendly version of the website is highly recommended. Templates here feature responsive design that can be used on any mobile device. It is especially handy if you have a Mobile Games page on the website that allows users to play or download apps and games from the website right onto the device. Such templates may also come in handy for software and apps developers. The website template below features such category in the Header menu what allows the owner to there reviews and trailers for the games specific for this platform.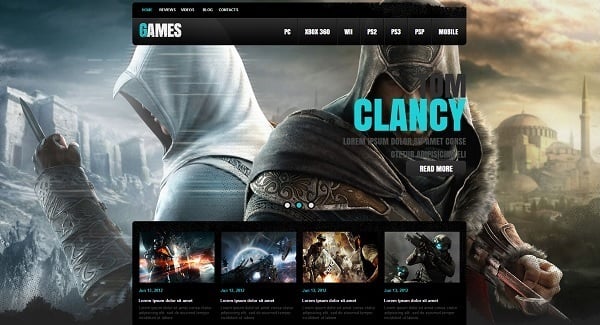 Among gaming website templates MotoCMS offers a few online gambling and casino ones that can be easily used for promoting and selling various games online. Such web templates like the Casino website template below allow downloading the desktop version of the game or register and play online in multiplayer version.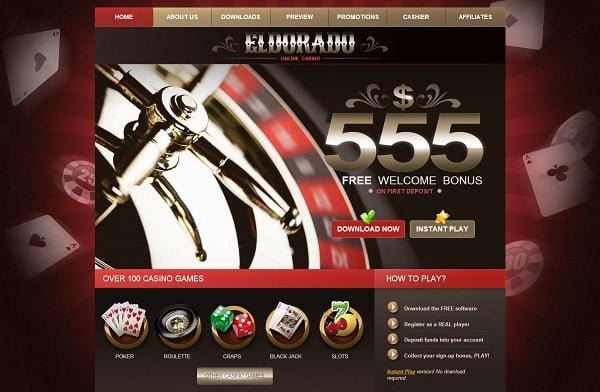 You should remember that gaming web templates are versatile and media-loaded, so don't forget about good hosting for your future gaming website. Here are a few more website templates on gaming, gambling and software to help you started.