How To Make a Dating App – Learn From Tinder Features
When it comes to dating mobile apps, Tinder is the most popular example among users around the world. With its huge success, this app overcame all the industry competitors and turned into a very profitable business. According to the statistics, Tinder's global revenue comprised $1.4 billion in 2020. This success inspired many businesses to develop an app like Tinder. The unique concept perfectly integrates with its monetization strategy. Tinder conducted very thorough market research and singled out the most significant needs of the target audience. According to this information, Tinder has developed an ideal feature set and highlighted the most meaningful ones.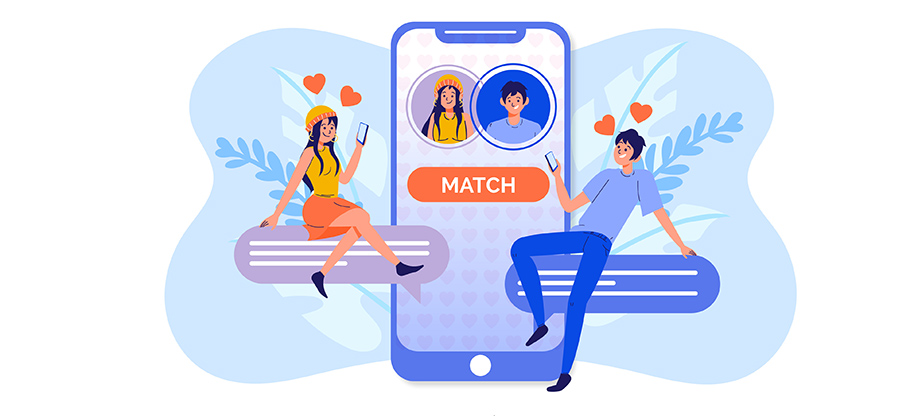 And if you are wondering about the reason for such popularity, the answer is the unique and outstanding features of Tinder. In this article, we will take a closer look at its basic features and find out how they influence the user experience. It will be helpful if you want to know more about how to develop a dating app and predict its development cost. Keep on reading to discover an ideal feature set for your own dating application!
How To Make a Dating App – 8 Top Features for an App Like Tinder
Here are the most important Tinder features you need to make a dating app on your own. Take them into account to boost the user experience and deliver an excellent application that perfectly fits all the user needs. Now, let's answer the question of how to make a simple app with tinder-like features.
1. Sign in via Social Media Accounts
This functionality is a must-have for any app that requires creating a user account. Integration with social networks simplifies and streamlines the sign-in or log-in process, and your app receives all the necessary profile information automatically based on your existing profiles. It eliminates the hassle for users as they need to enter only the additional info. Don't forget to add a password recovery option.
2. User Profile
This feature lets users discover more information about each other, like photos, age, occupation, hobbies, etc. The more customizable the profile is, the better. The challenge for dating app development is to offer robust functionality and make it flexible at the same time. We realize that such functionality may have a high cost, but it is worth all the effort in the long run. However, you shouldn't overdo it and ask your users for too much information. Conduct thorough research beforehand and decide on the most important criteria to add.
3. Location-based Suggestions
This feature is the highlight of Tinder and one of the most important features for a dating app. Geolocation is crucial for the entire app functionality as the contacts are continuously fetched based on the user geolocation. Going local and precise enables greater personalization and more appropriate suggestions.
4. Search Filters
Although it may seem obvious, this feature is essential for such apps. We recommend being creative and thinking about additional functionality for an effective search. As basic features, you may utilize search based on name, age, distance, etc. We advise filtering the search by common contacts, hobbies, and interests. The more filters you have, the more enhanced the user experience will be with your app.
5. Swiping
This unique feature has revolutionized the dating app market and made Tinder a top application. However, it doesn't mean that you should follow everything from Tinder development and ask your development company to make an exact copy. There are many Tinder alternatives that feature a different UX and have great success. Think of a similar convenient option to choose the best candidates. In the case of Tinder, the system looks like this:
The app divides the candidates into different categories based on the information they provided.
First, this app offers suggestions based on your location, mutual contacts, and interests.
Then, the application adjusts the suggestions based on previous user choices and offers the most suitable candidates.
Making a choice is a piece of cake with swiping the screen right or left. Think of something similar that would improve the experience of your users.
6. Enhanced Security
When it comes to dating app development, user data safety should be your priority. Tinder has recently released wider functionality for improved information protection. It aims to protect LGBT+ users from harassment and cyber-bullying. You need to understand that you are dealing with a serious process, and in some cases, it can even be a matter of law. We suggest consulting experienced lawyers concerning your privacy policy. We also recommend adding a few options for privacy settings, like allowing access to all information, limited information, or restricting access for candidates you don't know.
The ability to block users is also an important security function. Allow your users to send alerts about inappropriate behavior or spam. This will make the environment and communication more user-friendly.
7. Push Notifications
This is another essential feature to make a dating app. You can send notifications relying on browsing history, preferences, and matches. The idea is to understand what notifications are the most effective for a particular user. Enable wide notification settings not to irritate and deliver a seamless user experience.
8. Hiding Ads
This feature depends on the monetization strategy you choose. The Freemium model is the most popular one for such apps. According to it, all the users have access to the basic functionality and can upgrade their account to premium to receive additional features. Hiding advertisements can serve as an advantage for paid users and encourage them to purchase paid accounts. If you want to build extensive functionality for paid accounts, it can influence the cost but result in increased profit later.
How To Make a Dating App – To Sum up
Developing a dating app is very specific and demanding. You need to take into account numerous factors and rely on user experience. Your priority should be a user-friendly, engaging, and visually attractive app. One more important point is to choose a reliable and skilled developer team that will understand all your requirements. We hope that our detailed overview of the most important Tinder features will help you develop your own custom dating mobile app.