Getwid – A Magical and Functional Set of Gutenberg Blocks and Templates
Getwid is an excellent all-inclusive plugin solution for those who prefer Gutenberg as their core tool for building a website. The plugin enables customization opportunities for any element, such as layouts, fonts, colors, icons, and more. Therefore, you can easily create a specially designed site of any volume up to your preferences and needs. Getwid is the right thing that works well for those users who need a ready set of stylish modular themes and necessary functional blocks for the convenient UI structure. Getwid is aimed to give your site a harmonious look and load quickly with various tailor-made blocks.
A Gutenberg widgets and templates user can apply extra helpful and attractive content blocks (more than 40 in general), combining them stressless with basic Gutenberg ones. Therefore, building a minimalistic and well-organized site will be seamless with the sliders, banners, social networks icons, and content of diverse types mixed coherently!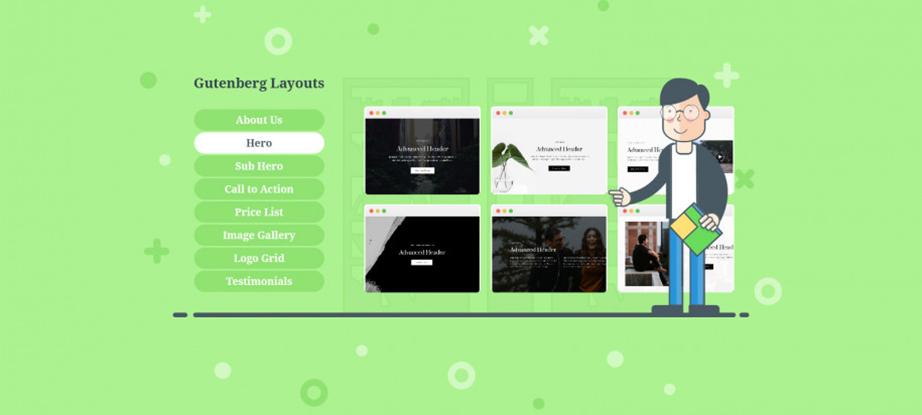 Getwid Templates Collection
The best bonus concerning Getwid is that it also comprises a rich Template Library with an extensive collection of contemporary, smart designs on standby! There are themes on various topics, and for multiple purposes, with pages devoted to testimonials, CTA, contacts, etc. One can choose and apply the preferred Getwid template in a couple of clicks and alter the content on the go. It is easy to select the minimalistic layout depending on your liking and requirements. The most crucial point is that chic design is combined with flawless performance, high loading speed, and automatic correspondence to the current WordPress theme.
Getwid also includes a starter template Getwid Base with an elegant design and a set of pre-styled blocks. It doesn't need any additional styling and editing – you are able to use it the way it is and still make your site look polished. Getwid Base can boast a minimalistic trendy design, highly optimized performance (both from the point of speed and SEO), and marketing tools for making your site highly convertible and attractive for visitors.
Getwid Blocks – What Can You Use Them for?
When we say that Getwid incorporates more than 40 functional Gutenberg blocks, we don't want just to impress you with numbers, neglecting productivity and functionality. This plugin provides only the most necessary and demanded WP content blocks for everyday use. It can enable both individual developers (or people without previous development experience) and businesses to create websites of all kinds and for any purpose – from promo landing pages to large multipage sites. Besides, Getwid can be applied in coordination with WooCommerce.
Some of the Getwid blocks may suit Services pages better, some – add quality to Contact pages, others serve better testimonials. Getwid is also in accord with well-structured and pleasantly looking portfolios and landing page sites. Remember that no coding is necessary, as, with this widget, site-building is as intuitive as possible. The blocks library is vibrant and functional. However, it doesn't mean that adding multiple blocks to the same page will get reasonably slower and lose distinct performance points. Combine any number of complex blocks you require!
Gutenberg Blocks Editing and Styling
Don't pre-designed blocks make site makers limited in design and styling solutions? Not even close! Getwid allows you to modify all the elements up to your liking or overall style vision. Suppose you do know CSS, then you can change polygraphy, colors, and animations. Moreover, adjustments can be made in a visual mode for you to see the consequences at once.
The Getwid team has also minimized CSS files not to burden the blocks with unnecessary "heavy" instruments. We don't stop on that point and perform performance checks and sustainable development of the widgets. You can be sure that Getwid blocks won't force your site's overall performance to suffer.
One more great advantage of Getwid is the WP template you've previously chosen for the site design affects all the elements you create on the basis of Getwid blocks. So, they inherit the previous styles automatically. This approach assists you in overcoming the problem of the site's look inconsistency. So, it is effortless to build a consistently designed site with Getwid in no time!
Top Getwid Gutenberg Blocks
Let's take a closer look at the most popular and often-used blocks from the Getwid extensive collection.
Image Hotspot Block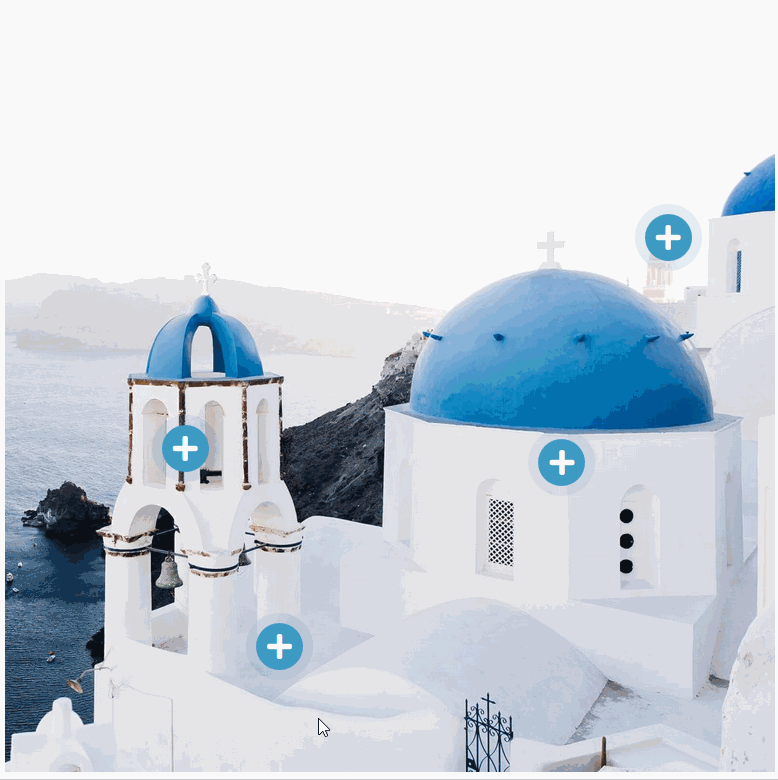 This Getwid WordPress block enables putting animated pointers, including tooltips, on pictures. This way, one can present more information to site visitors, especially concerning some details or parts of the picture. The Hotspot block can illustrate recipes, interior and exterior design images, detailed plans, and maps. The number of hotspots is immense, and the crucial point is that you can easily modify their actions and style.
Countdown Getwid Block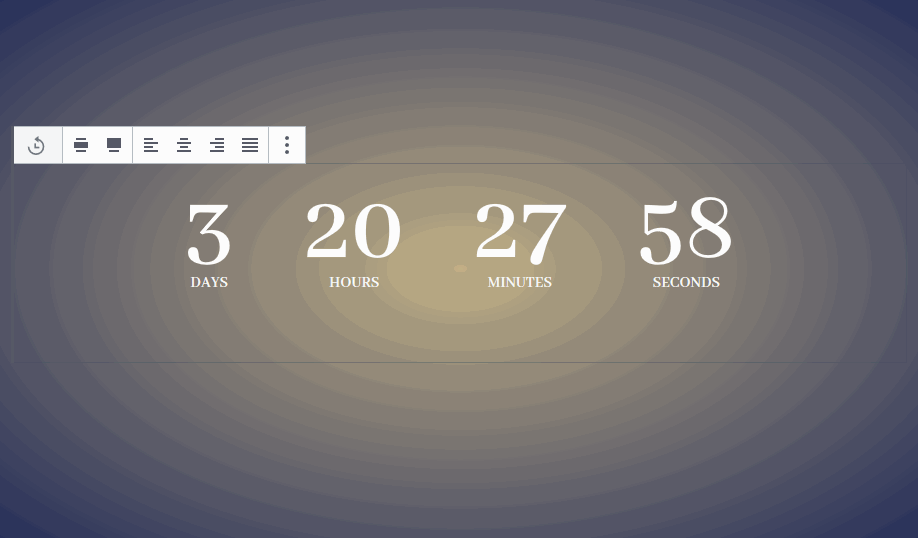 The countdown block's purpose is always apparent – it is needed for creating animated timers on site pages. The countdown clock makes your site visitors and prospective buyers or customers feel that the offer or discount you present is urgent. It is a perfect marketing move for announcing a new or particular product and promoting sales. They are also suitable for coming soon pages and banners while clients expect your site to be launched.
Mailchimp Block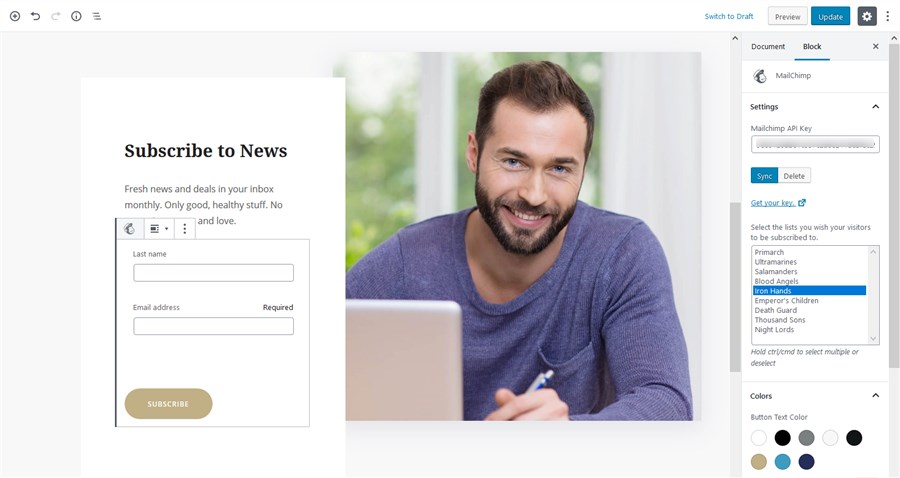 Suppose you are using Mailchimp for email automation practice. The Mailchimp Getwid block is a perfect tool for integrating this service on the site. Make an excellent email subscription form for your marketing purposes.
Blog Gutenberg Blocks
Post Carousel Getwid Block
The Post Carousel block lets you build dynamic slideshows with any content you need – products, services, or blog posts. Carousel blocks serve well for the 'latest news' or 'features posts' element of the blog, portfolios, some image sections on the main and "About Us" page. This tool is helpful in eShops as you can present any WooCommerce catalog items in the form of a carousel. The carousels can slide automatically or be static.
Gutenberg Custom Post Type Block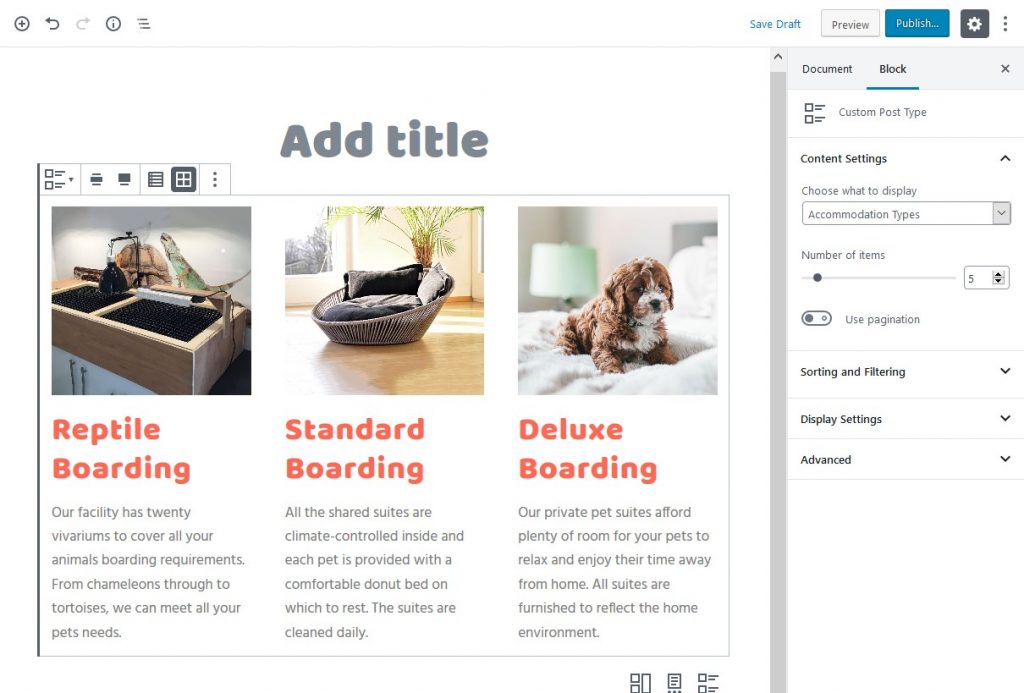 Getwid custom post type block is aimed at dynamically featuring custom post types in Gutenberg. Don't forget you can easily adjust the style, content, and format of the block. An essential advantage of this block is its complete responsiveness. It means that the content will get accustomed automatically to the screen of the other size and revolution.
Post Slider Block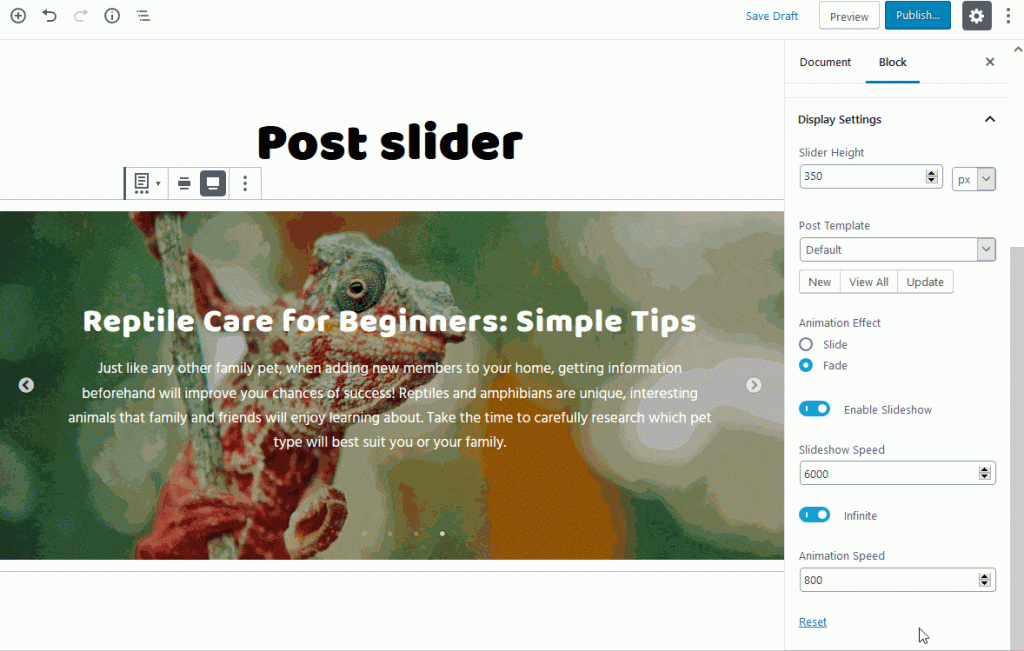 The Post Slider block of the Getwid plugin is an appropriate tool for creating sliders with content from posts or pages. It suits such elements of the website:
The latest news on the blog.
Featured posts, top services, and products.
Sliders on any site page.
Bonus – Free Style Kit
The team has developed a free design kit for those who need more detailed instruction and explanation! It is accompanied by the CSS files that are made to support you on your way to theme modifying with Getwid Gutenberg blocks. You can download this free-of-charge Getwid Style Kit in one click and start your work right now.
Conclusion – Getwid Gutenberg Blocks for Different Purposes
The design of your site can be one of the most effective tools in your online business strategy. So, try a great library of blocks and templates called Getwid. Make a landing page or a multipage website devoted to services or products in a couple of clicks, modify the style and content of every block, and make your site a comprehensive online presentation of your business and image.
More blocks on Getwid: