10 Best Web Builders 2017 to Create Your Site Easily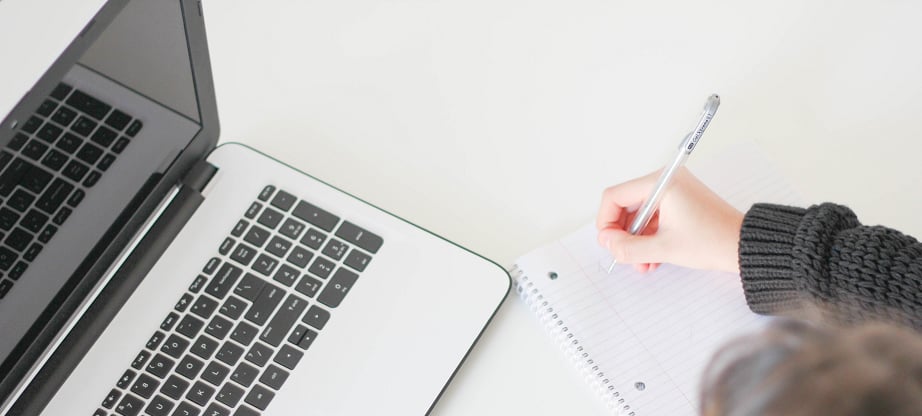 Nowadays the Internet has obviously become the main means of communication and spreading different information. If you want to be successful and share certain ideas, you should go online. Modern people realize it perfectly well. So, there is nothing surprising about the fact that there are more than 1 billion sites online right now. Still, not everyone can afford the services of professional web designers. That is why user-friendly website builders are extremely popular today. With one of them, a user who knows nothing about coding can easily create a new fully-functional website.
Nevertheless, the wider the choice is the more difficult it is to make the correct decision and pick the best website builder answering your personal needs. Here is a list of the most popular website building platforms at the moment to help you make the right choice.
If you are a newbie and want to create your own internet presence, this website builder is an excellent choice as it is truly simple to use. You'll have your website up and running in no time due to a handy drag-and-drop Block Editor. There is a rich variety of stunning responsive website builder templates to choose from. Moreover, the platform offers a wide set of widgets for all purposes. Three types of image galleries, video and music players are included in the admin panel as well. Besides that, it provides you with excellent SEO tools where title and description tags are customizable at a page level.
SendPulse Website Builder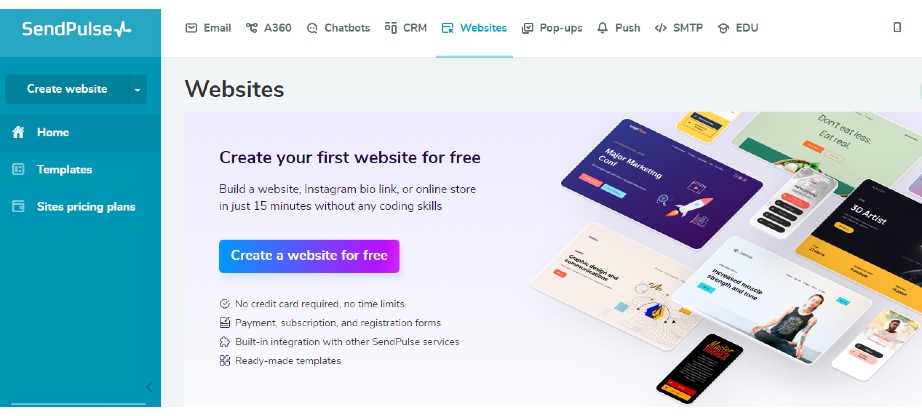 This marketing automation platform is like a Swiss Army knife in the world of marketing tools for small and mid-sized businesses. Their drag-and-drop website builder is just one among many other useful features available on the platform. There are also email and SMS campaigns, a GPT-powered chatbot builder, as well as a handy CRM to manage your leads. The website builder itself is very intuitive and also offers a variety of pre-made templates, styles, and other website elements.
Once your website is ready, you can connect a chatbot, add subscription forms or integrate a payment system and use it as a fully-fledged online store.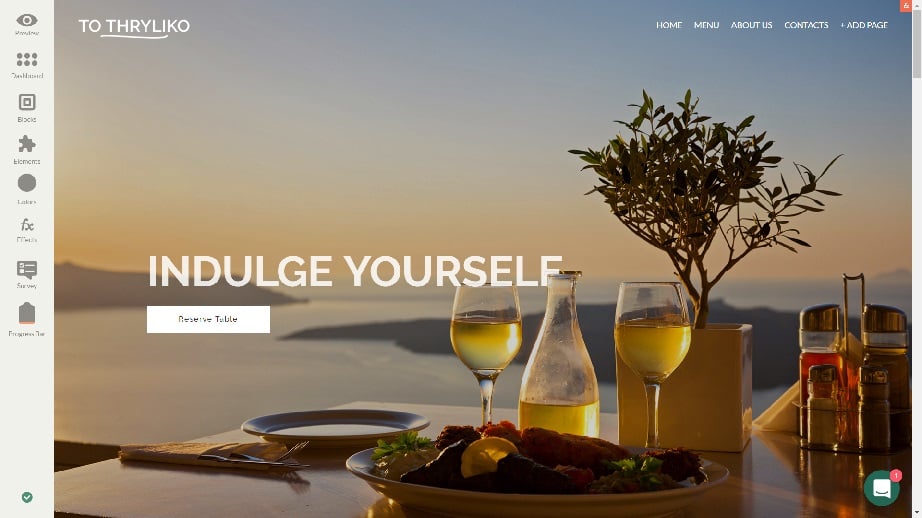 Ucraft is certainly a web builder for a person with a designer's eye. It is block-based and provides you with a great number of possibilities to make your website unique. So, each block includes 7 simple effects to add according to your desire. This website creator is also perfect for blogging as it has some useful features like 'Article' pages creation. In addition, you will be able to save posts as drafts and post them in future with Ucraft. Also, the platform is equipped with Disqus to organize comments if there is a need. In general, the builder is extremely flexible, though sometimes it may seem a bit incoherent.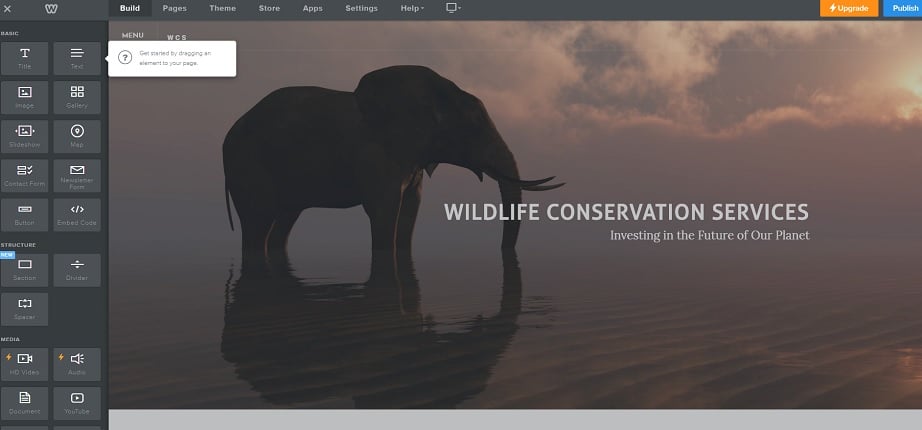 This website builder is really easy to use. You can enjoy a wide variety of innovative features with Weebly. There are a lot of stylish and modern website designs to choose from. It is possible to edit the templates via the source code as well. The platform also allows adding of external widgets and other tools. One more important detail is the possibility to download backups of your site. But, unfortunately, this is a manual process and you won't be able to restore them. Still, the overall quality of the builder is very high.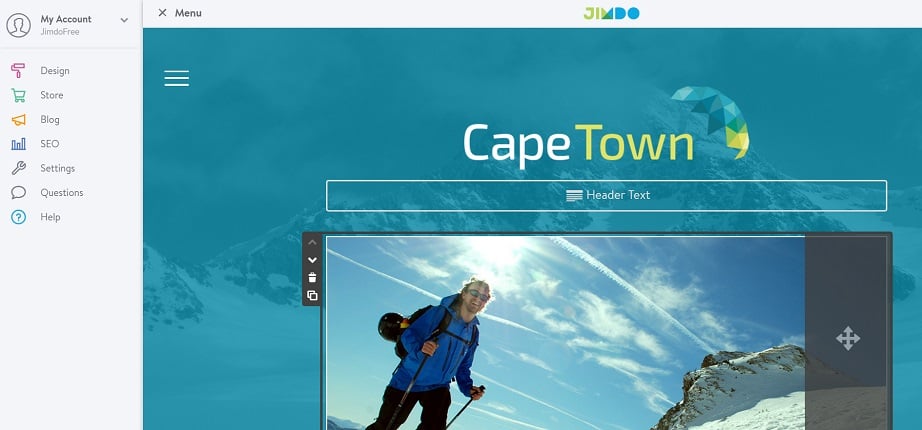 You don't need any learning curve to use this website creator. Simplicity is its key conception.The platform is well organized and quite variable. With its drag-and-drop functionality, you can quickly create a new website of your own. But, unfortunately, this website builder has no preview function. So, all the changes will be saved directly to your website. What makes this builder really great is that you can create a website using a tablet or your mobile phone with the help of convenient Jimdo apps as they are available for Android and iOS.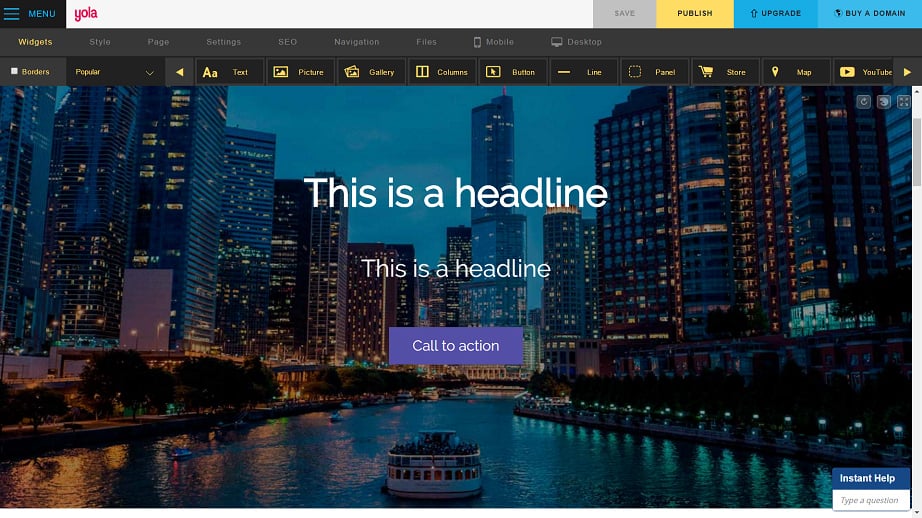 Though it is not difficult to use Yola, you will still need some time to understand how the things work here. You are welcome to choose from a number of nice customizable templates with this builder. Yet, there are only a few things you can change about the template. You should also take into consideration that Yola has only basic widgets. But this is not a problem as you can easily integrate the widgets you need by taking advantage of the third-party developers. This platform is a perfect choice for online stores as it offers a sophisticated e-commerce system.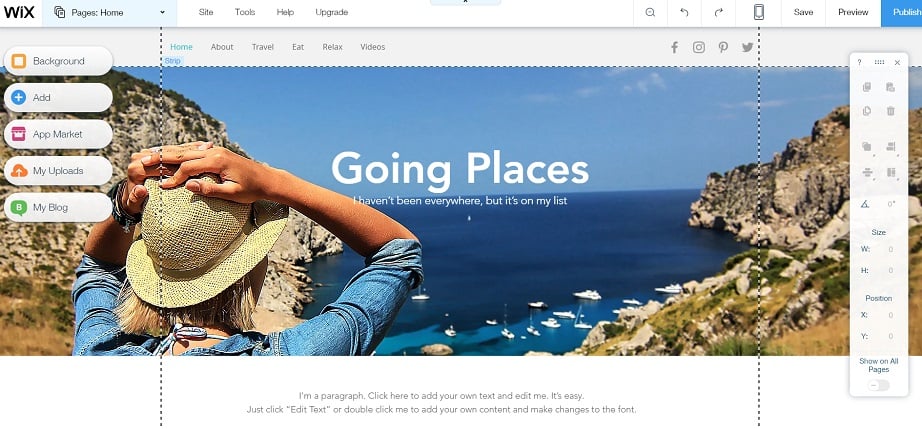 The visually impressive layouts that come with this website building platform are designed for different customers ranging from small businesses up to artists or musicians. All of them are responsive, so they can be used on various mobile devices. This builder is a great option for those who are looking for a detailed control over their sites. Also, it is extremely easy to use – you can move around all the elements without any problem. You are able to add external applications as well. On top of it, you get a wonderful possibility to make your website truly unique by animating the text or other website elements when working with Wix.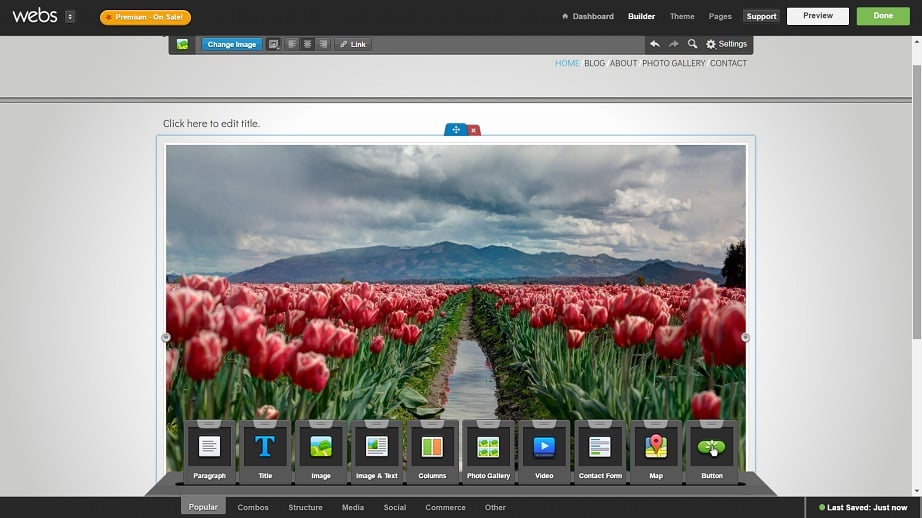 This builder is ideal for small businesses and online stores as it has a number of features aimed at such clients. Webs is pretty easy to work with thanks to the special module system. You can add new modules (such as pictures, paragraphs, etc.), change the position of the existing ones, edit these modules by clicking on them and remove the modules with no efforts. Webs has also a useful function of membership integrated. It allows you to manage the work with your members. For example, you are able to send group e-mails or restrict the access to certain pages. Moreover, if you lack certain tools, you can easily integrate third-party tools into your Webs website.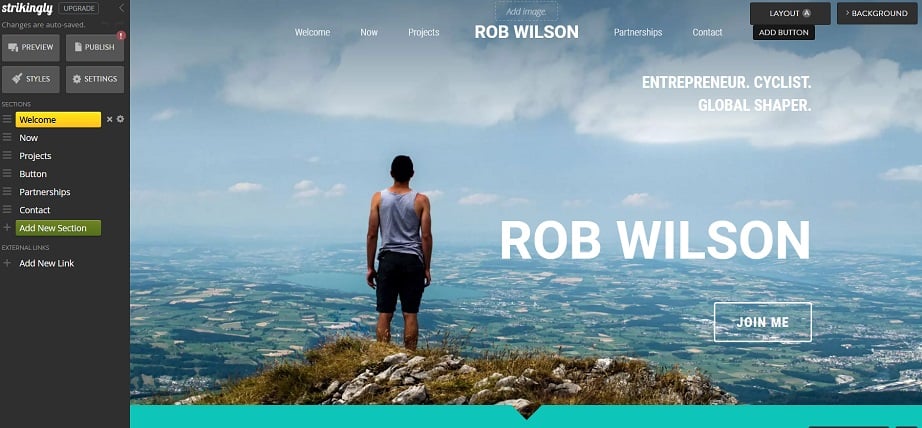 This is an excellent single-page web builder. You can start to use it right away as the interface is truly intuitive. You are welcome to choose among 19 totally responsive template designs. If you want to change the template, you can easily do it without losing the work you have already done with Template Switcher feature. Though Strikingly does not have a wide choice of features, the set it offers is enough to create a wonderful one-page site. You can start your own simple blog, monitor the activity of your site's visitors or adjust your SEO without any difficulty.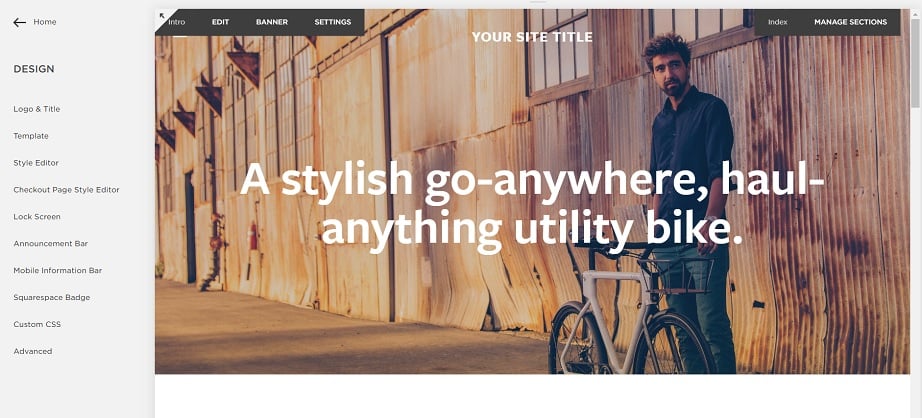 This website builder has a user interface with a minimalistic design which is not always self-explanatory. Still, it is quite easy to edit the content with it. Each template goes with a number of customizable features, so it is possible to style any template in a unique way. The Squarespace's latest version also introduces such new features as a Cover Page Builder, G Suite and Getty Images. Besides that, the content can be edited live, without switching back and forth between the site manager and preview mode.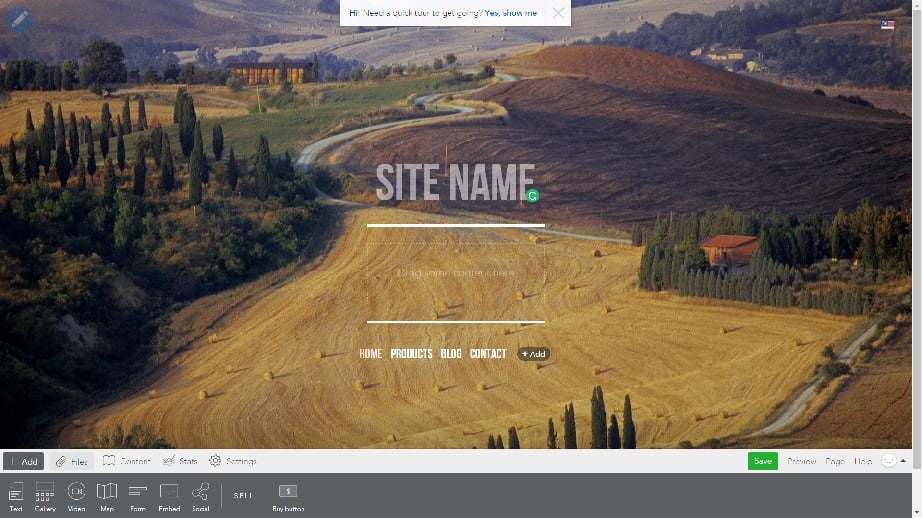 This website builder is logically structured and simple to deal with. Though the choice of the templates is not very rich, it is still possible to create a beautiful website using one of them. Also, some coding knowledge is necessary if you want to edit the themes. All the functionality of the platform is drag-and-drop based. Voog offers a set of basic features to the clients, but you can easily add anything you need (e.g. social media apps) by entering the custom code through the 'Custom' box.
Whatever website builder you decide to go with, good luck with your project!