Best Way to Sell Online: Ecommerce Templates of MotoCMS
The Internet rocked the world. Especially the world of commerce. Does anyone can remember when exactly the prefix "e" came to use? Thanks to the world wide web we are capable of selling, offering and buying for money anything we want, anytime and at any place all over the world.
E-commerce is simple, time-saving, secure and, most importantly, available to everyone in terms of doing business. Anybody can easily become an online entrepreneur these days. A pretty large amount of companies develop professional software for non-professionals to help them create their own online store.
MotoCMS is one of them. The last year released E-commerce plugin has proved itself with its easy-to-use interface, allowing the MotoCMS 3 website owners to start up and manage an online store right in the admin panel (responsive website builder powered by MotoCMS). Back then you had to add an E-commerce Plugin to your website template at your option and charge though. But the number of requests for Ecommerce templates of MotoCMS grew!
And finally the MotoCMS team has announced the release of the responsive ecommerce templates collection with an E-commerce plugin on-board. From now it is possible to get an awesome web theme with the same MotoCMS 3 functionality, including a new ability to begin own ecommerce business without any extra charges.
Storefront
What is the first thing that an e-store must have? A simple and easy access to the product selection. The frontend interface of MotoCMS ecommerce website templates has clean design, allowing customers to find way around as soon as they arrive.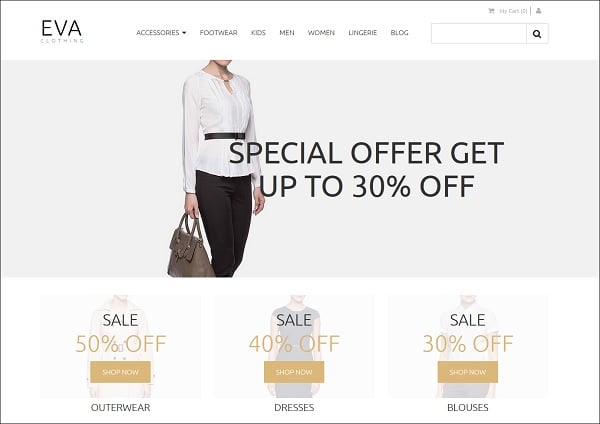 This web template's home page contains a top horizontal menu bar that will direct a visitor to each category of your online store in one click. Talking more of the menu bar, you can make it "fixed" to the header by checking an appropriate box in the admin panel.
Below the menu there is a large photo slider that will be the great way to demonstrate the best offers of your online store. If you don't like the Slider gallery, remove or replace it with Carousel or Grid Gallery. In fact, you hold the full functionality potential of the MotoCMS responsive website builder, including various widgets and tools at your service. Use it in your way.
A product category page is made in a form of a grid gallery. Each customer have an instant access to a needed product item, including a preview mode in a lightbox. For better navigation there is the breadcrumb menu.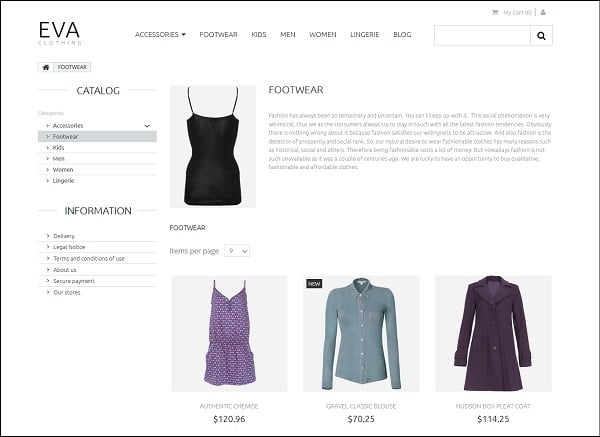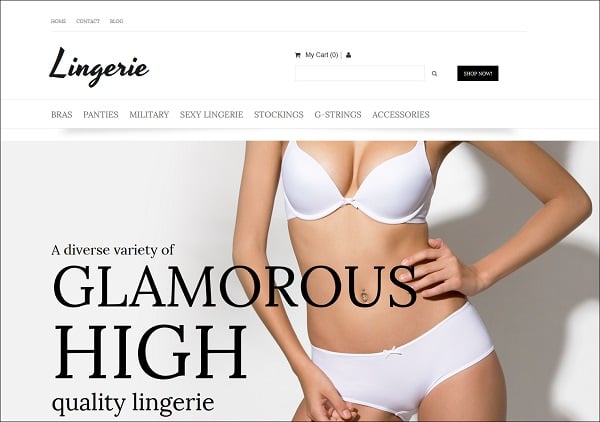 If you'd like to impress your customers with the top notch products of your online store, this pre-made responsive ecommerce website is what you need. Compared to the previous template's home page, this one has pretty different and charming storefront.
High-resolution parallaxed images flavoured with a tiny grid gallery between them may easily lure new buyers. A customer will take a look at the best goods and have an instant access to the most popular categories of your online store at the same time.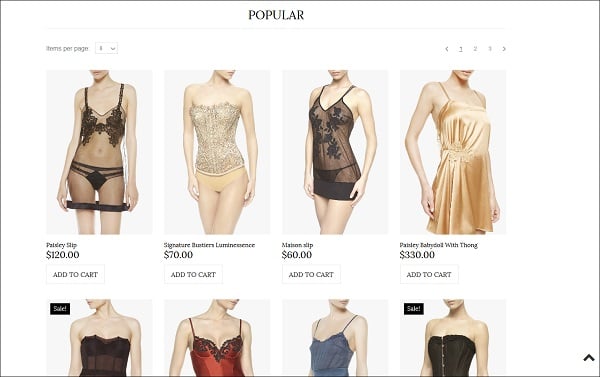 Scrolling down the home page of your e-store, its visitors will notice a larger grid gallery with the rest of product categories.
Do you like video backgrounds? There is one below the Home page that will make people stare at it!
Getting Started
To get started with your online store management click on the "Store" section in the admin panel powered by MotoCMS. There are five sections: Dashboard, Orders, Products, Customers and Sections.
Dashboard
In this section you will be able to track daily and monthly statistics on the latest sales and customers. Check out all the information at one place via the diagram.
Orders
In this section you will be able to proceed all your orders, as well as to check their stage of processing (pending, awaiting payment, shipped, approved etc.). Here is also all the information about who and when made an order, an order cost and a quantity of ordered products. You can also add new orders "by hand" clicking on the "Add New" button.
Products
Manage the goods you sell online right in the Products section. Create product catalogs with brands. Set promos and discounts and more.
Catalog
This is the area where you will be able to manage the whole product lineup. Click the "Add New" button to create a product item. Upload its image via Media Library. Write the basic information about a new product, including its name, description, URL, SKU and more. Change the product visibility status and its current quantity.
If you would like to optimize your website, standard SEO options are also available.
Brands and Categories
How to make your online store more easy to use for your customers? Just make more categories for the products you sell! In this section you will be able create a product category, as well as to write its title, description, URL as well as upload a needed photo.
The way of the brands creation is pretty the same. You can see all the brands you've created on a product page.
Discount
Discounts are essential for successful commercial business. Start sales for various products and categories by creating promo codes. Set its name, type (fixed price or percentage), value, quantity and timing.
Properties
If you need to make a more detailed product description, use this section. For example, for a Property category "Apps" you could set the values "iOS" and "Android".
Widgets for Ecommerce
There are a bunch of widgets, created specifically for an online store management. You will find them in the admin panel:
Product List – show the full product set with photos, names and prices.
Product Categories – display product categories near the product list.
Breadcrumbs – add breadcrumbs to make your website navigation more user-friendly.
Cart and Profile – create a shopping cart for your online store in minutes.
Search – add a search bar to your website.
Please, note that "Search" and "Cart and Profile" widgets can be added only to a Header or Footer area.
Product List Widget
Demonstrate your top products on a Home page or a category page. Just drag and drop this widget to the Content container. Customize the quantity of shown products, as well as the widget's design. Various thumbnail presets are at your service.
Product Page Widgets
Product Page widgets contains such widgets as we mentioned before (Product Categories, Cart and Profile, Breadcrumbs and Search), as well as:
Product Title – add a title for a product.
Description – add a product description.
Short description – add a short description that you will be able to see on a category page.
Rating – allow customers to share opinions by providing reviews.
Properties – includes a product brand name and its SKU number.
Product options – add more characteristics of a product's description.
Product price – set a price for a product.
Media Gallery – add a gallery with product images.
You can also choose "Buy it now" and "Add to cart" buttons to direct your customers to a cart.
Customers
Need some information about a customer of your online store? Go to the Customers section for checking your customers' personal info like names, emails, phone numbers etc.
Settings
In the Settings section you will be able to manage taxes, payment systems (PayPal and 2Checkout), choose currencies, setup email and connection properties.
Conclusion
If you like the functional of MotoCMS responsive ecommerce website templates, you can always try it for free. Choose your favorite web theme and sign up for the free trial period. This is the best way to experience this truly amazing product by yourself.