12 Typography Infographics to Enrich Your Knowledge
Typography is an extraordinarily in-depth topic, you could literally spend years pruning your knowledge on the subject. For most graphic designers however, time is money, and we don't have time to spend countless hours reading whitepapers, books and essays about typography; we simply need to know enough about the subject to make informed typographic decisions when embarking upon a new project.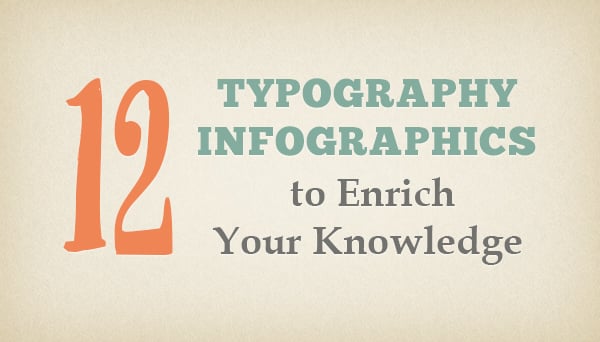 This is easier said than done, but luckily, we've found a handful of typography infographics that will teach you pretty much everything you need to know about typography.
No long essays, no technical mumbo-jumbo, just beautifully designed infographics that make everything easy to understand. We've also thrown in a few useful "cheat sheets" to make your life easier.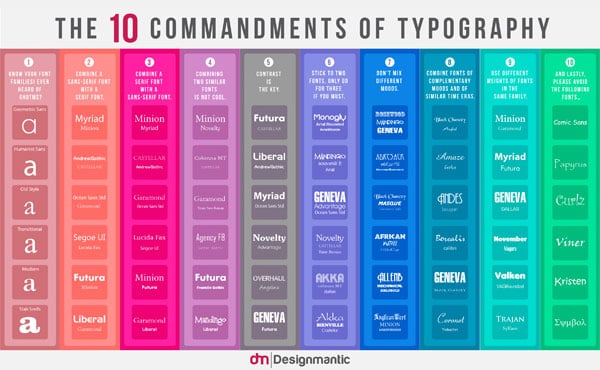 The 10 Commandments of Typography Infographic from DesignMatic.com is an infographic that all graphic designers should bookmark and refer back to on a regular basis.
It illustrates 10 commandments that you should abide by when choosing typography. It talks about things like font families, combining sans serif and serif typefaces (something that almost always works well), avoiding font combinations that are too similar, creating contrast, avoiding mixing moods, and much more.
What's more, it's all presented in a beautifully crafted, color-coded infographic that you can literally follow at the beginning of every design project.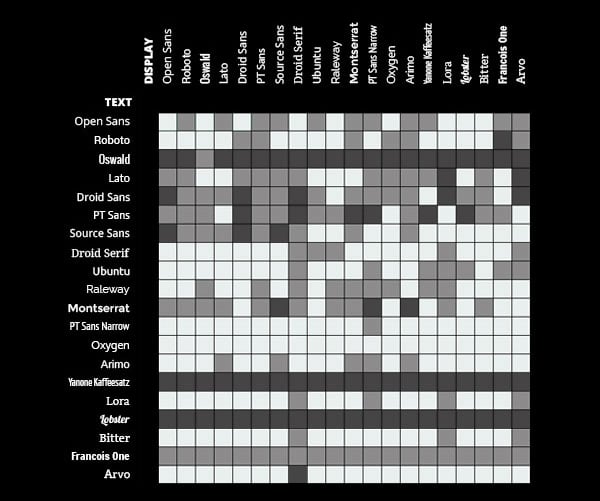 When starting a new project, one of the most difficult tasks you'll have to undertake is that of choosing the typography for your design.
Not only are there tonnes of typefaces to choose from – which makes the task difficult already – but there's also the added task of finding typefaces that are likely to compliment each other and work well alongside one another.
Luckily, this time-consuming process can be simplified by referring to this infographic from FastPrint.co.uk. It shows the compatibility of 400 unique typeface combinations, all of which are available to download and use free of charge from Google Fonts. The compatibility of each combination is color-coded, so finding complimentary typefaces is easier than ever.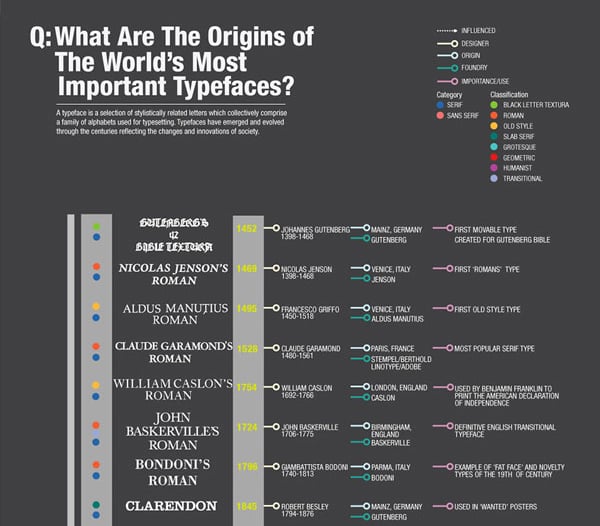 Although we all come across various typefaces on a day-to-day basis, very few of us are aware of the history of said typefaces. This infographic from UberSuper.com aims to educate us on this subject. It offers a detailed yet beautifully presented overview of some of the world's most popular typefaces.
It let's us know who designed the typeface, where it was founded, who/what it was influenced by, and even important use cases. It also tells us the classification of each typeface (e.g. slab serif, grotesque, etc.) as well as the category for each one (e.g. serif, sans serif).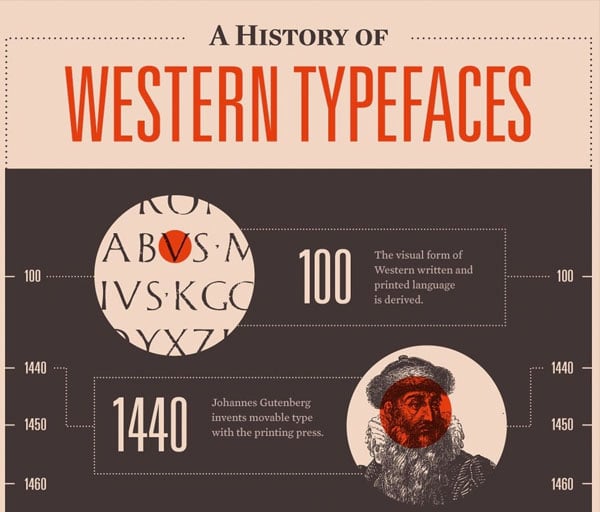 According to Mashable.com (the creator of this infographic), we see approximately 490,000 words every single day, and that's just on the web. If you take into account printed media, this number is likely to be significantly higher.
Every word that we read is written in a typeface of some sort, and these days, most of the fonts that we encounter are well crafted and beautiful. However, it hasn't always been this way. This infographic documents the history of western typography from its humble beginnings right up until the present day.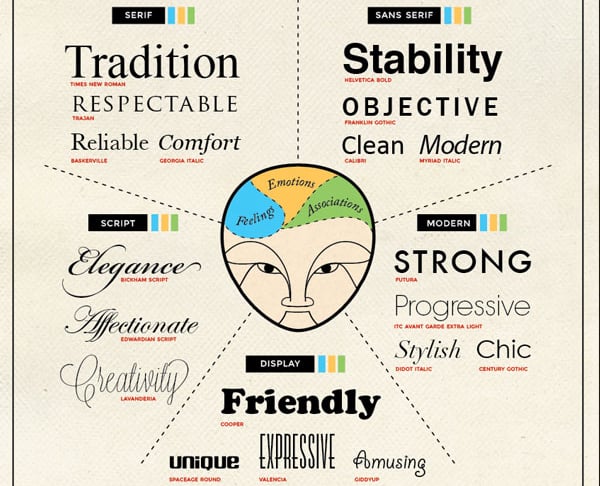 Typography has the potential to influence us in some pretty powerful ways. This is why big brands spend hundreds of thousands – if not millions – of dollars on ensuring that the typography they use is both consistent throughout their marketing efforts, and also reflects their core brand values.
This infographic from CrazyEgg.com talks about the psychology behind typography choices. It goes into detail about the different kinds of typography (e.g. serif, sans serif, script, modern, etc.) and gives pointers on the emotions that each type evokes.
It's a simple and clean infographic, and it's a great infographic to refer back to time and time again when beginning new projects.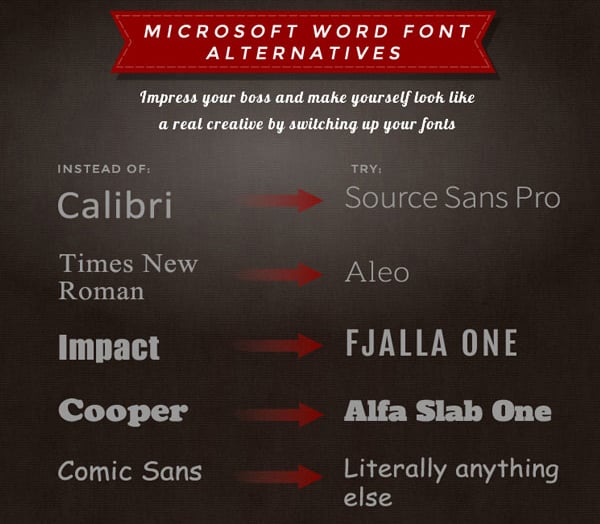 It's never easy to find beautiful fonts, but this infographic from Plato web design makes things easier than ever.
Basically, it documents some of the best typographic choices out there for a variety of different uses. For example, it lists some of the most fantastic fonts out there for tech-related projects, sophisticated projects, and much more. It even gives pointers regarding how to create a sophisticated or approachable brand solely using typography.
What's more, if you tend to find yourself using the same typefaces over and over again, the infographic gives some ideas for alternatives to the common choices. For example, you can replace Calibri with Source Sans Pro, or Impact with Fjalla One.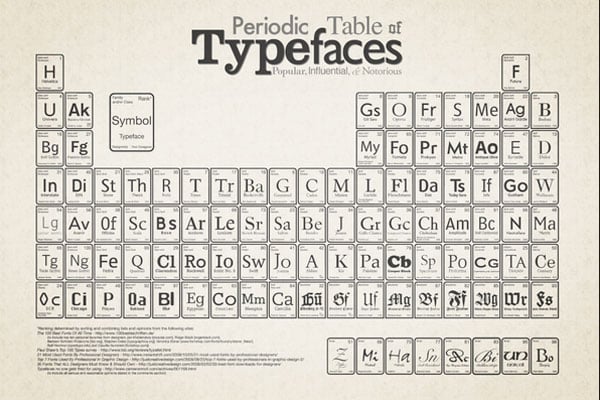 If you're vaguely familiar with chemistry, then you'll know that the periodic table presents all of the elements and groups them together according to their attributes.
This infographic – created by Cam Wilde – does the same for typography. It lists every typeface along with its attributes. For example, it shows the classification of each typeface (i.e. sans serif, serif, script, humanist, slab-serif, etc.) and ranks them in a particular order. According to Cam, the ranking was determined by sorting opinions about each typeface from a number of sites around the web. The result was a numeric ranking on a scale of 1-100.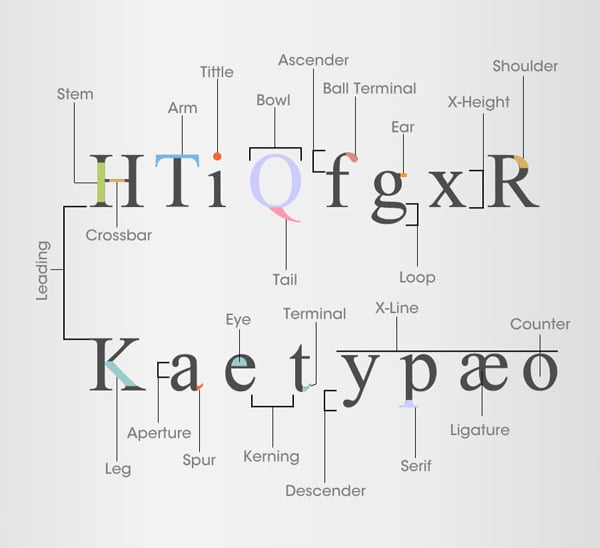 If you're a beginner to typography, you really need to take a look at this incredible guide to typography and fonts, created by The Logo Company. Firstly, it shows a visual diagram of each attribute of a typeface. So, it illustrates attributes such as crossbar, kerning, leg, spur, shoulder, x-height, and much more. If you're not familiar with any of those attributes, then it's definitely worth checking out the graphic for a highly visual and easily understandable illustration.
Secondly, it goes into detail and provides a much-needed explanation of each of the terms, without the technical mumbo-jumbo. Again, this is exceptionally easy to understand and is written in plain English.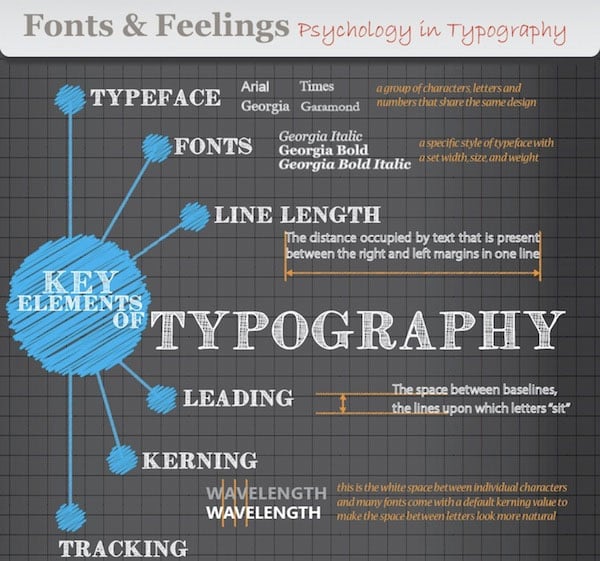 It's important to remember that the job of a typeface isn't just to look pretty, but also to evoke some sort of emotion in the reader. Every typeface will be perceived in a different way. This is something that is often misunderstood by a lot of designers, but this infographic from RCM manages to demonstrate this concept in a simple yet visually appearing manner.
It shows examples of many different kinds of typeface (e.g. serif, sans serif, etc.) along with a guide to how each one is likely to be perceived. For example, most sans-serif typefaces tend to be perceived as informal and playful, whereas serif typefaces are more formal and traditional.
The infographic goes into a lot more detail and shows a handful of example typefaces that you can use to achieve certain perceptions.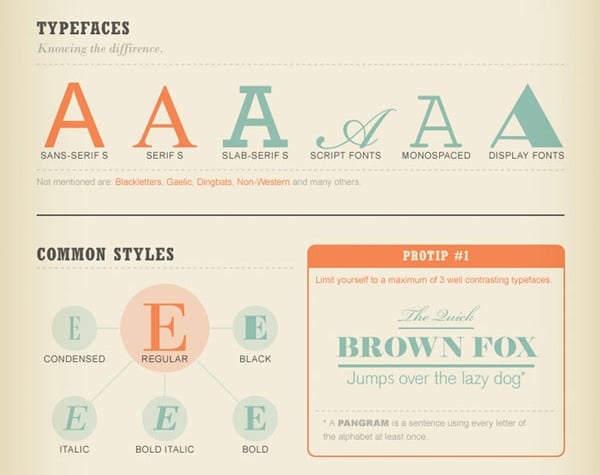 There's a lot to understand about typography, so understandably, you might find yourself somewhat overwhelmed when learning about all of the different attributes of type. If so, this infographic is for you. Featured by FastCompany, it offers a quick and comprehensive guide to typography. It talks about the differences between typefaces (i.e. serif, slab-serif, monospaced, etc.), common styles, what each type says (e.g. neutral, authoritative, retro, etc.) and much more.
It doesn't go into a crazy amount of technical jargon about each of the aspects, it's simple and to the point, allowing you to learn the basics of typography in a matter of minutes.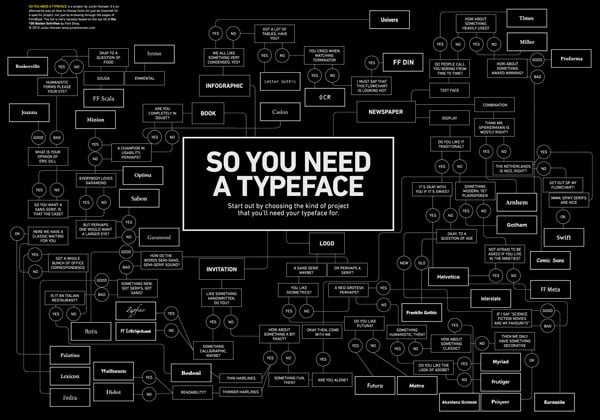 So, you need a typeface? If so, this is the infographic you've been looking for, as it offers the most simple and elegant way of choosing a typeface for your project, ever.
Basically, you start by choosing the type of project you're working on (e.g. logo, invitation, newspaper, book, infographic, etc.). Then, the infographic asks you a series of yes/no questions, such as "how about something classic?"
As you answer each of the questions, the infographic takes you through the flow chart, resulting in the perfect typography choice for your project. It might look a bit overwhelming at first, but it's actually extremely simple to follow, and you'll have the perfect typeface in no time.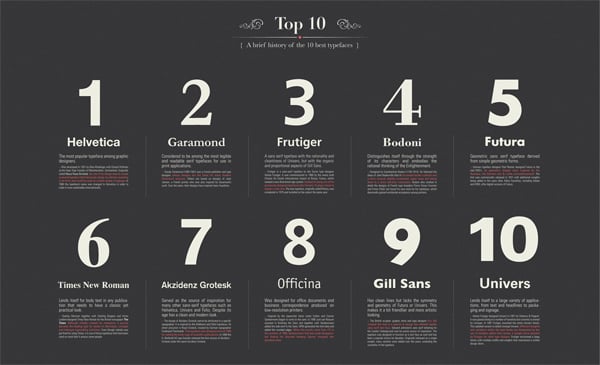 This infographic – created by Buscando Trazos – offers an elegant introduction to typography. It starts with a list of the hundred best typefaces (which are arranged beautifully in a circular diagram), followed by more detail about the top 10 typefaces, then a timeline offering a brief history, then some information about various classifications, and finally, the anatomy of fonts and their characteristics.
It also gives advice about further reading on the subject, recommending great resources such as Eric Gills essay on typography, originally published in 1931.
That's all for now. Hope you liked these infographics, we would love to know which appeared the most useful and informative for you?